Something Horrible Happened On "Game Of Thrones" And People Are Upset
Why do we do this to ourselves? Also, SPOILERS.
This post contains spoilers for Season 6, Episode 3 of Game of Thrones.
Another episode, another horrific death on Game of Thrones. And no, we're not talking about Olly — we're here to talk about SHAGGYDOG.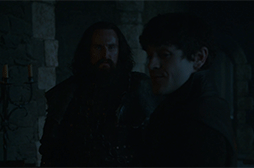 The goddamn Umbers betrayed the Starks and KILLED SHAGGYDOG and handed precious bb Rickon (who is now basically middle-aged, btw) and Osha over to Ramsay Bolton. WE ARE NOT OK.
2.
4.
5.
6.
7.
10.
14.
15.
16.
18.
19.
20.
22.