1.
An Airfly wireless transmitter so you can connect your AirPods and other wireless headphones to that ancient airplane seat display and watch movies or TV shows without having to pay for that crappy pair the airline gives you. 
You can also connect up to two pairs of earbuds at a time, and it has 16+ hours of battery life for suuuper long flights. 

Twelve South is a husband-and-wife-owned biz based in Charleston, South Carolina, and has just 20 team members! They've been designing accessories inspired by and made for Apple products since 2009.
BTW, BuzzFeed Shopping editor Chelsea Stuart can vouch for this genius device: "Last year I splurged on some AirPod Maxes and for the amount of money I threw down on them, I was determined to get as much use out of them as possible and that included on plane rides. With the AirFly Pro, I can connect my headphones via Bluetooth and use the seat-back screen without having to fiddle with the free wired headphones they hand out that 1.) have horrible sound quality and 2.) don't fit my ears in the slightest. (I swear my ear canals are tiny or something??)" 
Promising review: "I fly a lot, and bought this due to disliking corded headphones, as either the cable line breaks during flight, and/or gets tangled up. I just recently flew four times last week and used them for the in-flight entertainment, and did not have one issue. I also use these in the gym while connected to my iPhone for music. And I plan to use them on my PC at work for meetings." —Marky
Get it from Amazon for $54.99 (available in two colors and two other styles).
2.
Or a universal phone mount, aka a GAME CHANGER if you spend your entire flight watching downloaded content on your phone. Take your travel genius a step further and *mount* it on the back of the seat in front of you so you can lean back and watch comfortably without ending up with neck pain after a few hours.
Promising review: "I bought this nifty gadget about six months ago for a multi-leg, ultra-long-haul trip and it more than held up the entire duration. I was able to finagle it to fit the tray tables on different planes, and like others, I find the height just nice when clamped onto a stowed tray table. It also works on my roller carry-on handle during layovers. However, I find myself using it a lot outside of travel too! Work-wise, I've clamped it onto my office desk shelving to hold my phone at eye level beside my computer. At home, I simply clamped it to a deck of cards and it turns into a versatile stand that I can place on any flat surface. Heck, I've been using it to hold my phone comfortably at eye level while watching videos in bed. It's extremely well-built, and I find myself fidgeting with it all the time. Thus far it still feels solid and I don't anticipate breaking it any time soon. Even if it does break, I'll be happy to buy another one or two of it!" —Earendil
Get it from Amazon for $10.99 (available in three colors).
3.
A reusable collapsible coffee cup because proper caffeination is *essential* to travel but space for your usual bulky thermos is...non-existent. This can handle hot *or* cold drinks with a temp-resistant sleeve to protect your hand, and when you're done, it folds down for stashing in your bag. We love an eco-friendly solution for both travel AND everyday life!
It's also microwave-safe! Note that the 12-ounce size does not include a straw, but both the 16-ounce and 24-ounce sizes do.
Stojo is a small biz founded by three New York dads who wanted a better way to get their convenient coffee fix without all the waste. Now they make stylish collapsible essentials in a variety of sizes and colors, including bottles and food storage containers.
BuzzFeed Shopping editor Danielle Healy has this and loves it. She writes: "This is of the first zero-waste swaps I made and I've never looked back. If you buy to-go coffee – whether you're jet-setting or just grabbing a mid-day pick-me-up — this cup is a must-have. So long as you remember to bring it, it's all the convenience of to-go coffee with none of the waste. It's leakproof and, when you're all done, it collapses down teeny tiny and can be tossed back in your bag. Oh! And it comes with a straw, so all you iced coffee lovers can get in on the action, too."
Get it from Amazon for $14.95+ (available in four sizes and in 24 colors).
4.
And a collapsible water bottle so you can beat dehydration *and* those absurd airport water bottle prices while traveling. It rolls up to fit in the palm of your hand when empty — no more lugging around your bulky everyday bottle. Whether you're backpacking through cities or hiking to ancient ruins, you'll appreciate how little space it takes up in your bag and just how *useful* it is. 

It's lead-, latex-, and BPA-free, dishwasher-safe, and can be used for hot or cold drinks.
Promising review: "This heavy-duty plastic bottle stood up to the rigorous international travel to Machu Picchu in Peru. No leaks and took the wear and tear off of the back of my backpack. It folded nicely inside the backpack while going through airport security. Followed the boiling directions when I first received the bottle and NO plastic taste or smell. Easy to clean. A great product." —A Lilly

Get it from Amazon for $34.95 (available in eight colors).
5.
A waterproof anti-theft backpack made to thwart pickpockets with a zipper that faces your back while you wear it, giving them no access to the pocket holding your valuables. It's still super cute, so it won't stand out in your travel photos, and its adjustable straps let you wear it as a backpack or sling style over one shoulder. 
Promising review: "I bought this backpack to use as a purse while on vacation, and it worked perfectly. The main pouch is protected when you're walking around because the zipper is protected by your back. There are also two side zippered pockets, one of which kept my phone and the other perfect for sunglasses and a few other items that I wanted to access more easily. I loved that I could wear it as a purse to dinner but use it as a backpack during the day so that my shoulder didn't get tired." —Allison

Get it from Amazon for $26.99+ (available in two sizes and eight colors).
6.
A digital luggage scale so there aren't any surprises when you get to bag drop-off and have to heave your suitcase onto that big scale. (The *last* thing you need is a last-minute fee — that's souvenir money!)

To use, just hook the scale to your luggage handle, lift up, and the LCD display will show the weight! You can also switch between pound and kilogram measurements. 
BTW, BuzzFeed Shopping editor Elizabeth Lilly recently put this scale to the test while packing for a trip to Iceland — check out her demo of how it works on TikTok!
Promising review: "Took this for a 10-day trip overseas with lots of flights. Weighed the luggage as things were added to it/purchased, and when we weighed in at the airport, it was perfectly accurate. Very important when the airline will charge $70 more for a suitcase that is too heavy or make you open the whole thing up and take stuff out in order to fly with it. Saved so much hassle." —B. M. O'Connor
Get it from Amazon for $10.99+ (available in six colors, as well as a two-pack and another style). 
7.
An airplane footrest because those cramped economy seats become especially painful after a few hours when you can't move your legs (and your aisle seat neighbor isn't fond of getting up to let you out). This hooks over the arms of the tray table so you have a place to put your feet more comfortably — which reeeally comes in clutch for us shorties whose feet barely touch the floor.
Promising review: "I'm a flight attendant and I travel A LOT! This is a game changer! Folds up super small in the cute bag they provide and really makes a difference when on those long flights. The people in front of me had no idea I was using it. Thanks for the great product!!!" —sarah rubin
Get it from Amazon for $21.99 (available in three colors).
8.
A 2-in-1 hair tool so you can stop making room for both your curling iron and straightener in your suitcase — this will take up literally half the space and give you ~options~ for how you want to style your hair every day. Reviewers swear by it for international travel — it's dual-voltage!

Promising review: "The international traveler's BFF. Don't be fooled by the tiny price or size, this little baby is serious. If you are looking for a small travel option rather than lugging your big straightener and giant curling iron around the world, then I think you'll love this. It performs really well, turning my frizzy, wavy hair into a smooth and sleek style. The curling iron option also creates shiny, silky lasting curls! It's easy to transition between both. I also like the grippy handle and the fact that the curling iron clip is a different color than the straightening bars because that helps me see how I should be maneuvering it around. The voltage goes up to 240 so you are good using it internationally without a converter (but you will need an adapter just to fit it into various foreign outlets). At this price, definitely give it a try and flaunt your tresses abroad." —Christine
Get it from Amazon for $59.95 (available in black or white). 
9.
A portable no-install door lock to give yourself a little extra peace of mind that no one will be able to break through your locked hotel door when you're staying by yourself. The durable steel body is inserted into the jamb of the door to add an extra layer of security so *no one* can just barge into your room during the day or night.
Just note that if you're flying with it, you'll want to keep it in an easy-to-reach spot in your bag, as one of our BuzzFeed Shopping editors said TSA flagged hers at two separate airports.
Promising review: "I purchased two of these, one for my apartment door and one for travel. Home: This fits perfectly on my front door. It was tested when the maintenance man at my building showed up earlier than expected. He knocked, and before I could get to the door, he was already trying to open the door AND COULD NOT. This held, and he was really pushing. I know someone can get in if they really are determined, but the level of noise they'd cause would alert neighbors and give me time to react. Exactly what I bought it for. Hotel: I've stayed in one hotel and this did fit. It was loose in the door jamb, but once the door was closed, it didn't budge when I tested it. Nothing is 100% secure. But this device definitely makes my door more secure then the lock and chain do! I highly recommend for anyone in an apartment and travelers. I practiced taking the lock off to be sure I could do it in a fire. It takes less than three seconds to set up and remove. Very happy with purchase." —nancy w.

Get it from Amazon for $17.95.
10.
A weighted sleep mask because yes, you've probably seen other seasoned travelers wearing sleep masks on long flights, but this one doesn't just block the light from the window shade your neighbor refuses to pull down. It puts gentle pressure around the eyes (but not *on* them) for a comforting, heavy feel that'll have you drifting off into snooze land...in...no time... 😴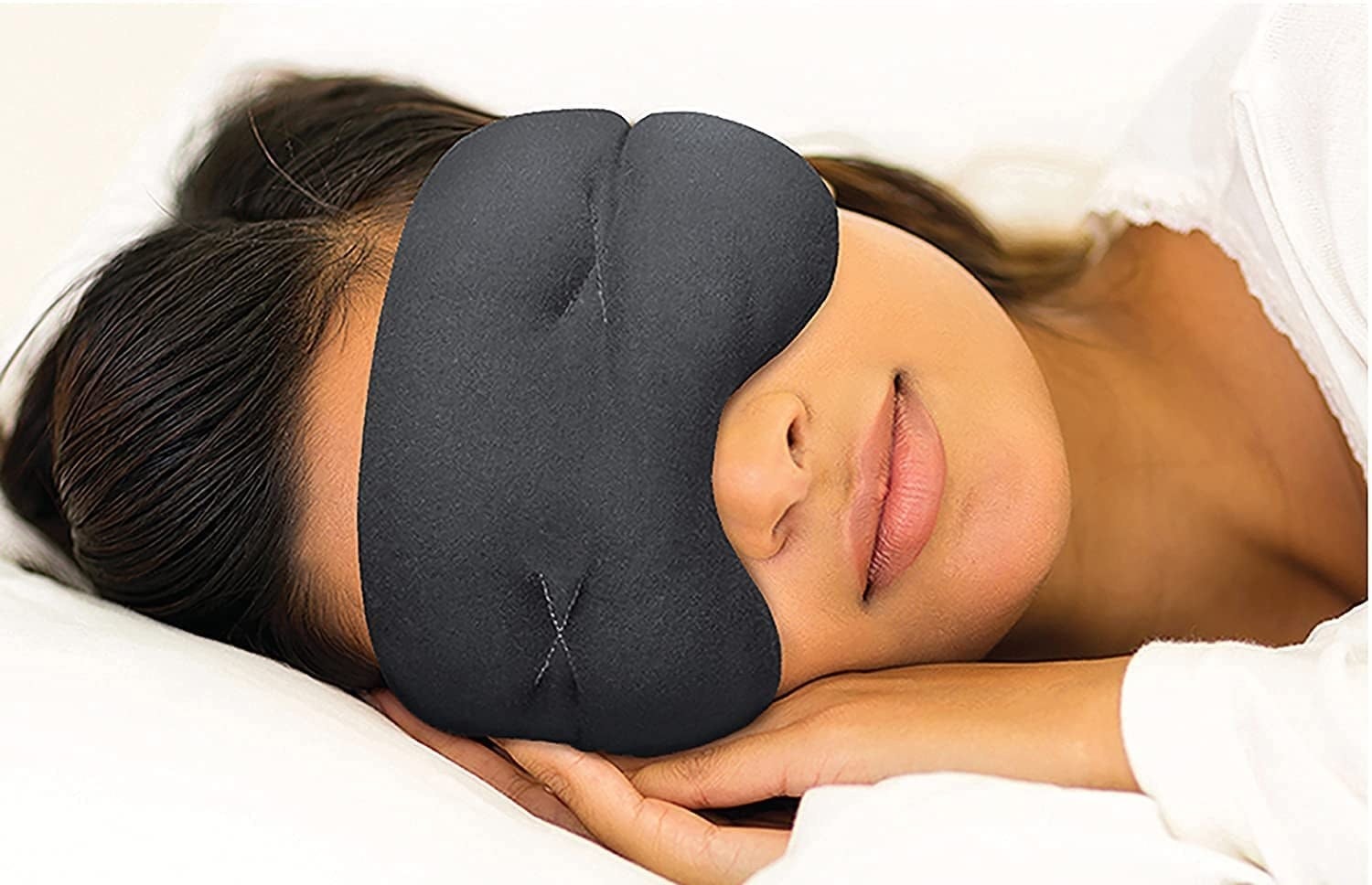 Promising review: "I am a flight attendant and have a wacky work schedule. I frequently have to sleep during the day. These are SO comfortable and cool as well. I have ordered and tried out at least 10 eye masks off of Amazon and have found these to be the best. They are SO comfortable and do not have Velcro on the straps, for which I am thankful, because I usually sleep on my back and am sensitive to the thickness of eye masks that have the Velcro straps." —sw
Get one from Amazon for $14.99. 
11.
Or a simply brilliant hoodie from Pond Los Angeles that has a sleeping mask BUILT-IN so you can pull your hood up and get some shut-eye; PLUS, you'll stay warm despite those constantly frigid plane temps. It's soft, it's cozy, it has a kangaroo pocket for ~secret storage~ — I mean, talk about the holy grail of hoodies.
Reviewers say it's oversized, so if you want a snugger fit, size down.
Pond Los Angeles is an Asian- and woman-owned small business that creates bags and clothing perfect for traveling. 
Promising review: "I fly a lot and am constantly trying to find a hoodie with a big hood to cover my eyes so I can catch up on some beauty sleep on flight. I saw this product on Instagram and knew it would be a game-changer. I was able to use it recently for the first time on an early morning flight and let me tell you, it is EVERYTHING I was looking for and more. It's comfy, cozy, oversized, and the eye covers make you feel like you're in a whole other world and not packed like a sardine on a plane. My over-ear headphones fit perfectly under it and I got the best sleep I've had on a plane — EVER!" —Heather G.
Get it from Pond Los Angeles for $102.40+ (originally $128, available in women's sizes XS–XL and in three colors: rose, oak, and black). 
12.
A wheeled carry-on bag if you always board as early as possible to ensure there's enough overhead bin space for your bag (and avoid having them forcibly check it). This bag can fit underneath your airplane seat, AND it rolls so your shoulder won't be aching the whole flight from hauling it across multiple terminals. 
Now you won't even have to pull your suitcase outta the overhead!
Promising review: "If you are a consultant and struggle carrying big carry-ons. This is a perfect one for you. I love this purchase!!! Light weight. Enough space for one to three days of travel. Thank you!" —SS
Get it from Amazon for $90.89+ (available in three colors).