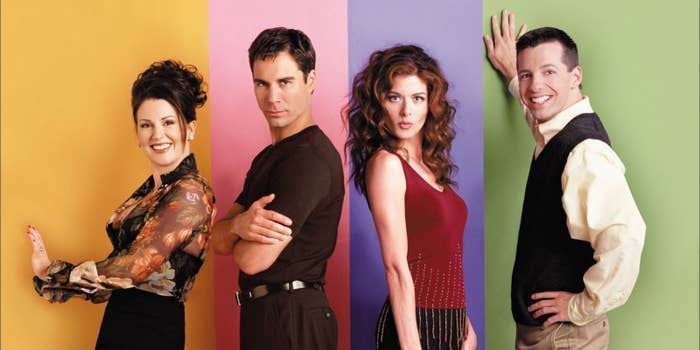 PASADENA, California — Will & Grace is officially coming back to NBC.
The Emmy-winning series will return for a 10-episode revival season, the network announced at the Television Critics Association winter press tour Wednesday. "We're thrilled that one of the smartest, funniest, and most defining comedies in NBC history is coming back," NBC Entertainment Chairman Robert Greenblatt said in a statement. "This groundbreaking series for everything from gay rights to social and political commentary — all disguised as a high-speed train of witty pop culture — is coming back where it belongs."
Original stars Debra Messing, Eric McCormack, Sean Hayes, and Megan Mullally will return, as will the show's creators Max Mutchnick and David Kohan. "Dave and I are absolutely thrilled about the opportunity to write what Will, Grace, Jack and Karen are thinking about in 2017," Mutchnick said in a statement. James Burrows, who directed every episode of Will & Grace, is also back on board as director and executive producer.
Will & Grace reboot rumors surfaced late last year when the team reunited to film "Oh Honey," a video designed to get people to vote in the 2016 election. Its popularity also piqued NBC's interest. "We started talking with Mutchnick and Kohan about producing new episodes right after they shot the secret reunion show back in September," Jennifer Salke, president of NBC Entertainment, said in a statement. "The fact that all four of the original stars were excited about getting back into production is a testament to the joyful experience they had doing nearly 200 episodes for eight seasons."
The new episodes of Will & Grace are slated to air during the 2017–2018 season and the cast is pretty excited.