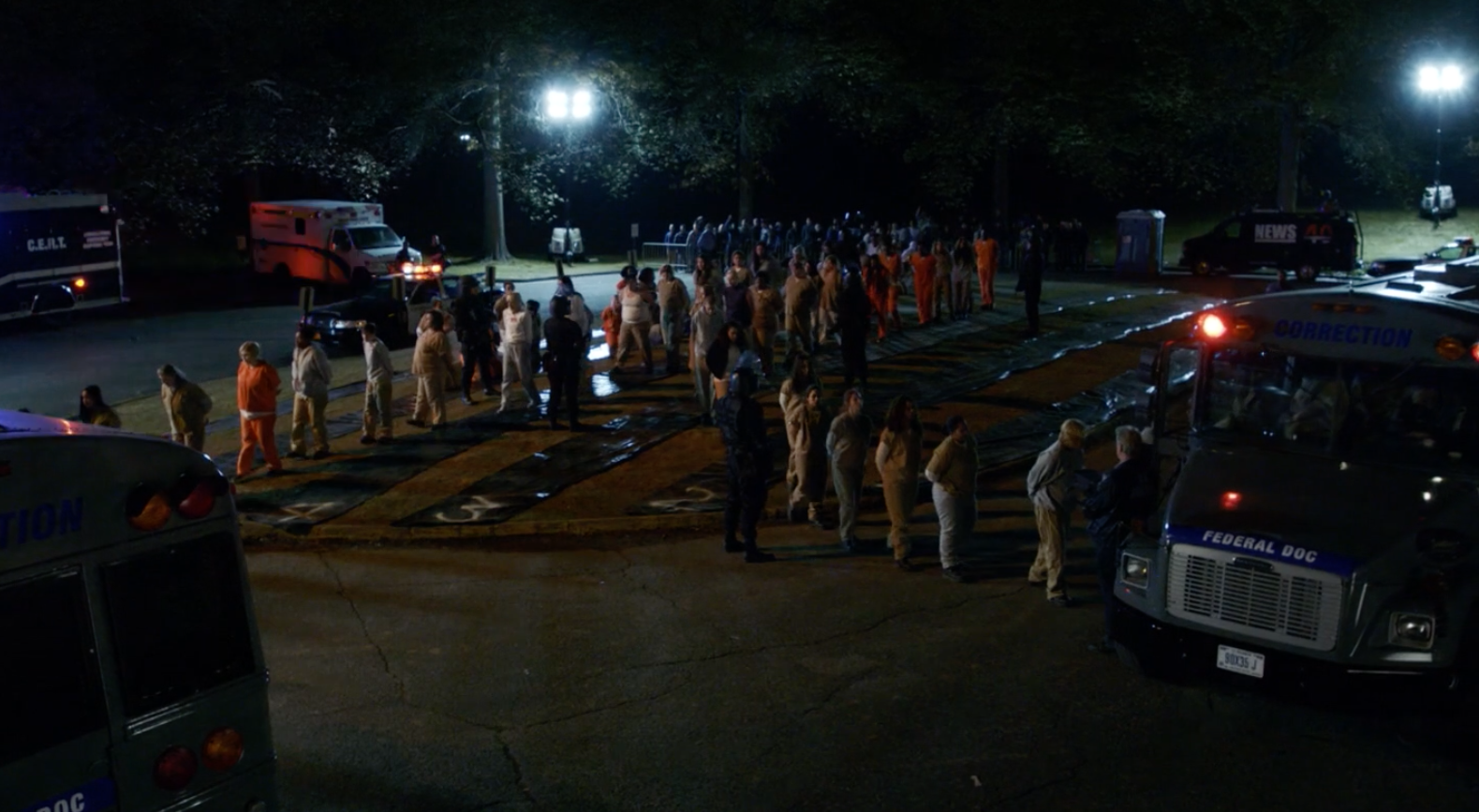 By the time Orange Is the New Black Season 5 reaches its closing moments, a riot at Litchfield has left two guards dead, the prison in shambles, and the future of every character up in the air.
"It felt very important to us that if we were going to commit to doing a riot that you can't go back from that," Lauren Morelli, who wrote the season finale, told BuzzFeed News. "In the real world, prisoners would not riot and then everything would be fine."
Actually, nothing is fine at Litchfield. As a CERT team takes back the prison and forcibly removes the inmates, the show's carefully formed families are literally torn apart: Flaca (Jackie Cruz), Maritza (Diane Guerrero), Lorna (Yael Stone), and many more are randomly placed on several buses headed for destinations unknown.
But one cluster remains carefully hidden from the brutish group of officers as they punch, shock, and gas their way through the halls: Frieda (Dale Soules), Suzanne (Uzo Aduba), Black Cindy (Adrienne C. Moore), Taystee (Danielle Brooks), Red (Kate Mulgrew), Piper (Taylor Schilling), Alex (Laura Prepon), Nicky (Natasha Lyonne), Gloria (Selenis Leyva), and Blanca (Laura Gómez) are holed up in the abandoned swimming pool in the basement.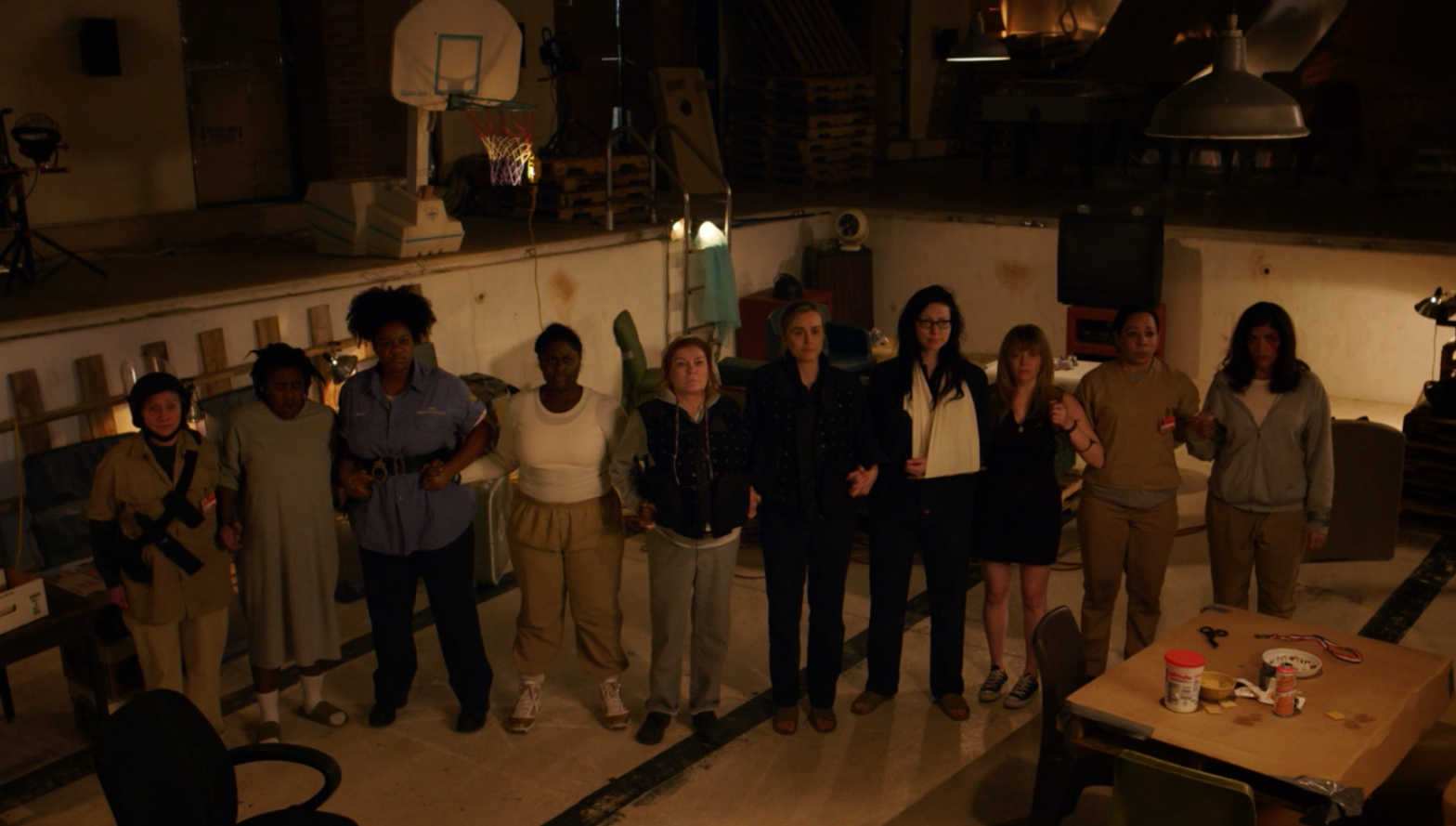 Their secluded spot doesn't stay secret for long and the final frames of the season show the women joining hands just as the CERT team sets off an explosion that decimates their makeshift barricade and sends shrapnel flying. And with 10 of the most significant Orange Is the New Black characters staring down their would-be assailants, the finale suddenly cuts to black.
It's one of the show's biggest cliffhangers to date, and it's clear Orange Is the New Black will never be the same.
"I think this thing is going to change — big-time. We're going someplace else," Mulgrew told BuzzFeed News. "It was extremely live or die; drama at its most heightened. Who knows what's going to happen when the dust settles — I know nothing — but I don't think everyone is going to survive that last moment. They may initially, but I think there will be repercussions. There were 10 of us holding hands ... I think someone will get hurt. I don't know who."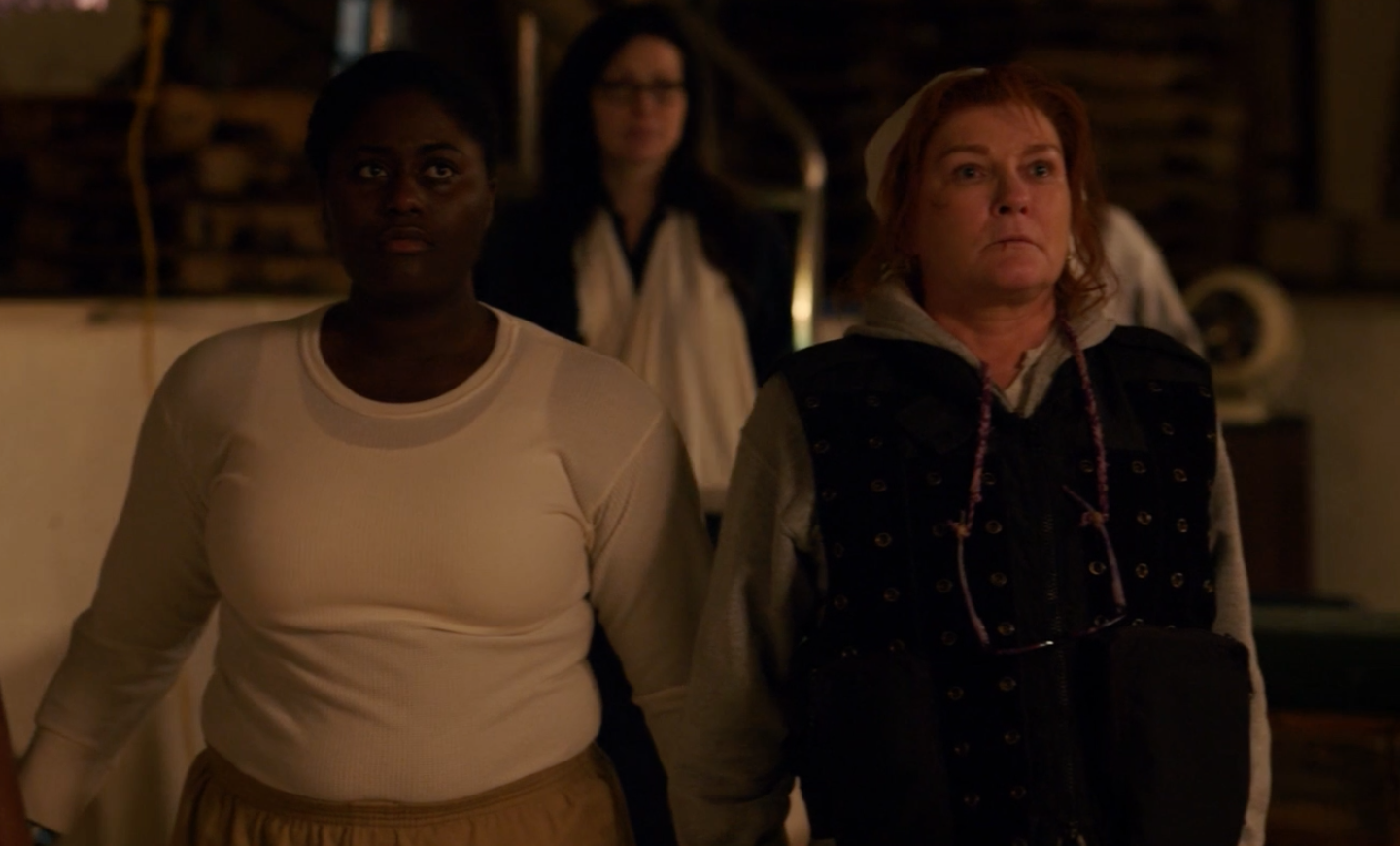 Though she's in the dark as to what journey awaits Red in Season 6, Mulgrew believes the choice to close out this season on those 10 characters is a sign of what's to come. "I think that signifies, perhaps, a more concentrated view going into Season 6," she said.
OITNB creator Jenji Kohan is no stranger to blowing up the world her characters live in; she ended the third season of Weeds by having Mary-Louise Parker's character burn down her picture-perfect neighborhood and go on the lam with her family.
"I think we always try to be responsible — primarily because it's going to be us who is stuck with whatever we do," Morelli said with a laugh. "So we try to be really responsible about, Okay, if we make this decision, what happens next? And of course, Jenji is such an incredible leader in terms of making sure we're thinking ahead, but she's also such a badass, such a renegade, and she's so willing to just leap. She's so willing to be like, 'Let's take the big swing and we'll figure it out,' versus, 'Let's make sure we have a good plan in place.' I think it's really exciting to get to watch these women who have been powerless for four seasons suddenly have the power and what are the ramifications of that."
Of course, Morelli wouldn't speak to the plan for Season 6, but she did offer up this small tease: "I think it's going to be different in a really great way. This ending allows us to explore a lot more of prison that we haven't seen yet."
Looks like there are no comments yet.
Be the first to comment!