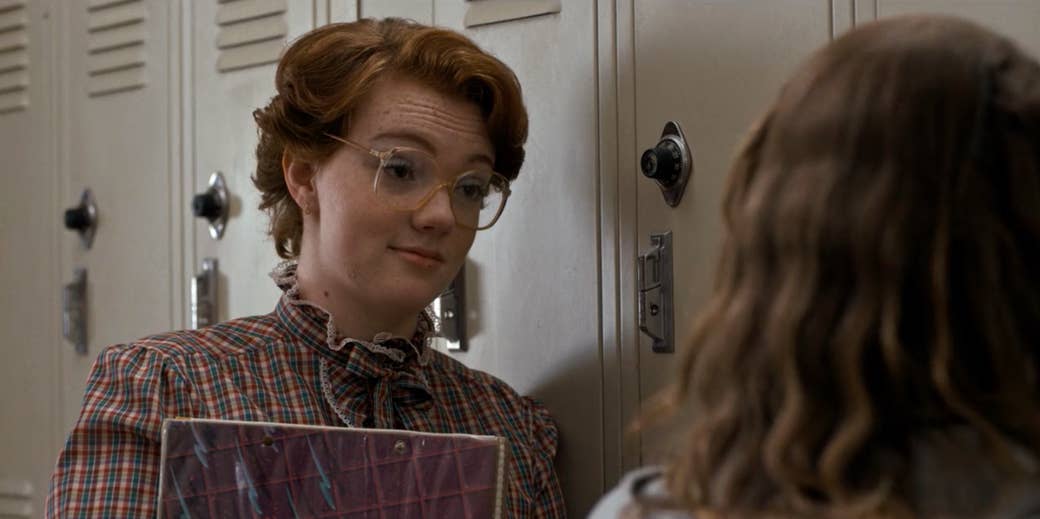 In the 12 days since Stranger Things premiered on Netflix, the '80s-homage-filled sci-fi series created by the Duffer brothers has become the true TV hit of the summer. But nothing — truly nothing — has yielded more attention than Barb.
Viewers first meet the doomed best friend of newly rebellious teenager Nancy Wheeler (Natalia Dyer) in the first episode. Standing by her locker in high-waisted jeans, a secretary-style blouse, massive glasses, and immobile short red curls, Barb inquires about Nancy's love life, worried she could lose Nancy to the popular kids and questioning her best friend's dismissiveness with a mere eyebrow raise that the world has since fallen in love with.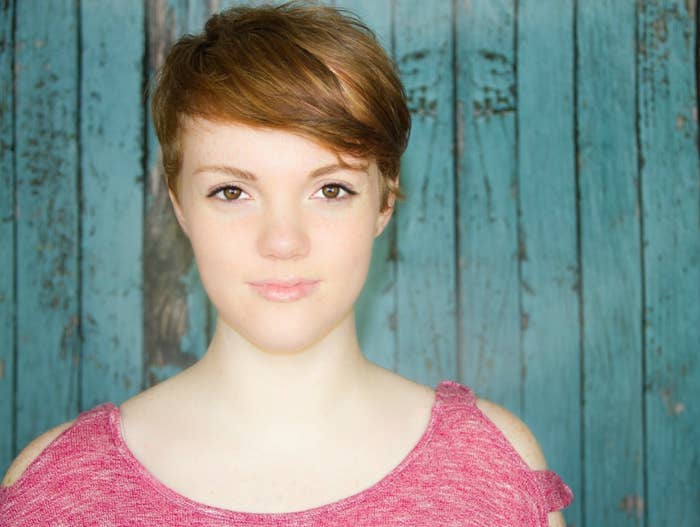 No, Barb is not the best dressed, she is not the prettiest, and she is not the most popular. But what she is is really damn relatable (hence the popular #WeAreAllBarb hashtag). In Barb, the underrepresented have been given a new champion, someone that Shannon Purser, who flawlessly plays the character, deeply identifies with.
"I think everybody at some point in their life feels like a Barb," she told BuzzFeed News over the phone in her first interview about Barb-mania. "They feel like they're a little bit of an outcast or they're not at the top of their social circle or they're being neglected. Like any other human being, I've definitely felt that way."
Barb has spawned appreciation posts, tribute videos, murals, hashtags, and tweets upon tweets that have left Purser feeling like this is all a bit too good to be true.
"I thought maybe I would get 10 new followers on Instagram."
"The last few weeks have kind of been a dream," she said. "I'm at the point where I think that one day I'll wake up and none of it will have ever happened. It's definitely not something I expected, so to have this kind of positive response and this kind of love from fans has been incredible. Absolutely incredible."
Purser's surprise stems from the fact that Barb — SPOILER ALERT ­— only appears in three of the show's eight episodes. The character is attacked and vanishes at the start of Episode 3, only to return as a corpse for a brief moment in the finale. "I loved the character and I loved the show and thought maybe one or two people might think that she was nice or funny … and maybe I would get 10 new followers on Instagram," Purser said with a laugh. "And then after the show, all this fan art and these Instagram messages and tweets started pouring in. To get this kind of response has been crazy. Especially for it being my first role!"
Now 19 years old, Purser was a senior in high school when she auditioned for and landed the role on Stranger Things, her first professional acting credit. "It's completely the type of show I would watch, even if I weren't in it," the Atlanta native said. "I love the nostalgic feel of the '80s and, oh, I love Winona Ryder so much. I was such a huge fan of hers growing up, so breathing the same air as her was an honor for sure. And I've always loved the horror-thriller type thing, so getting to be on a show that combined all of it was kind of like somebody read my mind and dropped this beautiful gift in front of me."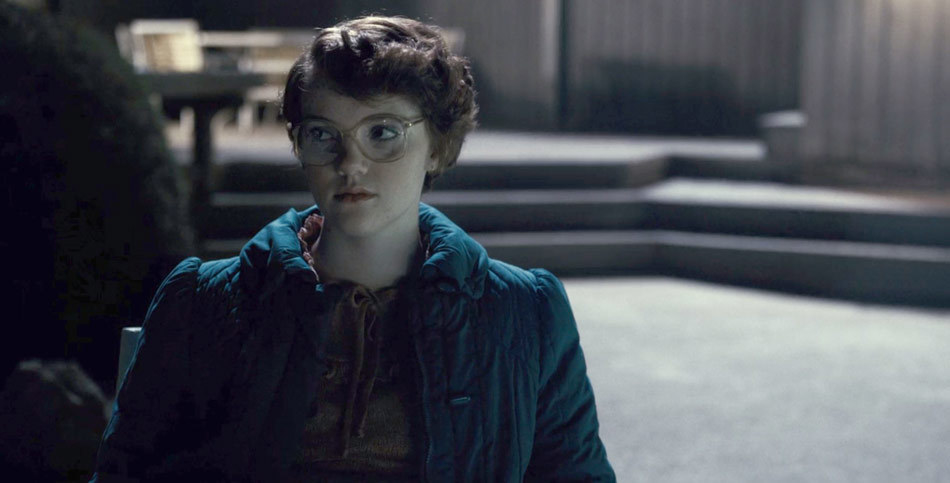 Aesthetically, Barb encapsulates the '80s arguably more than any other character on Stranger Things. "If I could take home that plaid top I wear with the little tie, I totally would," Purser said, with utmost sincerity. The character's wardrobe is filled with perfectly deployed visual cues to let you know where Barb falls in the school's social hierarchy and how few fucks she gives about molding herself to fit into that caste system. "I loved that she was unapologetically herself [and] I think that her wardrobe showcased that," Purser said. "She shows up at this party with these cute high school boys in this puffy overcoat and corduroys ... it's beautiful. Barb is a character I always felt is kind of at the point where she's not terribly concerned what other people think of her or if she is the first one to get invited to parties, and I kind of really loved that about her."
"I'm so glad I was given the opportunity to be myself, in a sense, with Barb."
Those sartorial choices also speak to the bigger, more meaningful charisma Barb has. She is not the hero or the damsel in distress — hell, her own mother doesn't realize she's gone missing. She is peripheral to the main story. But for so many, that is their story.
And that's something Purser can relate to. "I'm very much like Barb in real life and I'm glad that others see themselves in her," she recently tweeted. It's essential to her, both as an actor and a human being, to represent the people who feel unseen. "I've always felt, as a person, that I wanted to make people feel included and loved because I think at some point in all of our lives, we've felt not included and unworthy, especially in terms of appearances," she said. "I'm aware that I don't look like the traditional or the stereotypical type of Hollywood starlet and that is OK with me. I'm so glad I was given the opportunity to be myself, in a sense, with Barb because I feel like a lot of men and women need to see a character like her. They need to know they're not alone and that they are valuable, even if they don't fit in the way they would like to. I'm so grateful I got to do that with Barb."