21.
This toasted marshmallow ensemble worn by Rachel in The Kissing Booth 2.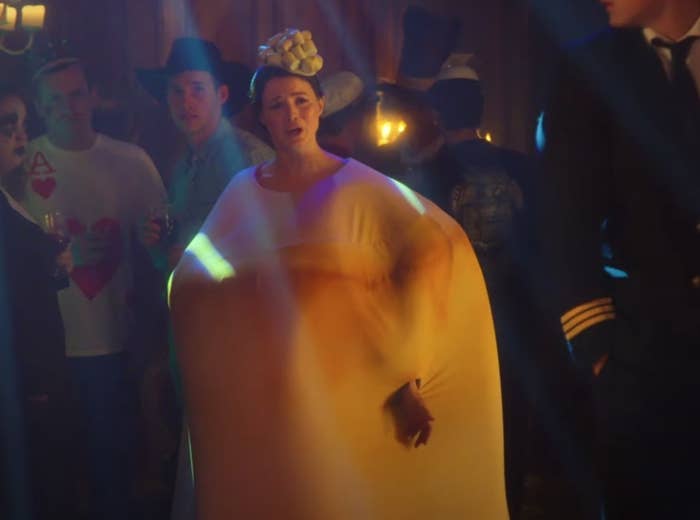 I think we can all agree that the creativity was there, especially when it comes to the mini marshmallow headpiece, but this look was just simply not it. It certainly doesn't help that Rachel doesn't even want to wear the outfit.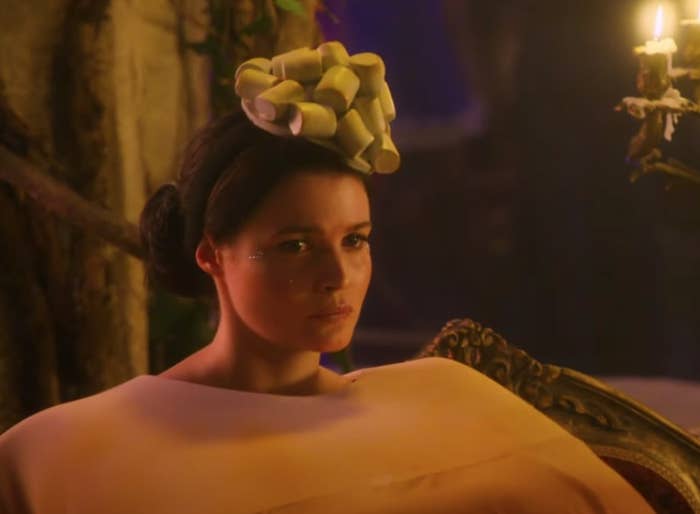 I do love her makeup and headpiece, but I just don't think this outfit ever needs to be recreated by anyone.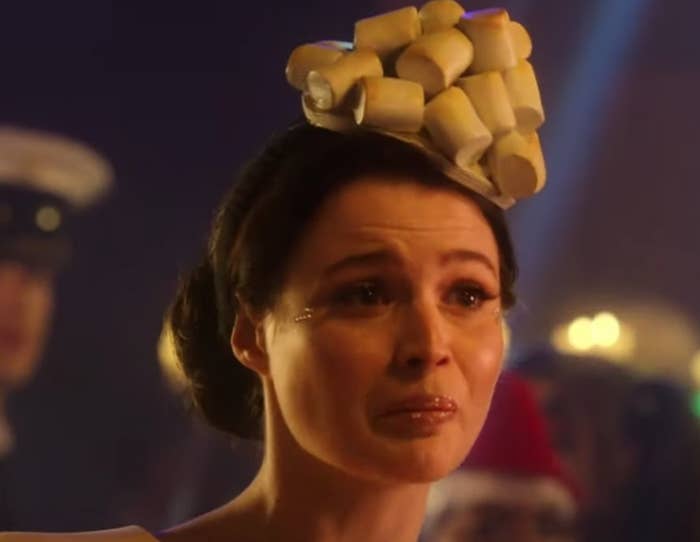 20.
Naomi's slutty pumpkin costume on How I Met Your Mother that was "carved in strategic places."
While this costume is pretty fun and was created mostly for comedic relief, I can't really get into it. The silhouette is kind of weird, with the bubble dress bottom and the green neck piece.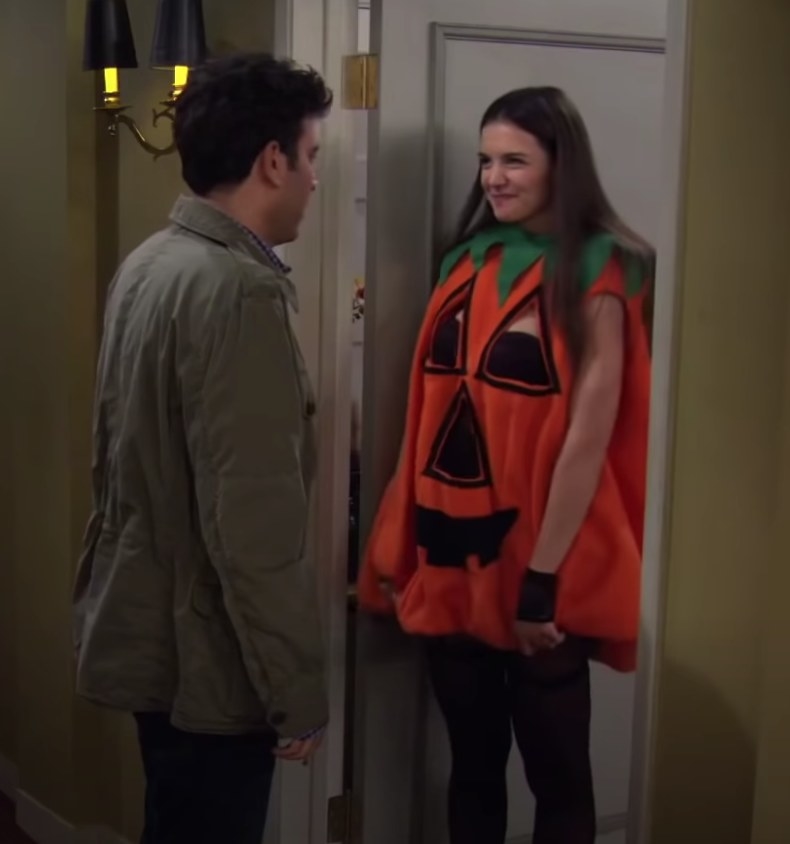 I think it's just not funny enough, or weird enough, for me to accept it. It's creative enough in theory, but seeing it on Naomi, it just kinda falls flat.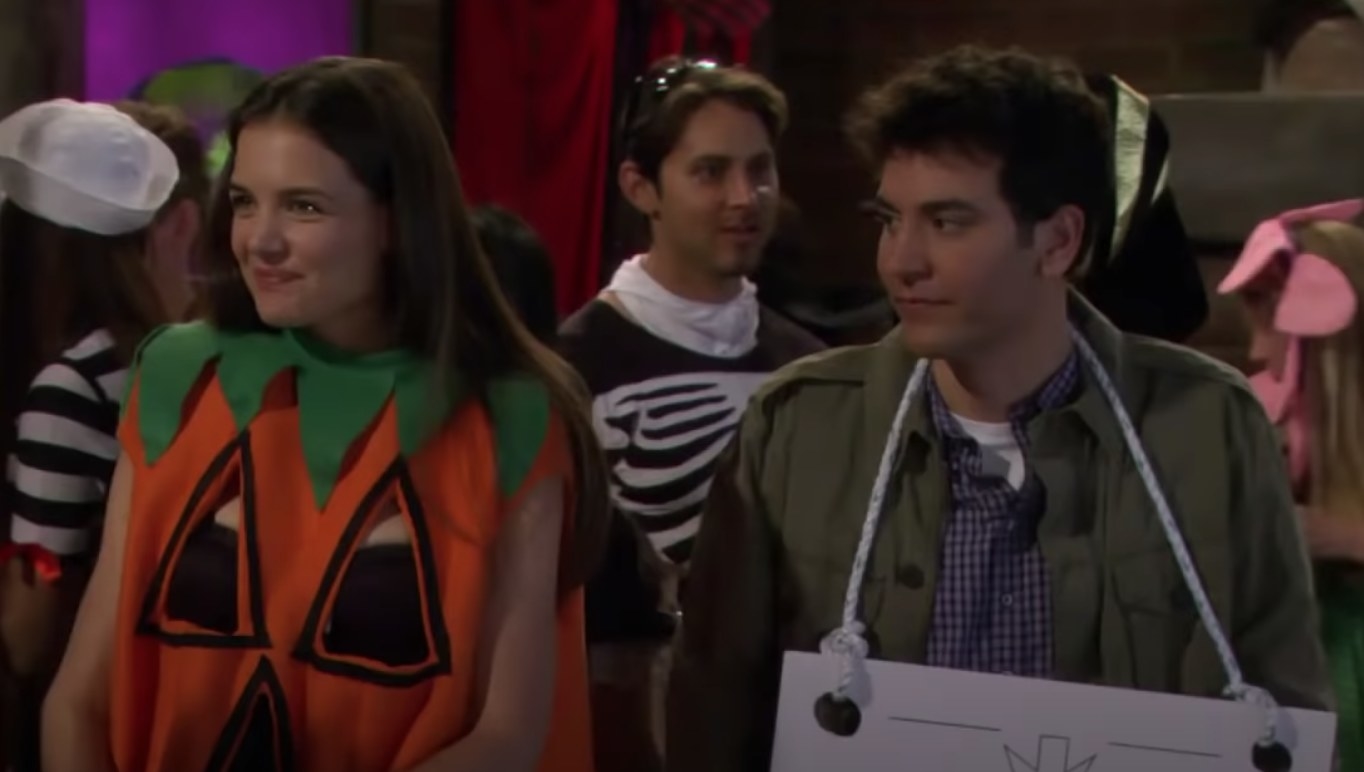 19.
Haley's Mother Teresa minidress on Modern Family. Yes, I can admit that this is a very weak costume that should not be rated above last place, but it was just so hilarious I had to give it a few bonus points.
Watching the notoriously tone-deaf Haley dress as such an iconic humanitarian "back when she was hot" was really a great addition to Modern Family's Halloween episode.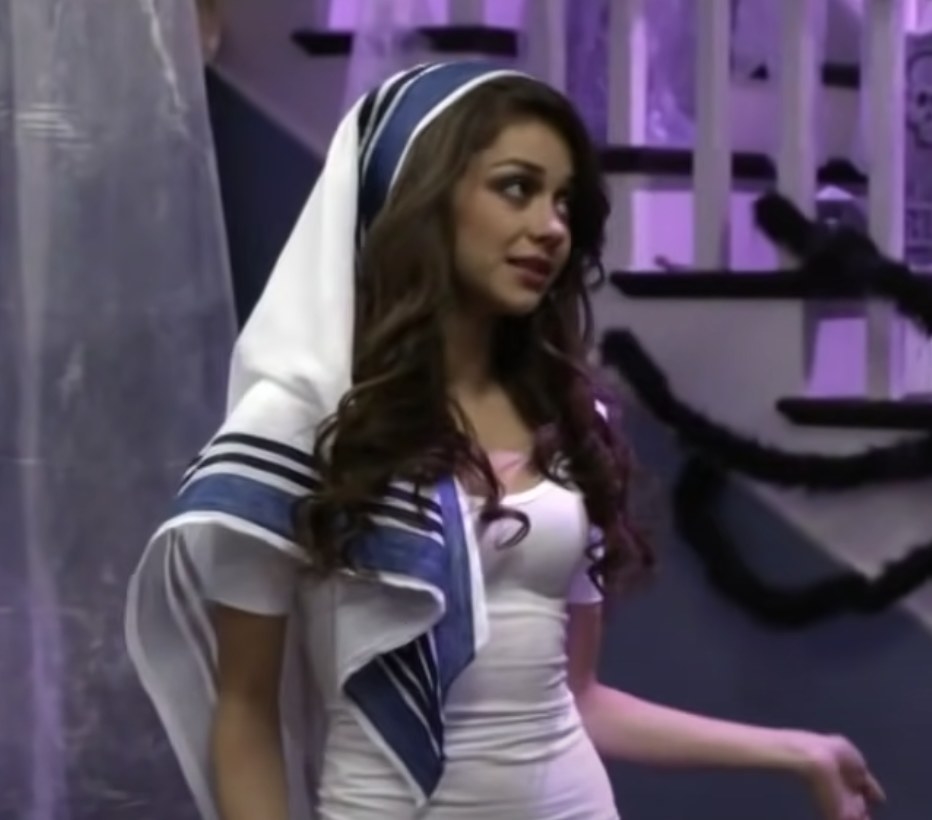 This outfit is an homage to everyone who thought they could just add an accessory to a cute dress and call it a costume.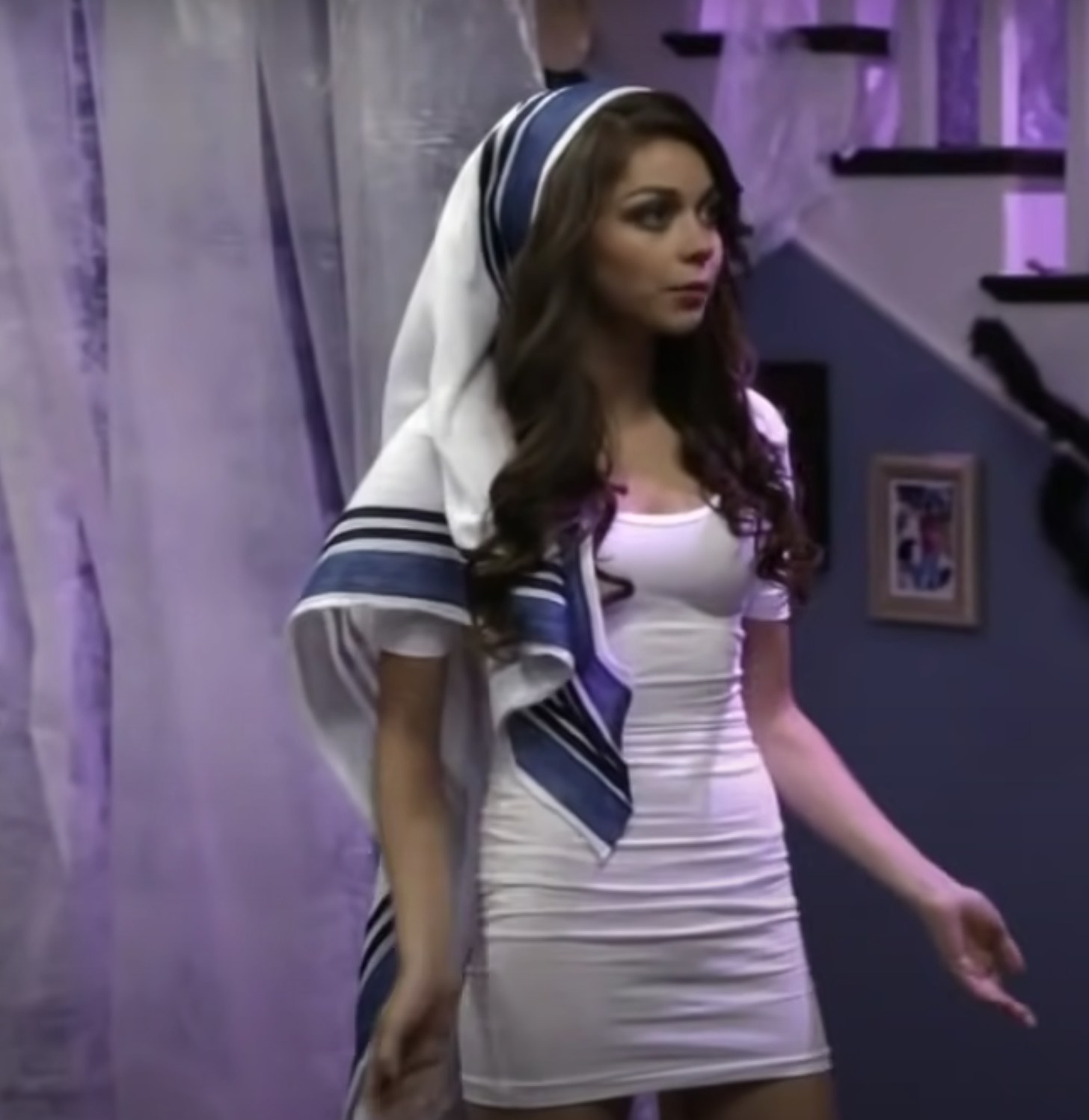 18.
Ginny's Britney Spears tribute on Ginny and Georgia. While there is technically nothing wrong with this costume, it's pretty basic and not worth all the hype it got on the show. Like, why did everyone clap when she walked down?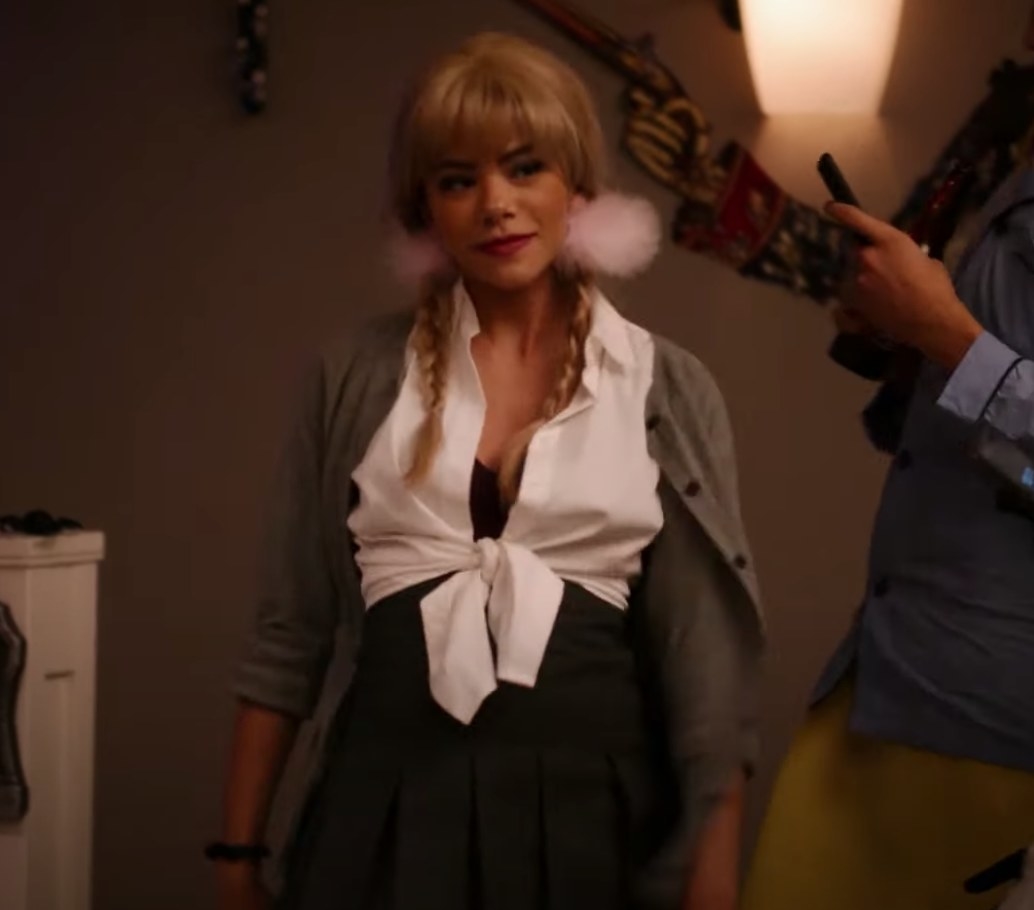 This is especially confusing because Ginny was praised for the "unique" costume idea that she came up with for the MANGS. Of all the Britney music video characters they dressed up as, hers was the most meh.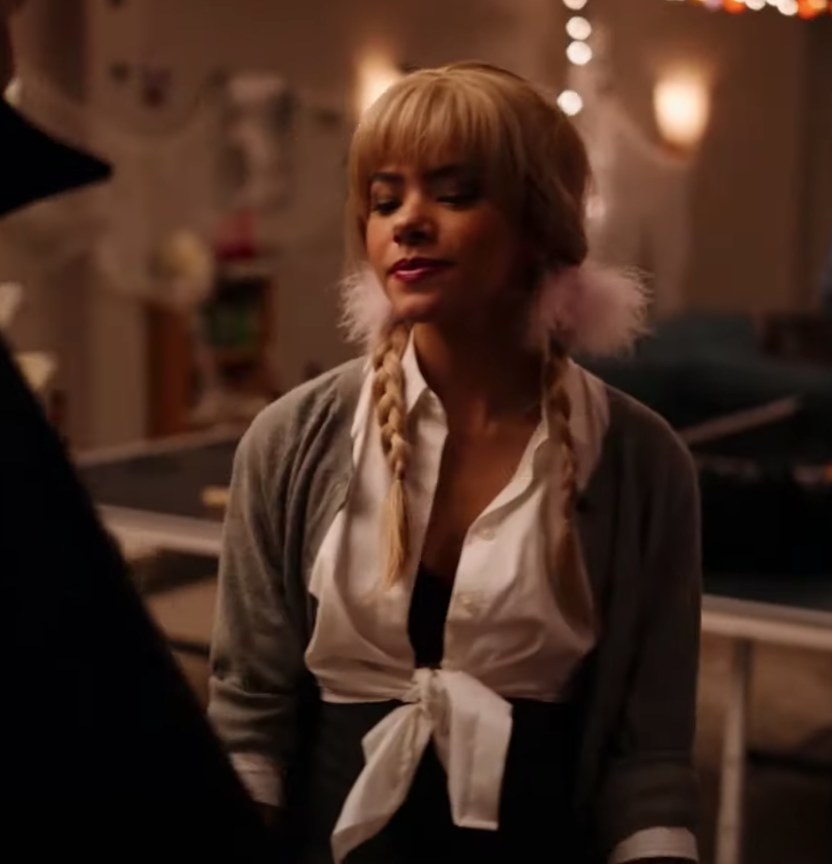 TBH, I see this group costume every single year, and Ginny's Britney look is the one that everyone does when it's the day before Halloween and they forgot to get a costume.
17.
Lindy's hippie costume in Beastly. She looks cute, but it's such a cliche look for the character whose only personality trait is "peace, love, and happiness."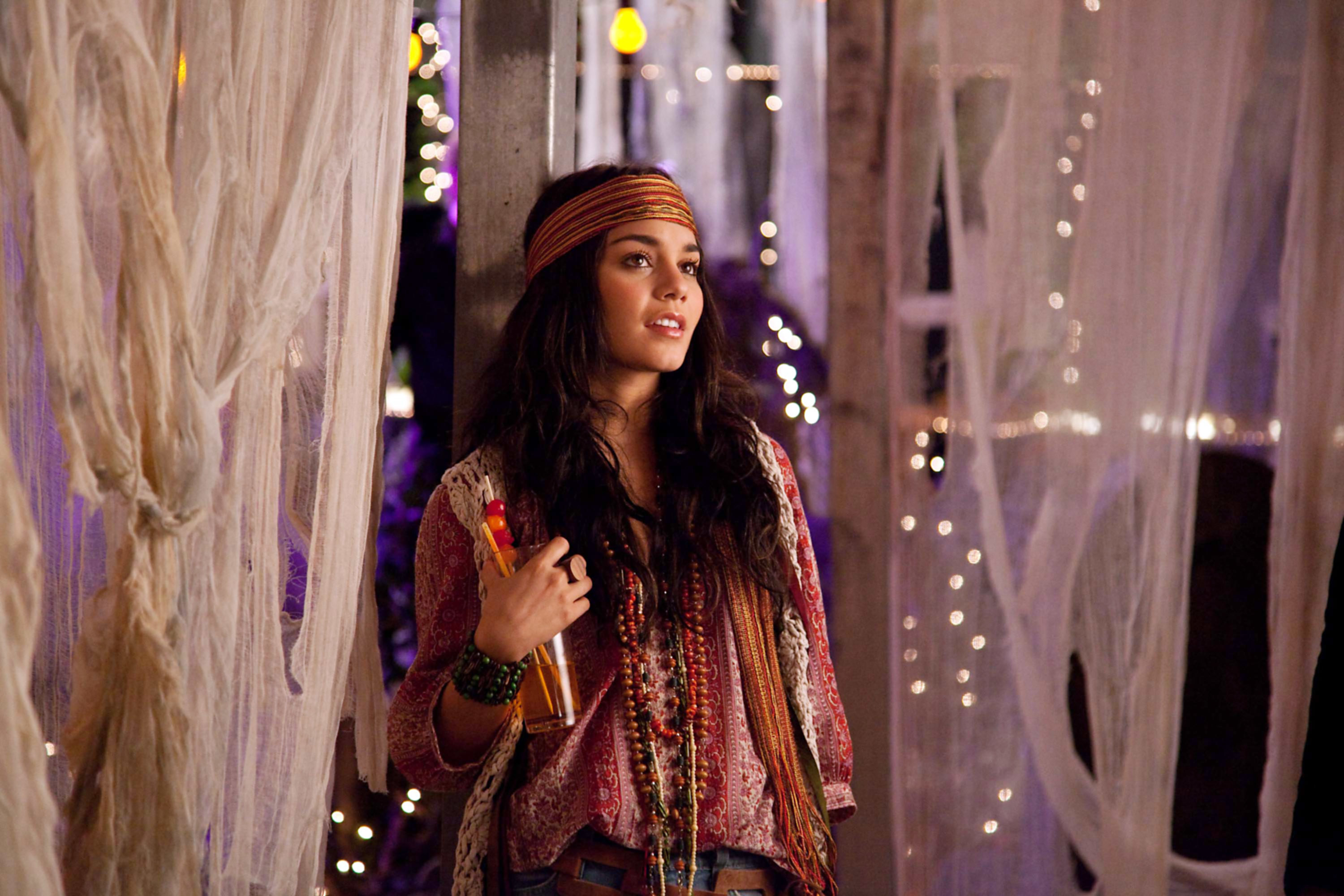 Although the look fits her character, I'm not super impressed by the costume. I wish there was a little more pizzazz to it, or that she brought something unique to the costume.
Overall, the outfit looks kind of like the type of clothing Lindy wears everyday, just with a headscarf and some beads. I do love her lacy, crocheted vest and round sunglasses.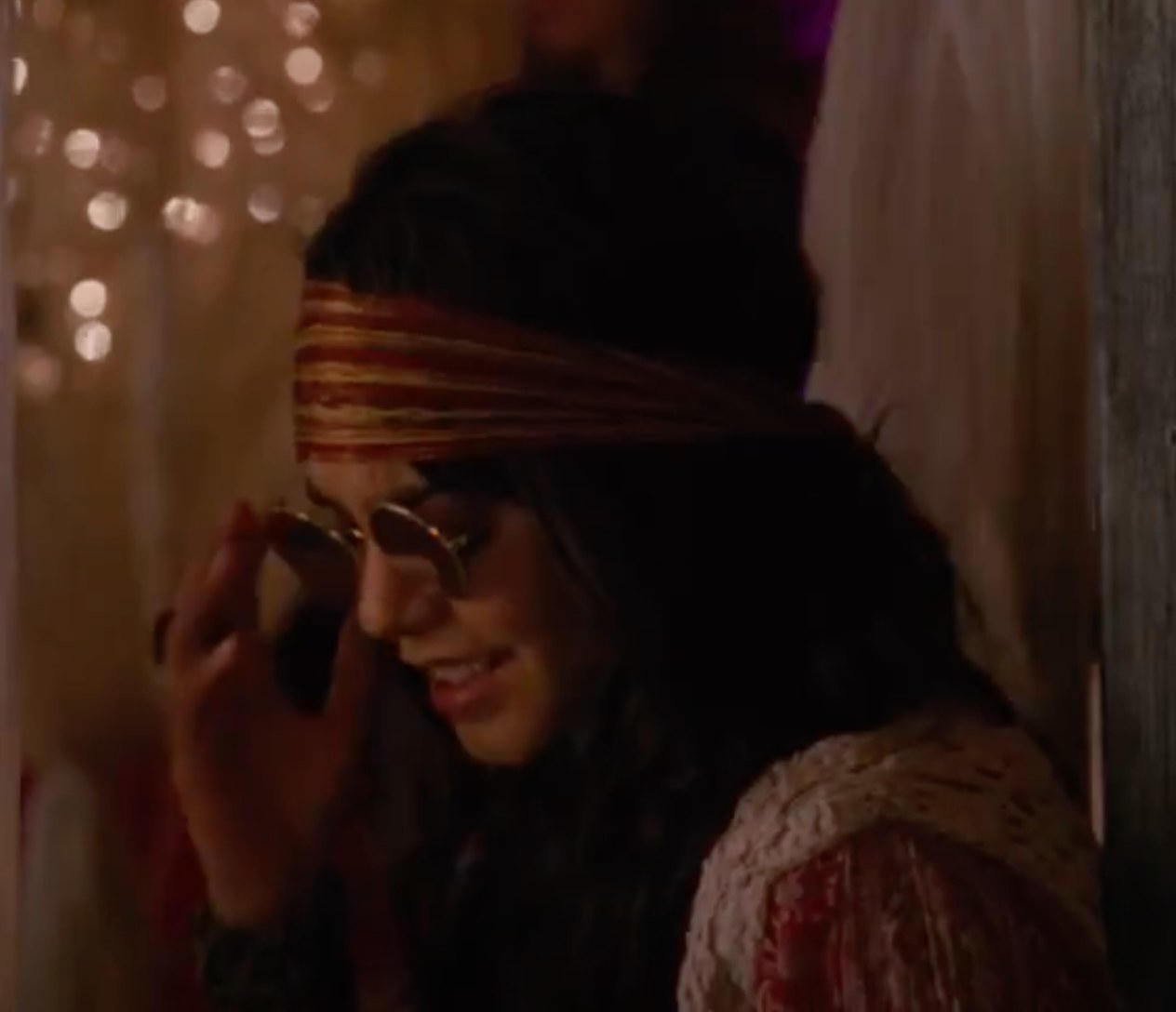 16.
Cady's zombie bride "ex-wife" getup that literally shook the entire Halloween party and almost knocked a drink out of Karen's hand.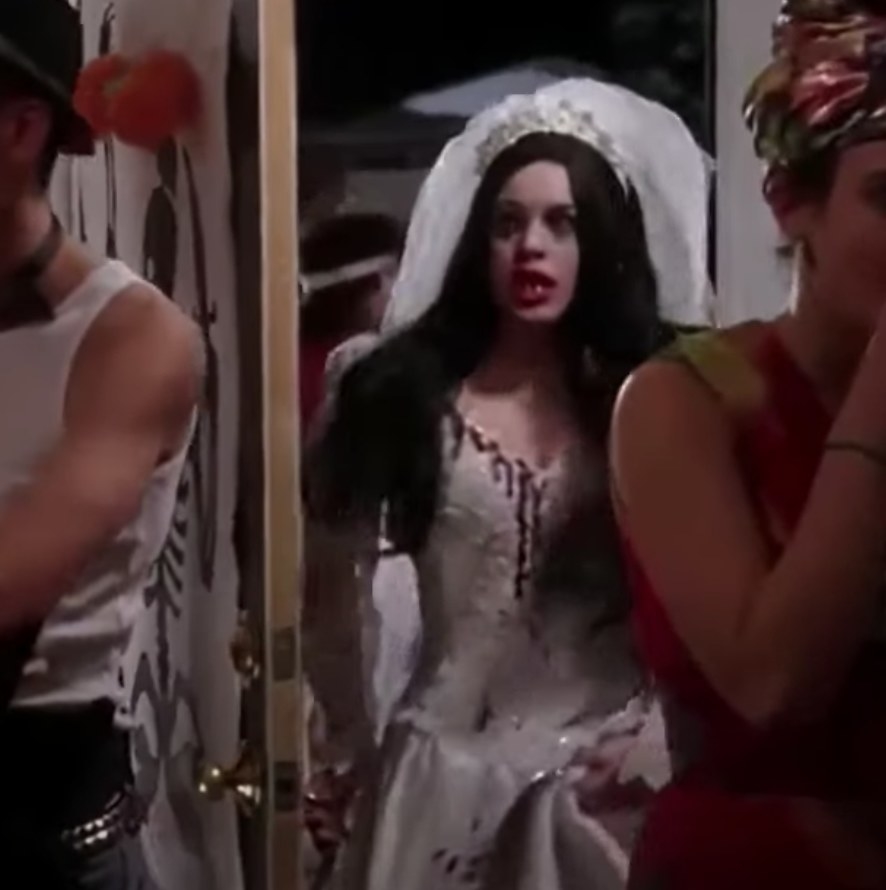 While I'll be the first one to say I loved the juxtaposition of Cady's costume and the rest of the Plastics in this scene, wearing a wedding dress to see a guy you're interested in is probably not the greatest idea, even if it's just for Halloween.
I mean, THE TEETH!!! I feel like without the teeth and that terrible wig I could have let it pass, but it's truly too much of an eyesore for me. But, I appreciate the scene and her dedication to creating a unique costume.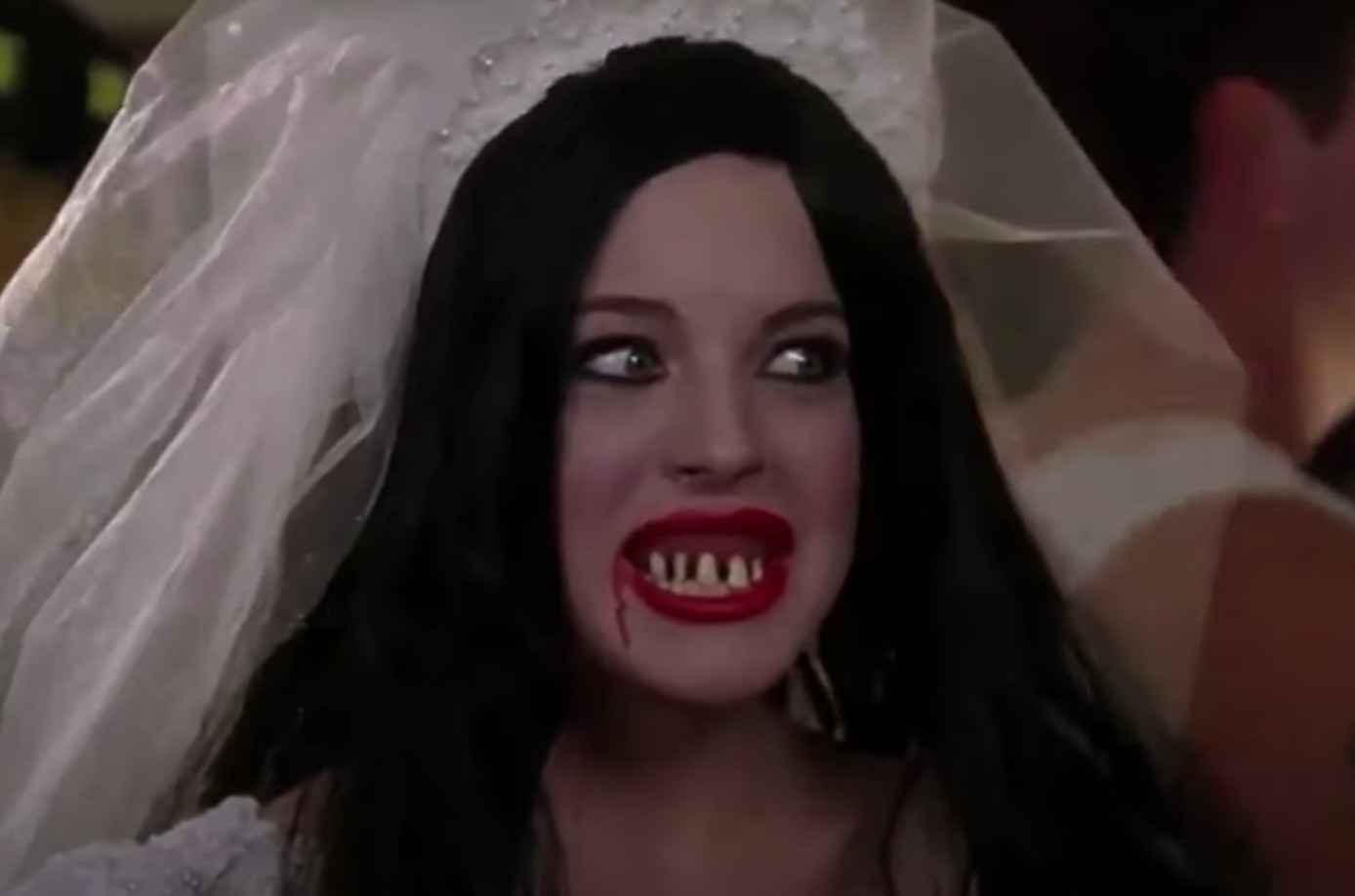 15.
Wren's casual Dorothy costume in Fun Size that's the perfect amount of low-key and cute.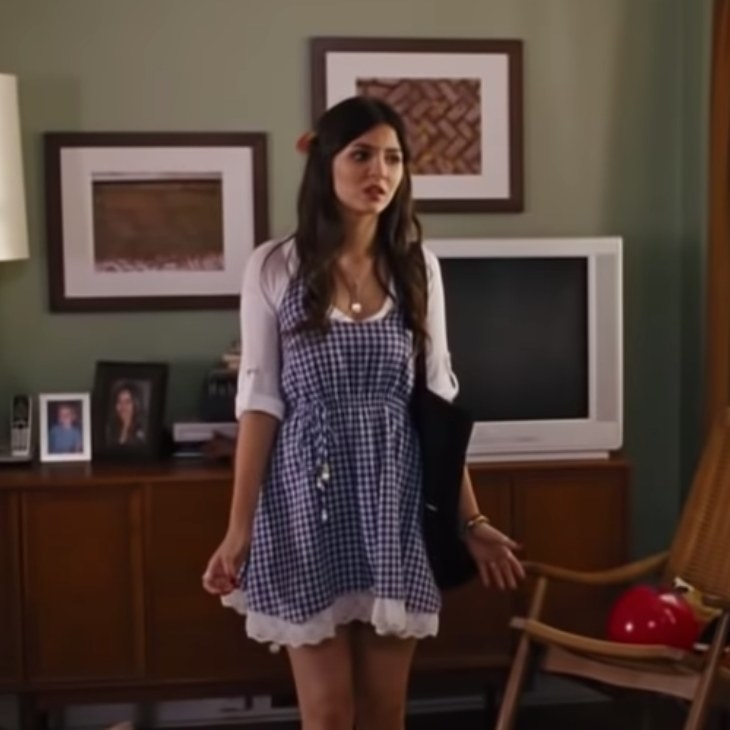 I love that this costume offers a relaxed and slightly more modest alternative to typical Halloween costumes. There's nothing wrong with dressing as sexy as you want, but if you're not interested in going all out or wearing something more revealing, this costume is perfect.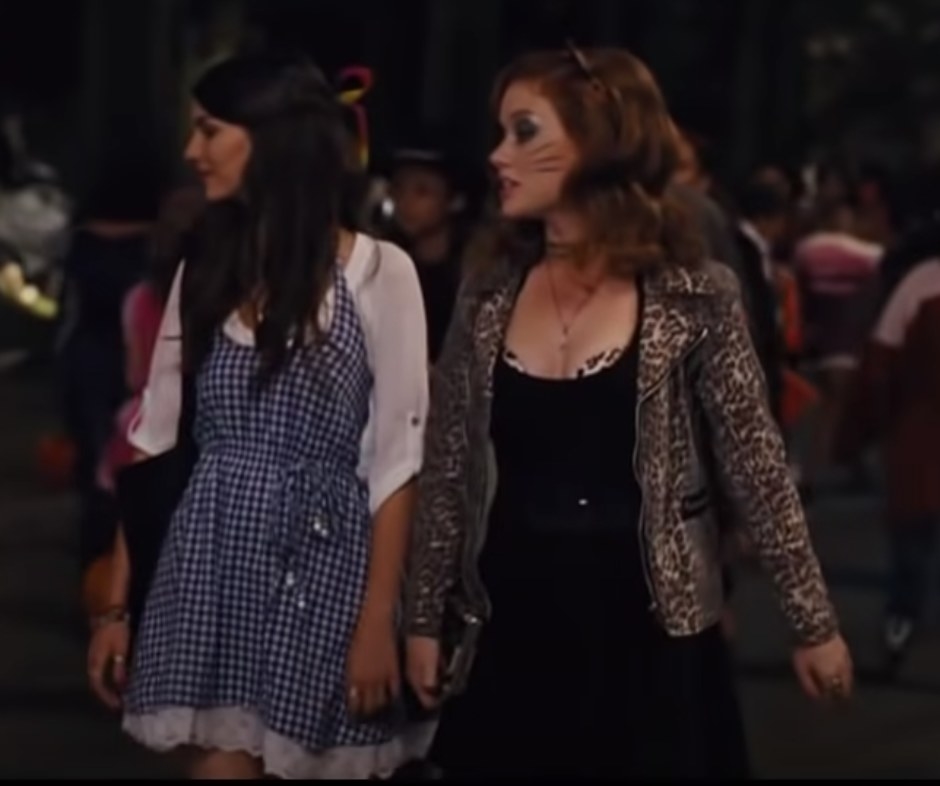 While this look gets docked a few points because it's not super innovative or thought-out, I love the details, like her rainbow hair ribbon and sparkly red Converse. I mean, who has those sequined Converse just lying around? Her laid-back attitude doesn't fool me; she was WAITING to do this Halloween costume.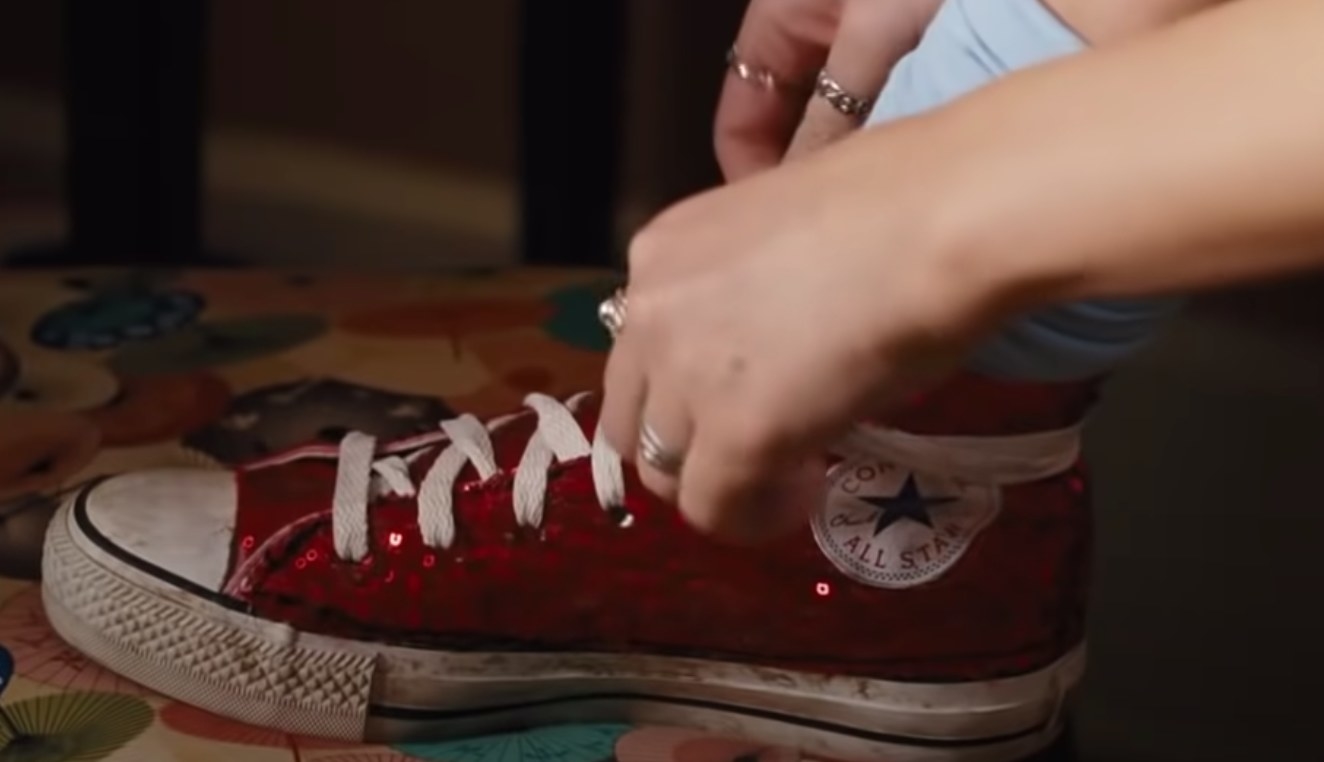 14.
Bianca and Pippa as Serena and Blair in this meta Gossip Girl Halloween look that made me question all of reality. While seeing the new Gossip Girl cast dress up as the old one was very weird, I can't fully appreciate this look because both girls chose Serena and Blair looks that I didn't particularly like the first time around, and certainly didn't like the second time.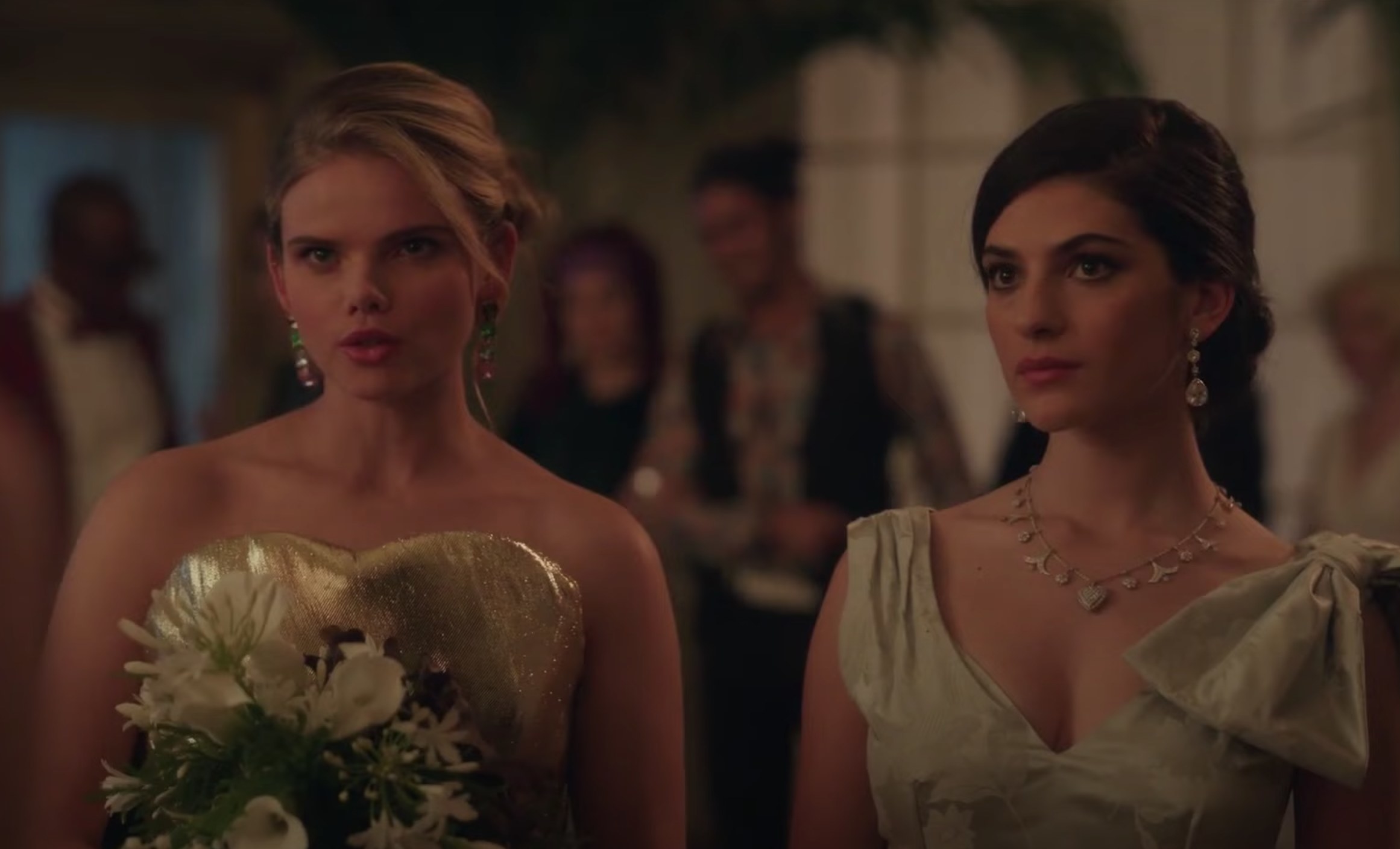 Pippa's choice of wearing Blair's cotillion dress is a bit meh, and I would have preferred to see one of Blair's different looks, like her red ballgown or gorgeous blue wedding dress (yes, I know what I've said about wedding dresses, but it doesn't count if it's not white, OK?)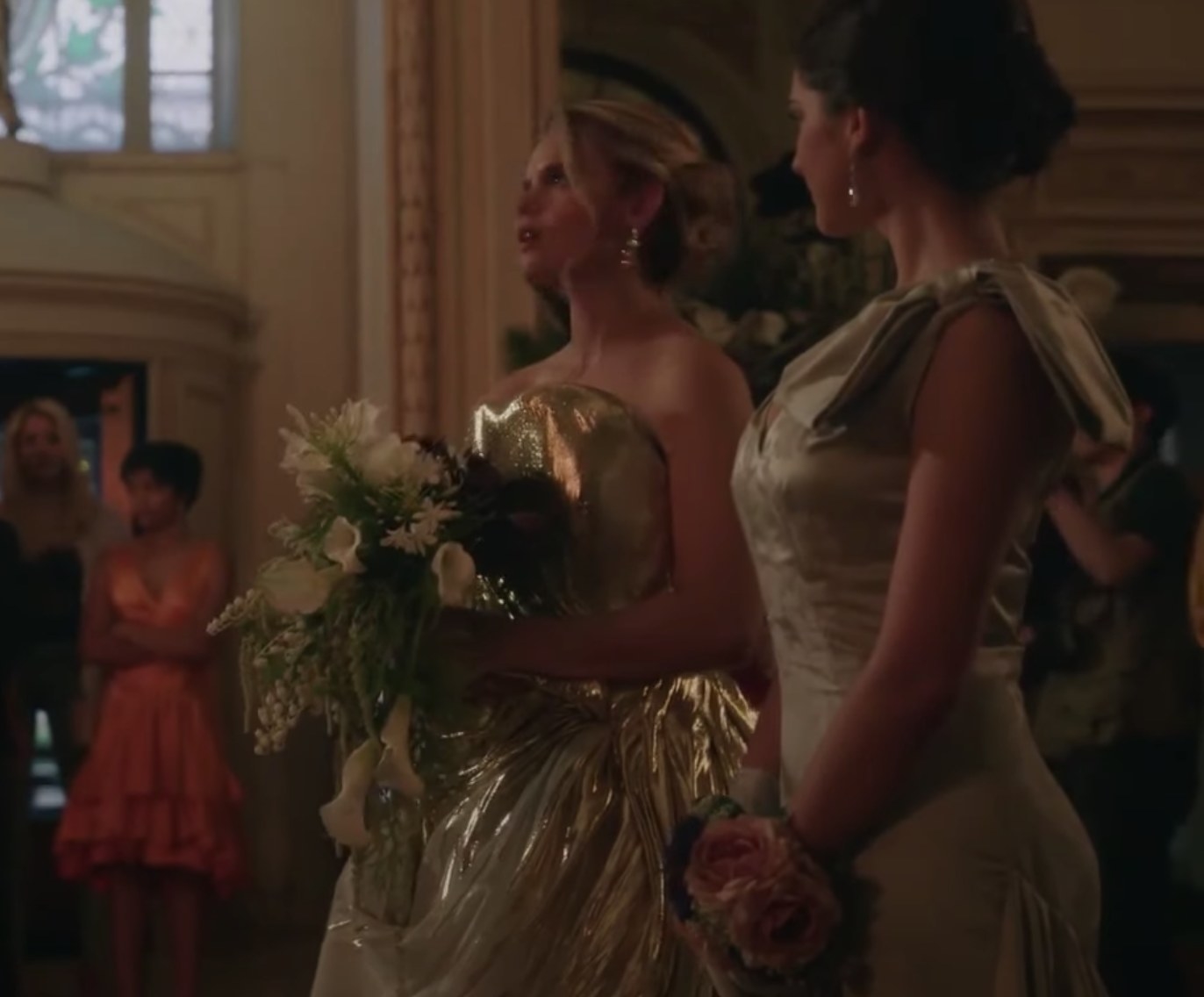 And I've notoriously HATED Serena's gold wedding dress, so I certainly didn't need to see it recreated on Bianca. Overall, the idea was creative, but it wasn't for me.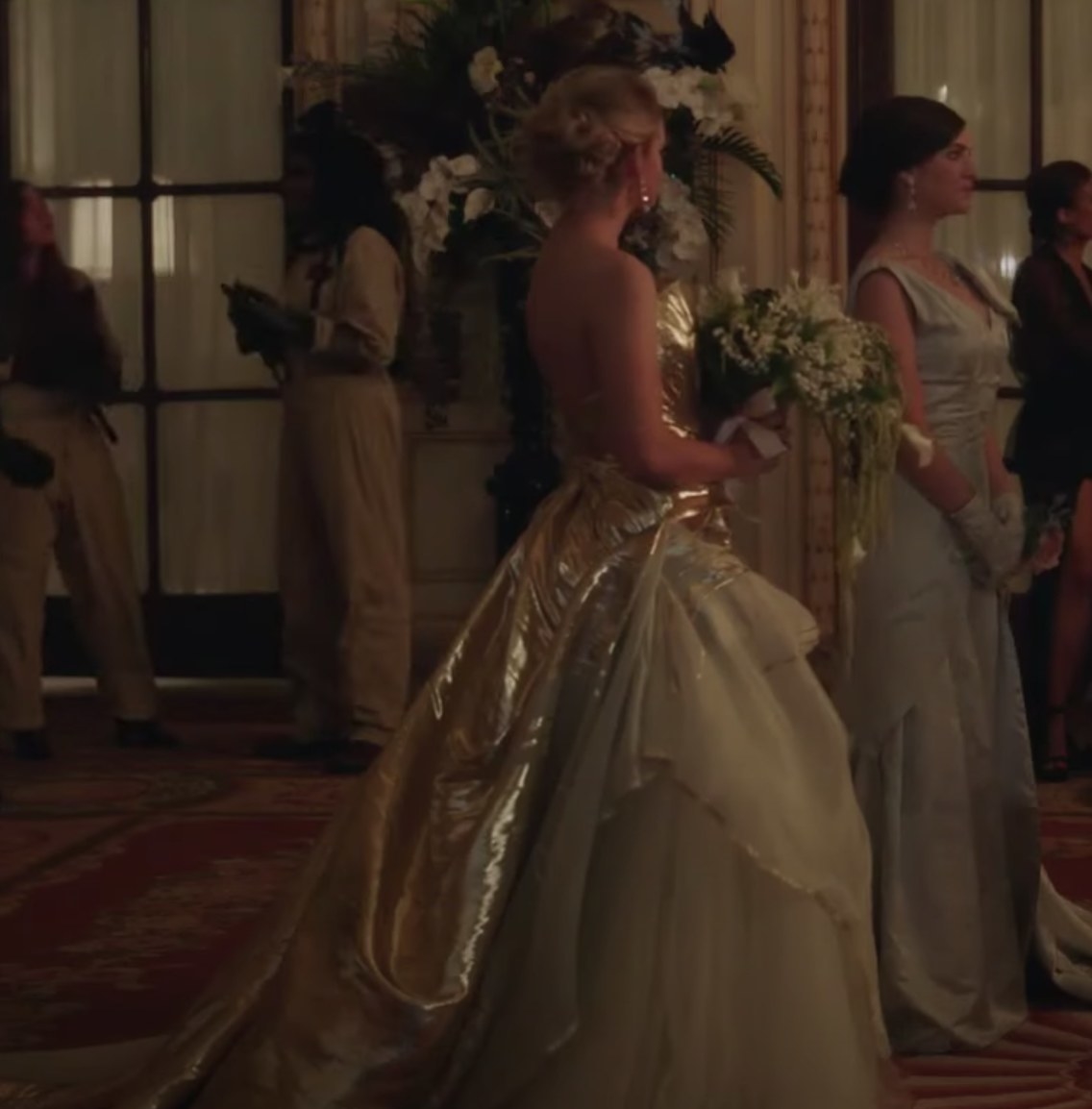 13.
Leslie Knope's Rosie the Riveter costume in Parks and Recreation. Comfortable, easily identifiable, and seriously in character, this costume was a great pick for Leslie.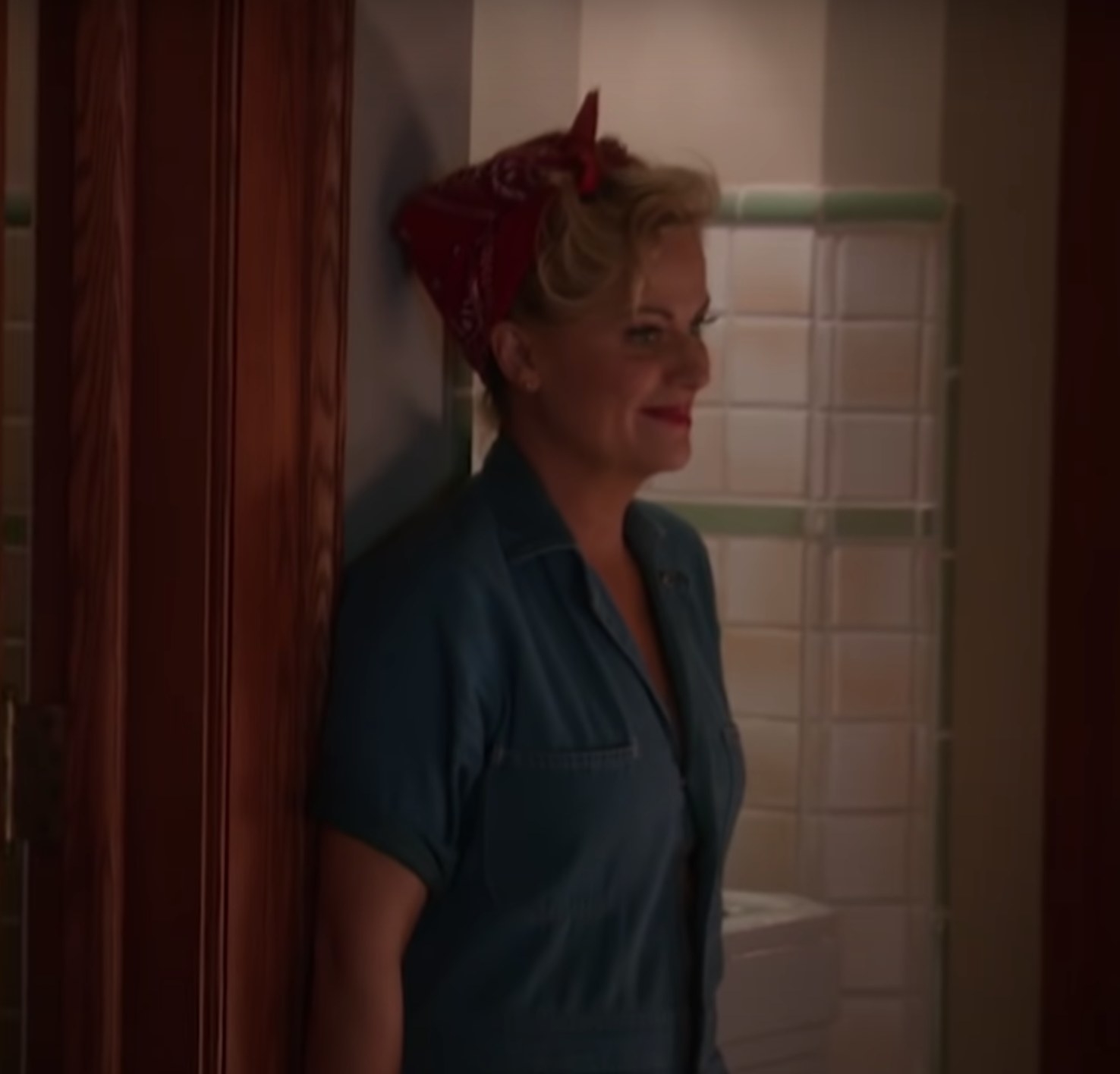 The cute bandana and bold red lip help tie this look together. While it's not my favorite look of all time, I can respect the fact that it's so on brand for Leslie and that she clearly put some effort into it.
She looks cute and comfy, and this is the perfect look for those who are more interested in attending a chill party at their friend's house than hitting up the clubs.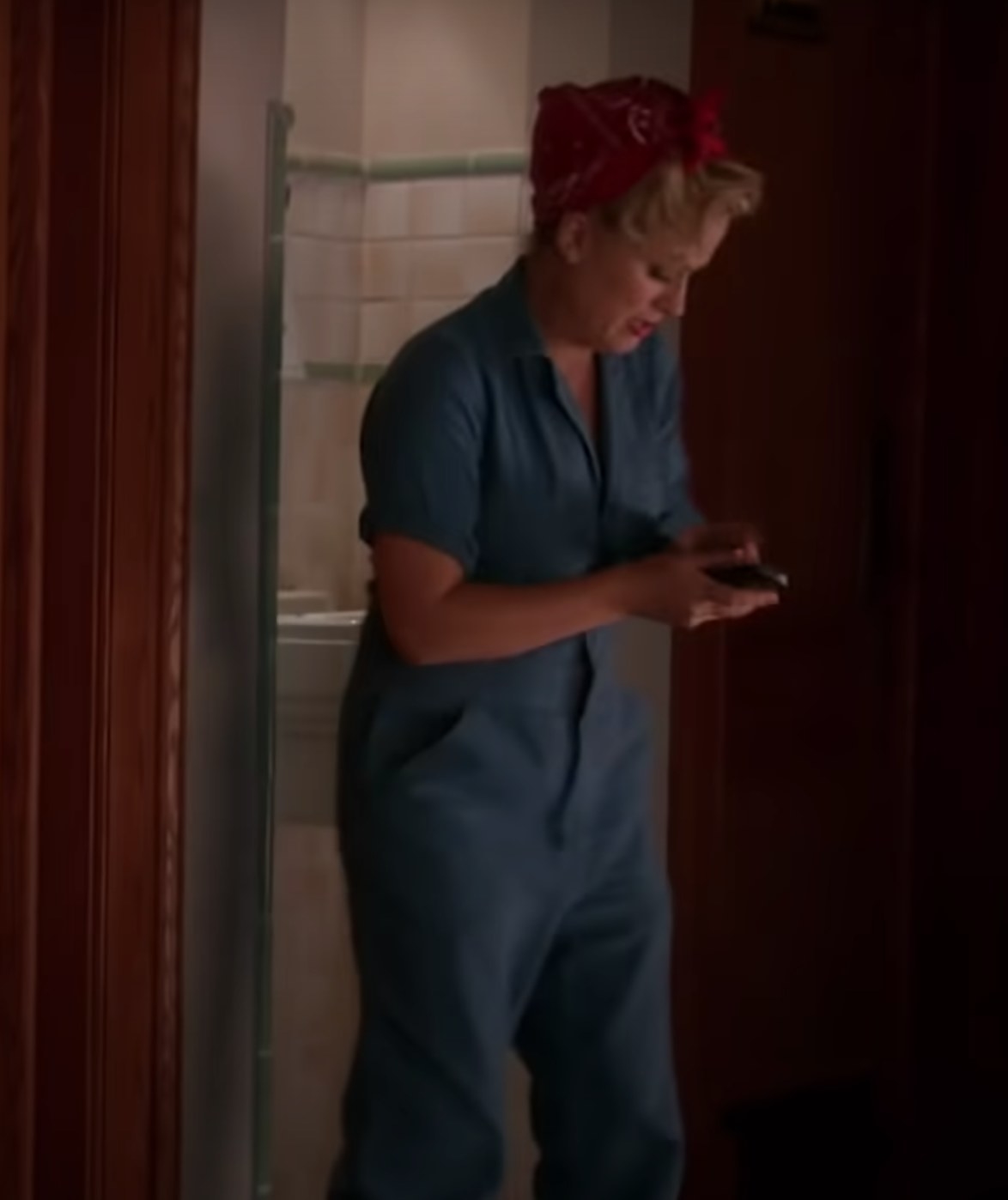 12.
Alex's costume on Wizards of Waverly Place. This may be controversial, but I actually liked this look a lot.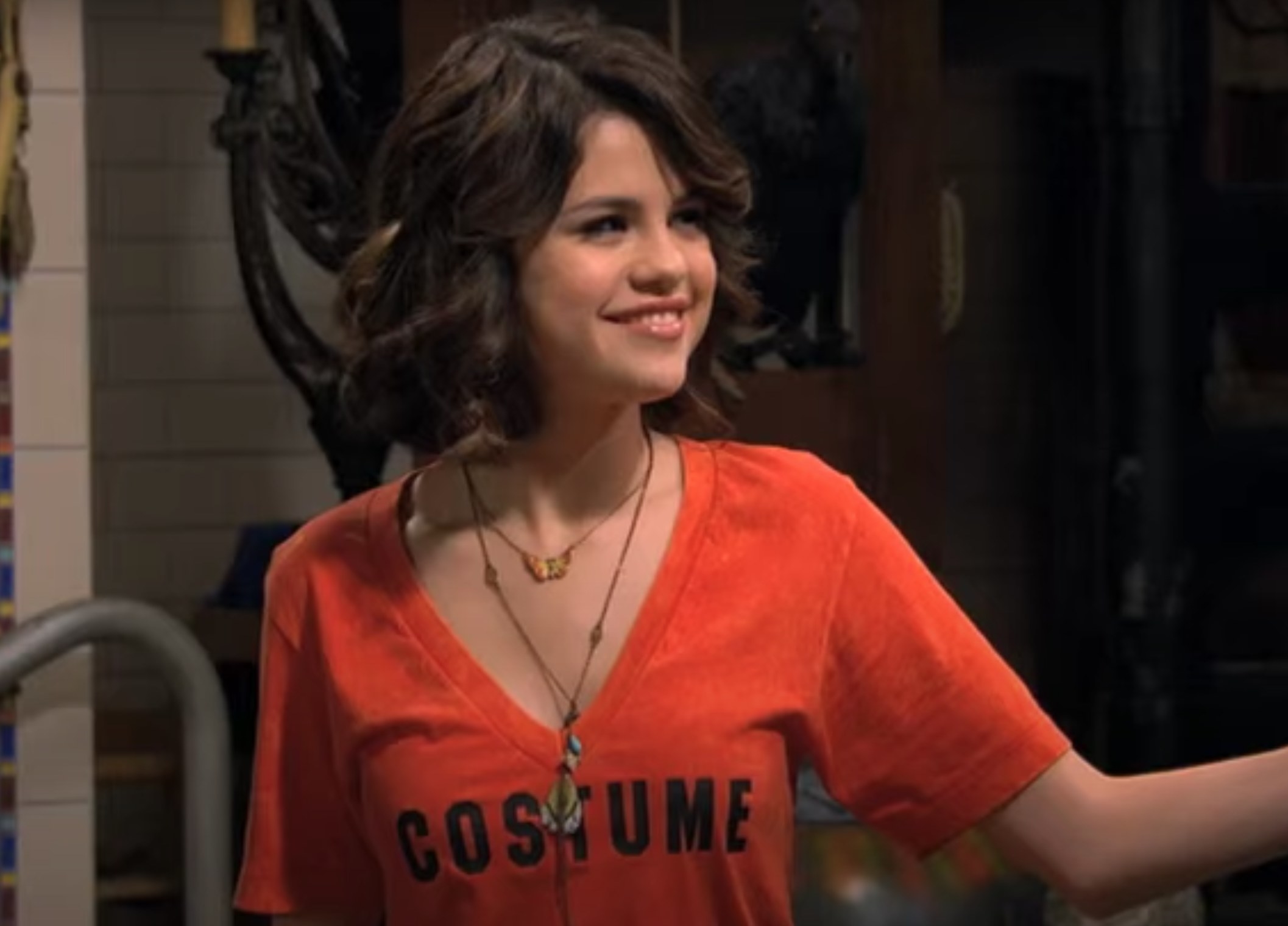 It's funny, unique, and fits her character perfectly. Unfortunately, it's not much of a costume, so I can't rate it particularly high.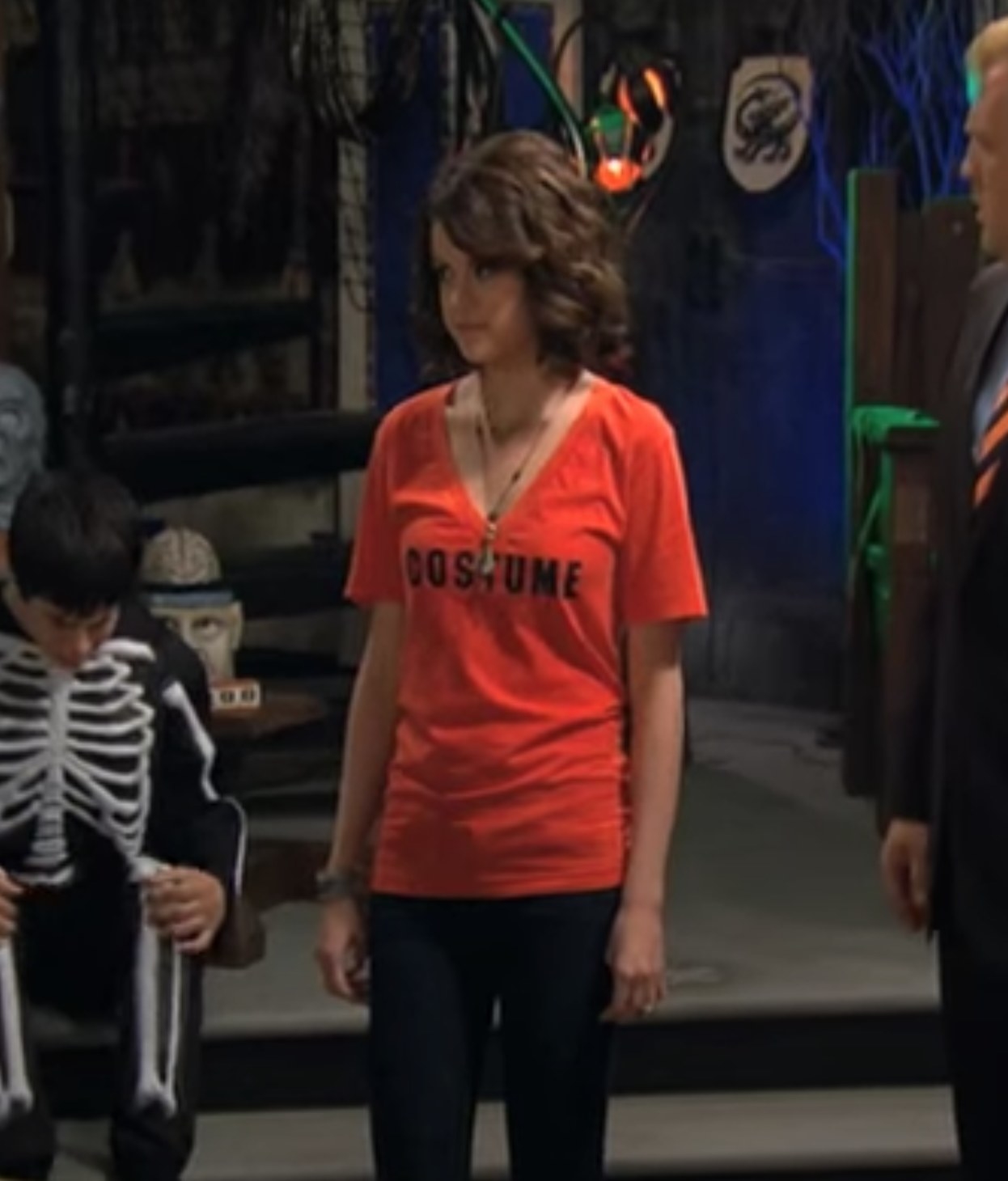 But she does get some points for even going out and purchasing a shirt that says "costume" on it, because she could have just worn her regular clothes and called it a day.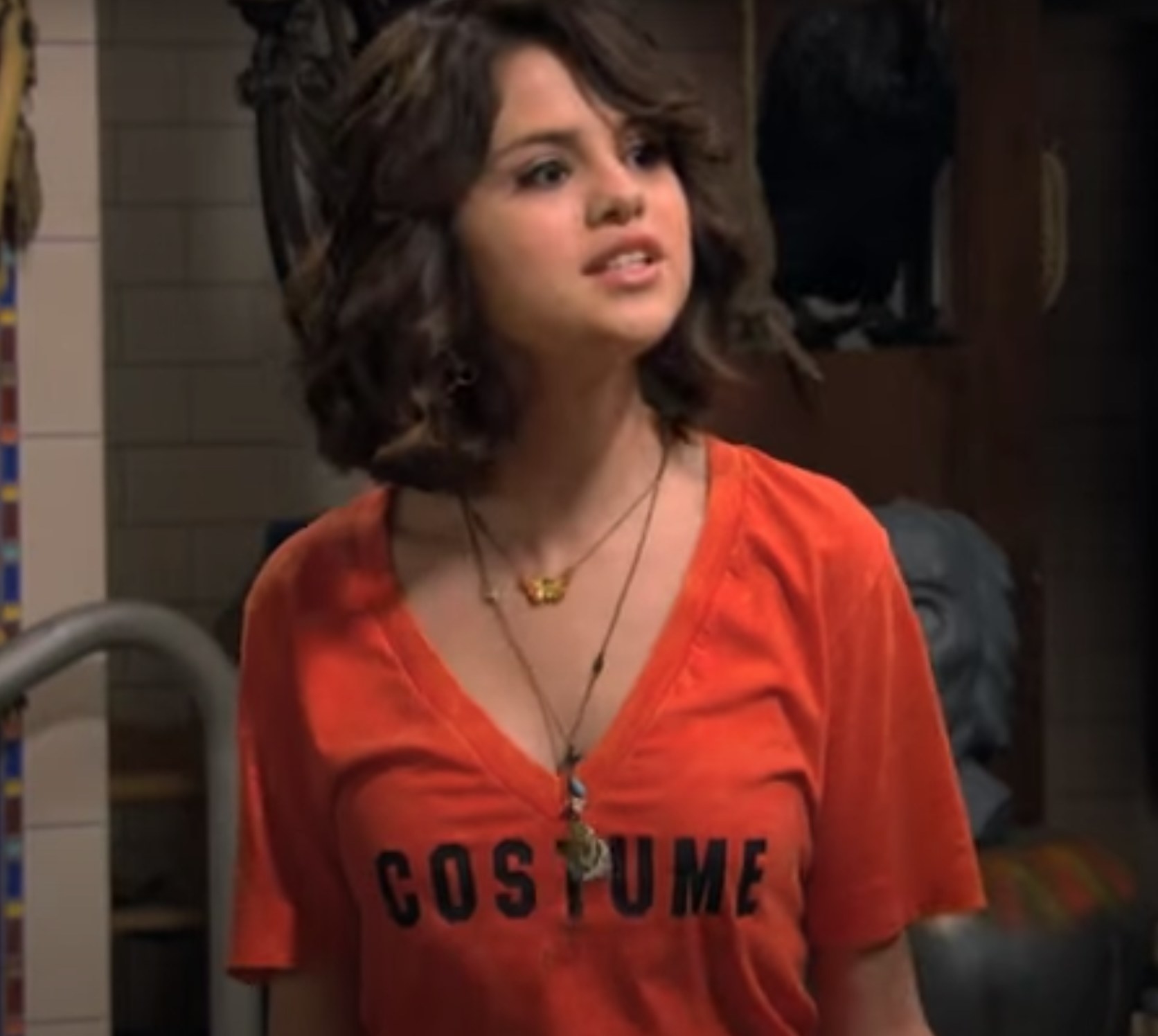 11.
Georgia's stuffed olive outfit from Angus, Thongs, and Perfect Snogging that certainly set her apart from the rest of the crowd.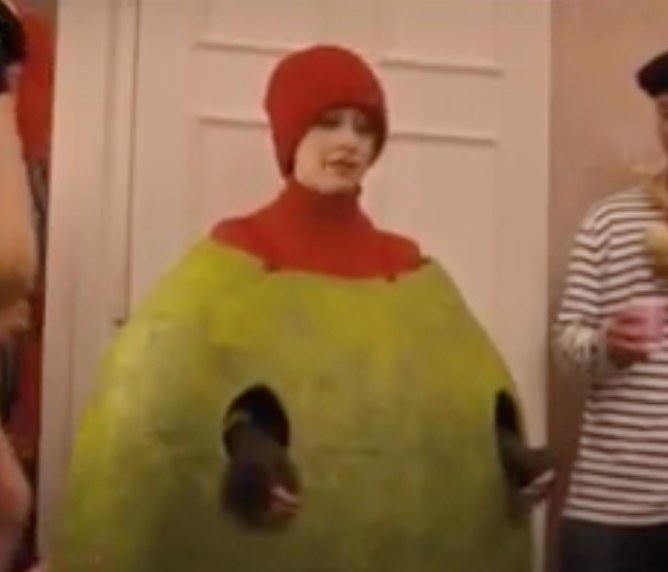 While I'm probably not going to be wearing this costume anytime soon, mostly because of the logistics of getting through doors in that olive shell, I LOVE how unique her idea was and her dedication to creating the coolest olive costume out there.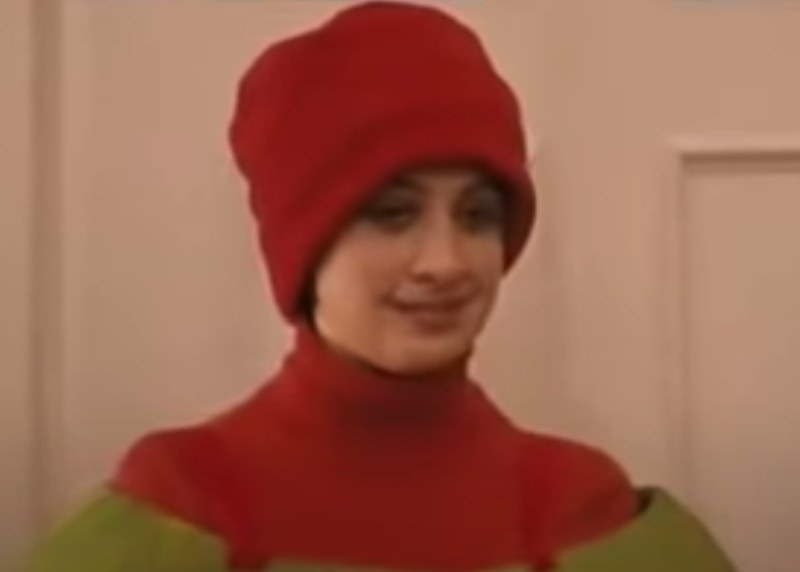 I hate her friends for bailing on their group costume last minute and not even letting her know, but she has nothing to be embarrassed about. This costume was "the business."
10.
Kelly as Katy Perry in The Office. This is the one time where I actually thought the wig added to the costume.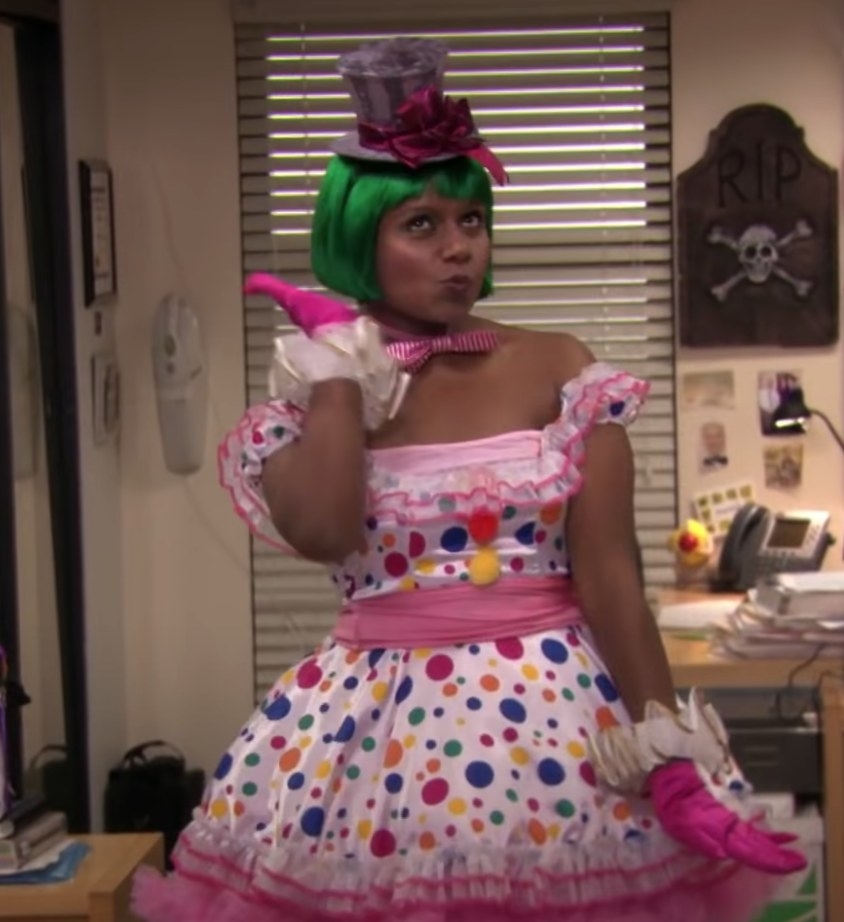 I love the little hat, the bow tie, and the ruffled polka-dot clown dress.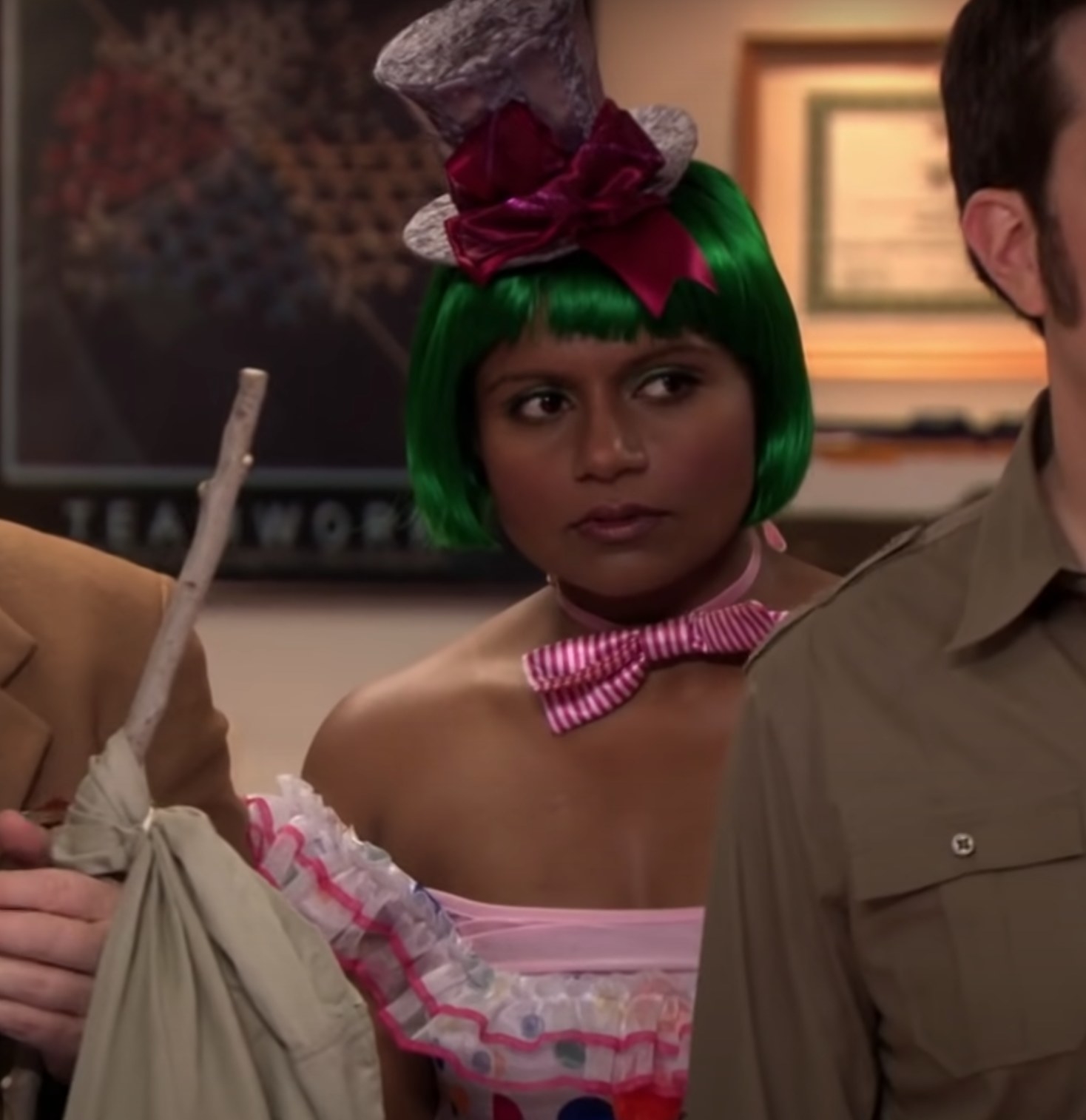 The main reason why I can't fully fall in love with this costume is because I had no idea who she was at first. I thought she was some modern clown with a small hat, and did not recognize this as Katy Perry. This could totally be a personal problem, but I think if she had a candy print dress like in "California Gurls" it would have worked better.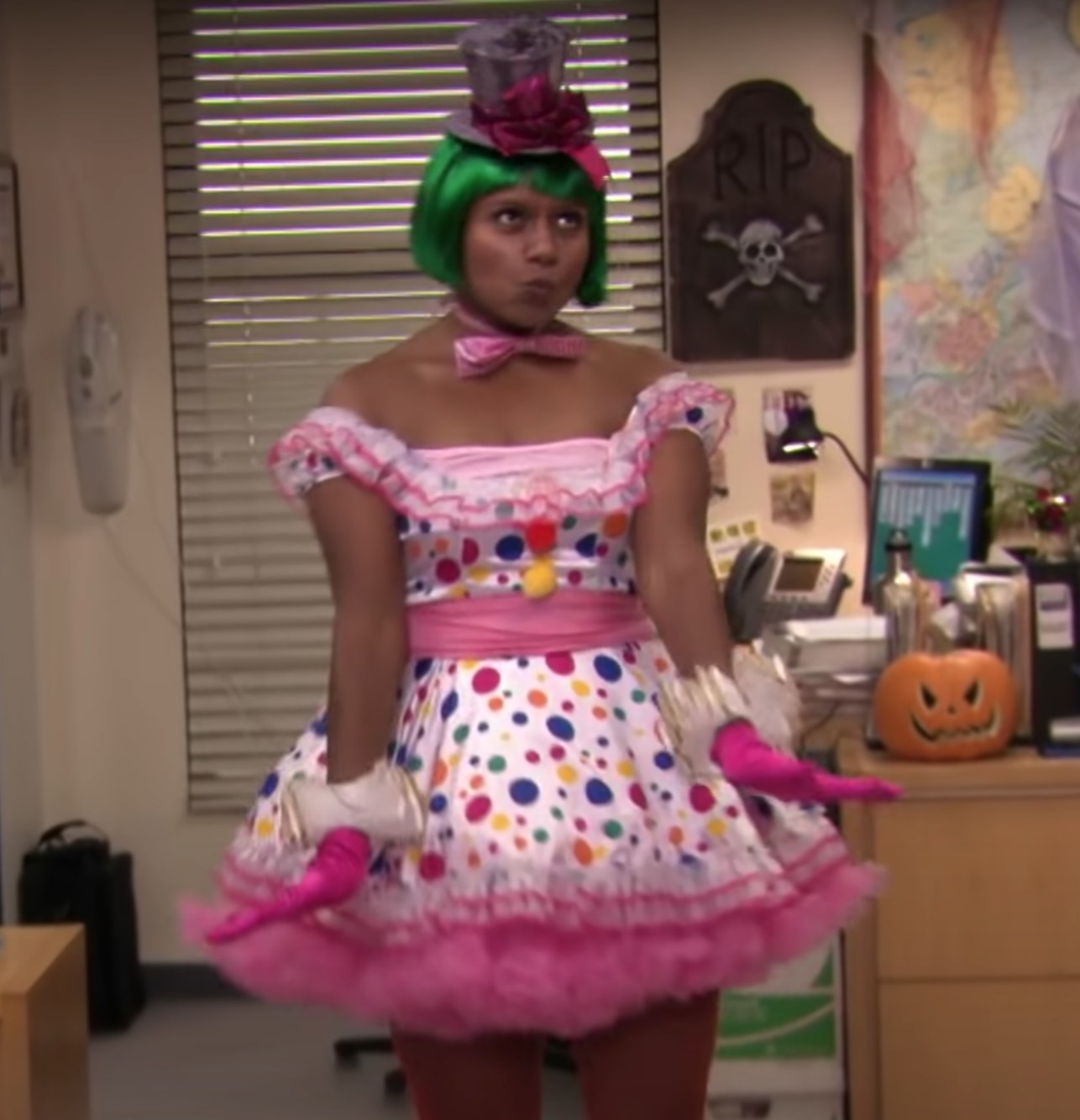 9.
Sam's princess ballgown from A Cinderella Story. OK, I know I'm going to get some hate for this one, but I'm not a fan of Sam's iconic dress, which is why I couldn't rate it any higher. I understand that she had to look like Cinderella for the storyline and that the tomboy character deserved her princess moment, but I feel like wearing a wedding dress may be a bit far for a high school dance.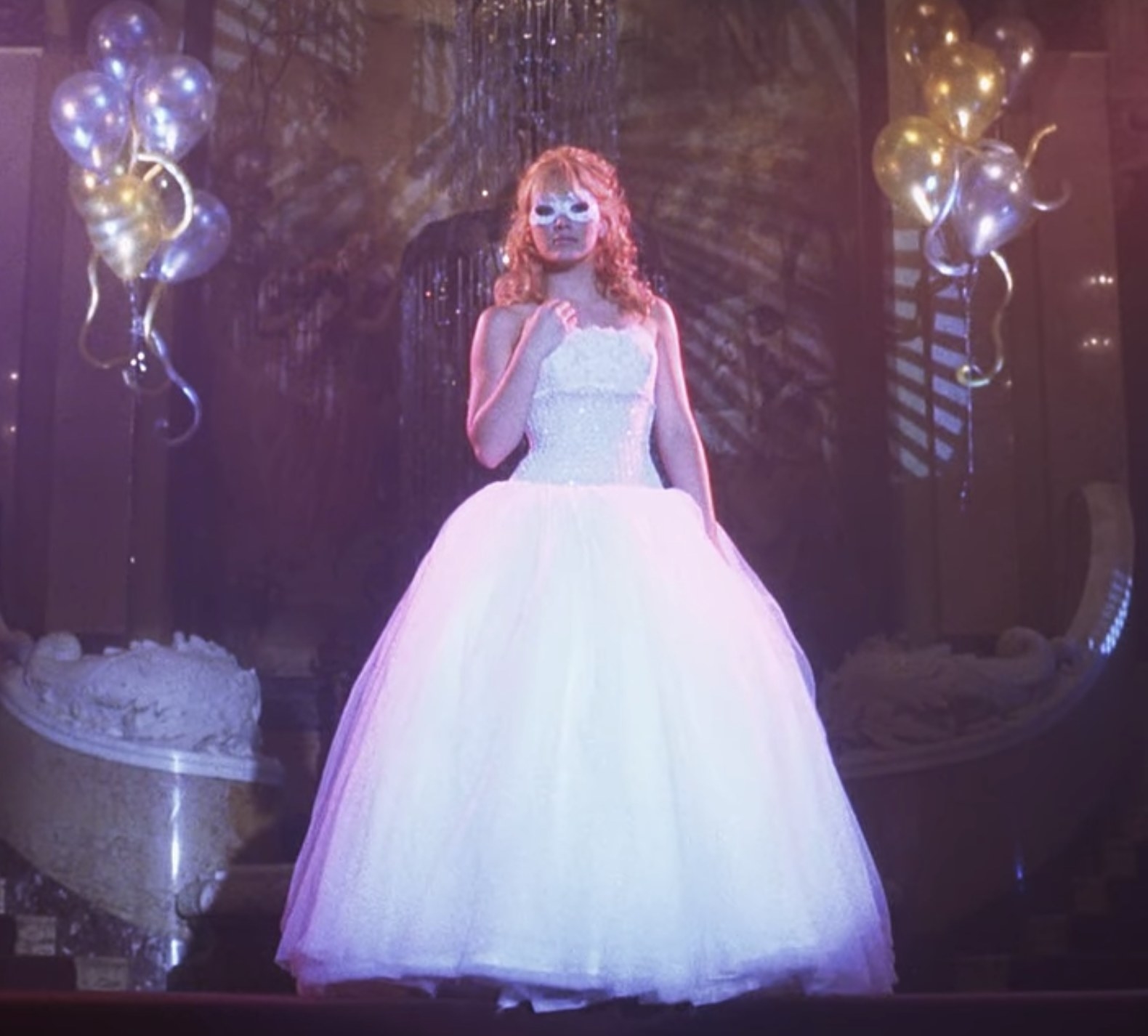 While I absolutely fell in love with her look when I first saw the movie in 2004, I feel like the gown did not age very well. I do love the mask though, even if it's literally the smallest mask in all of history and would be 0% able to hide her true identity. Did anyone else notice that Shelby recognized her immediately?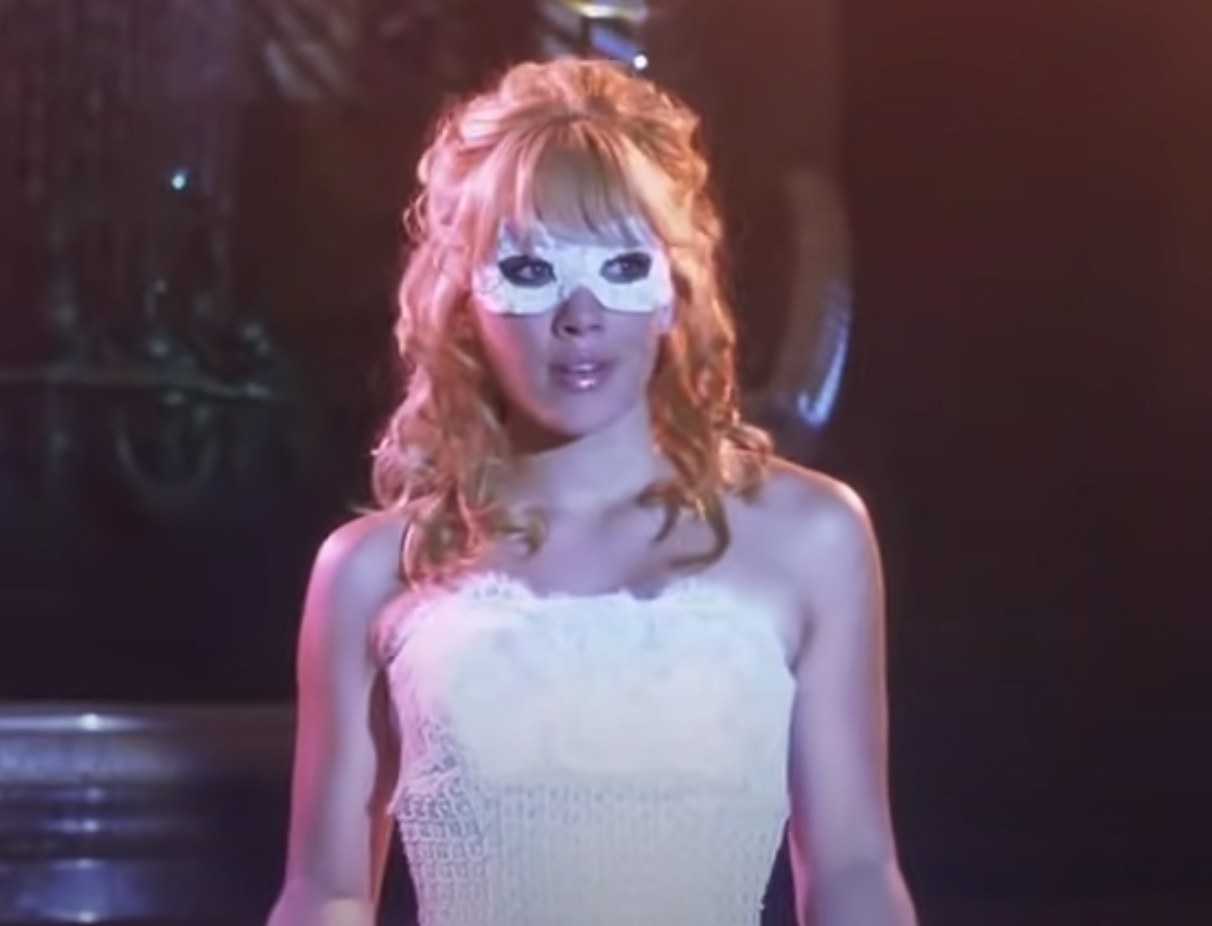 The sequined/beaded bodice with the lace neckline is what really ruins it for me. Plus, refer to #18 regarding my thoughts about wearing wedding gowns to meet boys during Halloween.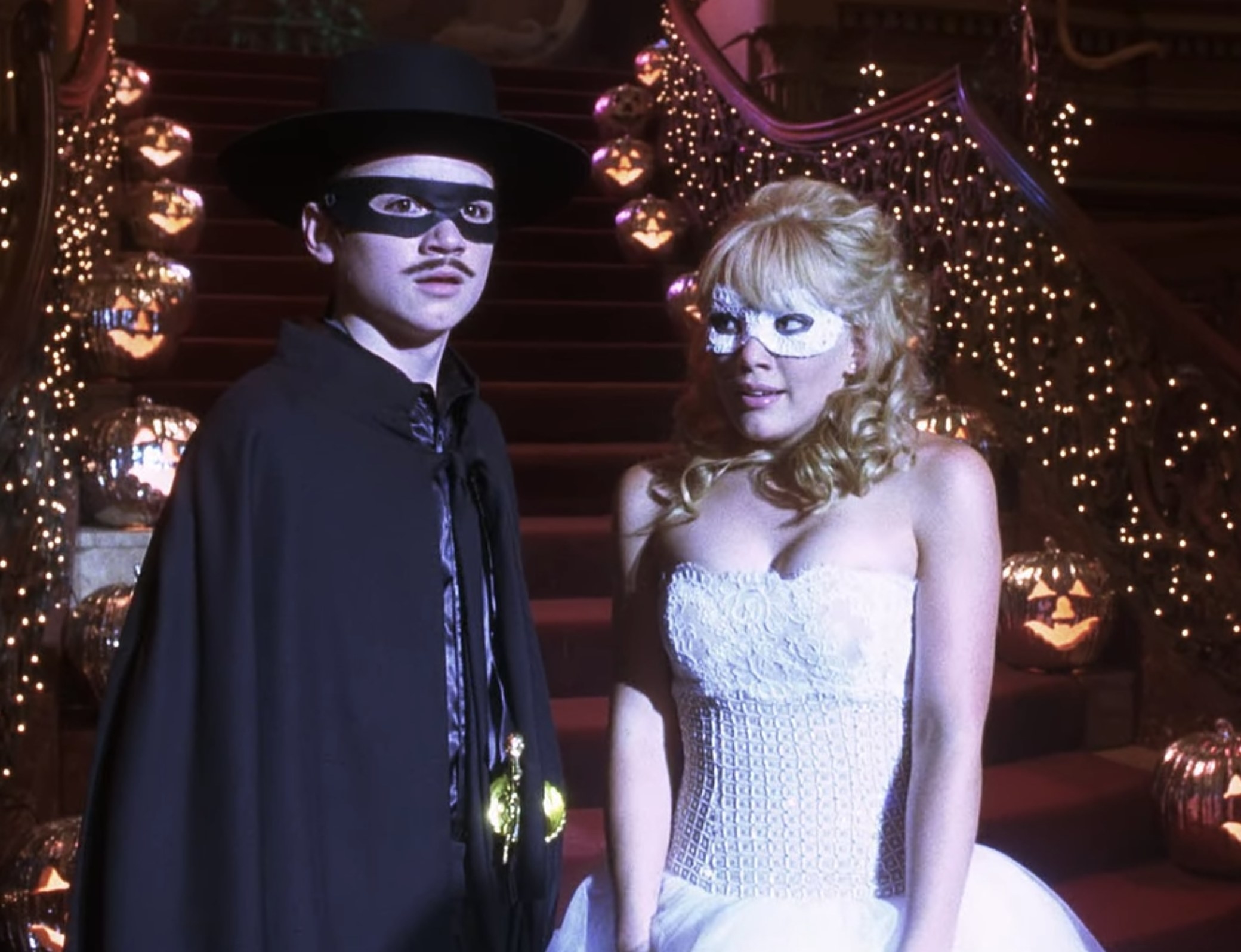 8.
Abby's modern Wonder Woman from Love, Simon that looked planned and casual all at once.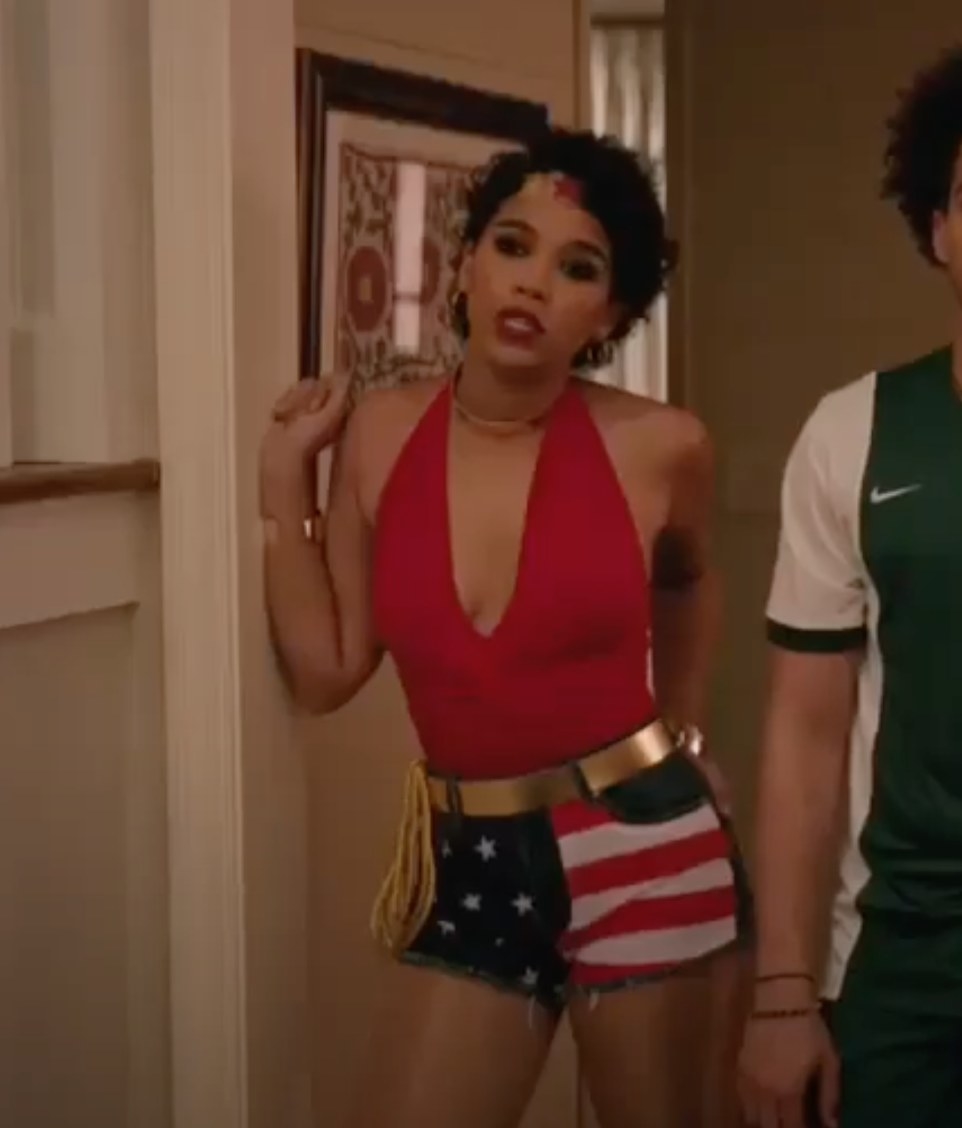 I mean, the headpiece, the necklace, the whip, and the shiny gold belt really brought the outfit together. She gave the classic superhero her own twist and is looking amazing!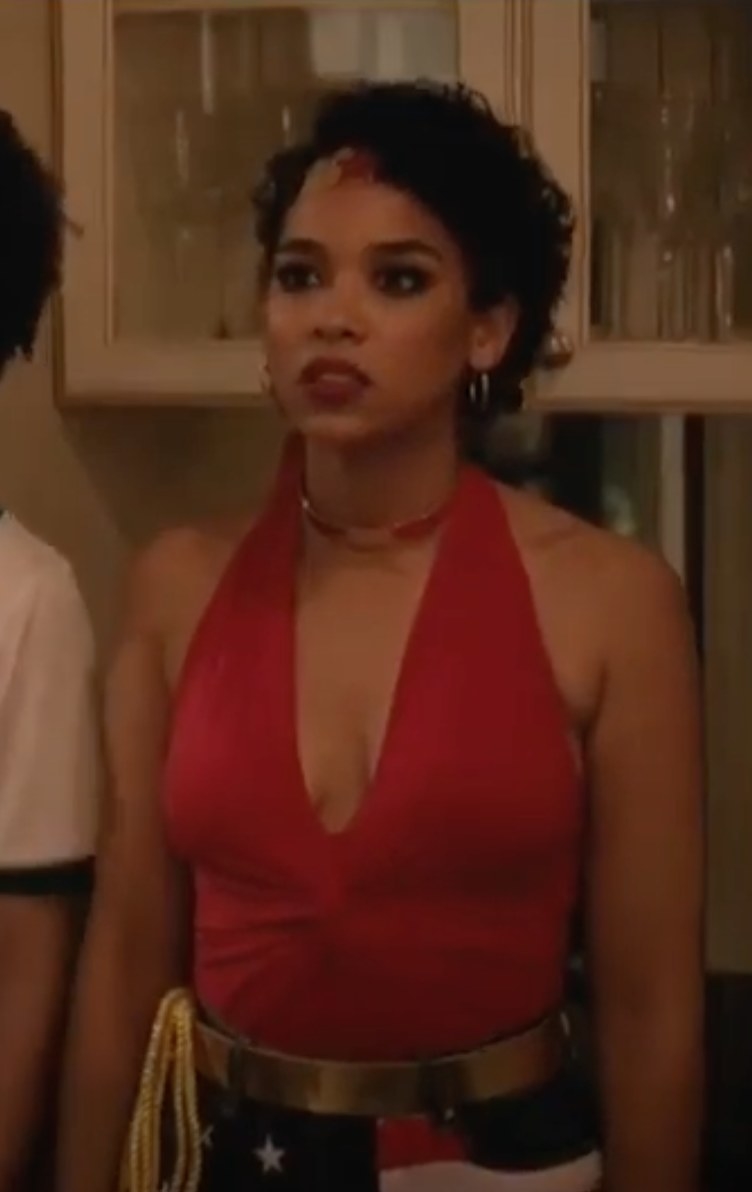 She's even wearing the bracelets! I like that the individual pieces look like items you would have in your house, but together you can immediately tell what her costume is.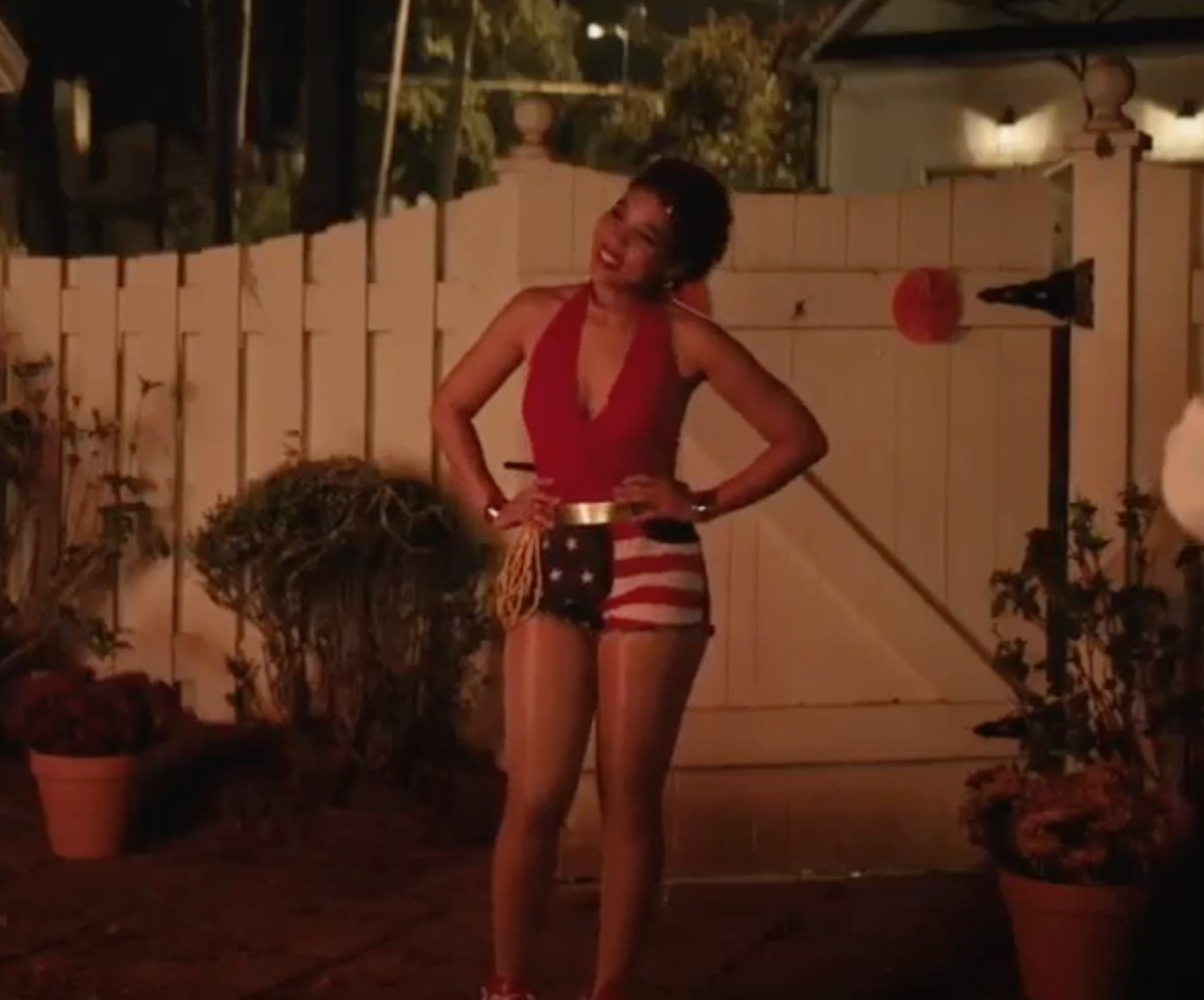 7.
Regina's classic bunny look from Mean Girls, complete with the fluffy boots and cuffs.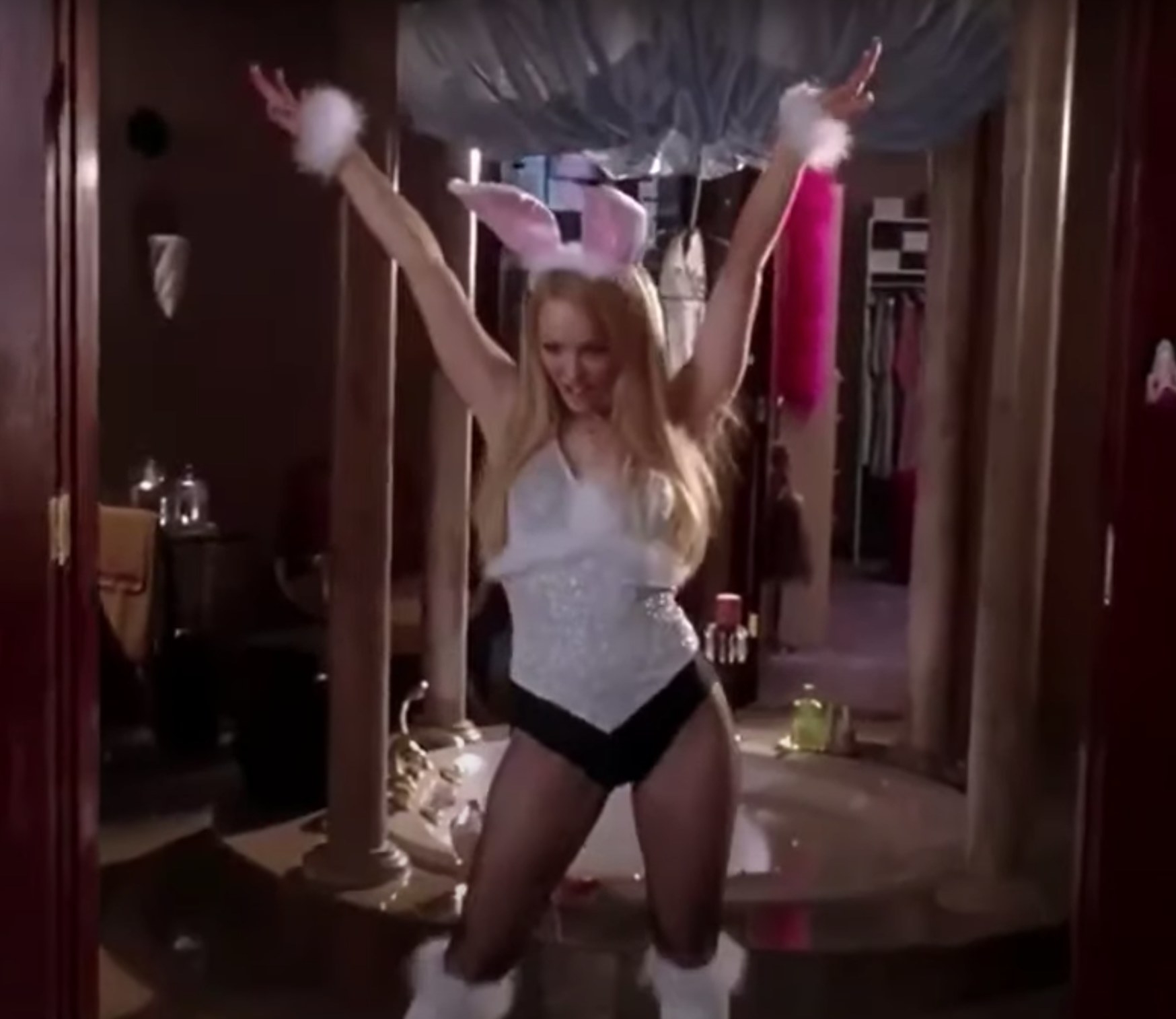 OK, don't hate me, but I kind of dig this look. I love the simple makeup and the rhinestones at the corner of her eyes.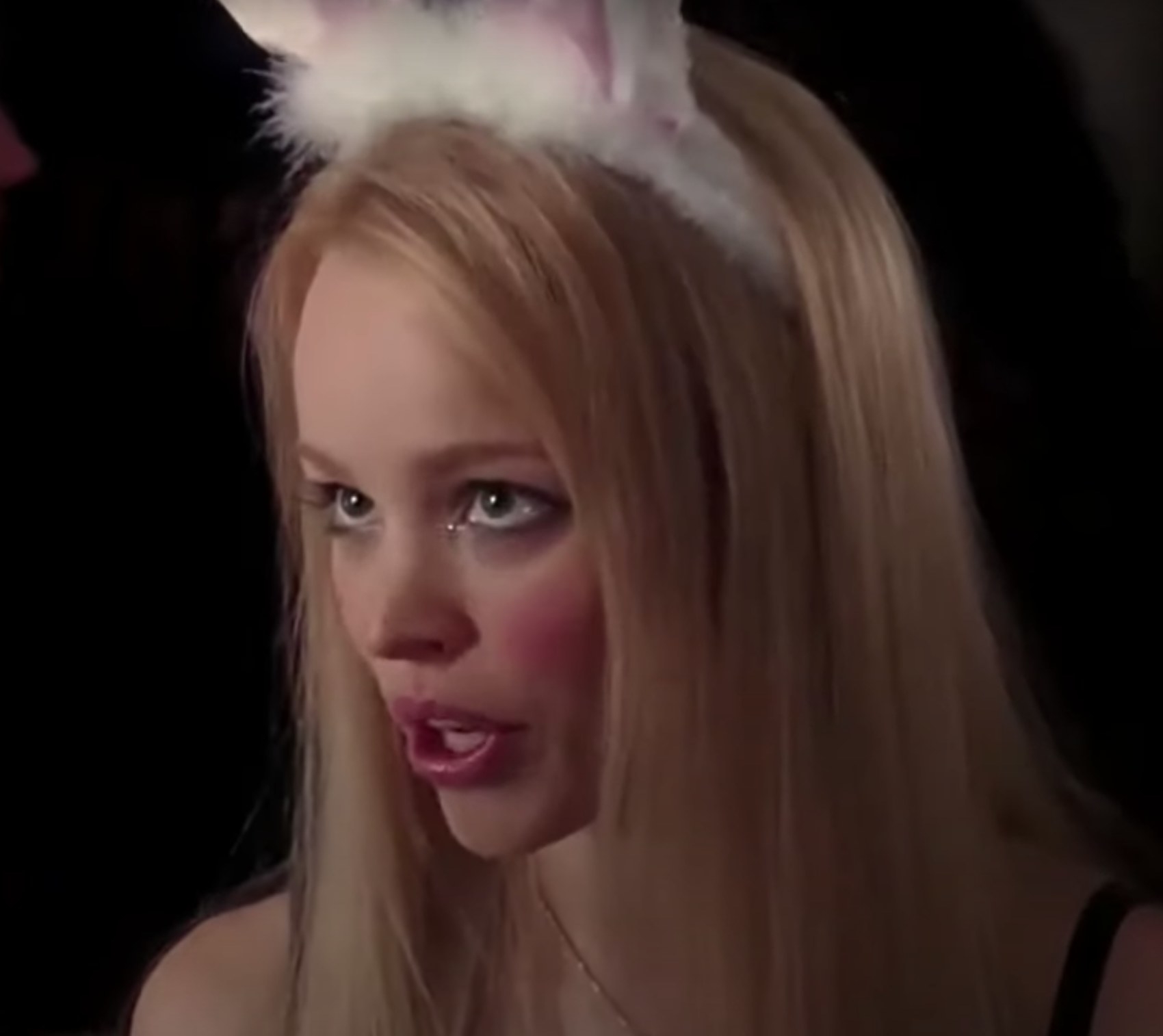 Plus, the matching white cuffs, fluffy ears, bunny tail, and boots pull everything together. Hate her all you want, but you have to admit that she's got some good taste in clothes.
6.
Ross's "spud-nik" getup from Friends. Yes, I know this isn't the most reasonable costume, but just look at the absolute joy on his face when he walks in to show off his look to his friends.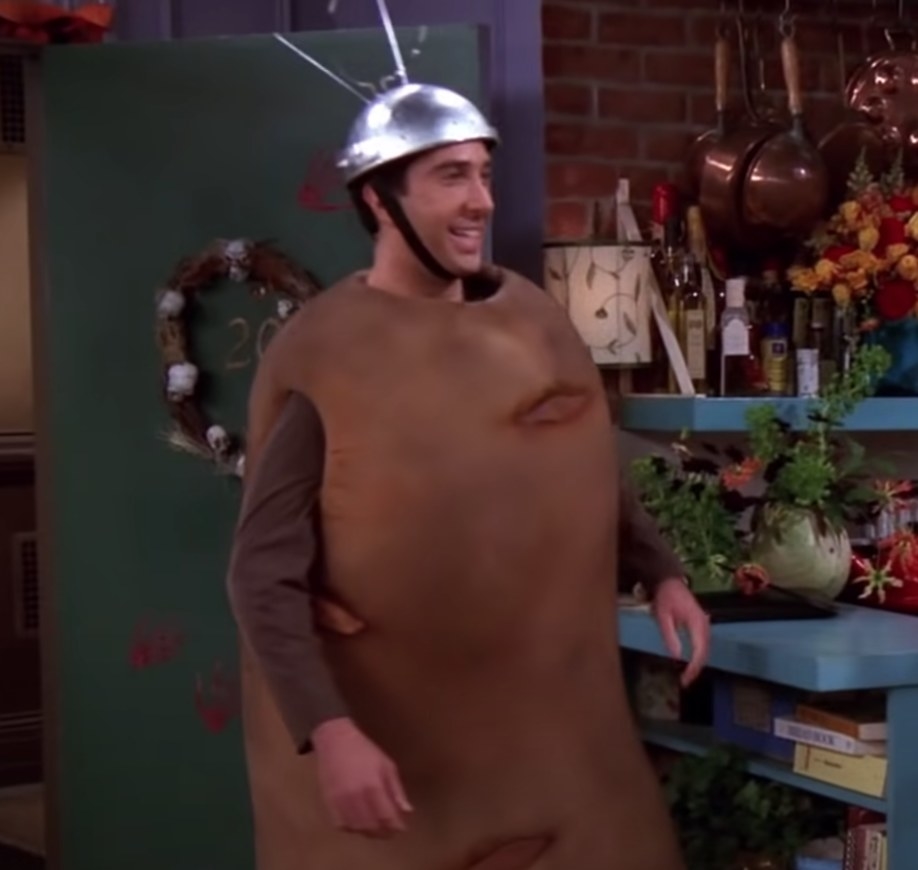 It's punny, it's unique, and it's a little bit nerdy, so it gets all the points from me.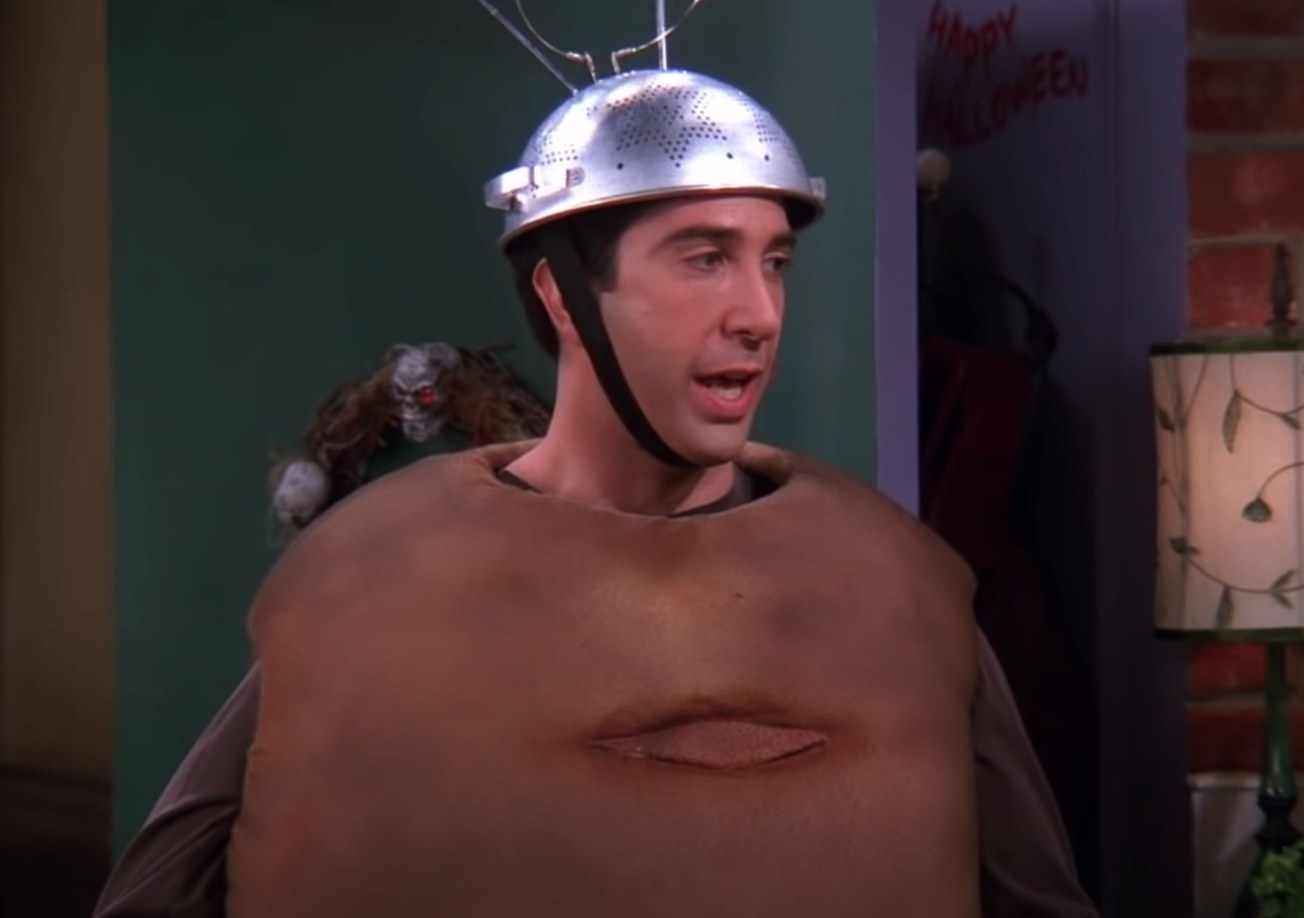 I mean, just think about it. If you saw someone wearing this at a Halloween party, wouldn't it absolutely make your day? I know I would be talking about it for the rest of the year.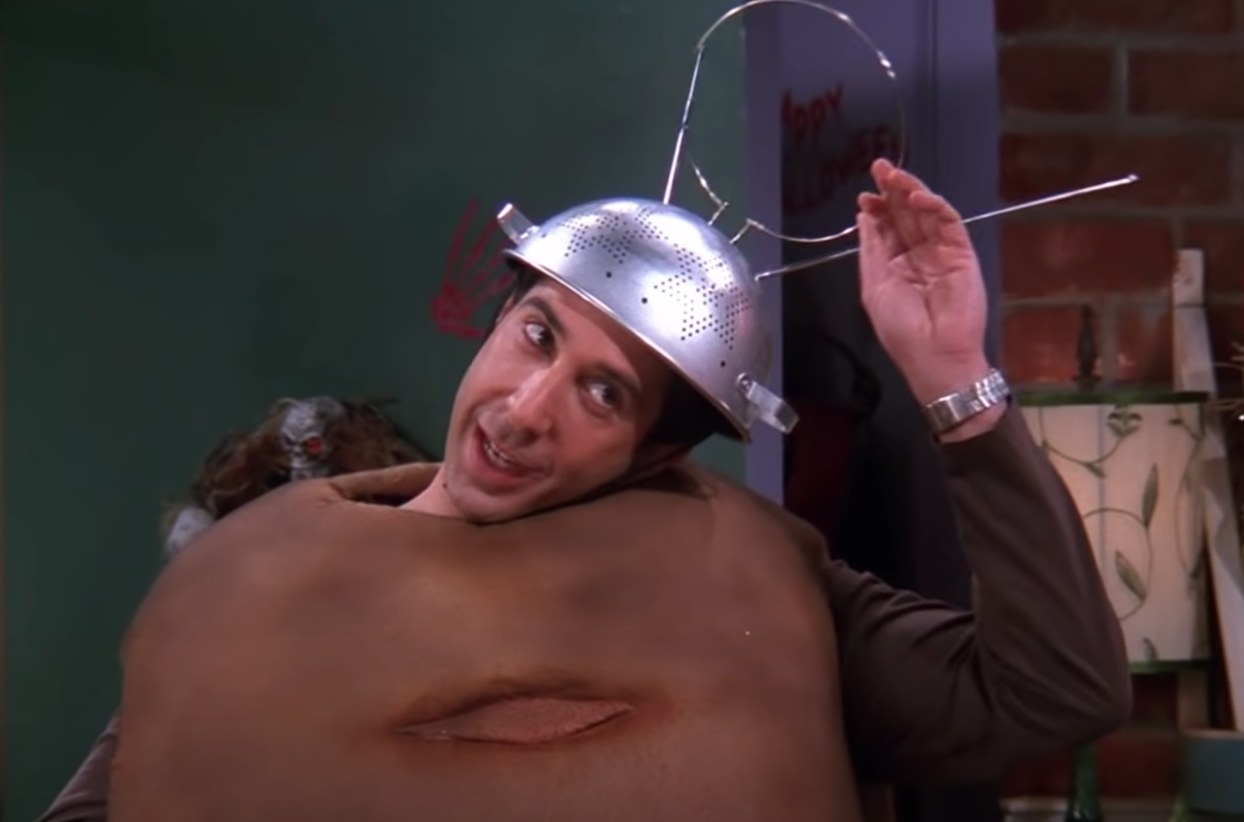 5.
Buffy as an 18th-century noblewoman in a gorgeous pink gown in Buffy the Vampire Slayer.
I love Buffy as a brunette in this costume! Not only is this dress beautiful, but it totally channels my childhood dream of being a princess and wearing a poofy ballgown.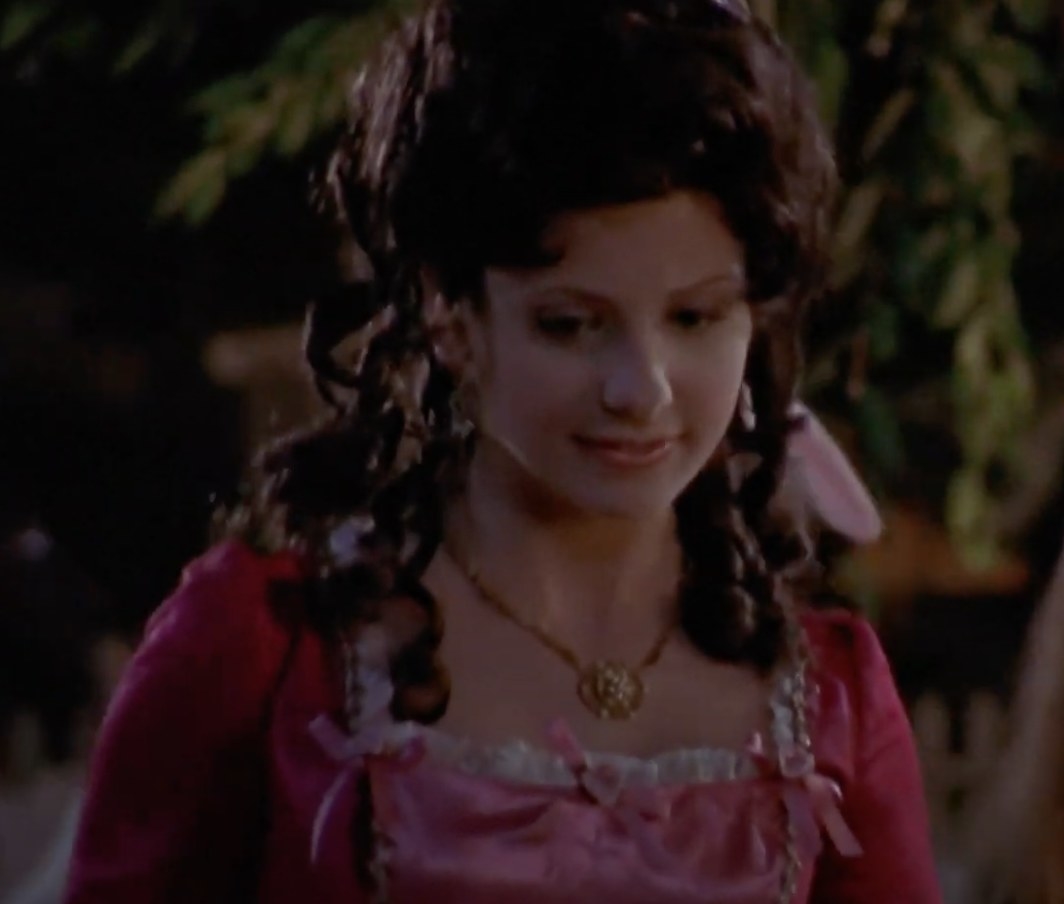 I love the lace on the sleeves and the two-toned pink color scheme. Buffy looks amazing, which isn't surprising because the only thing that slays more than her vampire-killing skills is her fashion sense.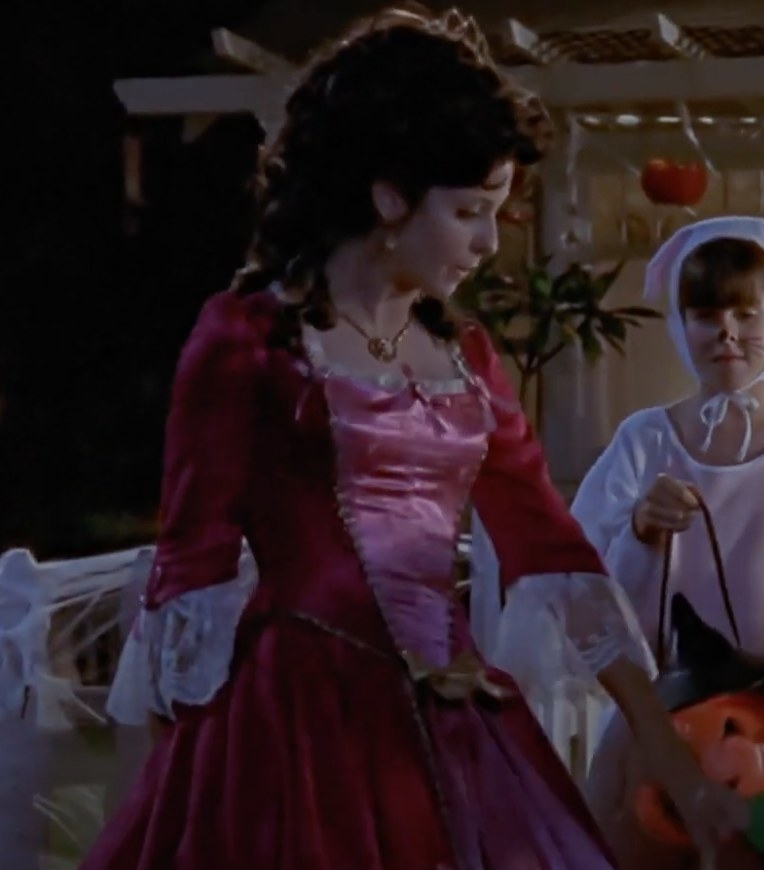 4.
The party as ghostbusters in Stranger Things. Not only did they all make these costumes themselves (with a lot of help from their moms), but they have "working" proton blasters.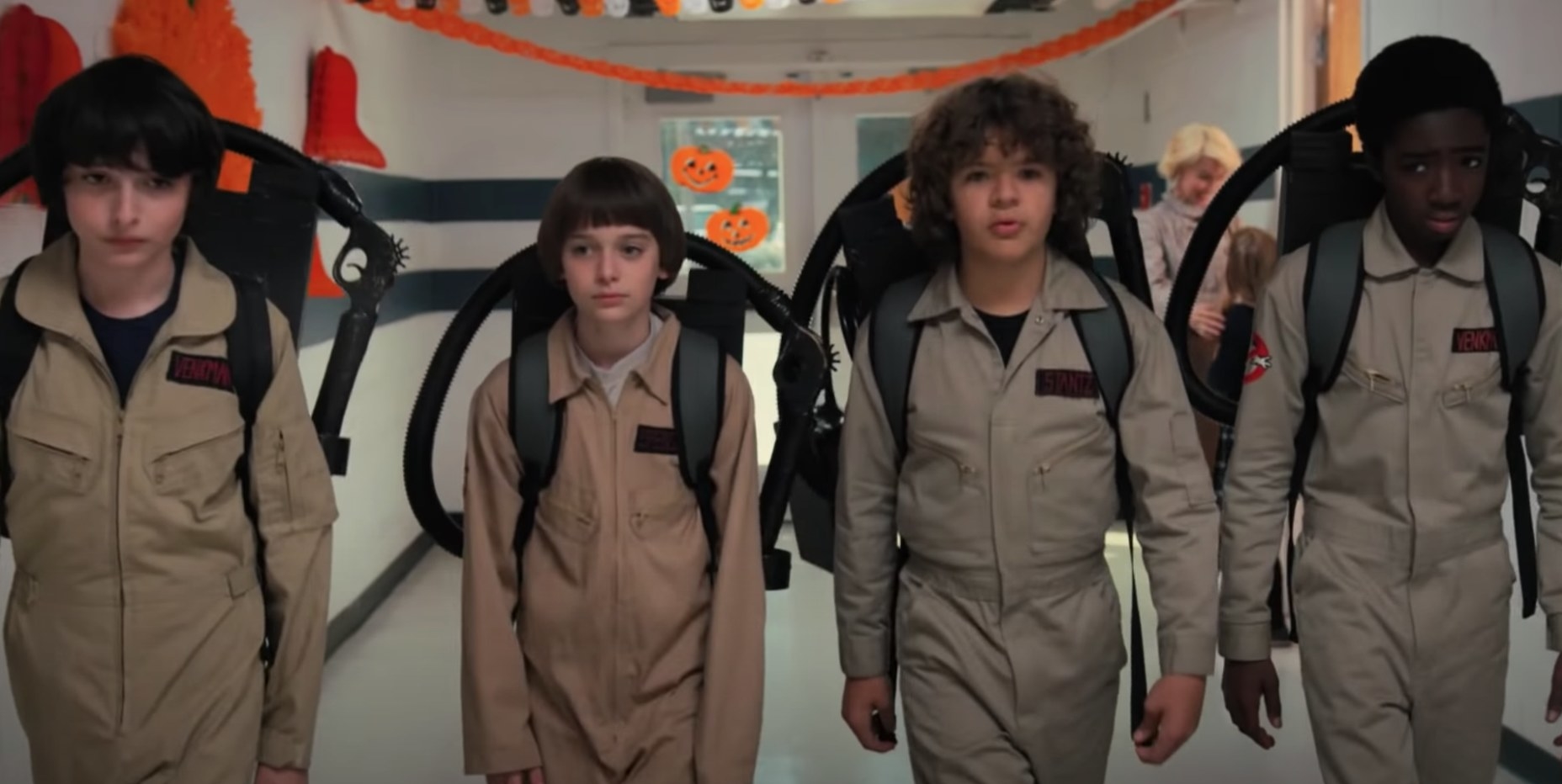 The dedication! The commitment! The proton packs!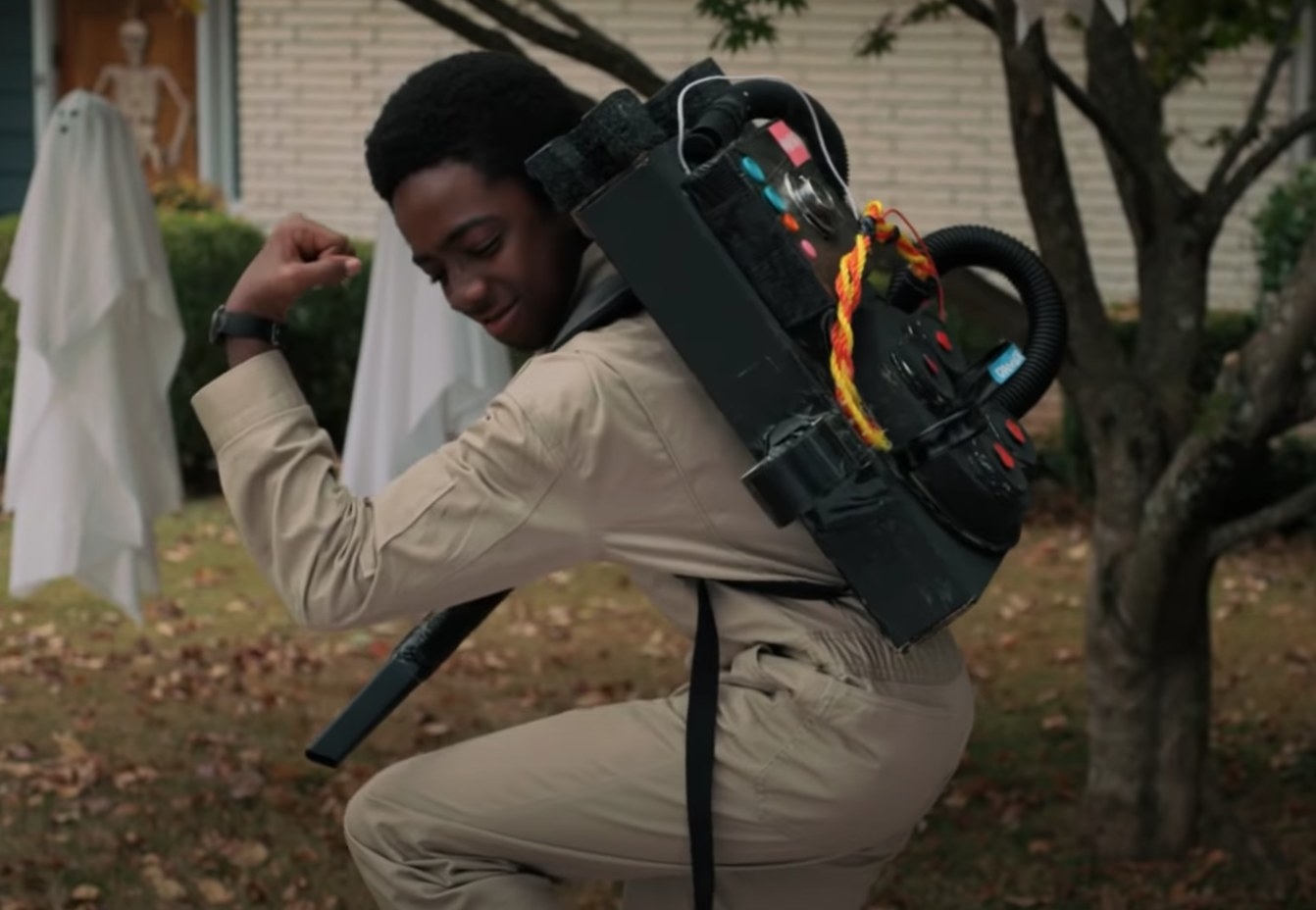 Plus, this costume was a great way to show how much the party stood out from the rest of their middle school peers when they showed up to school in costume while everyone else dressed normally. Who you gonna call?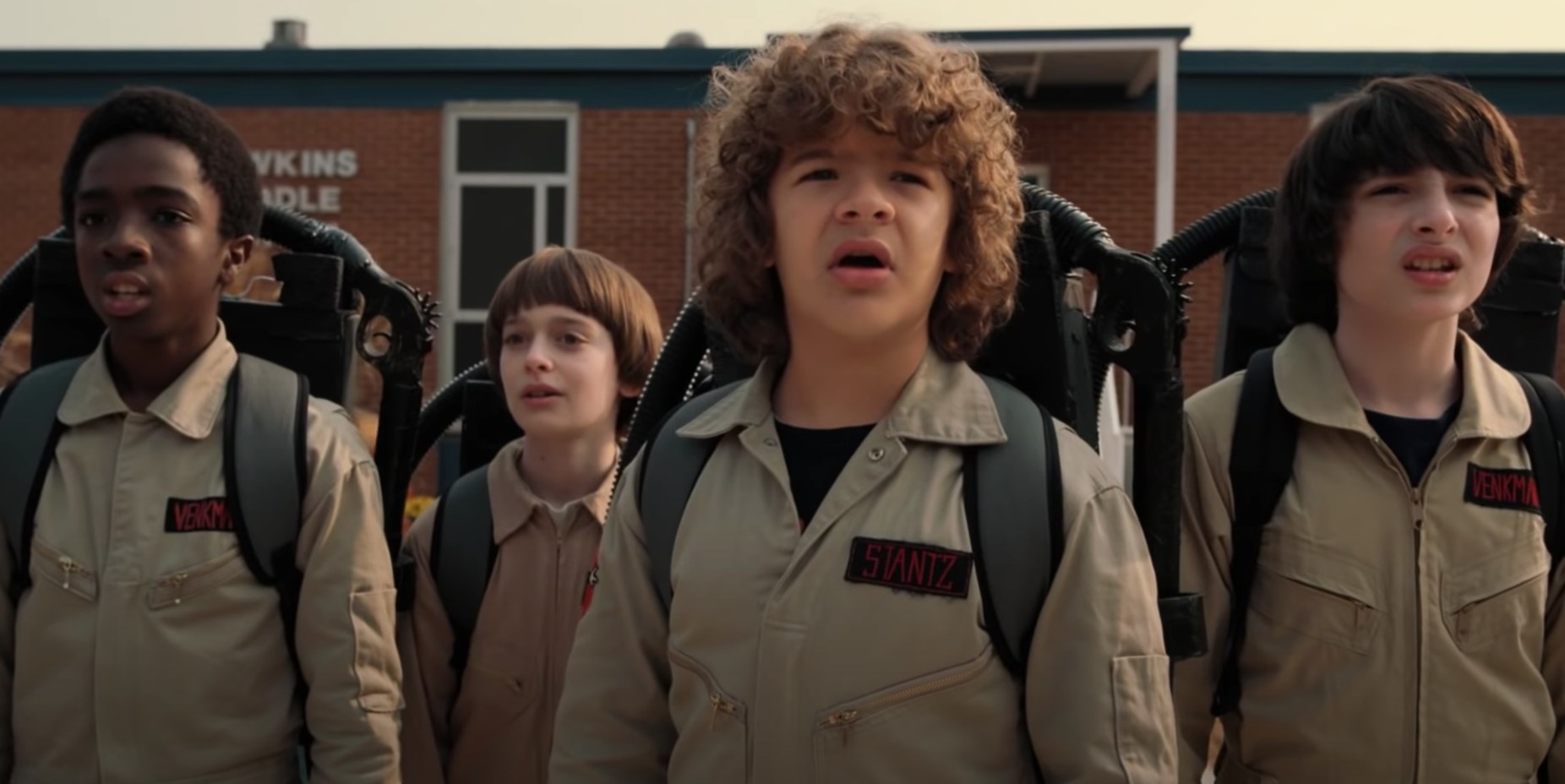 3.
Jules as Juliet and Rue in a tuxedo featuring gorgeous glittery makeup and a Baz Luhrmann–inspired wardrobe in Euphoria.
If you don't like this costume, I hate to say it, but you're just wrong. Rue's silver eye makeup and androgynous tuxedo make a show-stopping combo that has me crying. She's the perfect amount of glam and grunge. If you're not sure what Rue is dressed as, don't worry — you're not alone. It's been speculated that she's either Marlene Dietrich from Morocco, or Jack from Titanic.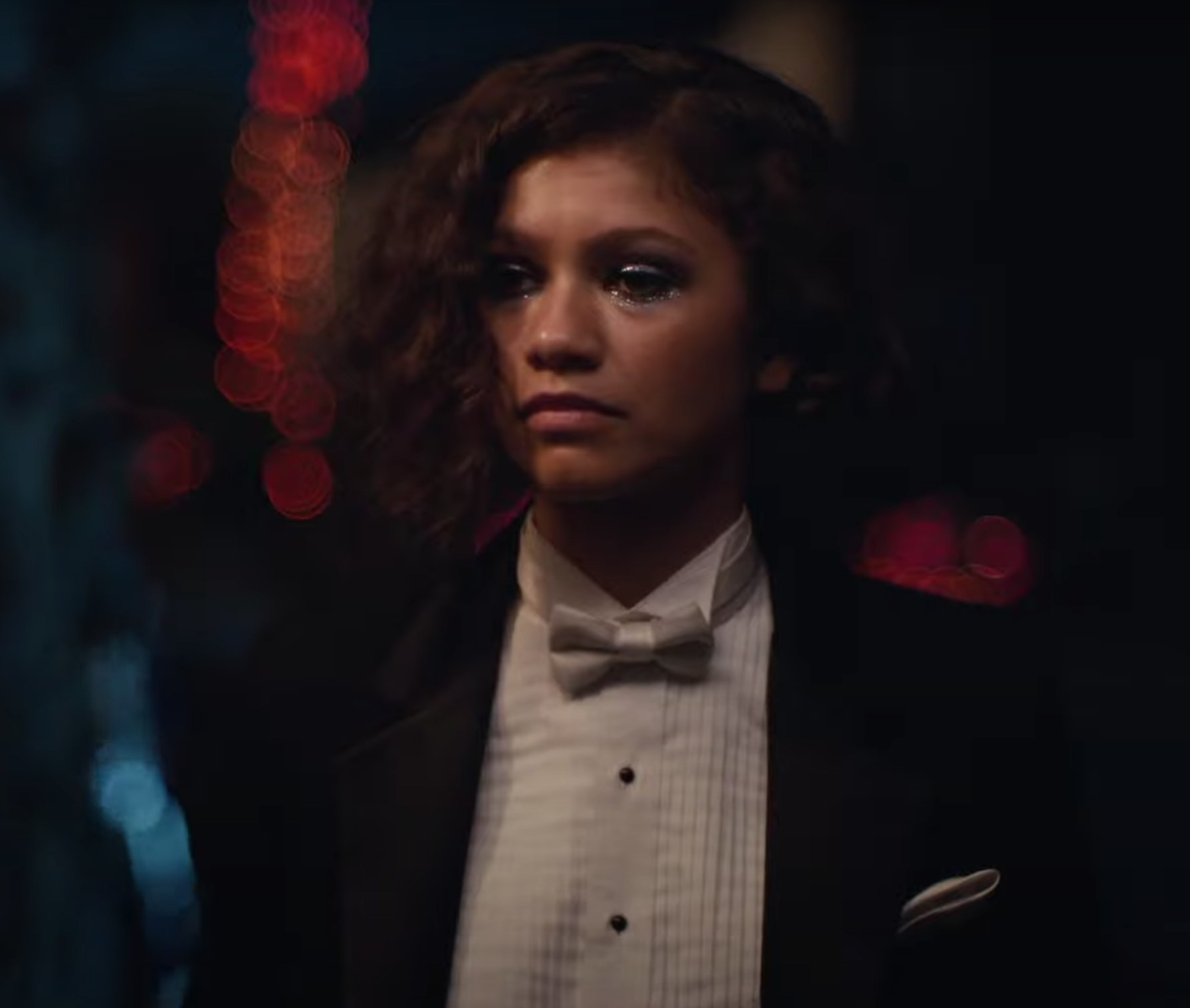 I love Jules' feathery wings and flowy white dress. Euphoria is known for its iconic makeup looks, and Jules certainly doesn't disappoint. This scene may have been the beginning of the end for Rue and Jules, but they are serving some serious looks while they crash and burn.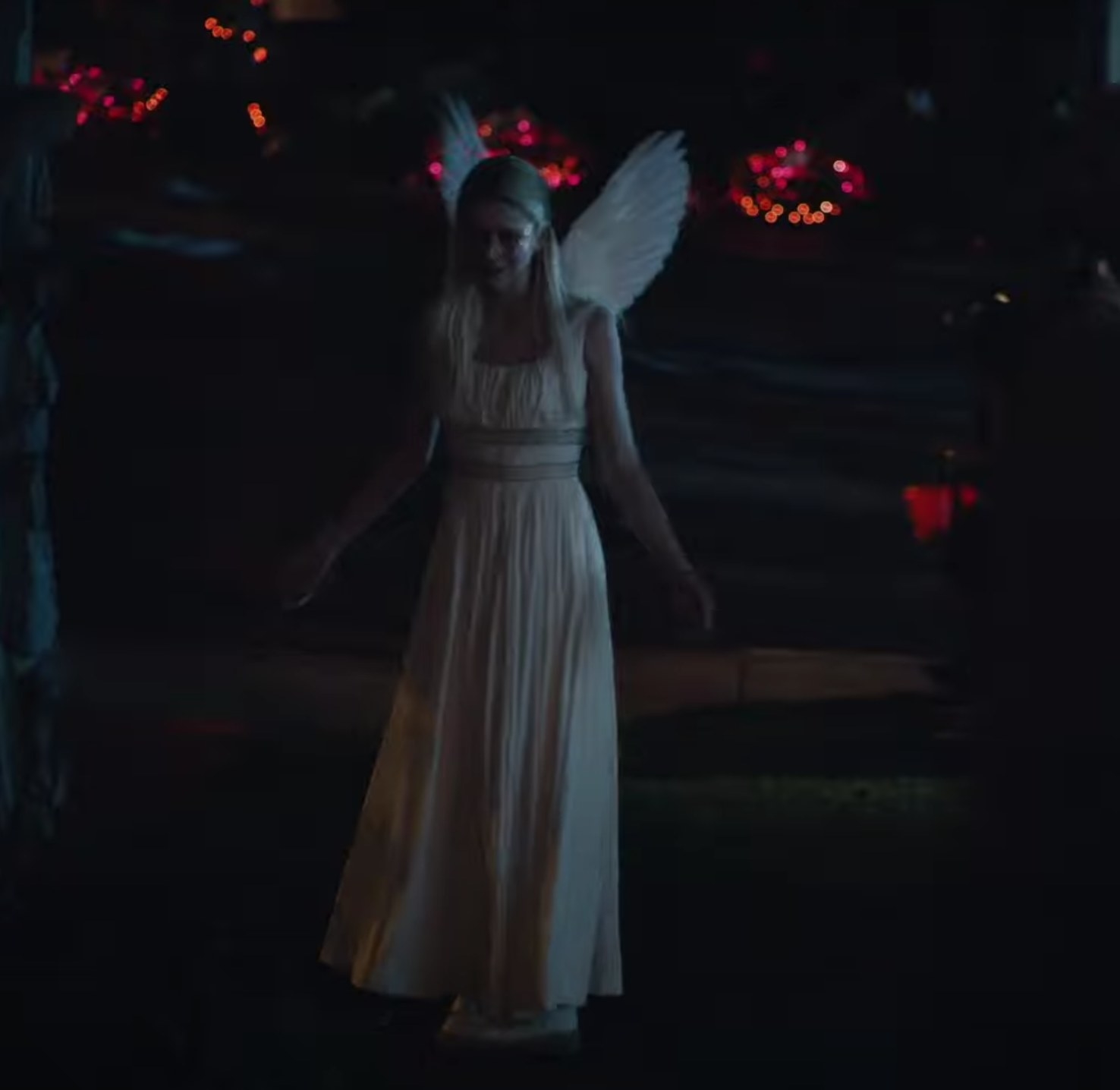 2.
Cheryl and Toni as Poison Ivy and Harley Quinn in Riverdale. OK, this duo dressing up as an iconic villain power couple is everything I didn't know I needed.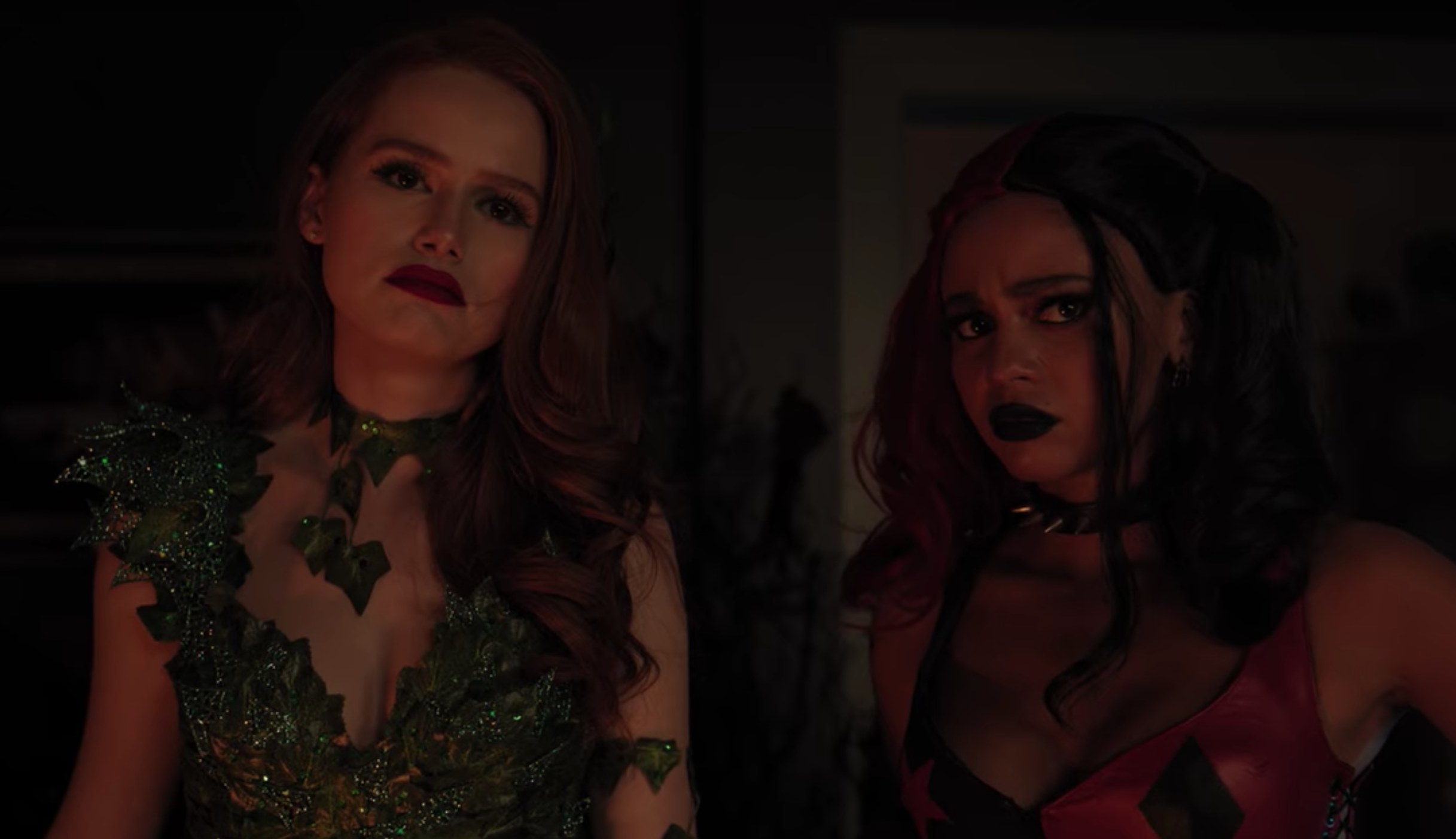 This traditional Harley outfit looks so good on Toni, and I'm happy she went in this direction rather than for the "Daddy's Lil Monster" costume that everyone wore after Suicide Squad released. I would have preferred that she rock her regular hair rather than wear the wig, but that's just my personal preference against bad Halloween wigs.
Cheryl's gorgeous rendition of Poison Ivy is amazing! I love the leaves crawling up her body and the long flowy tulle train. She took Poison Ivy and made it fancy, which is so on brand for Cheryl's personal style.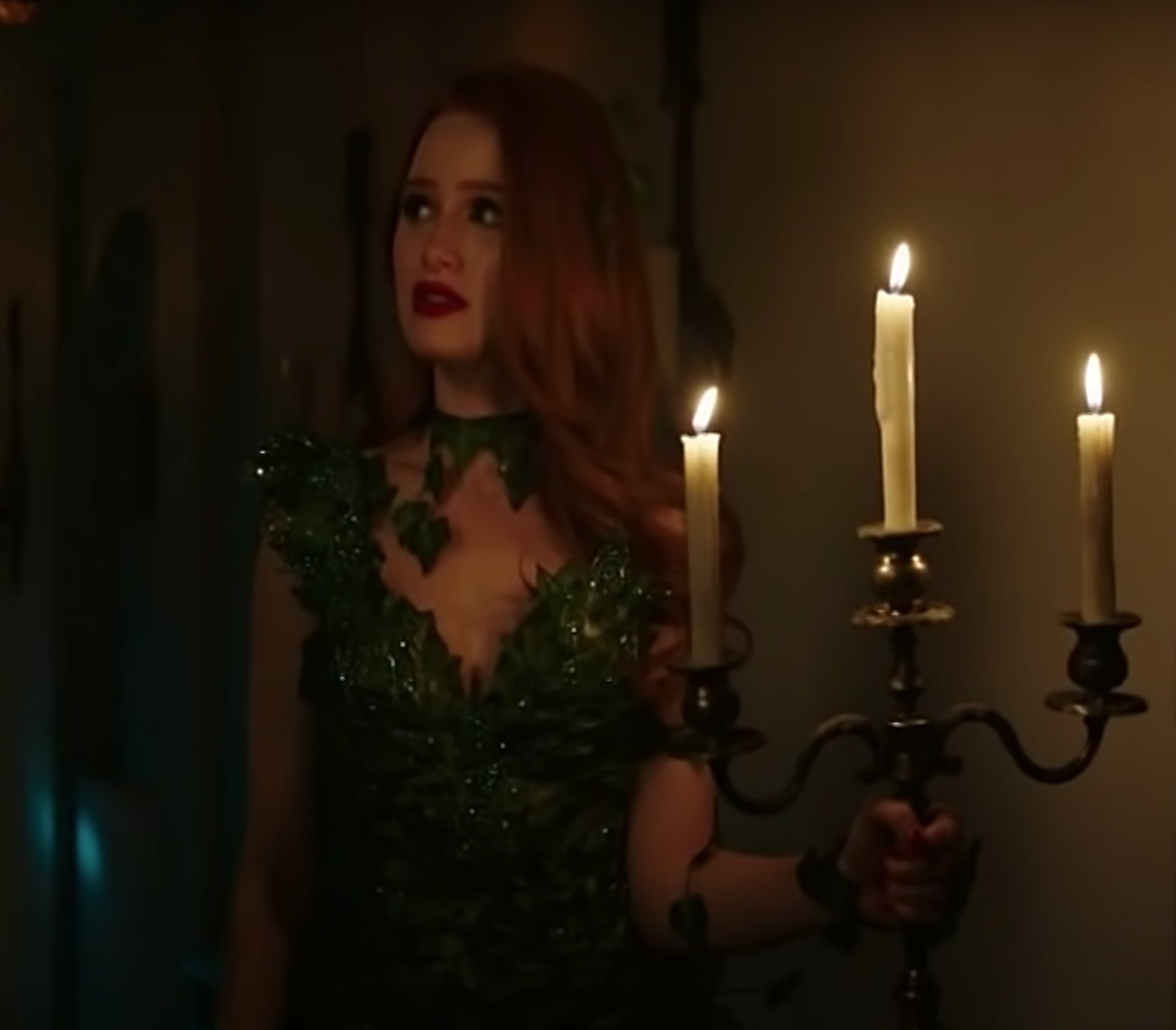 1.
And finally, Shelby, Madison, and Caitlyn as Charlie's Angels in A Cinderella Story. Yes, Sam's dress was iconic, but Shelby's costume was a million times better, IMO.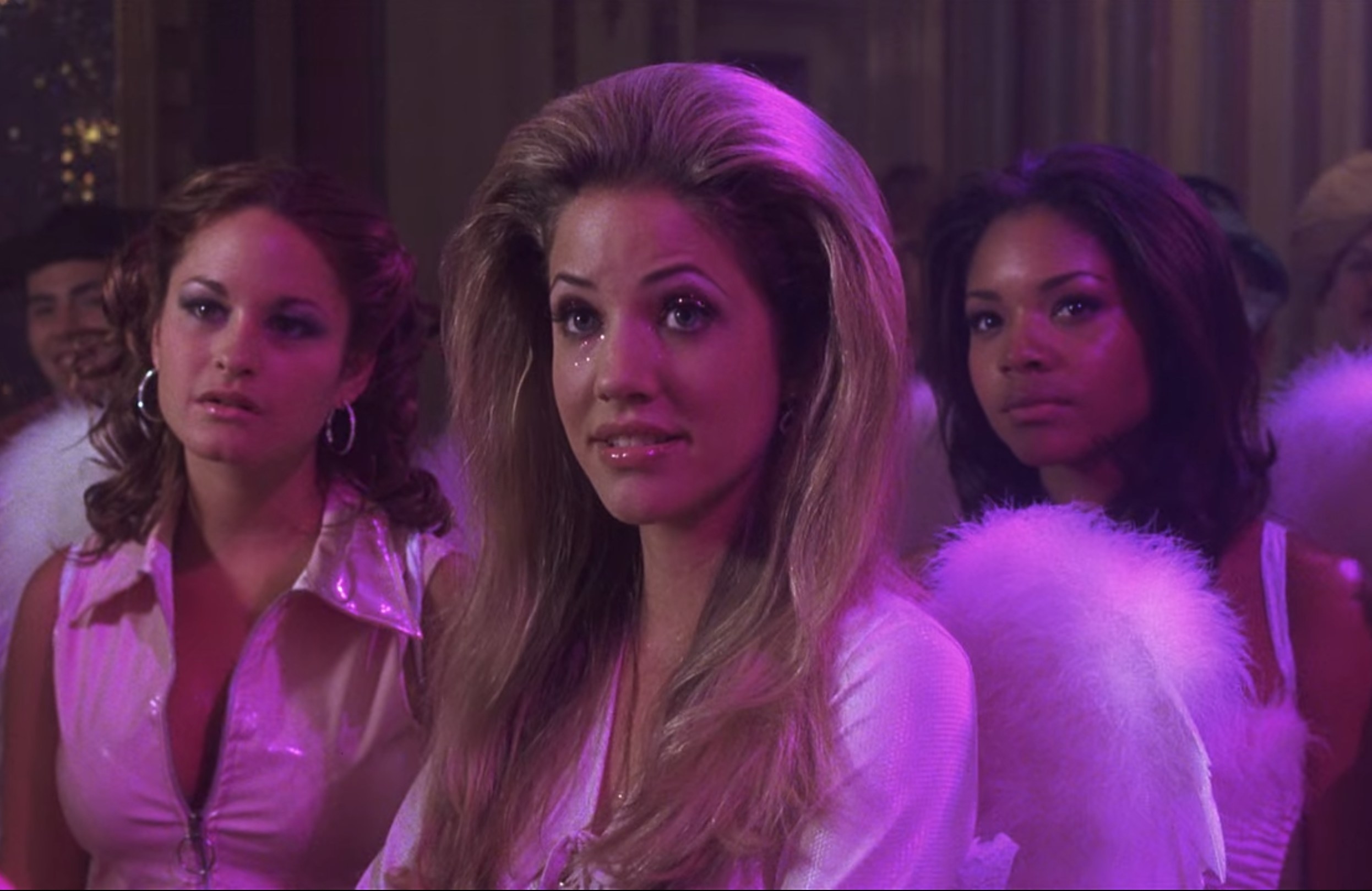 Shelby's mini shorts and silky open-front top are so chic and stylish, and her hair and makeup complement the look perfectly. Plus, the lace-up thigh-high boots make this outfit a 15/10.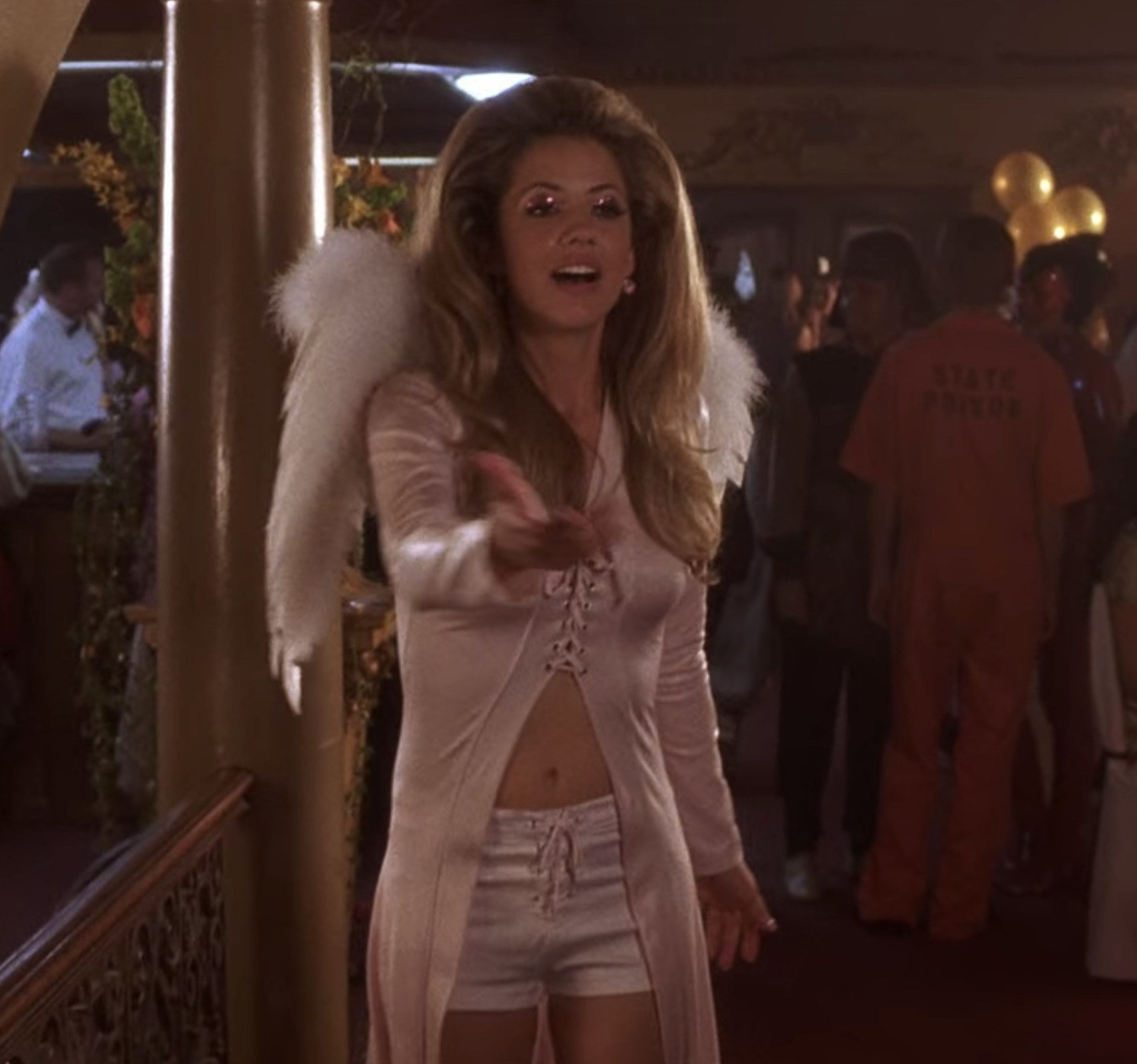 Madison's fur-trimmed minidress and Caitlyn's vinyl two-piece are to die for. I wish my friend group could coordinate as well as this on anything.