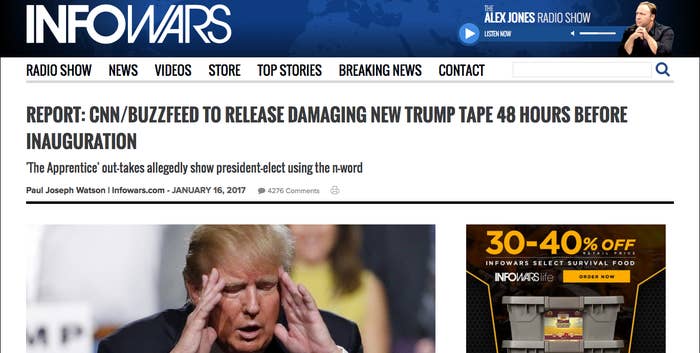 A man based in Scotland has revealed to BuzzFeed News how he tricked the right-wing conspiracy site Infowars into publishing a completely fake report about president-elect Donald Trump.
Markus Muir, a 27-year-old marketing professional from Glasgow, sent direct messages on Twitter to Infowars editor-at-large Paul Joseph Watson claiming BuzzFeed News and CNN were due to release harmful footage of Trump.
The report, which has now been shared over 15,000 times on Facebook, directly quoted the messages, which claimed the footage of Trump showed him using the n-word in a previously unseen outtake of The Apprentice.
Muir, who claimed in the messages to work for NBC, has revealed he was the single source for the report in the form of an account which he set up solely for the prank. He said Watson did not ask for any evidence that he worked for NBC or about how he gained the information.
It was not until after the Infowars report was published that Muir contacted BuzzFeed News in New York and revealed his role in it. To verify his claims and view his messages with Watson, a reporter then met Muir in person in Scotland.
"I said I worked at NBC and couldn't say any more," said Muir. "It was only two direct messages and I thought he might ask for more confirmation. I went to bed, forgot about it, then I checked his feed on the train to work and it was just him saying there was huge news about to come out.

"I couldn't believe it. It was a cut-and-paste job of what I said to him and it was all bullshit – I made it all up."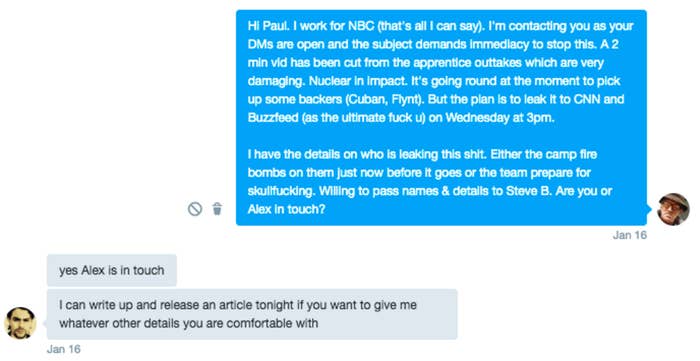 Infowars was created by right-wing radio host Alex Jones, who has been described as "America's leading conspiracy theorist".
Jones believes the US government was behind the 9/11 attacks and the Oklahoma City bombing, and described the 2012 Sandy Hook school shooting, in which 20 children and six staff were killed, as "completely fake". The site was strongly pro-Trump during the US election and frequently denounced Hillary Clinton.
In the message exchange with Muir, Watson pledged that Jones would pass on the information to "Steve B" or Steve Bannon, the former executive of Breitbart News who has been appointed Trump's chief of strategy.

Muir said he watched in astonishment as the news spread on right-wing news outlets and social media profiles, sometimes with other false information – such as that it proves CNN owns BuzzFeed – added to his original lie.
The 27-year-old is a former journalism student who became interested in fake news during the US election and wanted to see how it was generated, and he spotted that Watson was directly contactable via Twitter.
"I was watching a CNN discussion on fake news and I got interested in it. That guy [Watson] was retweeted into my timeline, some horrible thing he posted about mental health, and I saw his profile had direct messages open," Muir told BuzzFeed News.
"I wondered how fake news starts so I quickly set up a fake account, didn't bother following anyone, used a stupid picture of a bad guy from a film ... and sent him a message. I didn't think he'd get back to me, because it was ludicrous."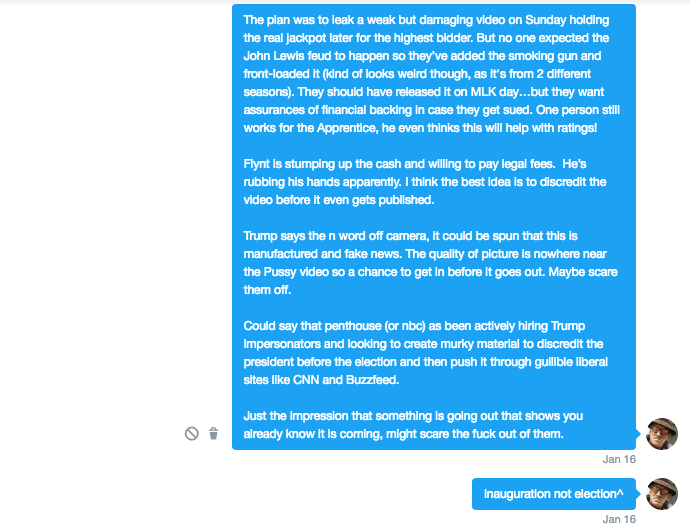 The Infowars report quotes the messages multiple times. The phrases "very damaging" and "nuclear in impact" appear in both, as does the warning: "The plan is to leak it to CNN and BuzzFeed (as the ultimate fuck you) on Wednesday at 3pm."
The report also quotes the "source" as saying: "They should have released it on MLK day, but they want assurances of financial backing in case they get sued. One person still works for The Apprentice, he even thinks this will help with ratings!"
After initially finding his successful prank funny, Muir became concerned that he was simply adding to the multitude of fake news associated with Trump and worried about how easy it was to spread falsehoods on the internet.

"I just fed him that, but he could make up stuff all the time and people would believe it," said Muir. "If he posts stuff that's racist or whatever, it will keep getting retweeted.
"There's no level of judgment from these people claiming to be journalists, there is no rigour whatsoever, and they're the first people to see an article from the New York Times or CNN or BuzzFeed and call it fake news."

He added: "Another scary thing is that this is just me doing it and it took 20 minutes. If, say, the Russians are setting up things to put out disinformation they clearly don't need a sophisticated process.
"They can just give that idiot a story and he'll run with it."
BuzzFeed News contacted Watson to ask why he published the content of the DMs without checking whether the information was real. He replied only: "BuzzFeed is cancer. BuzzFeed is fake news."