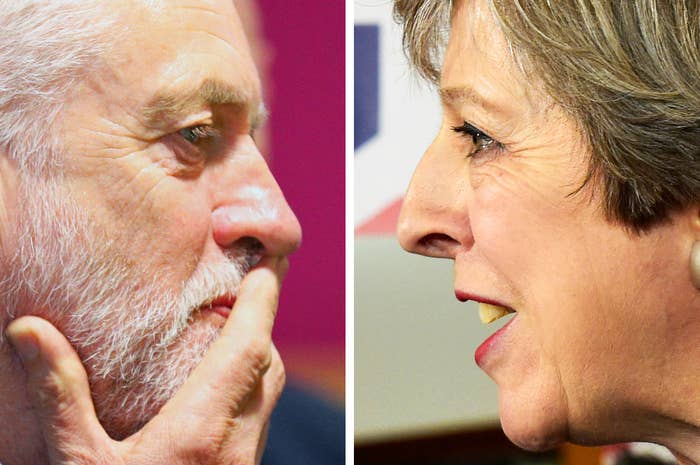 There are two ways to do election night. By far the easiest and most sensible is just to go to bed as usual and wake up to a pretty clear picture about the results and who'll be forming the next government.

The other involves spending an exhausting all-nighter frenetically trying to work out, for example, what a 2,000-vote change in the majority of Putney at 12:30am might mean for other seats, and for the next parliament.
To those in the first group: You're making a wise choice. To those in the second: This post is for you. Here's a through-the-night guide to what to look out for, what it all means, when the seats will declare, and what mistakes to avoid.
The bigger picture.
First, it's best to think about the different scenarios we're looking out for on the evening, so we can think about which world we're living in. There are four to watch for:
1. Conservative majority of 50-plus – "May's gamble pays off": Any result that gives Theresa May a substantially increased majority will look like she made the right decision to call an early election, even if the Tories' weak campaign does lasting damage to her team's reputation for competence. Jeremy Corbyn, meanwhile, could face yet another challenge for leadership of the Labour party. This is, if you believe the polls, still the most likely scenario, if only just.
2. Conservative majority of up to 30 – "Status quo": This starts to look bad for everyone: Labour would have failed to break through, despite the hype in the later stages of the race, while May would have failed to "strengthen her hand" – despite claiming this was essential for a successful Brexit. The damage to her authority in this scenario could prove politically fatal. This is the second-most plausible scenario.
3. No overall majority – "Chaos": This scenario is still a fairly unlikely one with polls where they are, but it is definitely possible. Depending on which is the largest party (most likely the Conservatives) and the other numbers, the best (if slim) chance of forming a government could be Labour, SNP, and possibly the Liberal Democrats reneging on their pre-election promises and coming to some (formal or informal) arrangement. If they don't manage that, this could even result in a second 2017 general election. Ooof.
4. Labour majority – "Black swan": Barring an SNP collapse – of which there's no sign – Labour need a national vote share of about 7 points more than the Conservatives just to be the largest party. They need a lead of around 10 to 13 points to have even a small majority. Even the best poll for Labour shows a 1-point Tory lead, meaning the polls would need to be wrong by more than 10 points in Labour's favour – and almost every polling error in recent history has been in the other direction. Still, though, recent history has delivered no shortage of shocks, so we've included this one just in case.
10pm – The exit poll.
The moment voting closes at 10pm, we see the results of the election's exit poll – which will dominate conversation for the next few hours, as very few results are called at this stage of the evening.
The exit poll is a poll like no other. Most polls talk to 1,000 to 2,000 people, usually online, and ask them if they'll vote, and who for if so. The exit poll talks to around 20,000 people as they're leaving the polling station – meaning we know they voted. It's also done across more than 100 carefully selected seats, chosen to help us understand different patterns across the country.
As a result, this is usually much, much more accurate than other polls before the election. But it's not perfect. The 2015 exit poll is generally regarded as a triumph because it almost correctly predicted the story of the evening, showing the Conservative part just shy of a majority, where every other poll was suggesting Labour would be the largest party.
This was a solid achievement – but it still predicted around 14 fewer seats for the Tories than they actually won, so the exit poll should be treated with a degree of caution. Roughly speaking, assume that the real number of seats the leading party get will be up to 20 higher or lower than the exit poll suggests, and – barring catastrophe – you shouldn't go far wrong.
So if the exit poll shows a 100-seat Conservative majority, we can be virtually certain we're in scenario 1 from our list above. If it shows a 10-seat majority, we're in for an interesting night: We could be in scenario 2 or 3. If it suggests we're in scenario 4, expect fireworks.
10:40pm(ish) – Houghton & Sunderland South.
Sunderland South always declares first, very quickly, which means it always gets talked about while we wait for other results. The problem is it's not always all that interesting – this is a very safe Labour seat and is hugely unlikely to go to any other party in any scenario.
That said, it can still tell us a little bit. At the moment, it has a huge 13,000 majority thanks to an almost even split between the Conservative and UKIP votes (UKIP came second in the constituency in 2015). So looking at the share of the UKIP vote might tell us how much that party's vote is collapsing, and if so, whether former UKIP voters are predominantly going to the Conservatives. If that's the case, it suggests a good night for Theresa May. If it is not, then things might not go as well as she'd hoped when she announced the election.
But the main thing is: Let's not read too much into this one seat, eh?
11pm-2am – Get ready for a slog.
Tom Phillips / BuzzFeed News
There are a couple of results coming between 11pm and 2am, but the main lesson here is: The real action doesn't kick in for a few hours. We've had the exit poll, but we get very little new information at this stage of the night versus later on.

Between 11pm and 2am we're expecting only around 20 results – less than 5% of all seats. We'd expect an extra 70 or so seats to declare before 3am, so things start to pick up here, but this is the bit where you're going to have to dig in a little: There's an amazing flurry of around 400 results in three hours coming later in the evening, so grab the caffeinated drinks and the sugary snacks, and find something to distract yourself.
One of the most interesting seats to keep an eye out for in this period, though, is Nuneaton, which in 2015 served as the first solid proof that Labour were not in for a good night. The seat was the first marginal to declare and was a key Labour target seat, with a majority of just 2,000.
But rather than proving to be the first Labour gain of the night, the seat was held by the Tories with an increased majority of 5,000. Labour taking Nuneaton this time around would really be an upset, but it would be worth looking at how its majority moves.
Otherwise, the pickings here are slim: Those expected to declare are predominantly safe Labour seats (with one or two safe seats for other parties), which will remain with Labour whether the party is 3 points or 12 points behind the range of the polls at the time of writing. We can keep an eye on the majorities, but beyond that, any seats changing hands would be quite the upset.
If you're into this kind of thing, here's our complete list of seats and when they are expected to declare.
2am-3am – the results begin in earnest.
We're expecting about 70 results to come in during this hour, and this might be the first chance to see which of the scenarios we're in.
If we're in a world where the Conservative vote share will end the night about 10% above that of Labour – which is where ICM and ComRes have them – look to Ealing Central and Acton, which should declare this hour, and where Labour's Rupa Huq is battling tooth and nail to hold on to her majority of just 274 votes. If the Conservatives don't take this, things aren't looking good for them.
On the flip side, if Labour take Peterborough, it suggests they're in line to close the gap on the Conservatives compared to their 2015 result, where the party's national share was 6.5% or so behind the Tories. If YouGov's prediction of a 3-point gap is on the money, this seat will be one of the first to flip to Labour. If Labour take North Warwickshire – held by the Conservatives since 2010 – this suggests the major parties are neck-and-neck, and we could be firmly in hung parliament territory.
Elsewhere, this hour has a flurry of Scottish seats, which are once again expected to be taken predominantly by the SNP. One to watch is East Dunbartonshire, which represents one of the Liberal Democrats' few hopes of gains (from the SNP), though they're unlikely to pull it off. Another is Rutherglen. If Labour take it from the SNP it would suggest the party's fortunes north of the border have fared far better than expected.
3am-4am – The floodgates open.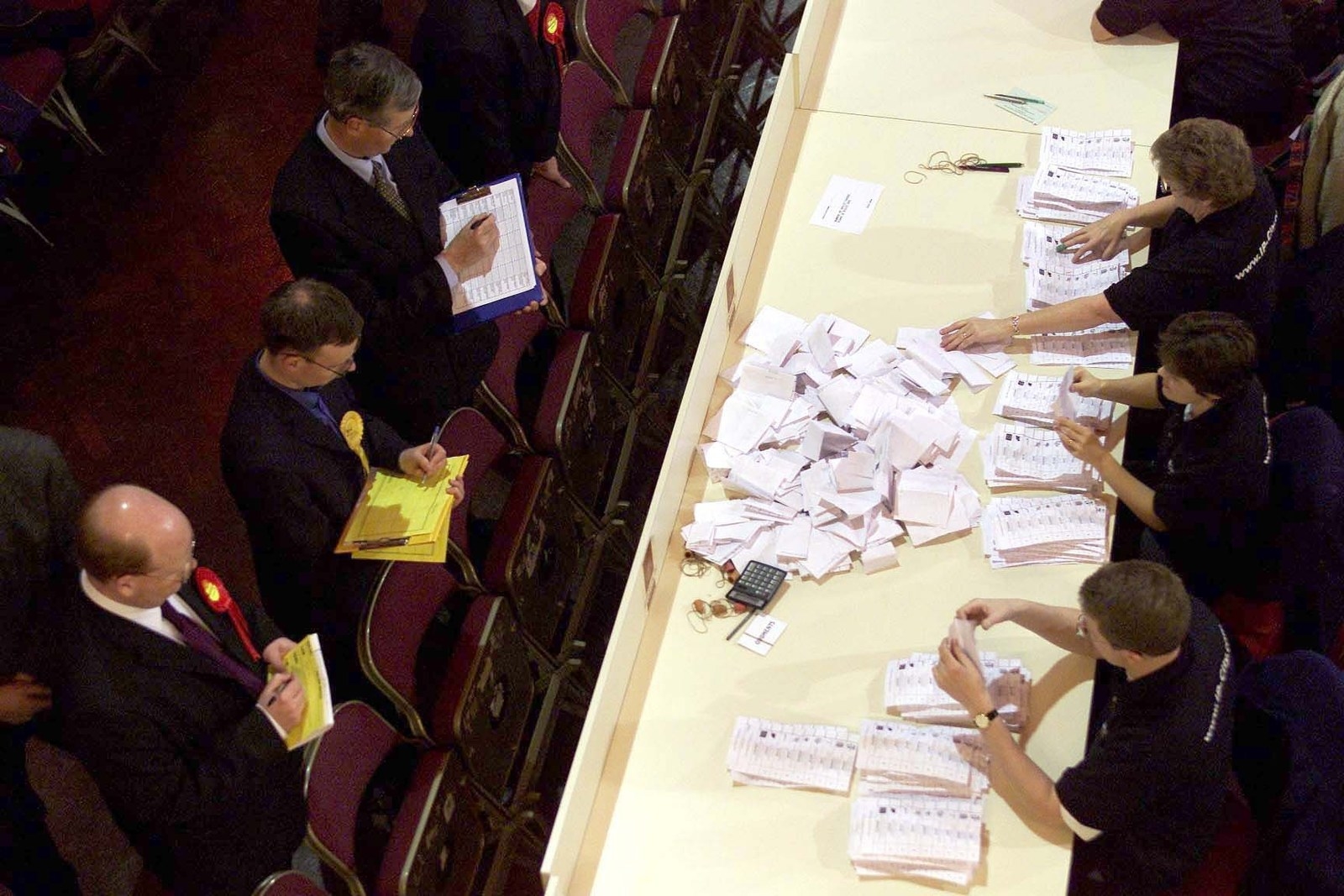 There are around 130 results expected this hour, and this is the chaotic phase of the evening when things are just too fast to follow – so here are some of the most interesting to look out for.
There aren't many seats where Labour would expect to make gains during this hour, so this all becomes about which ones they manage to hold on to – if they don't lose seats this hour, they're on course to improve their 2015 performance. One potential gain, though only if Labour are having a very good night, would be Carlisle, held by the Conservatives since 2010.
If the Conservatives are doing well, expect gains in Clacton (previously UKIP's only seat – the Conservatives should walk this), Southport (from the Liberal Democrats), Ilford North (held by Labour's Wes Streeting), and Westminster North (a seat the Conservatives have heavily targeted and failed to take in 2010 and 2015).
One other seat to watch: Vauxhall, where one of Labour's most prominent leave-supporting MPs, Kate Hoey, faces a challenge from the Liberal Democrats. She's likely to hold her seat, but this is one of the few hopes for a promising result for the Lib Dems.
4am-5am – A note of caution.
There are about 150 results likely to come this hour – but there's one thing to flag first. Labour will (barring total meltdown) have a substantial lead in both votes and seats at this stage of the night, even if they're losing.
That's because the areas that Labour typically win tend to also be ones that count their votes and declare their results quickly – built-up urban areas. This effect is so strong that in 2015, where Labour were just under 7 points behind the Conservatives, that the two parties' vote share was only even after 5:44am – so don't read too much into a good Labour performance at this hour.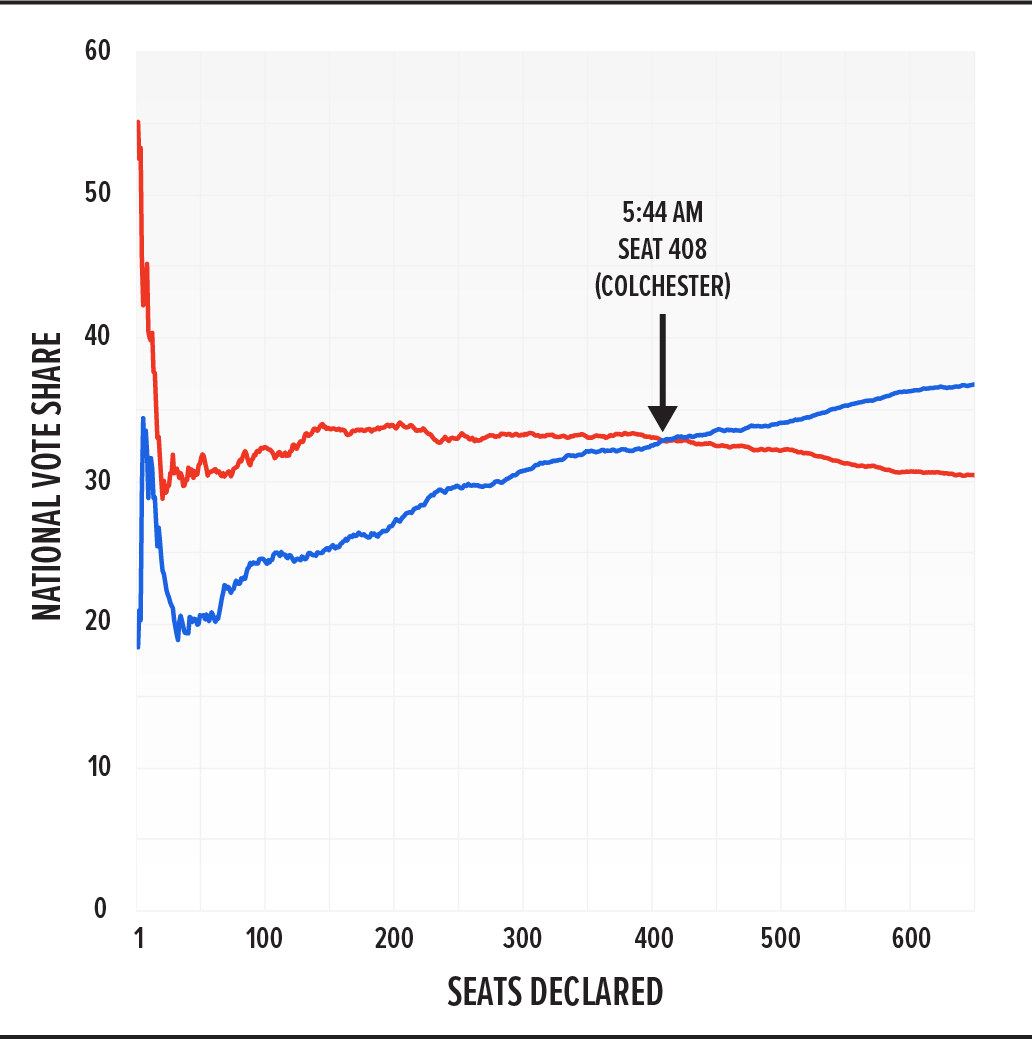 But enough of that: We've got seats to watch.
Possible Labour gains: If Labour are outperforming their 2015 result, expect to see them pick up Bolton West, Bury North, and Cardiff North from the Conservatives, as well as retaking the key marginal of Copeland, lost by the party in a recent by-election. Labour could also take Lincoln and Plymouth Moor View, again from the Conservatives, and could possibly – though it would be an upset – take Sheffield Hallam, unseating Nick Clegg.
Telford and Thurrock are also worth watching for Labour. If the party takes many or most of the above named seats, we're on course for scenario 3 – and a hung parliament. If they're making gains not listed here, they're vastly surpassing expectations.
Possible Conservative gains: If, on the hand, May's on course to increase her majority, that'll show in these seats: Brentford and Isleworth (Labour), Carshalton and Wallington (a potential gain from Liberal Democrats), Enfield North (Labour), Hampstead and Kilburn (held by former Labour frontbencher Tulip Siddiq), Harrow West (Labour), Wirral West, and Wolverhampton South West (both Labour).
Other things to watch: We may find out this hour whether Zac Goldsmith – this time standing as a Conservative instead of an independent – can retake Richmond Park from the Liberal Democrats. On the flip side, look at Bath: If the Liberal Democrats don't either take this or cut down the majority substantially, they're unlikely to take back Cambridge or Twickenham – their other key targets – later.
5am onwards – A change of focus.
By 5am, we'll know which of our four scenarios we're living in. We won't know the exact numbers – and in the case of scenario 3 it could be weeks until we know who (if anyone) will form the next government – but we'll know which future we're facing.
As such, our priority with this guide shifts to saying which prominent politicians might still lose their seats, as results will continue to come through until around noon – and that's barring the odd seat with the inevitable storm delays, power cuts, recounts, or some other similar issue. What follows is a (fairly short) list of interesting politicians who might lose their seats, the circumstances under which that would happen, and a rough ETA.
6am-7am: Norman Lamb, who challenged Tim Farron for the Liberal Democrat leadership, faces losing his seat (North Norfolk) – as does Greg Mulholland, a fellow Liberal Democrat in Leeds North West.
7am-8am: Cat Smith, a Labour shadow cabinet minister standing in Lancaster and Fleetwood, faces a strong Conservative challenge.
10am-11am: South Thanet, the seat at the centre of the ongoing criminal inquiry into election expenses, should declare, revealing if Conservative Craig Mackinlay will keep his seat.

The big thing to watch here: By breakfast time, the story will be set and the winners and losers selected. With the Liberal Democrats now looking potentially as likely to lose seats as gain them, Farron could face pressure to step down. Corbyn – never popular in his parliamentary party – could face trouble if his apparent resurgence doesn't materialise.
And after calling the election with a crushing 100-plus majority in her sights, May could lose even if she wins: How small an increase in her majority will be seen as having been worth the gamble? Could she survive thirty? Fifty? Eighty? The questions will come – and fast.