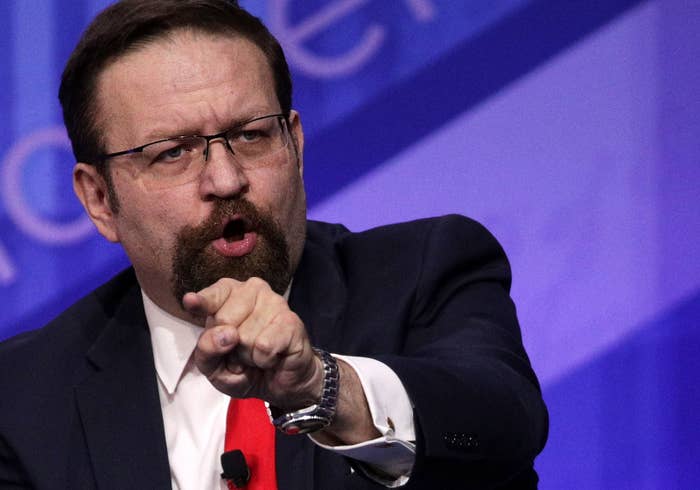 The Ministry of Defence is casting doubt on claims made by a top aide to US president Donald Trump that he served in the UK military and worked on issues relating to counterterror, Northern Ireland, and investigating war crimes in the former Yugoslavia.
Sebastian Gorka, who joined the Trump campaign as a counterterror adviser, has faced numerous questions about his career, both in Hungary and the United States. The Washington Examiner reported this weekend that Gorka was set to depart the White House as early as this summer, amid reports he was being pressured out and had been given few concrete responsibilities.
Gorka, reached by BuzzFeed News on Tuesday, declined to address that report or to discuss his UK military service on the phone, "because I am a government employee and have to get it cleared", insisting instead that the inquiry be sent to his official White House email address. He did not reply to a subsequent email.
Gorka, who was born in the UK to Hungarian parents, has claimed to have worked in 22 Intelligence Company, a reserve unit, and a 2002 report in Hungarian News quotes him as saying the unit worked guarding key facilities, preventing attacks by the IRA, and that his job was to evaluate threats.
But BuzzFeed News has learned that information from the Ministry of Defence shows Gorka's unit didn't focus on counterterrorism and was very unlikely to have worked on Northern Ireland, and that there are no records showing it worked on the war crimes investigation.
Gorka's repeated claims of UK intelligence connections raised question marks in Hungary and contributed to him being denied security clearance there.
Gorka served in the Territorial Army — then the name for the UK Army Reserves — from 1990 to 1993, and was allocated to the 22 Intelligence Company, a specialised unit built of those reservists who had language skills, particularly Russian or Eastern European languages.
Unlike most army units, this company would not be deployed en masse, instead being attached individually to different army units when its language specialism might be needed – essentially being on call for service across different units should individual language skills be needed.
As such, finding where the unit was or was not deployed at any given time many years after the fact (it has subsequently been disbanded) is all but impossible as the MoD doesn't have detailed records – and has little information on Gorka himself, including no details of his personal deployments.
However, according to the information shared with BuzzFeed News, it's the nature of Gorka's unit as a specialist in languages that casts doubt on claims Gorka would have had any role with regard to the Troubles in Northern Ireland, which were repeated by a February 2017 profile of Gorka in the Washington Post. The MoD's information shows it would have been a highly unusual deployment to send anyone with Russian or Eastern European language specialisms to Northern Ireland – as such deployments would be a waste of linguists, then and now a scarce resource in the UK military. The department was unable to confirm, however, that no member of the unit had ever served in Northern Ireland.
22 Intelligence Company's focus on languages, as described by the MoD, is also a reason to doubt claims that Gorka's Territorial Army work would have focused on a counterterror role. Gorka's time with the UK reservists coincided with the collapse of the Soviet Union and the birth of the states that succeeded it — meaning counterterror was not the focus of the UK's military with respect to Russia or Eastern Europe in the early 1990s, according to MoD sources.
A March 2017 profile of Gorka in the Sunday Times, for which he gave an interview, set out yet another picture of Gorka's service, saying instead that part of his job had been to "collect evidence for the war crimes tribunal set up after the collapse of Yugoslavia".
But this changed version of events also raises questions. Neither the Ministry of Defence nor the Foreign and Commonwealth Office had any record of the Territorial Army working to provide evidence to the International Criminal Tribunal for the former Yugoslavia, and the tribunal's online document archive contains no references to either Gorka or his company.
The MoD said this was not definitive proof it did not happen, though – merely that if it did it has no record of it.
The nature of how army reservists are used by the British military raises questions as to whether Gorka would have had time to hold multiple roles in different theatres. Gorka's service ran from 1990 to 1993, which would have included approximately six months of training — leaving two years.
It would be unusual in the British army for even an active duty soldier to have two deployments in that period, and exceptional for a reservist to have done multiple tours over the period.
BuzzFeed News understands the MoD has no evidence Gorka ever held a full-time army contract.