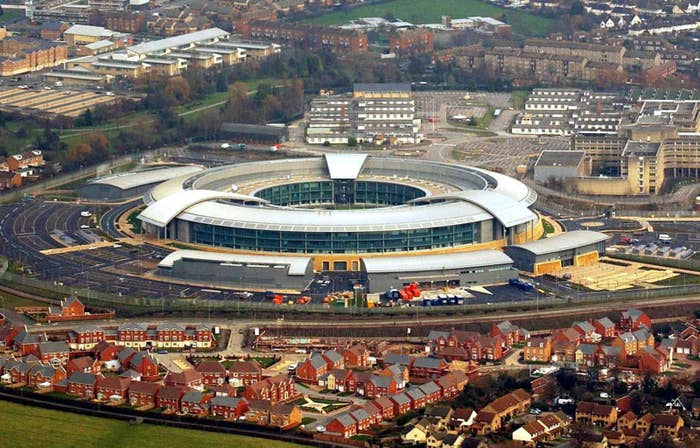 Phoning GCHQ, the UK's signals intelligence agency and counterpart to America's NSA, for comment is an unusual process. Dialling the agency's number leads to a simple and uninformative recorded message: "This call may be recorded for lawful purposes."
There's no indication of whether you've called the right place, just another recorded message asking for you to enter the extension you'd like.
GCHQ recently made a big step forward in opening up its communications: It's put the press office's phone extension online.
This is just one indication of how secretive the UK intelligence agency usually is. For decades, the government officially denied the agency even existed – long after this fact was public knowledge. And above all else, GCHQ never comments on stories.
Until now. On Thursday evening, White House press secretary Sean Spicer repeated from a White House podium the allegation of a Fox News contributor suggesting that GCHQ had spied on Donald Trump for Barack Obama.
The allegation originated with Judge Andrew Napolitano, a libertarian Fox News commentator and former host, and a longtime supporter of WikiLeaks. Napolitano said on air on Tuesday that he had three intelligence sources who told him Obama had used GCHQ to spy on Trump, to evade the US chain of command.
GCHQ did not respond to the initial allegation, responding to BuzzFeed News' queries on the matter with a simple: "We don't comment on intelligence matters."
After Spicer repeated the allegation, though, this changed.
"Recent allegations made by media commentator Judge Andrew Napolitano about GCHQ being asked to conduct 'wire tapping' against the then-president-elect are nonsense," a spokesperson for the agency said in a statement. "They are utterly ridiculous and should be ignored."

The statement breaks years of protocol in which GCHQ has never commented on-the-record on any statement, or officially confirmed or denied any allegations against it.
Throughout the publication of stories and selected documents based on information leaked by the NSA whistleblower Edward Snowden, the agency never issued any official comments, despite the unprecedented revelation of documents from inside GCHQ. On story after story, month after month, GCHQ's statement would remain unchanged: "It is a longstanding policy that we do not comment on intelligence matters."
Clearly, longstanding policy has changed. The decision – which will have had to be authorised at very senior levels in UK intelligence's chain of command – likely stems from the serious implications of Spicer's statement.
The US and UK's intelligence cooperation is so deep that neither country's signals intelligence – material harvested from communications networks across the world – is capable of operating independently. GCHQ and the NSA rely on each other's code, access points, physical sites and staff to maintain their surveillance. GCHQ and NSA staff work from the same buildings, within feet of each other, at sites in the UK and across the world. It is by far the closest and most significant intelligence relationship for both nations – and now that relationship is strained.
The significance of Spicer's allegation was clearly such that GCHQ felt compelled to breach decades of protocol and comment – as a second unprecedented move suggests.
The Twitter account of Andrew Pike, GCHQ's communications director – confirmed as authentic by the agency – replied to Eric King, the former deputy director of the civil rights group Privacy International, on why the agency had commented:
That tweet – Pike's first ever @-reply – was followed by one other to @shanethecreator, whose bio reads "Advertising, travel, fashion and world history. Writing is my side piece. #Resist":
The shift by GCHQ leaves both the US and UK facing new dilemmas: GCHQ's statement throws the ball firmly back into the White House's court. Will Spicer walk back his allegation, or double down – potentially further souring the USA's most significant intelligence relationship?
The early signs appear to be that the White House is walking back its allegation, according to Number 10. "We made clear the allegations were ridiculous and received reassurances that they would not be repeated," a Downing Street source told reporters.
But in the longer term, GCHQ's decision to comment on this matter complicates its future press responses: What will it do next time it's accused of misconduct? Now the agency has proven willing to comment once, refusing to comment in future could be seen as a tacit admission of guilt. We may be hearing a lot more than we're used to from GCHQ in months and years to come.