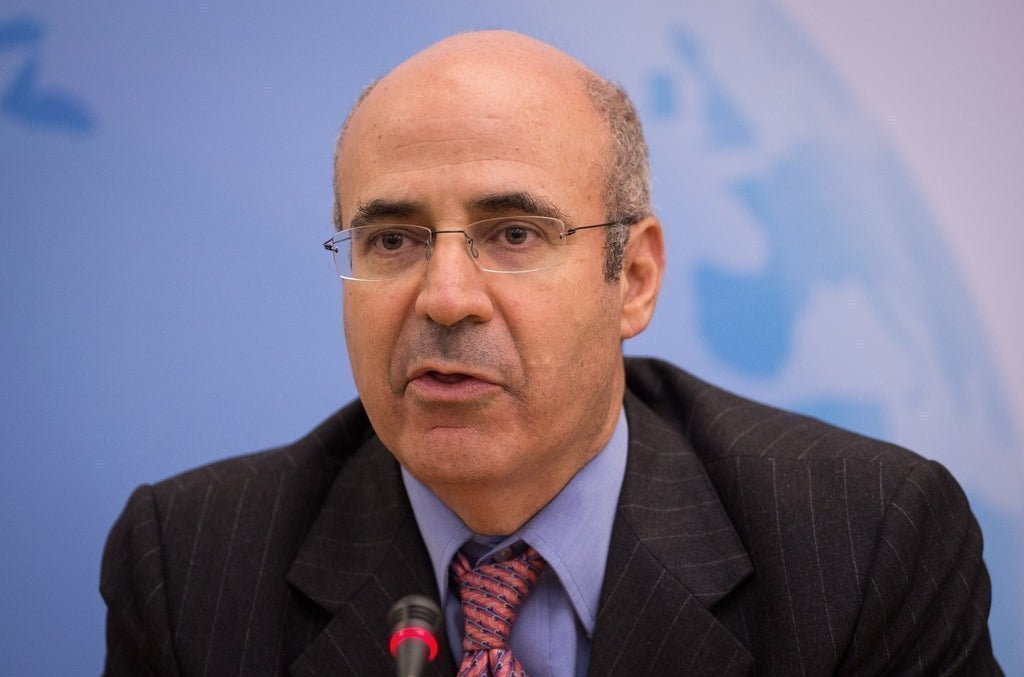 Bill Browder (left), the CEO of Hermitage Capital Management, is appearing before parliament to present evidence on alleged UK money laundering. Browder's Russian lawyer, Sergei Magnitsky, died in prison in 2009 after being arrested while investigating the fraud.
UK authorities have been asked to investigate whether more than £20 million connected to one of the world's largest and most politically controversial frauds was spent in the UK or entered the country's banking system.

Financial records seen by BuzzFeed News suggest money spent on yachts, private schools, electronic equipment, and numerous other services originated from companies linked to an alleged $230 million (£150 million) fraud against the hedge fund Hermitage Capital Management and the Russian Treasury.
The new evidence has prompted fresh calls for a criminal investigation in the UK into the alleged fraud and subsequent money laundering. British authorities have refused on multiple occasions to launch an investigation, even though UK companies have been implicated in the alleged fraud, British citizens were directors of some of the companies involved, and Hermitage and its CEO are UK-resident.
The case is especially politically contentious following the 2009 death in a Russian prison of Sergei Magnitsky, a Russian lawyer investigating the alleged fraud on behalf of Hermitage.
A further witness in the case, Alexander Perepilichnyy, was found dead in Surrey in unexplained circumstances in 2012, shortly before he was due to testify in Switzerland.
The US has issued sanctions against and frozen the US assets of several individuals allegedly involved in the crime, while the European parliament has recommended similar action by EU nations. BuzzFeed News understands 11 countries have launched fraud or money laundering investigations connected to the case.
Bill Browder, the CEO of Hermitage Capital Management, is due to address parliament's influential home affairs committee on Tuesday on the new evidence of UK spending in connection to the case. The material is also being passed to the UK's National Crime Agency (NCA).
Documentation reviewed by BuzzFeed News of transactions identified by Hermitage suggests the £20 million identified includes:
• A £164,000 transfer to Saxo Bank labelled "for yacht", alongside further transfers totalling £250,000 to a "yacht consultant" for "legal services";
• A payment of £13,600 to Queen Ethelburga's, a private boarding school in North Yorkshire;
• A £115,315 payment to Harrods Estates, the luxury property management wing of Harrods;
• A transfer of £105,000 to the First International Bank of Israel listed as for "poligrafic [sic] equipment";
• Payments totalling more than £5 million to Hewlett Packard Europe BV for equipment and maintenance.
There is no suggestion any of the UK companies or financial institutions were aware the payments received may have been connected to the proceeds of crime, but several of those contacted by BuzzFeed News have said they are now investigating the transactions.
The original fraud was one of the largest and most complex ever seen. An account of the alleged crime was assembled by the US Department of Justice in a court filing aimed at seizing US properties allegedly bought with the proceeds.
According to the filing, the "mastermind" of the fraud was Dmitry Klyuev, a Russian bank owner and convicted fraudster who in the run-up to the alleged offence assembled "key members" of his "criminal organisation".
The alleged fraud involved seizing three subsidies of the hedge fund Hermitage Capital Management, which held significant investments in Russia. These stolen companies then obtained a fraudulent $230 million tax refund from the Russian Treasury, the proceeds of which then travelled through an intricate web of companies and bank accounts spanning the globe.
One of the "key members" of this fraud, according to the DoJ, was the then manager of the tax office than processed the huge refund, Olga Stepanova. The court filing states she and her then husband travelled and met with Klyuev in advance of processing the refund.
Some of the companies apparently used in this phase of the alleged crime were notionally dormant UK companies. Records seen by BuzzFeed News suggest more than £180 million flowed through offshore bank accounts ostensibly owned by UK companies with sham directors – nominees who appear on official records but in reality act on orders of the company's secret "real" owners – whose official filings told UK authorities the companies were inactive and not trading.
Some of the money travelling through this complex and globe-spanning web of companies and bank accounts eventually ended up in companies now linked to Klyuev and Stepanova.
Previous media accounts and documents seen by BuzzFeed News show one company, Altem Invest Inc, is beneficially owned by Dmitry Klyuev. Hermitage has suggested Klyuev owns another company connected to the alleged fraud, Zibar Management Inc.
Meanwhile, evidence presented to Swiss authorities suggested that a further two companies – Nomirex Trading Limited and Bristoll Export Limited – that received money allegedly connected to the Magnitsky fraud had indirectly paid for properties owned by the then husband of Olga Stepanova.
Here is a graphic showing the alleged money flow into Nomirex Trading and Bristoll Export from the fraud against the Russian Treasury, based on research by Hermitage Capital Management and US court documents. Each dot represents approximately $1 million.

BuzzFeed News attempted to contact Klyuev and Stepanova through intermediaries for comment in connection to the original alleged fraud and the new evidence of UK spending, but was unsuccessful. Klyuev has previously commented that the allegations against him are untrue and the result of a campaign against him by Hermitage Capital Management. He has previously denied being the owner of Altem Invest.

The new evidence seen by BuzzFeed News shows money continued to flow from these companies to a network of still more shell companies, before being spent in legitimate UK businesses, or being processed by UK banks as it was spent elsewhere.
This graphic, based on the new evidence uncovered by Hermitage Capital Management from banking records, shows the route money took from Nomirex Trading and Bristoll Export into the UK. Again, each dot represents approximately $1 million.

Browder told BuzzFeed News he hopes the evidence of UK spending, in addition to that he has previously presented to the NCA, the Serious Fraud Office, the Metropolitan police, and HM Revenue & Customs, will finally spur the UK into taking action.

"We all know that there are terrible crimes being committed in Russia and we all know there are rich Russians spending their money in the UK," he said. "But this is the first time that we've been able to connect those crimes with all that lavish spending."
BuzzFeed News contacted the UK businesses who had transacted with companies connected with the alleged fraud, all of whom had made their payments through banks in Cyprus or Lithuania, asking whether they had any concerns about the customer, or had conducted enhanced checks.
Hewlett Packard Europe BV, which received a total of more than £5 million from companies allegedly connected to the fraud, said it was now investigating these payments.
"HP is committed to the highest standards of business conduct and maintains robust compliance programs," said a spokeswoman. "The company takes allegations seriously and conducts thorough investigations into any claims. We are carefully evaluating the facts of this inquiry."
A spokeswoman for Harrods Estates confirmed the transactions referred to by BuzzFeed – totalling around £115,000 – were made, but refused to discuss them further, citing confidentiality, although she said the firm would assist authorities if asked.
"Harrods Estates places a high priority on its anti-money laundering and other legal obligations and takes the matter extremely seriously," she said. "We would be happy to assist the authorities should they wish to investigate this matter."
Saxo Bank, which received payment for a yacht, acknowledged receipt of BuzzFeed's inquiry but did not respond. Ward & McKenzie, the "yacht consultant", said it would "investigate further" the evidence provided by BuzzFeed News.
FIBI Bank's spokeswoman said that as the company sold its UK subsidiary several years ago it was unable to comment on the matter. A spokesman for Queen Ethelburga's said it would "never discuss" an individual child's education but had no knowledge of any alleged frauds.
An expert on international financial crime told BuzzFeed News there was a broader issue related to UK banks' due diligence on questionable money entering the UK financial system.
"Banks are obliged to undertake proper due diligence and there has been an unfortunate history in recent years of our leading banks in London not doing so," said Jonathan Fisher QC, a barrister at Devereux Chambers. "There is certainly a real concern that London is indeed a repository for proceeds of crime."
BuzzFeed News found that most of the UK's major financial institutions appeared in the records as processing payments to or from the complex web of companies connected to the proceeds of the alleged fraud, including HSBC, Lloyds, Citibank, JP Morgan, Barclays, NatWest, and RBS.
All of the banks – except Citibank and JP Morgan, which declined to provide any comment whatsoever – stressed they had extensive due-diligence procedures and took their responsibilities in this area seriously.
A spokesman for Lloyds said the bank was ready to assist authorities if asked.
"Lloyds Banking Group is not party to nor named in the litigation and has not had these allegations raised by any regulatory or government agency," he said. "We would assist any inquiry from any government agency or regulator on this matter if raised."
A senior staff member at one of the banks, who asked that neither they nor their institution be named, said their investigation into the inquiry had shown the transaction was related to "correspondent" banking – a common international banking procedure where one bank processes a transaction on behalf of another, using its own infrastructure.
The staff member said enacting due diligence on such transactions was more difficult than usual, as the bank was not acting for one of its own customers and so had less information to check.
This concern was echoed by the financial crime expert Jonathan Fisher QC.
"By the very nature of the correspondent relationship inevitably there's a vulnerability," he said, "because the correspondent bank is not in direct contact with the underlying beneficiary, so inevitably there is going to be an enhanced risk."
BuzzFeed News contacted the NCA to ask whether it intended to launch a formal investigation in the light of Hermitage Capital Management's new complaint.
"The NCA does not routinely confirm or deny the existence of investigations," said a spokeswoman.