NHS Under Pressure To Explain "Homophobic" Response To HIV Drug Ruling
"The attitude of NHS England is beyond parody," one MP told BuzzFeed News.
by
,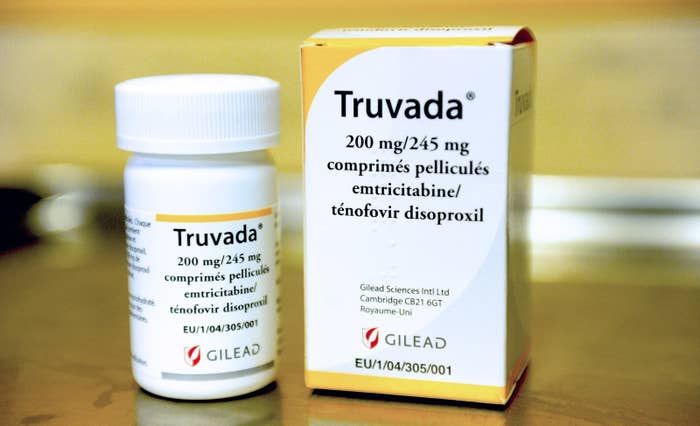 NHS England is facing calls from leading HIV charities and a Conservative MP to explain why it heavily edited a press statement on a court ruling about an HIV prevention drug to include lines that have been described as "homophobic" and "irresponsible".
Using the Freedom of Information Act, BuzzFeed News has obtained an early draft of NHS England's press release following its unsuccessful legal battle to avoid responsibility for prescribing PrEP, a drug treatment that can dramatically reduce the chances of people at high risk of HIV from becoming infected.
BuzzFeed News also asked for emails relating to the preparation and editing of the release, but NHS England ignored this part of the FOI application.

The earlier draft shows that by the time the final version was released, it contained a number of significant changes campaigners say were inflammatory, including the introduction of the phrase "high risk condomless sex with multiple male partners".
The final NHS England release also claimed that as a result of the ruling, it may be unable to fund treatments for other medical conditions, such as cystic fibrosis in children and rare blood cancers. That led to critical coverage of the decision on the front pages of the Daily Mail and The Times.

But the earlier version had substantially different wording on the impact of the ruling on other treatments.
Deborah Gold, the chief executive of the National AIDS Trust, said the contrast between the two releases was of great concern.

"This draft press release is exactly what an objective, unbiased, and noninflammatory press release looks like," she said. "The difference between this initial draft and the final document as released by NHS England is of great concern."

The draft release obtained by BuzzFeed News opens with:
PrEP is a way of using anti-retroviral drugs – usually used for treating people with diagnosed HIV – to stop viral transmission. Evidence of effectiveness is strongest for men who do not use condoms in sex with multiple male partners.
In the published release, this was altered to:
PrEP is a measure to prevent HIV transmission, particularly for men who have high risk condomless sex with multiple male partners.

The final release also suggested much more starkly that if NHS England was forced to fund PrEP, it would have to deny funding for other treatments.
The draft release said there had been "delays to the availability" of 18 new services pending a decision over PrEP, and that NHS England would now take "extraordinary steps to reduce further delay".
"[N]ine new treatments and services ... will be made available for the patients who require them immediately," the draft continued, before noting that the manufacturers of 13 remaining treatments, including PrEP, would be asked for their "best and final price".
This was radically changed in the published version to suggest the decision had denied funding for treatments:
First, NHS England is able to confirm funding for those new treatments and services in levels one and two of the Clinical Priorities Advisory Group prioritisation round, meaning that they will be available to patients immediately, and will not be affected by any subsequent decision from the courts.

However, given the ruling, NHS England cannot now confirm funding for those treatments and services in levels three and four. This is to ensure that sufficient funding remains available for PrEP should it be prioritised in the event that the Court of Appeal upholds the judge's decision.
The BuzzFeed News FOI request was filed on 3 August, the day after the statement was released. By law, it should have been answered within 20 working days, but it took almost two and a half months for NHS England to respond, and only after BuzzFeed News contacted its press office.

During the course of handling the request, NHS England acknowledged it had breached the terms of the act with its long delays, and the final information provided ignored the key part of the request for emails relating to the drafting of the release.
The NAT's Gold said NHS England now had a duty to release the information on how its press statement was issued.
"The comments from NHS England on 2 August undoubtedly had an impact on the tone and accuracy of the media coverage of PrEP," she said. "Irrespective of whether this was intentional or not, it is our view that NHS England could and should have foreseen the impact – which was that it inspired homophobic narratives and pitted groups of patients against each other inappropriately. The decision to release the statement was at best irresponsible.
"To single just PrEP out as a policy which would be funded at the expense of others is invidious, prejudices NHS England's position in relation to PrEP, and raises serious questions as to the impartiality of NHS England's approach.
"From the beginning of the HIV epidemic stigma and prejudice has led to portrayals of people with HIV as somehow deserving their fate contrasted with 'innocent victims' of ill-health. NHS England perpetuated this damaging perception and we'd urge it to review how this happened, including by responding transparently and swiftly to BuzzFeed's FOI requests."
This call was echoed by Conservative MP Mike Freer, who chairs parliament's all-party group on HIV/AIDS.
"The attitude of NHS England is beyond parody," he told BuzzFeed News. "Denying they have a role in prevention until the courts said they did; pitching one group of patients against another and unleashing homophobic narratives in some papers last seen in the 1980s, they still seem to think they are above the law.
"FOI requests should be complied with or a legally compelled government refusal needs to be made."

BuzzFeed News asked NHS England if it still stood by its statement on PrEP, whether it accepted criticism of the release as homophobic, and for the reasoning for the long delay and patchy response to the FOI request on the release. It released this statement in response:
"We always endeavour to respond to Freedom of Information (FOI) requests as quickly and as fully as possible. If an applicant is dissatisfied with the response they have received to an FOI request, they are able to request an internal review."

NHS England strongly rejected any allegations of homophobia in its press response.

BuzzFeed News is applying for a review of the handling of the FOI request.