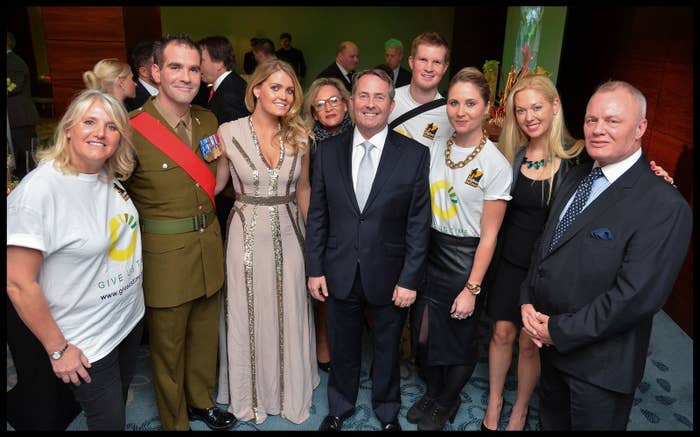 When Conservative MP and former defence secretary Liam Fox launched a new charity initiative in June 2012 to provide free holiday accommodation to military families, it seemed to get off to a flying start. Within a month, Fox was announcing that "300 weeks or six years" of free accommodation had been secured already, and since then he and the charity, Give Us Time, have enjoyed the backing of aristocracy figures and glowing coverage in newspapers and society magazines.

Fox, who has just returned to the cabinet as the new international trade secretary, is now facing questions over the running of his charity and whether it has lived up to its ambitious goals.
BuzzFeed News can reveal that Give Us Time has helped fewer than 130 families in total in its first three years – less than half as many week-long trips as Fox said were donated in the charity's first month alone – giving away less than £110,000 of holiday stays in that time despite being awarded a £500,000 grant from the Treasury.
The charity's accounts show it received the grant in November 2014, when it had just £4,405 in assets and had given away fewer than 40 free holidays. The Treasury award – which came from its "Libor fund", raised from fines on banks – dwarfs the amounts the charity has raised from other sources, including in-kind donations of free accommodation from holiday companies and timeshare owners.
The charity still had £498,000 in its bank account in September 2015, according to its most recent filings.
The BuzzFeed News investigation has also established that the charity and one of its donors together funded a week-long trip to Bulgaria, including flights and accommodation, for two of Fox's office staff – even though its policy was to not pay for the flights of the military families it was helping.
Tom Watson, the deputy leader of the Labour party, told BuzzFeed News Fox had to "urgently" address questions raised by the investigation.
"Liam Fox has questions to answer about the activities of Give Us Time," he said. "He must urgently explain why the charity he established apparently paid for two of his researchers to go on a week-long holiday. Dr. Fox must also explain why it arranged fewer than 140 holidays in the three years after it was set up in 2012 following his resignation from the Cabinet.
"The charity appears to have done very little until it received a £500,000 grant from a fund set up by the government to distribute fines paid by banks involved in the Libor scandal. The charities that support military families carry out valuable work but they must be open and transparent about how they spend public money. Liam Fox should now publish a detailed account of the amount Give Us Time has spent on holidays, along with a breakdown of other costs, including salaries paid to senior employees."

In a statement, Give Us Time said it was "solely dedicated" to helping service families by "providing them with holidays after long periods of separation, injury and other needs arising from their military service". The charity added that "we learn and share best practice within the wider military charity sector" and "were extremely lucky to receive Libor funding to further the aims of the charity".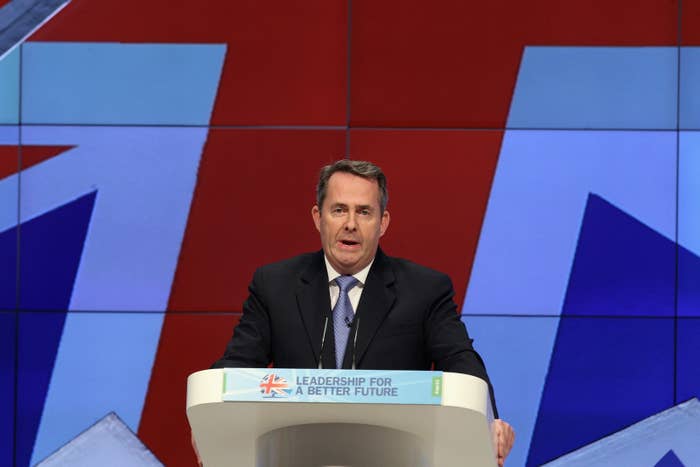 Launching Give Us Time

Fox launched Give Us Time eight months after he resigned in disgrace from his role as defence secretary over his close ties to lobbyist Adam Werrity. Unveiling the initiative in The Sun, Fox said: "As a doctor working with the Armed Forces I learned the importance of seeing our personnel not as isolated individuals but as members of a wider family and community dynamic."
The initiative was to match timeshare sellers and people with holiday homes to the families of troops who had served overseas, to give them free holiday accommodation for up to a week.
But it wasn't until November 2013, 17 months after launch, that the charity gave away its first five holidays. Fox announced in a blog post that the "pilot" had been a "great success" with two military families getting a week each in Scotland, one a week in Devon, another in Cornwall, and the final family going to Tenerife.
While the number of families who have benefited from Give Us Time appears to be far lower than Fox suggested when it launched, the charity has been prolific in organising glittering social events that have attracted positive coverage for the MP.
Initially a partnership with another charity called Afghan Heroes, it held its first major party in March 2013 at the five-star Corinthia Hotel in central London, attended by cabinet ministers, high society figures, and senior military chiefs.
Among the guests were David Cameron, George Osborne, and William Hague – then prime minister, chancellor, and foreign secretary respectively – as well as Lieutenant General Sir William Rollo and Air Chief Marshal Sir Stuart Peach, in full dress uniform.
In an article accompanying an extensive photo shoot, Tatler remarked: "And so to the Corinthia Hotel, where the Cabinet was carousing with a conscience to raise money and awareness for the Afghan Heroes' new Give Us Time initiative founded by Dr Liam Fox".
Six months later, around the time the first five families were going on the pilot holidays, Give Us Time was celebrating again with a reception at a hotel in Mayfair.
"A wonderful evening of champagne and celebration was had by all last night to thank the supporters of Give Us Time," Fox wrote on his blog the next day. "The event was kindly hosted by the Intercontinental Hotel Westminster, who provided an incredible array of food alongside champagne generously donated by Laurent Perrier."
Within a few months, Give Us Time managed to run a group trip to Bulgaria for a number of military families. A post on the charity's website notes that Fox attended with the group.
"The holiday was also attended by Give Us Time founder Dr. Liam Fox who continued his very active support of the charity," it said. "He was no doubt glad to get away from the campaign trail for a few days."
Details from the company's accounts for the year, though, show that not many trips were taken. By September 2014 – more than two years after Give Us Time was launched, and after it had been an independent charity for 15 months – its own accounts stated that just 32 families had been given trips.
However, there was good news in other areas: The charity managed to secure Lady Kitty Spencer, niece of Princess Diana and cousin to Princes William and Harry, as a trustee, and the press had been overwhelmingly positive.
"The charity enjoyed several prominent press articles in national newspapers including The Evening Standard, Daily Telegraph and Daily Mail," its accounts noted. "Featured in the spring edition of 'Army and You'.
"The Mail on Sunday, 'You' magazine devoted several pages to Lady Kitty Spencer and her work with the charity, this feature went out two weeks before the fundraising event and created much interest."
The charity's donated free holiday accommodation had a value of around £35,000, it noted, but the "value donated towards the October 2014 fundraising event including donation of venue and auction prizes is estimated to be around £100,000" – almost three times as much.
The charity had also secured offices in Hanover Square, just off London's Bond Street. The accounts show that by the end of its financial year, though, it had just £4,405 in net assets.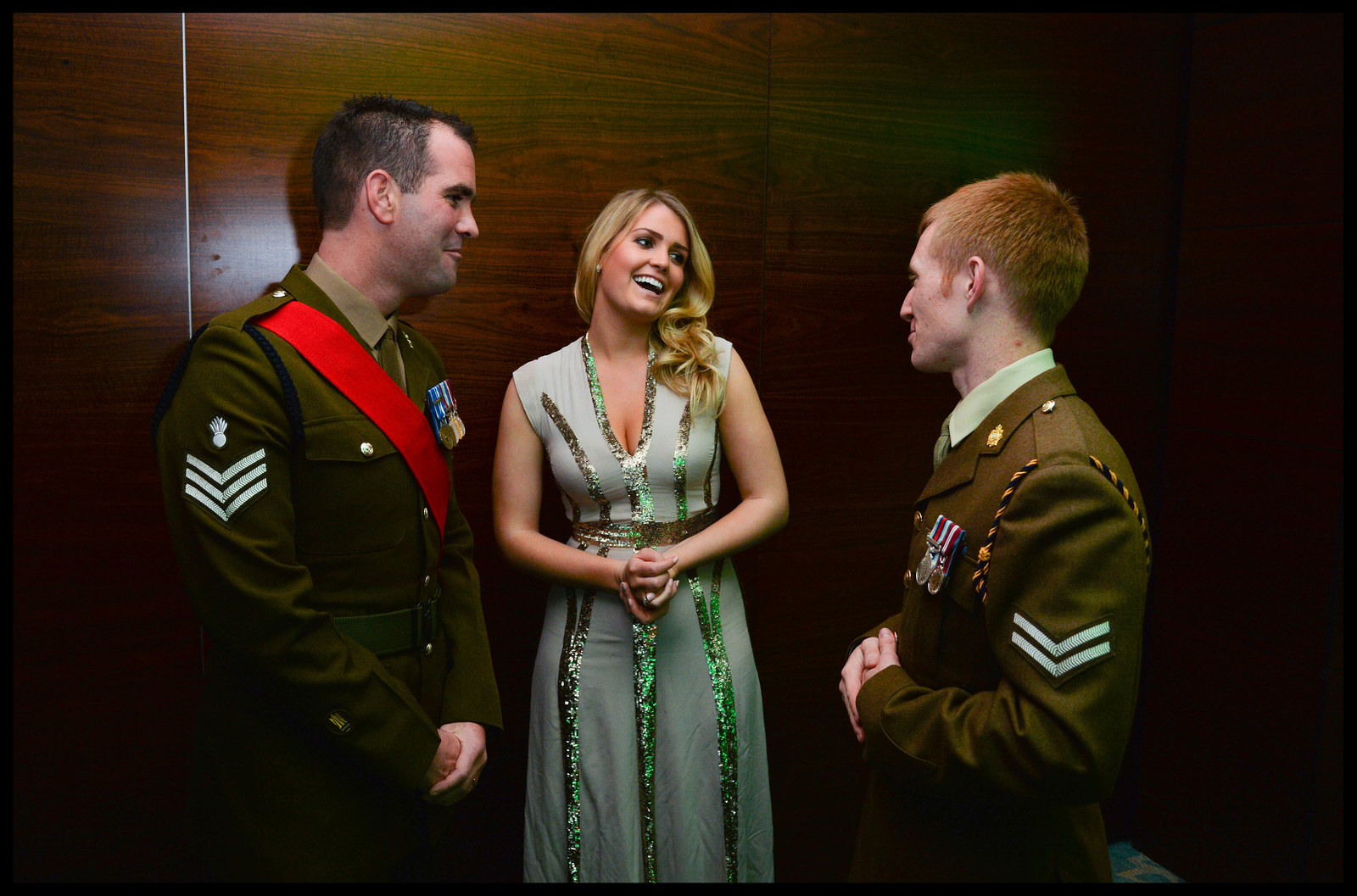 A gift from the government
The accounts, though, did contain some very good news for the charity. Despite the small number of families it had supported, its limited assets, and difficulties caused by the collapse of its previous partner, Afghan Heroes, Give Us Time had secured a significant grant.
"A £500,000 donation from the Libor Fund has also been secured from the Treasury," the accounts stated, simply.
The Libor Fund was set up by George Osborne as a way to distribute fines levied on banks found guilty of rigging a key lending rate, known as Libor. The fund was dedicated to military charities.
The fund, which is still open, currently warns anyone applying for funds that the process is very competitive.
"Funding is limited, so we will only be able to fund the very best projects," it states. "We rejected many applications last year that would have been better served looking elsewhere for funding."
According to a report published in 2014, Give Us Time is one of 39 charities offering holidays or recreational activities to service personnel and their families.
Give Us Time is not listed on the Libor Fund's list of successful projects, or in any of the government press releases – usually announced by Osborne himself – on its tranches of funding. However, the charity's 2015 accounts show it did receive the £500,000 from the fund.
BuzzFeed News asked the Treasury a series of questions about the approval process for Give Us Time's grant, including why it had not been publicly announced alongside other funded projects.
A spokesman declined to comment on whether Fox, Osborne, or any other Treasury minister had any role in the decision to award the grant, nor did he address the other specific questions.
Instead the response was limited to a general statement. "Give Us Time was allocated a £500,000 grant funded by Libor fines by the Treasury in November 2014," the spokesman said. "Like other charities that have benefited from Libor fines, it supports those that have exhibited the very best of British values."
One of the issues the Treasury may have considered when deciding whether to issue its grant was the collapse of Afghan Heroes, a charity of which Fox was patron, which initially ran Give Us Time.
The charity became subject to an official Charity Commission investigation in November 2013 over issues including "the significant risk to, and potential loss of, the charity's funds or other property", "unmanaged conflicts of interest", and "whether, and to what extent, there was mismanagement or misconduct on the part of the trustees".
Fox resigned as patron of Afghan Heroes in December 2013, citing a "breakdown of trust" between him and the trustees, who he said had not disclosed to him they were under investigation.
This wasn't the only charity connected to Fox to face a Charity Commission investigation. Another charity founded by Fox, Atlantic Bridge, was wound up by its trustees in 2011, following a highly critical Charity Commission report which said it had failed to advance its charitable objectives and appeared at times to be "promoting a political policy which is closely associated with the Conservative Party".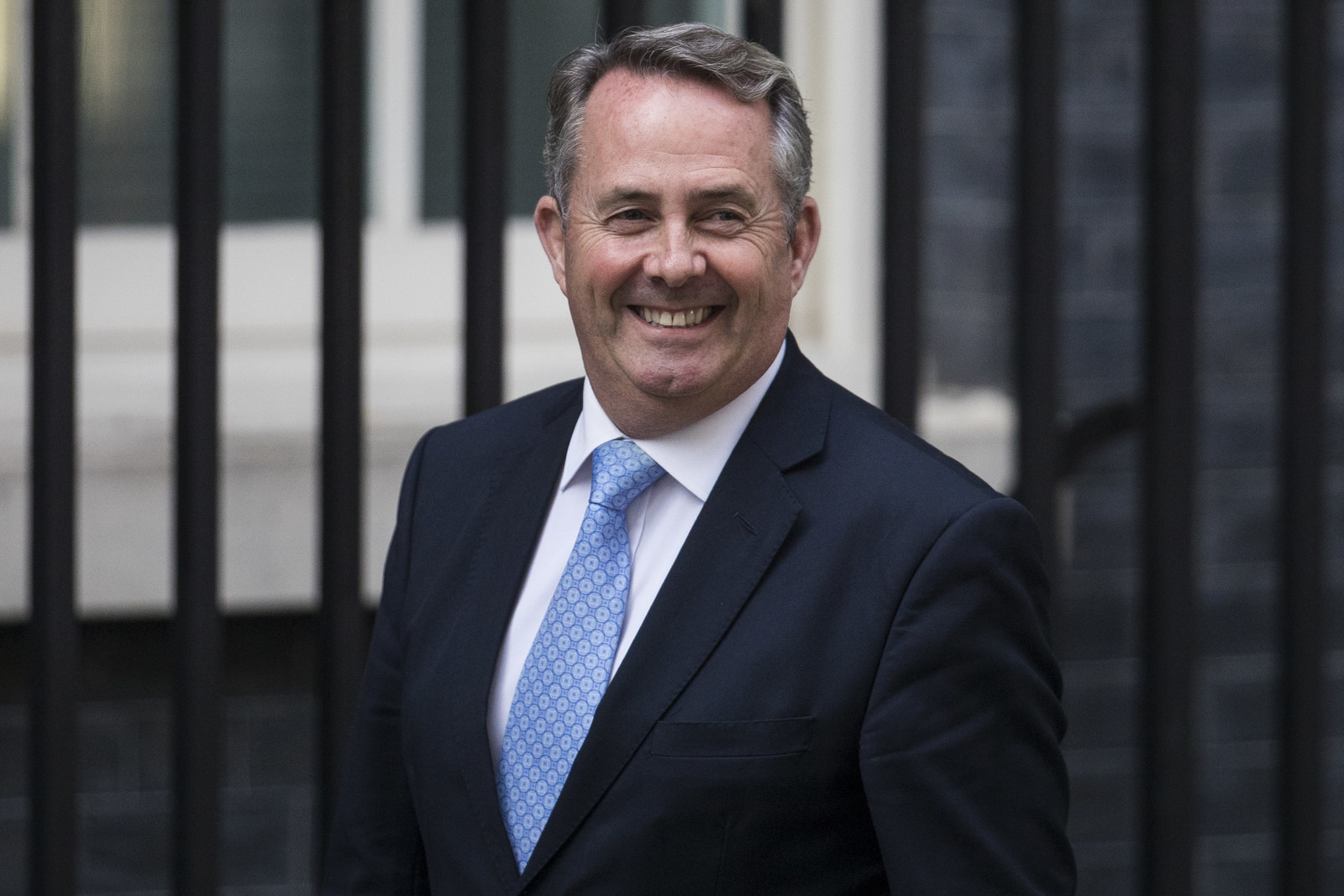 Give Us Time in 2015
Give Us Time's 2015 accounts did show an increase in the number of families helped by the charity – to 92 over 12 months, suggesting by the charity's own figures a total of 129 families were helped in just over three years. The charity had a further 850 families registered to search for holidays on its site.
The good PR continued, however, the accounts noted. As well as "prominent" newspaper coverage, the charity said:
"Forces TV produced a 25-minute programme about the charity; this has been used to promote the charity to military personnel and is shown repeatedly …
"A three-month trial PR Campaign has been agreed with Jam PR to target travel and trade press in the next financial year."
Excluding the £500,000 government grant, the charity attracted just £1,102 in cash donations, boosted by £72,765 through its fundraisers, and £67,730 worth of free holiday accommodation.
The charity's accounts show most of its £500,000 grant remained untouched almost a year after it was granted, as the charity spent just £88,000 of cash through the year – £32,487 on its charity manager, £13,893 on rent, and £36,649 on travel and accommodation expenses for the charity's beneficiaries.
Give Us Time's black-tie parties continued over the period. The charity's website noted it held another reception at the Corinthia Hotel in October 2014, this time attended by Lady Kitty Spencer, Fox, George Osborne, and Michael Fallon.
The charity even hosted a thank-you event for donors at the House of Lords "to celebrate their commitment to the charity", last December.
"The evening was hosted jointly by Baroness Benjamin and Dr Liam Fox MP, who founded the charity in 2012," one write-up noted. "Dr Fox took the opportunity to thank donors personally".
Another trip to Bulgaria
In February, Give Us Time organised another group trip to Bulgaria for services families, and once again Fox attended for a few days – receiving free accommodation from Balkan Jewel Hotel Resort, the charity's donor.
However, two members of Fox's staff also came on the trip, parliamentary declarations show, staying for the full week. Like Fox they received free accommodation, but Give Us Time paid for the flights of both staff members – effectively giving both a free holiday.
Give Us Time tells service personnel that they "only offer to subsidise travel payments in exceptional financial circumstances". Its website tells army families:
"Holiday homes have been donated and are free to use, however all other holiday expenses, including travel and transport, taxes and insurance, food and activities, are yours to cover."
Fox's declaration on the register of members' interests states: "My staff were present as representatives of Give us Time."
BuzzFeed News contacted Give Us Time and Liam Fox's office with a series of queries regarding the charity's activities, the limited number of families helped, its PR, and why it agreed to fund flights for Fox's researchers.
The charity did not address the specific queries, but sent the following statement:
"Give Us Time is an Armed Forces charity solely dedicated to helping Service families by providing them with holidays after long periods of separation, injury and other needs arising from their military service. Dr Fox founded the charity in 2012 but has had no involvement in its operations or accounting processes. Give Us Time was incorporated as a charity in 2013 and is registered with the Charity Commission and Companies House.
"All its annual reports and accounts are available to the public via the appropriate websites. As members of the Confederation of Service Charities (Cobseo) we learn and share best practice within the wider military charity sector. We were extremely lucky to receive Libor funding to further the aims of the charity which recognises the need to provide a holistic approach to welfare by providing support to the military family unit. The publication of data is a matter for the Treasury."