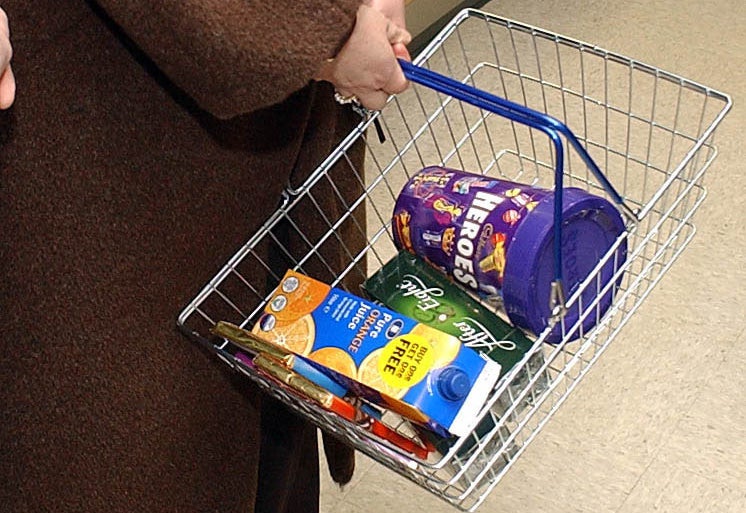 The consumer price index (CPI), the UK's official measure of inflation, has hit a two-year high of 1%, according to official statistics released on Tuesday.
The UK has enjoyed a long period of very low inflation, meaning prices for key goods haven't been rising, thanks to a slump in global oil prices. However, the fall in the value of the pound and a recovering oil price appear to be spelling the end of this era.
What does inflation of 1% mean? Is that a lot?
Put simply, when CPI is at 1% it means a shopping basket (of food, clothes, electronics, and other goods) that cost £100 in September 2015 would cost £101.
This is a higher rate of inflation than the UK has had since 2014, but still lower than the "target" of 2% a year, meaning the current level of inflation isn't a cause for concern. It's also lower than it has been for most of the last decade:
Despite a high-profile row between Tesco and Unilever over pricing, food prices have not yet started to rise in the UK, with the main drivers of the increase instead being the cost of clothing and footwear, as well as restaurant and hotel prices.
So this is no big deal, then?
Not so fast. The thing that's concerning economists is that inflation won't stop at its current level, but instead is expected to increase much more. This is in large part because of the drop in the value of the pound, which is down around 15% against most currencies.
This means that any goods (or raw materials) the UK imports suddenly cost 15% more – which makes its way through to the prices we pay in shops. The impact of this is only just starting to show in official statistics, but is expected to filter through in coming months.
"Higher import prices are feeding through to consumers because of the fall in sterling since the EU referendum vote," said Andrew Sentance, a senior economic adviser at PwC. "This latest rise, however, is just the tip of the inflationary iceberg which is coming our way.

"Over the course of next year, we should expect inflation to rise above the Bank of England's 2% target. This will squeeze household spending power and add to the slowdown in the economy in 2017."

Is there any evidence to back up the idea that inflation's going to soar?
The Office of National Statistics has a second measure of inflation that looks at the cost prices for material paid by businesses, known as the producers' price index (PPI). This essentially looks at the cost of raw materials arriving at UK factories and food processing plants compared to a year ago.
Thanks to low oil prices, these costs had been negative for more than two years, meaning businesses actually had lower costs than before on materials. However, the figure has risen sharply post-Brexit as sterling has slumped, hitting 7.2% in September.
The detailed breakdown shows pretty much all goods (except fuel) increasing in cost price. These higher costs are eventually passed on to consumers – a process that can take up to a year – meaning CPI will rise further.

As sterling fell still further in October, it is likely PPI will also continue to rise.
Does this just mean we all pay a bit more for our shopping?
This is the most obvious impact of inflation on most of us, but for millions of families higher inflation has more difficult effects.
The government announced a four-year freeze in almost all benefits received by working-age adults as part of its austerity drive. This amounts to a cut in real terms, because inflation makes the cash value of benefits worth less.
In March the Institute of Fiscal Studies (IFS) estimated the benefit freeze would cost the 11.5 million families who receive some form of benefits or tax credits an average of £260 each per year. In the light of today's inflation figures, it has increased this estimate to £360 a year.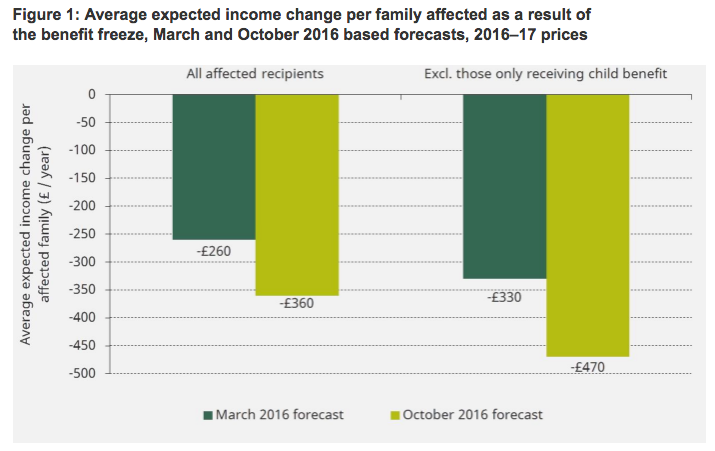 The IFS spelled out in detail the double blow the benefit freeze and post-Brexit inflation pose to low-income households (the majority of whom have at least one adult in work):
Normally many of those on the lowest incomes would be at least partially protected from the impact of higher prices by the rules that govern the annual uprating of benefits and tax credits. By default, benefit and tax credit rates are (with some exceptions, most notably the state pension) increased each April in line with the annual CPI inflation rate of the previous September – higher prices lead to higher benefit rates (albeit with a lag). However, in the July 2015 Budget the Government announced that, as part of its attempt to cut annual social security spending by £12 billion, most working-age benefit and tax credit rates would be frozen in cash terms until March 2020. This policy represented a significant takeaway from a large number of working age households. But it also represented a shifting of risk from the Government to benefit recipients. Previously, higher inflation was a risk to the public finances, increasing cash spending on benefits. Now the risk is borne by low-income households: unless policy changes higher inflation will reduce their real incomes.

In other words, unless the government ends its benefit freeze, as inflation continues to rise poor families in the UK will face higher prices for their household essentials with no rise in income to compensate.
"While it is perfectly reasonable to argue – as the 2015 Conservative Party manifesto did – that the working age benefit system should be made less generous over this parliament," the IFS concludes, "it is hard to see why the appropriate size of cut should be arbitrarily determined by the impact of movements in sterling on prices."