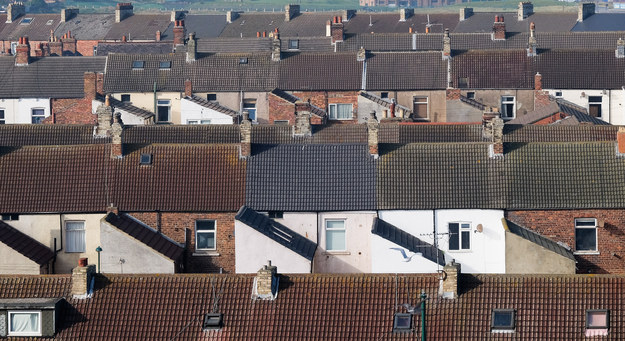 David Cameron used his Conservative party conference speech to announce the details of one of his key manifesto pledges: 200,000 starter homes available for purchase by 2020.
To achieve this, the prime minister will scrap planning rules that require developers to build homes for affordable rent and instead make them available to buy.
The homes will be available to first-time buyers under 40, and will be sold at a discount of 20% versus market price provided they stay in the home for five years. But analysis by the housing charity Shelter suggests the homes will still be out of range for a large number of families.
Here's where it says a couple both working full-time for the national living wage will be able to afford a 2020 starter home.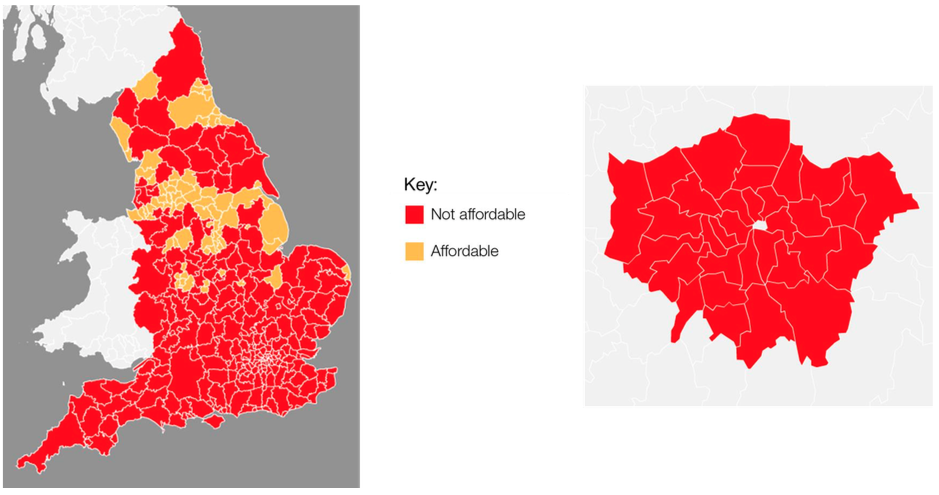 If one of them is working only part-time after having a child, only a handful of local authorities are left.
Things get better for families on average wages – but most of London and the South East will still be off-limits.
And even for families in the top 10% of earners, large areas of the South East will still not have starter homes.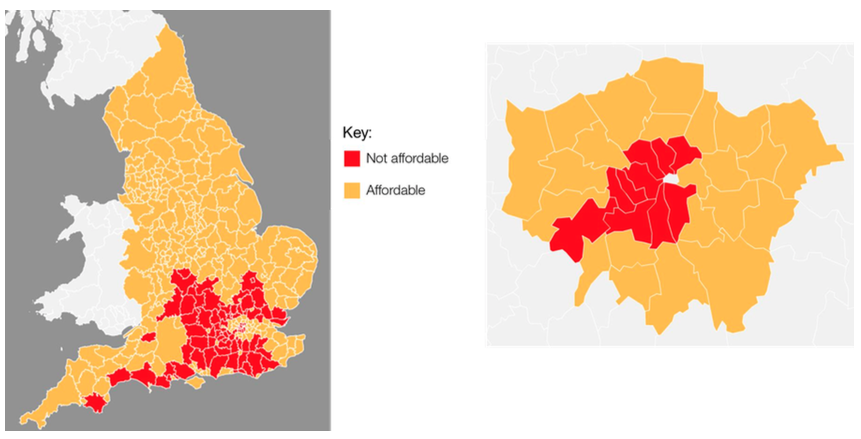 Shelter is also worried about a new shortage of social housing to rent.
Cameron's proposals relax requirements on house builders to make 20% of new developments available as social housing, to be rented out affordably to those who need it. Instead, the same proportion can be made up of starter homes for purchase.
This was a "double whammy", it warned.
"This would be robbing Peter to pay Paul, with normal working families having fewer options and staying stuck privately renting as a result," Shelter senior policy officer Pete Jefferys wrote in a blog post.
"Even if some middle-earning families do benefit from the scheme, they're likely to be stretching themselves to the limit taking on big mortgage or Help to Buy debts – this could come back to bite everyone when interest rates start rising."
Jon Sparkes, chief executive of homelessness charity Crisis, agreed.
"These plans could be disastrous for thousands of households across England," he said. "The lack of affordable housing is already a major cause of homelessness and today's proposals will only add insult to injury. For people struggling on low incomes, home ownership is a distant dream and renting is their only option. Reducing the number of affordable homes available for rent will make it even harder for these people to find a place to live.
"Instead, we need radical moves to increase genuinely affordable supply and we must not abandon requirements for developers to build affordable homes to rent."
A City analyst has also questioned whether the scheme will result in many new homes being built.
Robin Hardy, an analyst at Shore Capital, told BuzzFeed News the scheme would struggle to provide the 200,000 homes promised by 2020.
"If they do manage to build 50,000 new homes a year, then it will increase the housing stock," he said. "But only by an extra 22,000 or so a year."
This was because, he explained, the remainder would probably be replacing housing that would be built anyway, but would have been used as rented social housing. Hardy also questioned whether the scheme would actually result in 50,000 homes, saying that even if the scheme proves successful an average of around 30,000 would be more plausible.
"It makes some contribution, but it doesn't solve the housing shortfall," he said. "It's good politics, that's all it is."
Hardy also highlighted the risk the policy could heighten existing social gulfs in the UK, as it will reduce the number of new social houses being built even as the government's Right to Buy policy causes existing homes to be sold off.
"If you're taking social housing out of the genuinely poor, the single mothers, or the family working 16 hours a week...the stuff won't be there. Where are these people going to be based? You're creating a massive social issue, a multi-faceted, multi-layered issue."
A final caution Hardy noted was that the new discounted homes would not be "gold for the price of silver", but rather "silver for the price of silver" – meaning the properties developers choose for the discounted schemes are nominally similar to those at market price, but near railway lines, or major roads, or are in some other way less desirable, making the hefty subsidy less generous than it first appears.