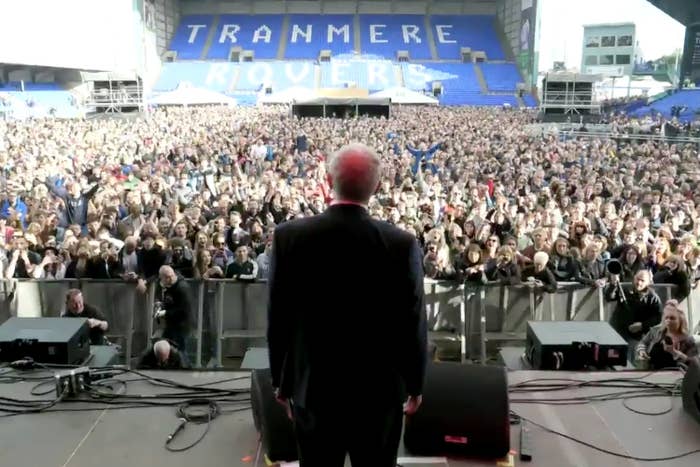 The NHS – not Brexit or tuition fees – is the most important issue for most young voters.
When asked which issues mattered most to them at this election, young people overwhelmingly picked the NHS as their number one issue, followed by Brexit. Education as a whole then tied with tuition fees in particular for the third spot.
Abolishing tuition fees is popular, but it's not the most popular education policy.
There's not much in it, but more 18-to-24-year-olds support guaranteeing access to apprenticeships than support abolishing tuition fees – though both policies receive very strong support.
Legalising weed is not necessarily a vote-winner among young people.
One of the flagship Liberal Democrat policies for the 2017 general election is a proposal to legalise the sale and use of cannabis, which the party says could raise £1 billion a year – but young people are narrowly divided on the policy: 43% support the idea, but they are outnumbered by 49% who oppose it.
The Brexit young people want doesn't really look like the one either of the major parties is offering.
When asked their top two priorities for Brexit, 49% of young voters say they want to retain freedom of movement as it is now – something Labour and the Conservatives have both pledged to end. Maintaining the single markets was a priority for 38% of young voters, while 25% are anxious to avoid a Brexit bill of billions of pounds – a view they share with older voters.
Just 8% named reducing EU immigration as one of their priorities.
Frankly, young voters feel pretty bad about Brexit.
Asked about what impact Brexit will have on their lives, young people are far likelier to feel bad than good: 52% said Brexit would reduce their life opportunities, while just 12% thought it would improve them.
Generally, young people would like a second referendum on a Brexit deal.
It might not have got him much cut-through in the polls, but there is support among young people for Tim Farron's proposal on a second Brexit referendum once a deal is agreed – 52% support it, versus 32% in opposition.
Young voters say they don't particularly trust social media for election news.
When it comes to trust, old media – even the newspapers – beat social media: 49% of 18-to-24-year-olds say they trust the BBC for election news, versus 22% who say they trust newspapers, and just 18% who say they trust news they see on social media.
Young people (still) don't have much confidence in politics.
Despite all the reports of a surge in youth turnout and enthusiasm, most people still don't expect much from politics. Only 21% said they had confidence in politics and politicians to solve the problems they faced in their lives, versus 72% who said they did not.
…but they do say they're planning to vote, by and large.
Almost everyone surveyed – 91% – said they were registered to vote, either at home or at university, while 62% said they were "certain" to vote. This is higher than actual youth vote turnout in recent elections, and higher than some (but not all) recent polls.
And finally: They say they're planning to vote Labour, by a landslide.
Among those certain to vote in this ICM survey of 18-to-24-year-olds, 67% say they plan to vote Labour, versus just 16% who say they plan to back the Conservatives – a polling lead of 51 points for Jeremy Corbyn's party.
This vast lead leaves little room for other parties: The Liberal Democrats, who've often relied on a strong student vote, are polling at just 8%, Greens at 3%, and UKIP at just 1%.
"If 63% of young people vote in this election then they could influence the result in several dozen seats," said Hope Not Hate chief executive Nick Lowles. "Political parties need to take young voters seriously."
Young voters say they're ready to back Jeremy Corbyn – but will they show up on the day?