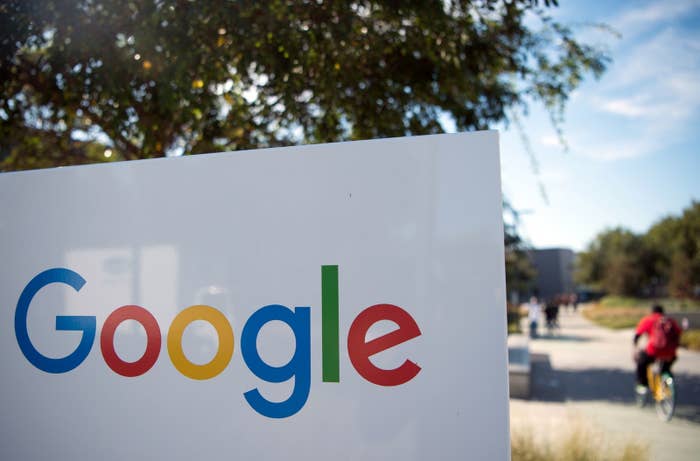 Google is trying to fight the spread of fake news, and some publishers are already feeling the effects.

Allen Montgomery, who runs National Report and about 10 other fake news websites, says Google informed him this week that his advertising account was being shut down — not that he's too worried.

"I get emails daily from other networks that are more than happy to work with me." he told BuzzFeed News.
In fact, Google's attempt to stop websites that spread misinformation from using its AdSense advertising platform is mostly being met with a shrug by publishers who specialize in the kind of fake stories that often go viral on social media.

The company announced this week it will ban websites that misrepresent themselves or their content from earning money from AdSense. This includes "deceptively presenting fake news articles as real," according to Google's updated policy.
"There's alternatives. There is not only Google AdSense," said Janick Murray-Hall, who runs World News Daily Report, a website that traffics in the kinds of outrageous and unbelievable stories that came to dominate Facebook news feeds this past year.

Recent fake stories on his website include the tale of a woman running over her spouse for voting Trump, and Yoko Ono admitting she had an affair with Hillary Clinton in the 1970s. Murray-Hall said October was by far his best month for traffic and revenue, buoyed by interest in the US presidential race, and he doesn't see the change in Google's advertising policy as a death blow to his business.
"There's tons of companies that want us to put up their ads," he said. "If I receive a message from Google AdSense saying I'm not going to make money anymore, I'll have to change companies. That's it."
Fake news became a major concern in the US presidential election as a cottage industry of websites sprang up to cater to partisan audiences with false or highly misleading stories. Facebook became the main distribution channel for this material, and the company is reportedly torn on how to respond to the epidemic of misinformation.

According to a BuzzFeed News investigation, spreading fake election news online was so lucrative that it became an international industry, and about 100 websites supportive of Donald Trump were launched in a single Macedonian town alone.
Google, too, has been grappling with the problem, and earlier this week a blog post falsely claiming that Donald Trump won the popular vote in the presidential election was presented as a top news result on the search engine.

The company's change to its advertising policy appears aimed at cutting the revenue streams of fake news operations in a bid to limit their proliferation and influence.

Other publishers who traffic in fake news, however, insist they produce political satire, and how Google will differentiate between the two remains uncertain. The company did not answer questions on how the policy will be enforced.

Dave Weasel, who runs the The Valley Report (tagline: newsworthy news), said he even welcomed the crackdown because he includes a clear disclaimer on all his stories that they are for entertainment purposes only.

"Sites that do fake news articles about election results are serving a totally different purpose," he told BuzzFeed News. "They should ABSOLUTELY be blocked from AdSense, as they are being malicious and profiting from it."

Meanwhile, some fake news purveyors are already moving away from display ads like the ones offered by AdSense. Pablo Reyes, who owns the Huzlers network of fake news sites, told BuzzFeed News his main revenue source now is through related content widgets, the ubiquitous recommendations found on even mainstream news sources that include links to outrageous stories about celebrity weight gains and the like.
"The CTR [click-through rate] is higher, and when we moved over, AdSense just became kind of a side thing," Reyes said. "It's extra money, but it's not necessary."