🚨WARNING: SPOILERS AHEAD FOR THE UMBRELLA ACADEMY SEASON 3! 🚨
In true Umbrella Academy fashion, the latest season was a chaotic mess, but in the best way possible. There were alternative versions of our favourite characters (hello Sparrow Academy), as well as an important reintroduction (Viktor, you have my whole heart). Plus, the world came to an end (yet again), and there was a climatic ending that kicked the door wide open for future episodes.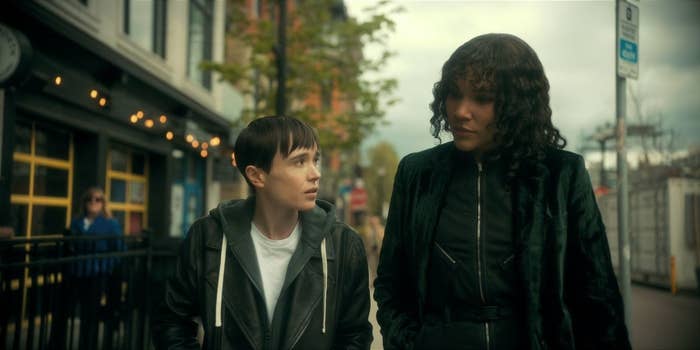 As always, one of the core things that defines The Umbrella Academy and makes it so great is the chemistry that the cast have with one another. So, like in previous years, here are some adorable behind-the-scenes photos of the entire cast being friendship goals.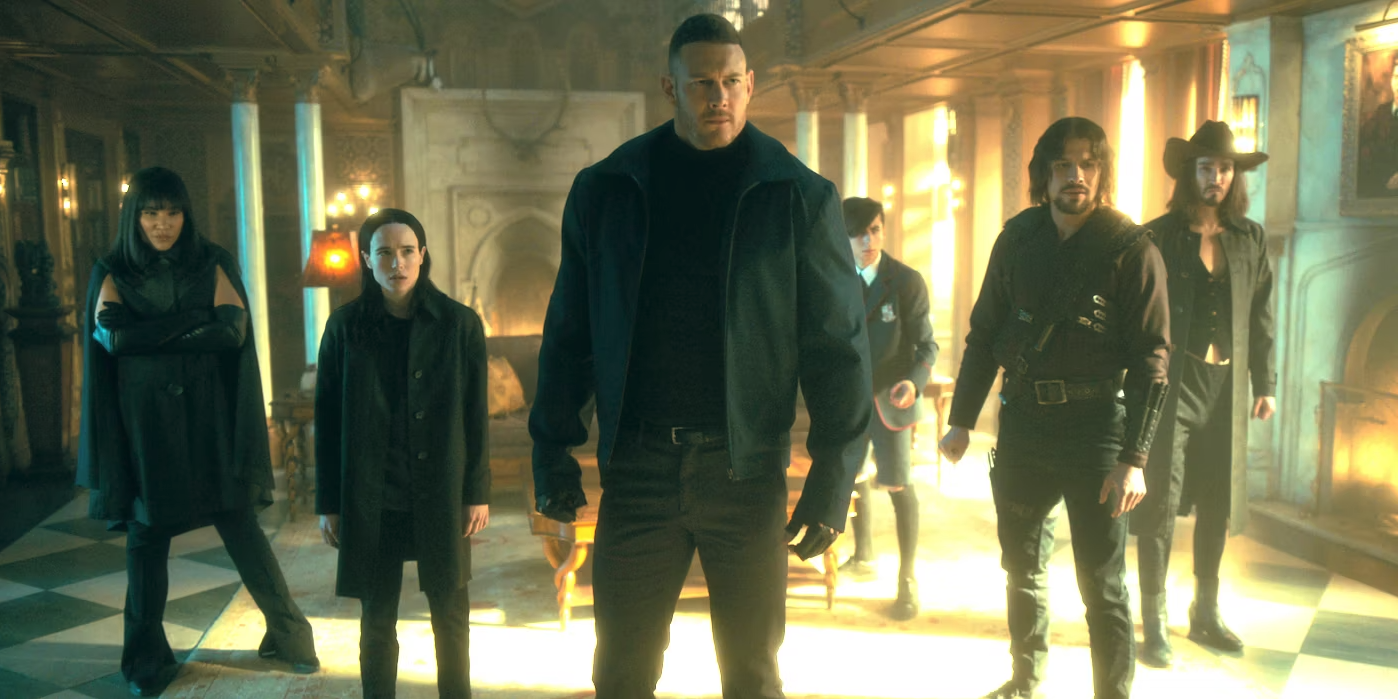 1.
When Tom Hopper (Luther) channeled his inner Bonnie Tyler to give a stirring behind-the-scenes rendition of "Total Eclipse of the Heart."
2.
When Justin H. Min (Ben), Cazzie David (Jayme), Genesis Rodriguez (Sloane), Britne Oldford (Fei), Jake Epstein (Alphonso) and Justin Cornwell (Marcus) took this wholesome family portrait.
3.
And didn't hesitate to goof around with each other while filming Sparrow Academy scenes.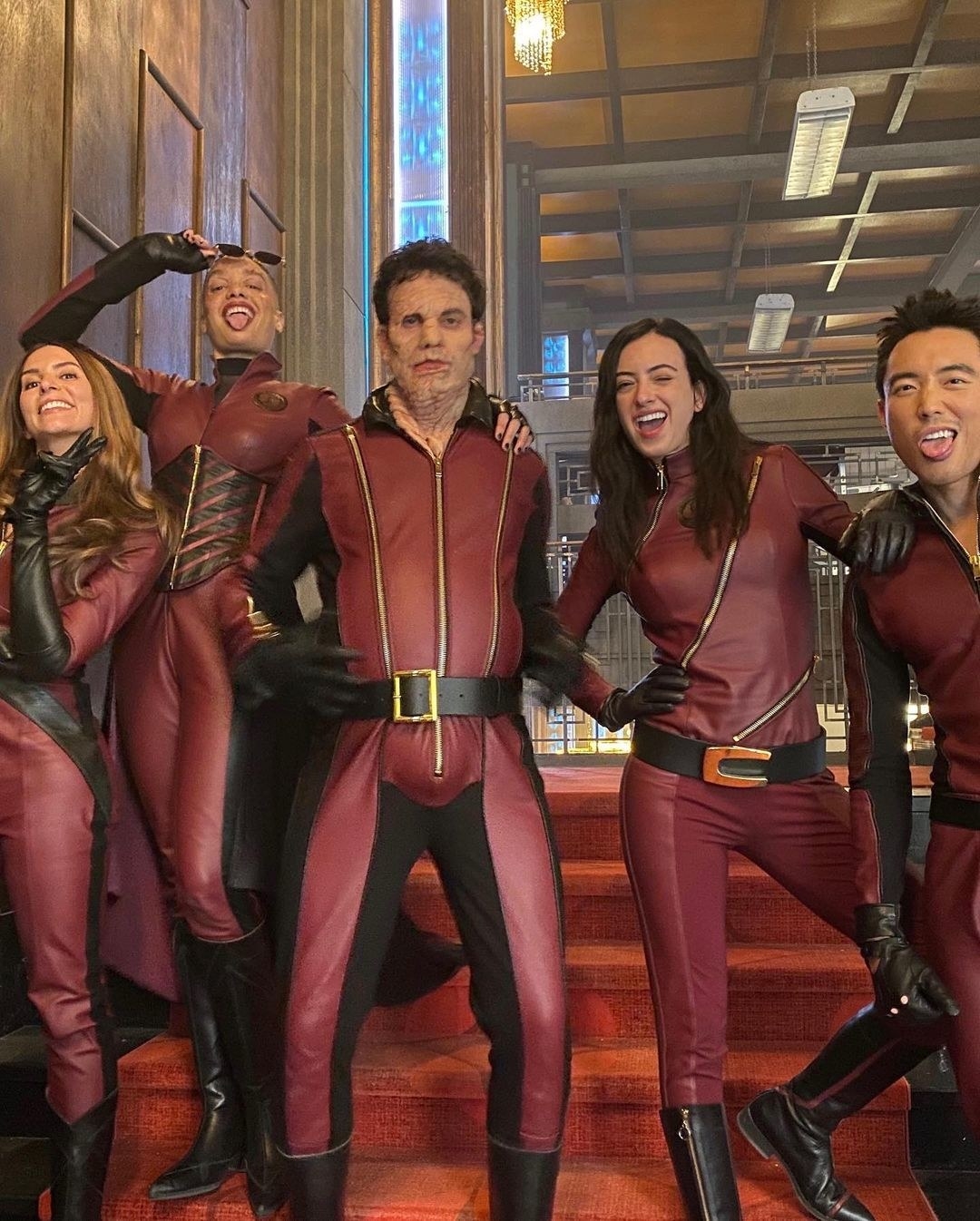 4.
When David Castañeda (Diego) and Ritu Arya (Lila) couldn't resist being the ultimate trolls while Justin was peacefully napping.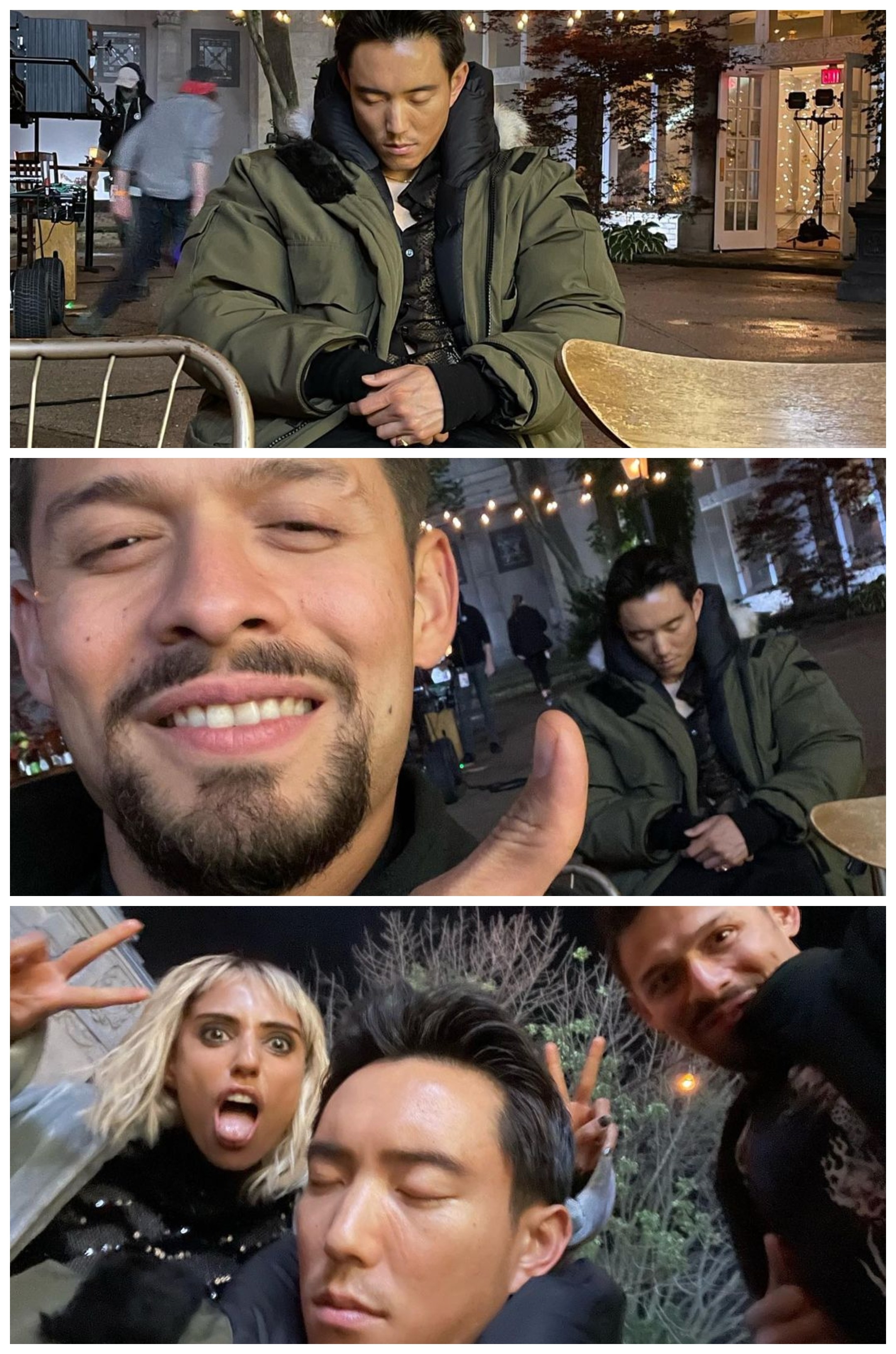 5.
And even Elliot Page (Viktor) wasn't safe from being papped while napping.
6.
When Emmy Raver-Lampman (Allison) showed us exactly what it takes to do all those cool stunts we see in The Umbrella Academy.
7.
And here's David filming that iconic scene in Episode 1 where he jumps on Christopher and tells him who's really the daddy.
8.
When Genesis looked as pretty as a picture in-between filming the wedding scenes.
9.
When Emmy, Genesis, Elliot, David, Tom, Justin, Robert Sheehan (Klaus), Ritu and Aidan Gallagher (Five) showed off their best angles in the Project Oblivion corridor.
10.
When Ritu and Elliot had a little boogie in-between filming — and I don't know about you, but this wholesome video gives me all the warm, fuzzy feelings.
11.
When Britne showed off the Umbrella Academy crew's incredible process of using makeup and special effects to transform her into Fei.
12.
And gave us a closer peek at the remarkable attention to detail used for Fei's character design.
13.
Plus, here's Jake being turned into Alphonso — another jaw-dropping transformation.
14.
When Genesis, Jake, Jordan Claire Robbins (Grace) and Marcus perfected the art of the squat pose. Meanwhile, there's Cazzie in the back giving off "if you touch me, I'll cut you" vibes.
15.
When David took his role of being an annoying brother a little too seriously, resulting in these compilation videos of him bugging Justin by playing the John Cena theme song.
16.
And not wanting to be outdone by her on-screen sibling, Emmy tortured Justin by constantly calling him a cutie while filming.
17.
When Tom showed us what happens before and after his arm workouts.
18.
When Jordan shared these happy snaps of the entire cast hanging out while on set.
19.
When Ritu proved she was a badass drummer both on-screen and off-screen.
20.
When Justin gave us a behind-the-scenes peek at how they filmed his incredible jump in the first episode.
21.
When David posted these throwback clips from filming Season 1, which includes him hanging out with his cast mates, the cast doing a table read and various clips of him dancing.
22.
When Emmy shared this breathtaking shot of the Hotel Obsidian set, which was used throughout Umbrella Academy Season 3.
23.
When Jordan posted this compilation of clips, which include the cast shooting a couple of hoops during their downtime, her and Aidan doing a special handshake and rehearsals for the "Footloose" sequence.
24.
When the Umbrella Academy crew were so talented at applying fake wounds that they made me believe I could do a half-decent job.
25.
When David and Ritu showed off their killer moves and proved that they were besties for life.
26.
When Emmy, Jake and Tom posed up a storm together, and honestly, I wish we got more scenes with these three because it would have been hilarious.
27.
When David showed us the work it takes to coordinate a fight scene, from beginning (training) to end (filming). Oh, and if you thought he was done trolling his fellow actors, check out the clips featuring Tom.
28.
When David gave Emmy a masterclass in the art of playing Diego.
29.
When Cazzie and Justin did their best blue steel impressions.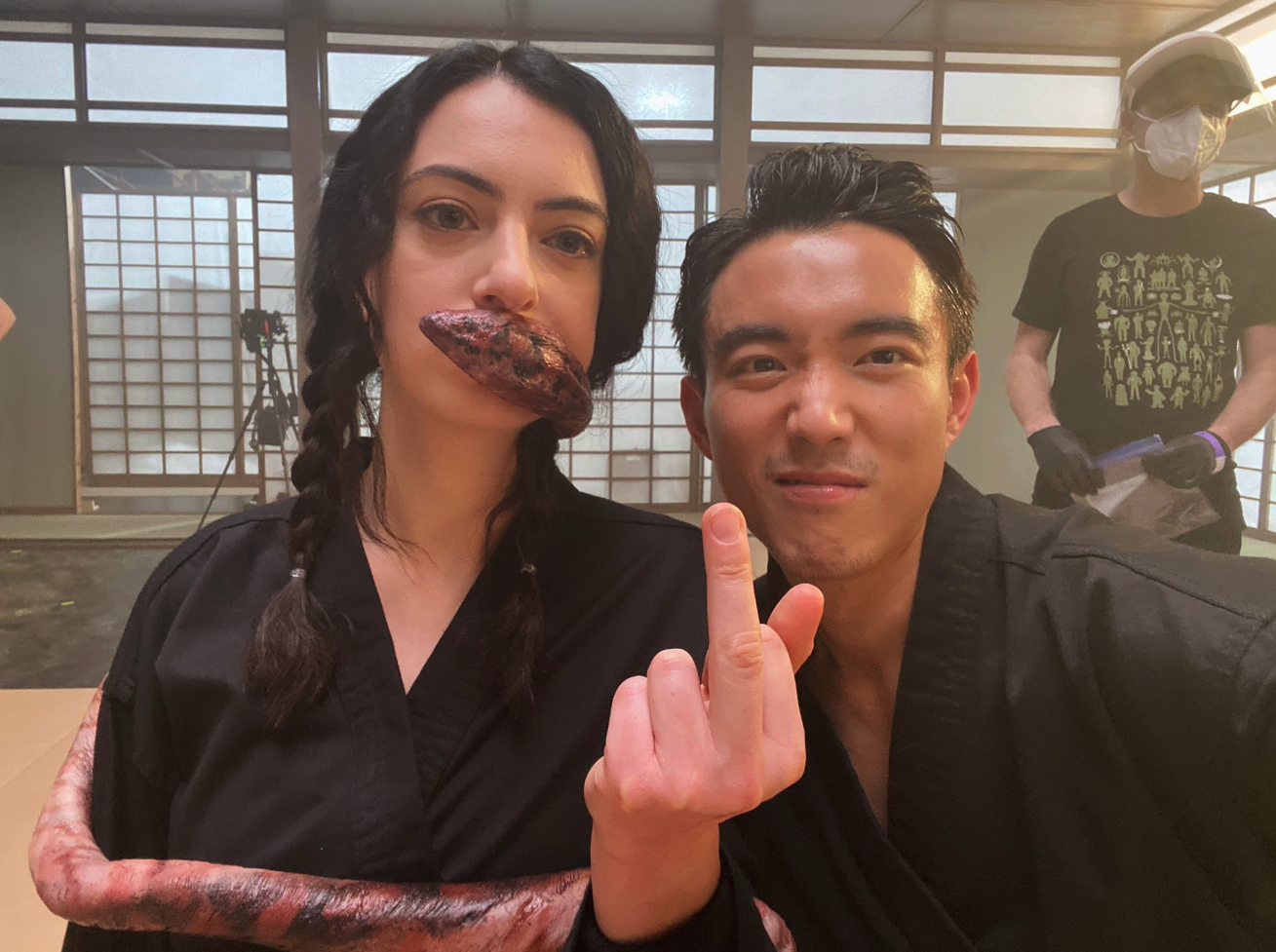 30.
When David, Rob and Tom gave dear old dad a kiss on the cheek.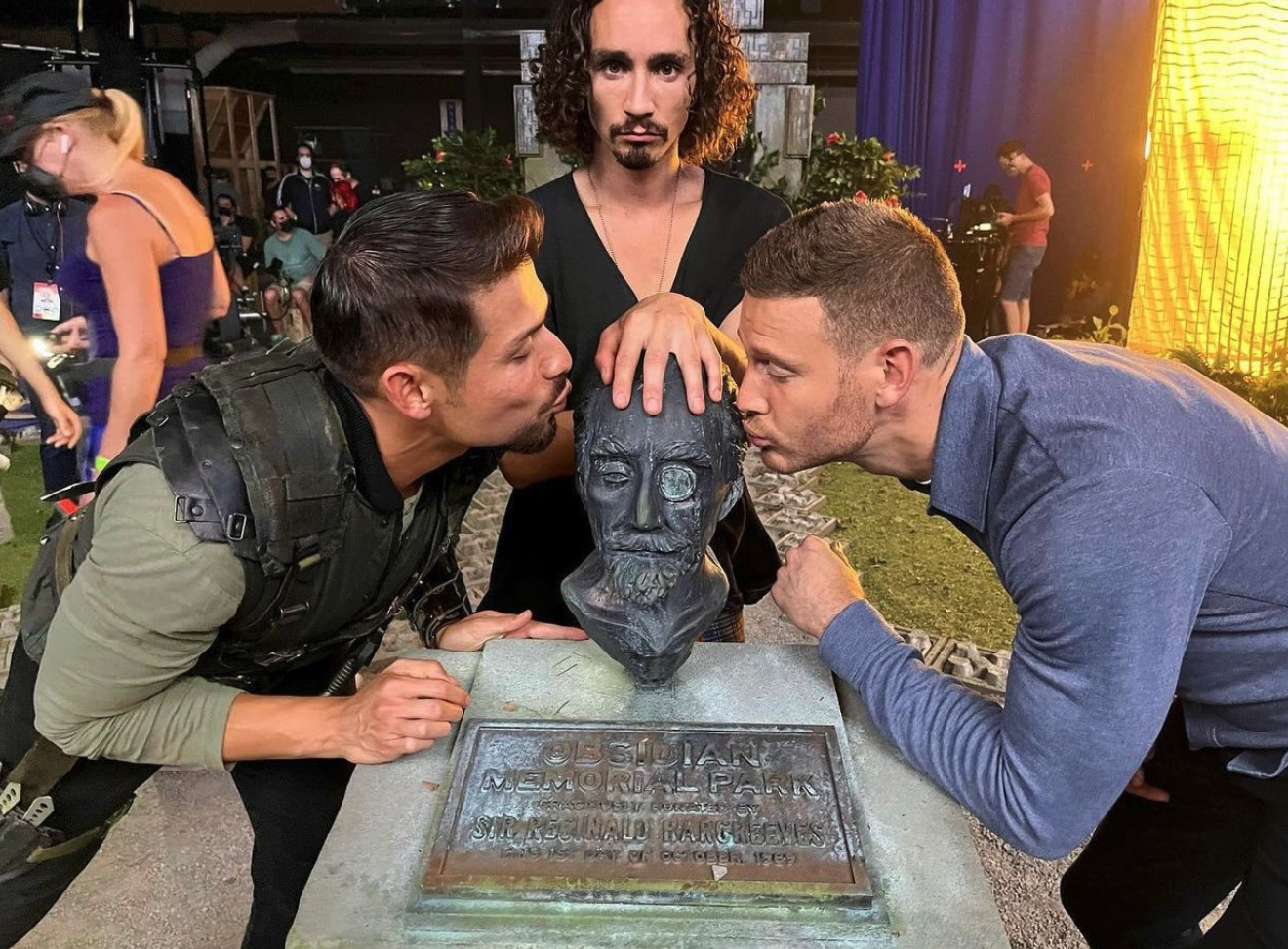 31.
And lastly, when Tom gave us one heck of an incredible moon rock.
From these uploads, I can just tell that The Umbrella Academy cast is just as much a family off-screen as they are on-screen, which makes me love and appreciate this show even more. What are your favourite moments from Season 3?