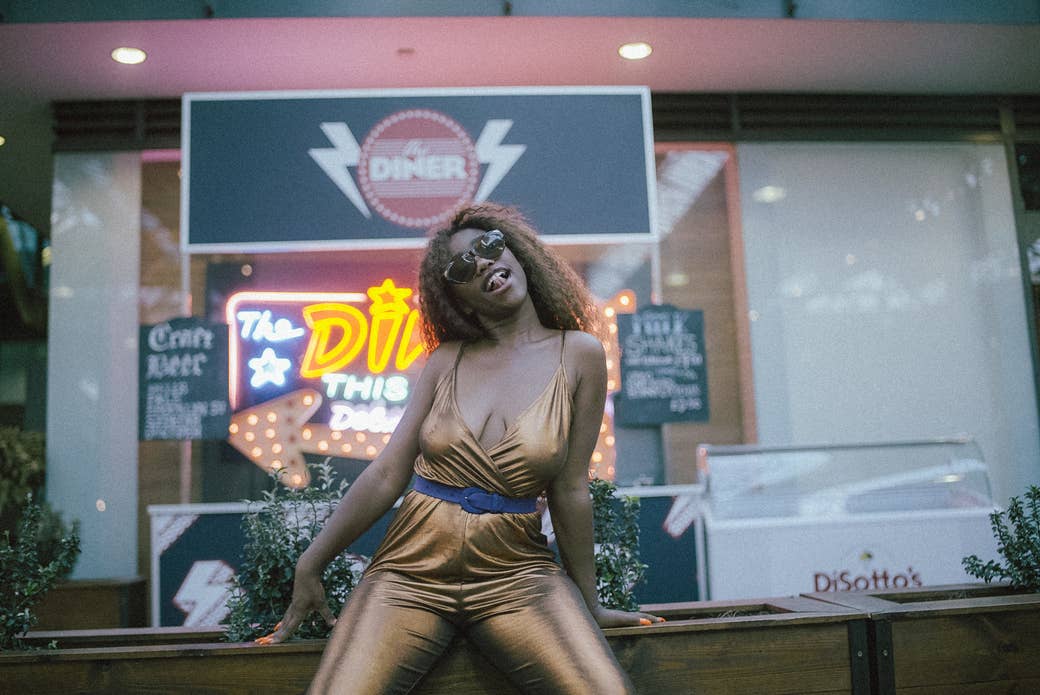 Chidera Eggerue has learned to love her body – saggy boobs and all – and now she wants to help others to do the same.
The 23-year-old award-winning British blogger, better known as the Slumflower, is the driving force behind Saggy Boobs Matter, an online movement that challenges unrealistic expectations of what breasts should look like.
"A lack of representation of saggy-looking boobs when I used to go bra shopping in M&S [as a young teenager] made me realise that something is wrong with the way the world views women's bodies," Eggerue told BuzzFeed News.

"The packaging would always have a picture of a white woman with perky boobs, yet when I'd try on the same bra in my correct size, my boobs just wouldn't look like the model pictured."
Pretty soon she had developed a complex and started to resent her boobs. "It was so bad that at that age I had already decided that I'd get a boob job once I got my first job at 18," Eggerue said.
"I reached 18 and didn't get a job, let alone a boob job, so I continued self-loathing until I reached 19 and became tired of feeling like a stranger in my own body. I decided I'd had enough and made the choice to stop wearing a bra."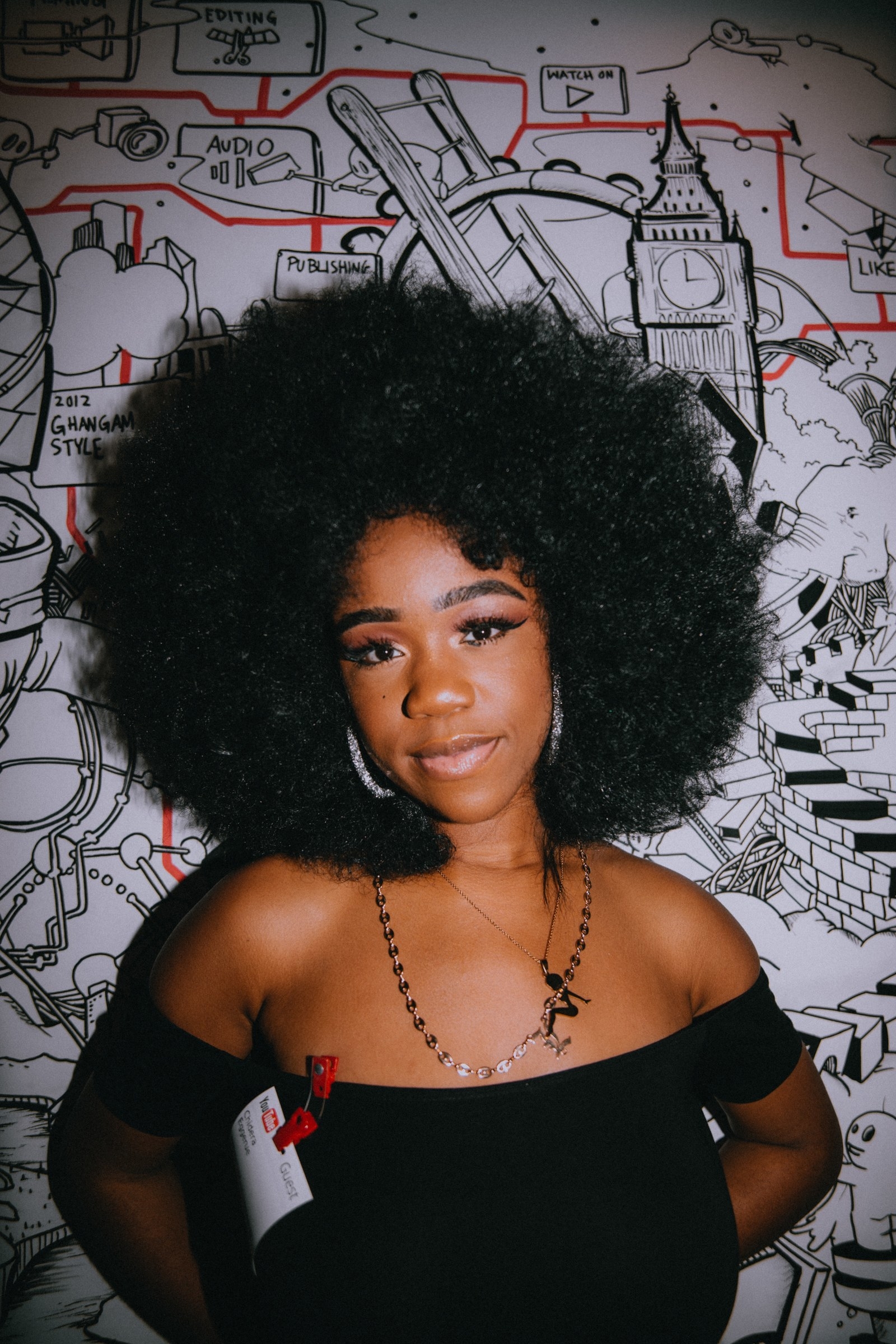 Though Eggerue feels confident in her own skin, she wanted to share her journey towards self-acceptance to contribute to the wider conversation about body positivity. Since July 2017, she has been sharing pictures of herself without a bra, with captions that are defiant and inspirational.
"Fast-forward to 23: I've now reached a position of feeling comfortable in my body, but I wanted other women to feel like this, so I had to start the conversation by using my own body as an example," she said.

"Through creating #SaggyBoobsMatter, I have been able to help women articulate their own body image hangups – especially slim women who don't really know where they stand in the body positivity movement."
Eggerue sees the shaming of saggy boobs as a vicious cycle: "Saggy boobs are underrepresented. Being underrepresented makes you feel alien to society. This fosters insecurities in people who don't have the mental strength to see value in themselves beyond other people's standards."
Her passion, however, does come with a price.
As her tweets and Instagram started to go viral, she came under immense scrutiny not only from those who thought Saggy Boobs Matter was a bit of a joke, but also from some who made disparaging remarks about her natural assets and ordered her to put a bra on.
"Overall, I think the movement has been received with a lot of sarcasm and insults from men and a few confused women, which doesn't surprise me," Eggerue said.
"This concerns me a lot because other women who look like me are seeing some of the horrible responses to this movement and are now probably feeling more insecure about their bodies when they see the vitriol I receive for showing up boldly and proudly.
"Most of the responses have been horrible and disappointing, but I've learnt to not take them so personally. Men are socialised to see women as vaginas that think, sometimes. Because of this, women's bodies are picked apart as if we only exist to satisfy.
"Men do not see women as people until you remind them of the women they have close proximity to, so what they fail to understand is that they have to be very mindful when hurling insults at me about my body, because other women who look like me are seeing these comments."

She said it hasn't been just men who have criticised the movement. "In regards to the women who have been horrible, it's disappointing because they also benefit from this movement.
"Women who condemn other women's bodies are simply seeking comfort by aligning themselves with their oppressor, who will still use that very same patriarchal system to oppress them, too," Eggerue said.
Things took a particularly nasty turn when one of her pictures was turned into a meme poking fun at her and another black woman.
The meme was shared by Nigerian music producer Don Jazzy, one of the biggest names in Afrobeats, to his 3 million followers.
"It was quite hurtful to see that a stranger had gone to my page, stolen a photo of me that I took on my birthday, and thought it would be a good idea to turn it into a meme comparing women to phone battery life," she said.
"My photo was compared to a dying phone battery, meaning that I was seen as unattractive. What was more hurtful was seeing the meme shared by a famous Nigerian musician with a very large audience, so the comments were full of strangers laughing at my body."
When she expressed her disappointment about the meme, the abuse started. Eggerue was called an attention-seeker and told to get over it – that it wasn't a big deal.
"No matter how much you love yourself, randomly seeing strangers laugh at your body is not a nice feeling at all," Eggerue said. "Cyberbullying does not stop being cyberbullying just because a person is popular/famous."
Don Jazzy later apologised and deleted his post, but it made Eggerue more determined to spread her message. She wants women to know that "you were made with intention and your body is not a mistake".
"By force, we will all have to learn that the only way to normalise something is to see it repeatedly. So if you have an issue with saggy boobs, you have to ask yourself why a person's body offends you," she added.
"For the women who look like me: Your saggy boobs matter. And from now until you die, what's going to matter, ultimately, is your character. Sometimes people are scared of what they haven't been taught to accept. We still have to exist loudly, though."
Eggerue said that she's been receiving messages from women from around the world telling her that her campaign has helped them.

Gemia Jones, a student at Hinds Community College in Raymond, Mississippi, is one of the people who has been inspired to celebrate her breasts using the hashtag #SaggyBoobsMatter. "I think the movement is great," she told BuzzFeed News. "I have my own insecurities, so it was nice to see a movement that kinda empowered body positivity or whatever."
"Seeing you in all your glory has given me the confidence to say fuck it (some days) and not wear a bra. Saggy boobs matter!" wrote Twitter user @dase_xo. "Update: turns out @theslumflower started a #SAGGYBOOBSMATTER movement and I've finally found my home 🏽 #bracott2018," tweeted another.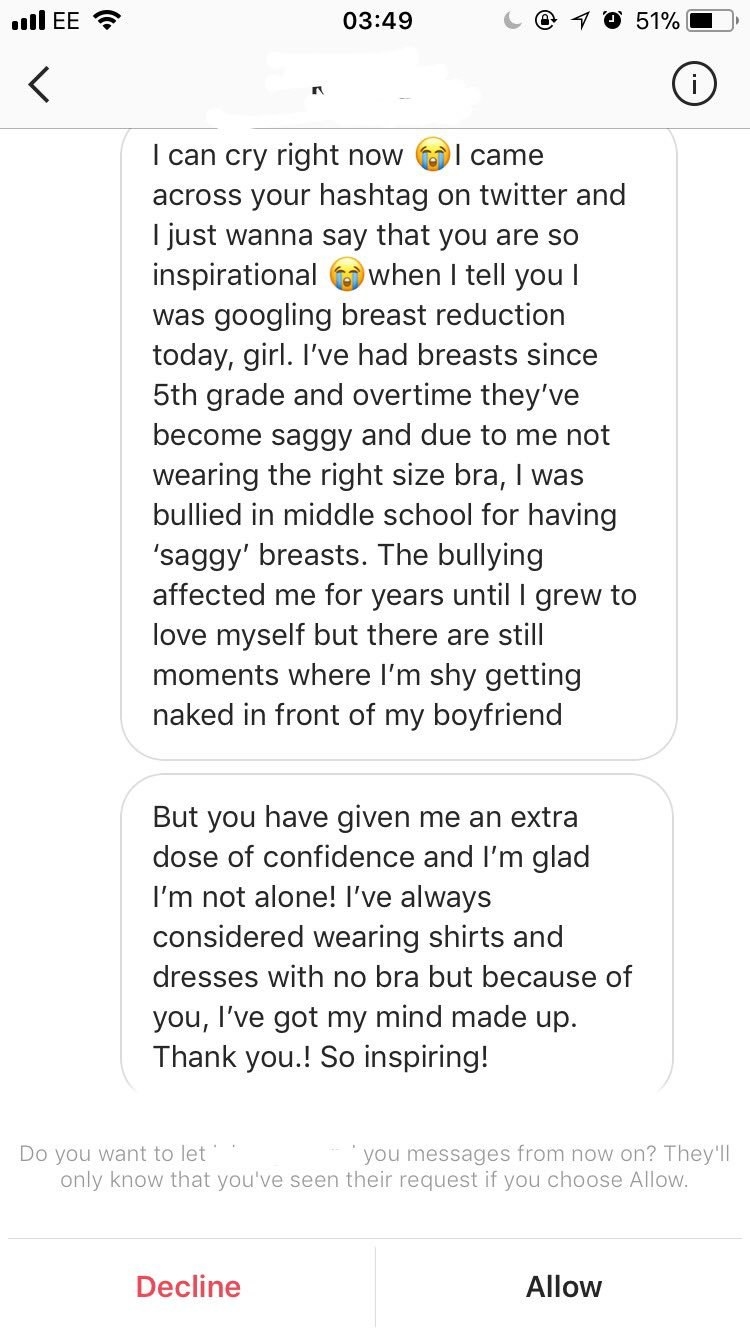 Eggerue said it has been "an overwhelming experience receiving so many lovely and deeply personal messages from women who have found comfort in this movement".

"I've had breastfeeding mothers message me telling me that this movement has helped them in their postpartum journey, and that, for me, is so important because the people who are being hateful towards this movement have conveniently forgotten that a large majority of them were breastfed on saggy boobs."