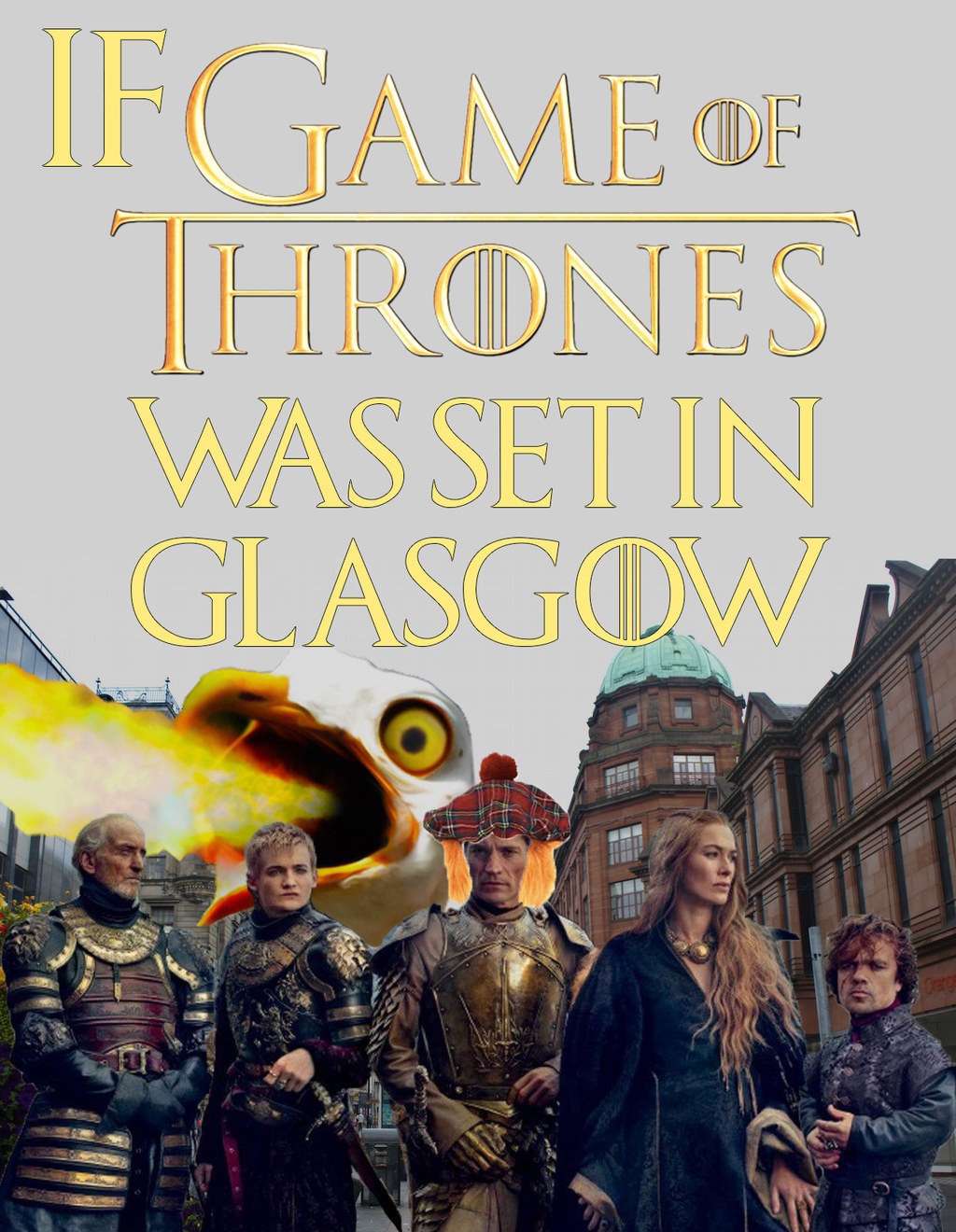 1. Tyrion's nickname would be "Big Man" and he'd work doon the Barras.
2. Big Man's patter would be legendary, and he'd have a pal in every bar.
3. He'd also spend a lot of time getting "massages" at the St. Enoch Club.
4. Big Man would be a member of Glasgow's most powerful family: The Bannantynes.
5. His father, Tywin Bannantyne, would dominate the West with an iron fist from his mansion in Barrhead.
6. And Big Man's brother Jaime "Jimmy Wun Hand" Bannantyne would run his uncle Duncan's chain of fitness centres.
7. Jimmy would also be a member of his local Young Team, and spend his evenings sticking the heid on rival gangs in dimly-lit NCP car parks.
8. Cersei would be married to the richest guy in Glasgow: The bloke who founded McColl's Newsagents.
9. And he'd be killed by a rampaging llama after being booted out of his car during a trip to Blair Drummond Safari Park.
10. Cersei would spend her days getting spray-tans at HOT! while cutting aboot Glesga in a Juicy Couture tracksuit.
11. And shagging her brother in the back of his lime-green Mazda ZX3.

12. Her affair with Jimmy would come to light after they get papped by a Daily Record photographer on a chilly evening up Cathkin Braes.
13. The next day's Record would lead with the headline "BANNANTYNE'S BALTIC BROTHER BONKFEST."
14. Glaswegian Cersei wouldnae let people publicly shame her about it though. Anyone who tried would get a swift boot in the baws.
15. Soon all the fuss would die down and she'd go back to getting her nails done and drinking two-for-one cocktails at Slug and Lettuce.
16. Ned Stark would be McColl's right-hand man and regional branch manager.
17. "Winterfell" would be the name of a semi-detached villa in Milngavie.
18. And Ned's family would live their with their six Staffies: Whitey, Malky, Naebaws, Dobber, Trumpet, and Midden Face.

19. King's Landing would be the name of McColl's HQ in Newton Mearns.
20. Ned would travel there to support his boss, but Cersei would hire the Y. Pollok Mad Sqwad to kill him, and they'd chib him when he arrived.
21. His son Jon "Naepals" Snow would get fed up of people confusing him with a newsreader, so he'd journey to the Far North* with Whitey, his Staffie.
22. *Loch Lomond and the Trossachs National Park.
23. He'd pledge to become a park ranger for the National Trust of Scotland, even though that means becoming a virgin for life.
24. While doing his job one day he'd become aware of a terrifying new threat from the Highlands that people in Newton Mearns weren't aware of.
25. "THE MIDGES ARE COMING."
26. Horrified, Jonny Naepals would send texts to his da at McColl's HQ to warn him, not knowing that he'd been bumped off.
27. Eventually he'd give up and ride North to meet the midges in battle, pausing at the Green Welly Stop in Tyndrum to stock up on Jungle Formula.
28. Daenerys would be a member of Glasgow's second most powerful ruling dynasty: The people who own all the Blue Lagoon chip shops.
29. But they'd be ousted from power after an aggressive healthy eating campaign by McColl's, and forced to flee to East Glasgow.
30. She'd marry Karl Drogo: a long distance lorry driver from Coatbridge.
31. But his previous unfortunate addiction to Blue Lagoon munchy boxes means that he'd die of a heart attack midway along the M8.
32. Dany would take over his haulage firm, accompanied by her vicious Glasgow seagulls Fannychops, Bampot, and Bawbag, who she'd raised from chicks.
33. She would travel East across the entire central belt, pausing briefly at Cumbernauld to free a bunch of slaves*.
34. *Teenagers who were being forced to do unpaid work experience at the Antonine Shopping Centre.
35. Meanwhile in Milngavie, young Rab Stark would be emailing a formal grievance complaint to McColl's HR department.
36. Rab was promised Mr McColl's old job when he died, but Senga gave it to her evil wean Joffrey instead.
37. (He was supposed to be called Jeffrey, but Cersei filled in the birth registration form after a few too many Jägerbombs at Bamboo).
38. After being told there was nothing HR could do, Rab would gather his squad and travel to Newton Mearns in person to demand his promotion.
39. Along the way, he'd meet a tidy lassie called Oor Lisa in Giffnock, and get a bit waylaid winching her behind Spar.
40. His maw Kathy Stark would nip to the pub for a G&T, and end up getting invited to her cousin Wullie McFrey's wedding at the Orchard Park Hotel.
41. After hearing there'd be an open bar at the reception, Rab would rally his troops and head along to get MWI for free.
42. It would not end well. At all.

43. Back at McColl's HQ, Cersei would make Big Man Bannantyne marry Ned's daughter, the perpetually soor-faced teenager Senga Stark.
44. Despite the fact that Big Man's a bit of a wide-o, Senga would be won over by his excellent patter and end up quite liking him.
45. Big Man would ply her with Gregg's cronuts to cheer her up, and feel disappointed when she runs away with an old pal of her maw's: Dodgy Pete.
46. Dany would set up her new HQ in a strange, incomprehensible, and exotic place in the East*.
47. *Livingston.
48. People would complain about her seagulls constantly swiping their chips, so she'd be forced to lock Fannychops, Bampot and Bawbag in a cage.
49. But one day, Bampot would get loose and kill 57 people* outside Argos.
50. *No, seriously. Glesga seagulls are really hard cunts.
51. Up in the North, Jonny "Naepals" Snow would finally make some pals.
52. They'd seem like they were heavy sound and share their Tennent's with him, but then the wee fuds would chib him when he was least expecting it.
53. His last words would be "'Whitey." Then he'd pull a whitey.