Russia Said Theresa May Can't Be Reading The News If She Thinks Moscow Is To Blame For The Salisbury Attack
"Maybe she's not informed, maybe she's not told about many statements of the Russian leadership," said foreign ministry spokesperson Maria Zakharova.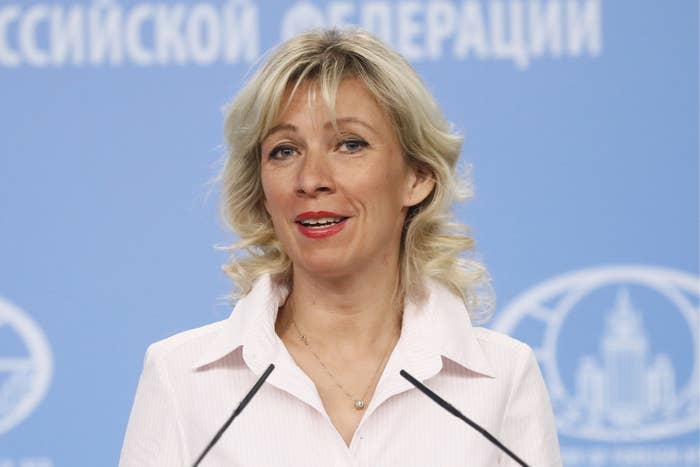 Moscow has accused Theresa May of living in an "information vaccum" after the prime minister gained the support of world leaders in condemning the Kremlin over the Salisbury nerve agent attack.
In a press briefing on Friday morning, Russian foreign ministry spokesperson Maria Zakharova once more insisted that Russia had nothing to do with the Novichok poisoning of former spy Sergei Skripal and his daughter, Yulia, in March.

Her address then segued into an attack on the prime minister's grasp of current affairs. "Maybe she's not informed, maybe she's not told about many statements of the Russian leadership," Zakharova told reporters in a routine briefing.
"It seems that she doesn't even read the press, or perhaps she has selective access, maybe."
Zakharova's comments come after UK prosecutors announced there was enough evidence to charge two Russian military intelligence officers over the attack in Salisbury. The prime minister said the operation was "almost certainly" approved at a "senior level of the Russian state".
Other senior politicians, including security minister Ben Wallace and Commons foreign affairs committee chair Tom Tugendhat, said this week that Russian president Vladimir Putin was "ultimately responsible".
France, Germany, the US, and Canada backed the findings of British investigators following a meeting of the UN Security Council on Thursday. In a joint statement issued with the UK, they agreed that the attack would have been given the green light at the top level of the Russian government, and demanded that Moscow disclose details of its Novichok programme.
"We have full confidence in the British assessment that the two suspects were officers from the Russian military intelligence service, also known as the GRU, and that this operation was almost certainly approved at a senior government level," it read.
Russia's UN ambassador Vasily Nebenzya accused the UK of "Russiaphobia" and said the latest findings were "invented out of thin air".

The logistics of the attack were detailed in a statement published by the Metropolitan Police this week, but Russia continues to assert that the accusations are "unsubstantiated".
"Without any documentary support or trustworthy testimonials, they have declared that there is sufficient evidence to bring charges against two Russian nationals and published photos of the two men whose actual nationality is still to be confirmed," Zakharova said in a statement published on Thursday evening.
The UK has obtained a European arrest warrant for suspects — named as Alexander Petrov and Ruslan Boshirov — meaning that they will be arrested and face extradition if they travel to any EU member states.
In response to May's claim in the Commons that the UK has repeatedly asked Russia to "account for what happened in Salisbury in March", Zakharova also said it was "ridiculous" to demand that Russia "clarify a situation that has nothing to do with us".
She added that the UK had ignored Russian requests for "a joint investigation and legal assistance in the criminal case opened by Russian law enforcement agencies".
This is a developing story. Check back for updates.