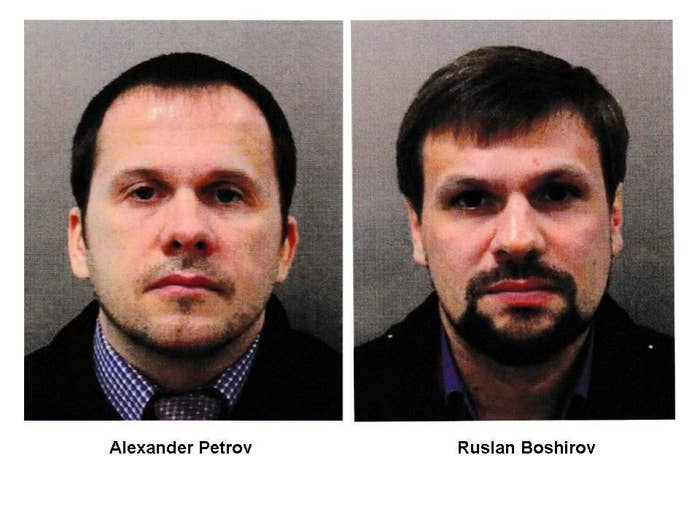 The Crown Prosecution Service has announced there is enough evidence to charge two Russian nationals — named as Alexander Petrov and Ruslan Boshirov — with conspiracy to murder and attempted murder over the Salisbury nerve agent attack.
Prime minister Theresa May said both men were officers from Russia's GRU military intelligence service. "This was not a rogue operation," she told MPs. "It was almost certainly also approved outside the GRU at a senior level of the Russian state."
But pressed on the issue directly, she stopped short of naming Russian president Vladimir Putin as the ultimate culprit.
The Foreign Office summoned the charge d'affaires at Russia's London embassy on the issue on Wednesday afternoon. The PM's official spokesman said officials had made clear "that the UK expects the Russian state to account for the reckless and outrageous actions of the GRU".
In a statement, the CPS said there was "sufficient evidence to provide a realistic prospect of conviction" and it was "clearly in the public interest" to charge both men.
The Metropolitan Police said both suspects were likely to have been using the names as aliases and are around 40 years old.
In March, former Russian spy Sergei Skripal and his daughter, Yulia, were poisoned with the Novichok agent in Salisbury, Wiltshire. A police officer, Nick Bailey, who was among the first on the scene, was also exposed to the substance and required hospital treatment.
In a separate statement, the Met said it had now linked the attack on the Skripals with an incident in nearby Amesbury in late June in which Dawn Sturgess died after being exposed to the nerve agent and her partner Charlie Rowley fell ill.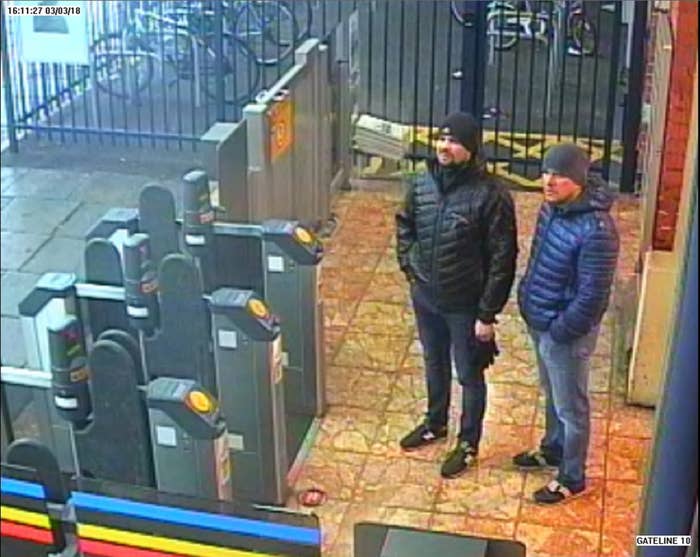 In a statement in the House of Commons, May vowed that "together with our allies, we will deploy the full range of tools from across our national security apparatus in order to counter the threat posed by the GRU".
She said the GRU had played a "key part in malign Russian activity in recent years".
"On the basis of what we have learnt in the Salisbury investigation — and what we know about this organisation more broadly — we must now step up our collective efforts, specifically against the GRU," she said.
"We are increasing our understanding of what the GRU is doing in our countries, shining a light on their activities, exposing their methods and sharing them with our allies, just as we have done with Salisbury."
Number 10 said May had spoken with US president Donald Trump on Tuesday evening to update him on the investigation.
Tom Tugendhat, the Tory chair of the foreign affairs committee, pointed the finger directly at Putin.
The CPS said the investigation, led by the Met's counterterrorism division, had found sufficient evidence to charge the two men with four criminal offences: conspiracy to murder Sergei Skripal, the attempted murder of both Skipals and the police officer, possession and use of Novichok, and causing grievous bodily harm with intent to the Skripals.

Sue Hemming, CPS director of legal services, said: "We will not be applying to Russia for the extradition of these men as the Russian constitution does not permit extradition of its own nationals.
"Russia has made this clear following requests for extradition in other cases. Should this position change then an extradition request would be made.
"We have, however, obtained a European Arrest Warrant, which means that if either man travels to a country where an EAW is valid, they will be arrested and face extradition on these charges for which there is no statute of limitations."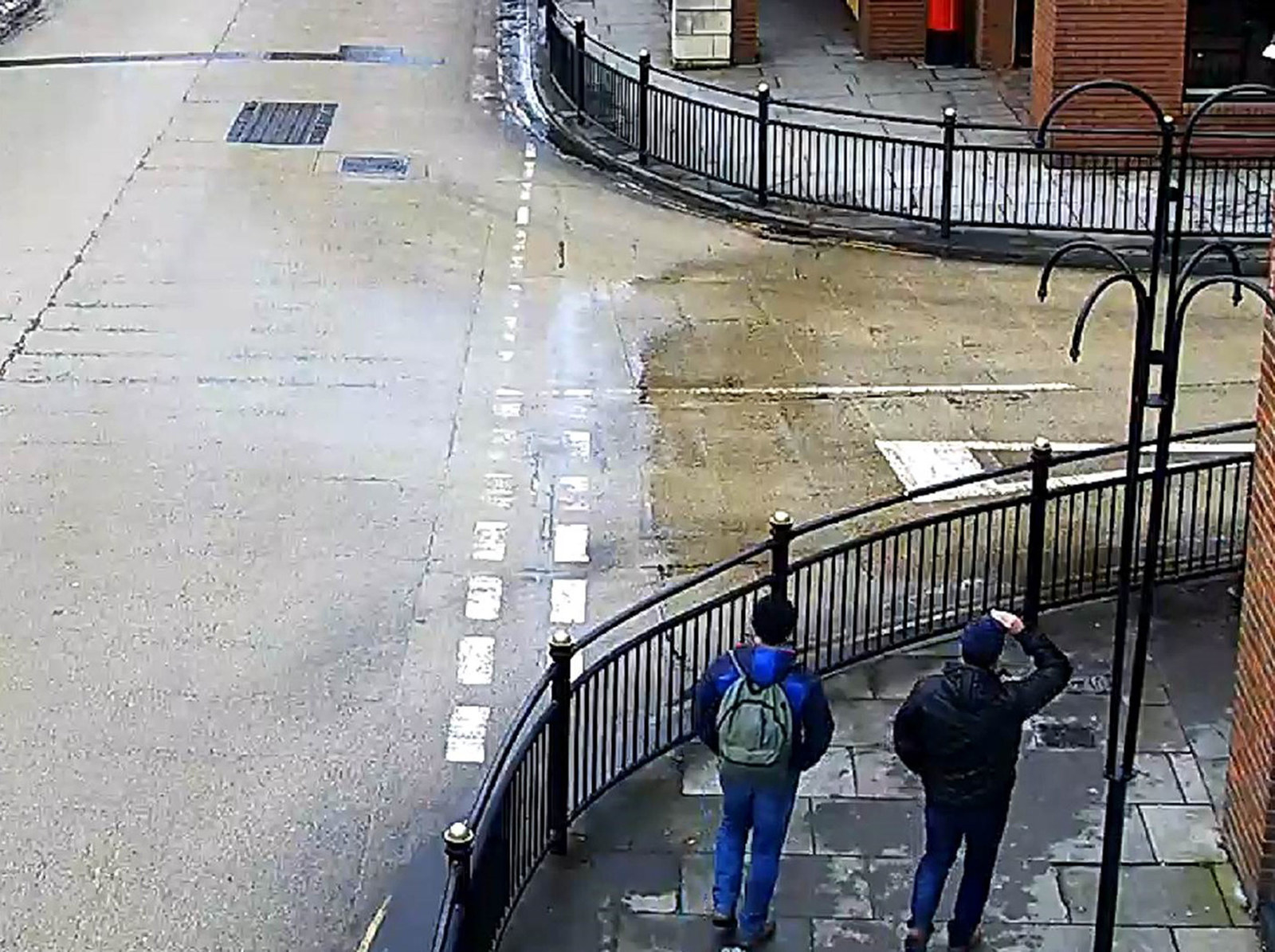 Speaking of the Amesbury incident, Assistant Commissioner Neil Basu, national lead for counterterrorism policing, said: "We do not believe Dawn and Charlie were deliberately targeted, but became victims as a result of the recklessness in which such a toxic nerve agent was disposed of."

Rowley told police he found the substance in a Nina Ricci perfume bottle, contained in a box, in a charity bin. Nina Ricci has confirmed this was counterfeit packaging.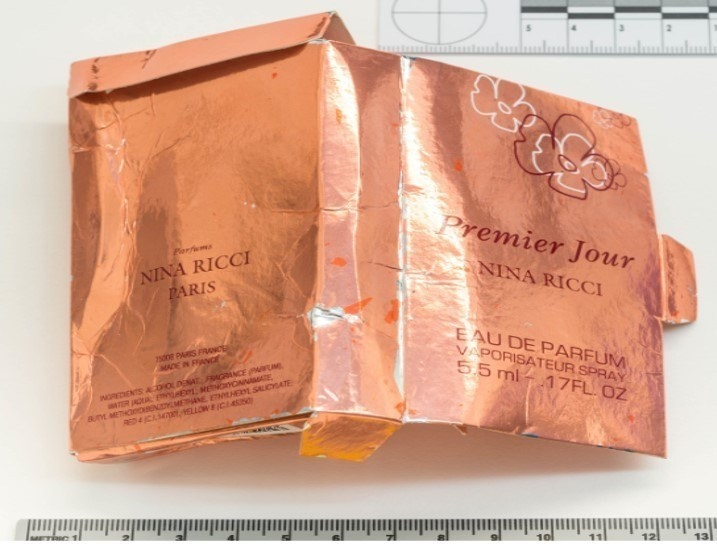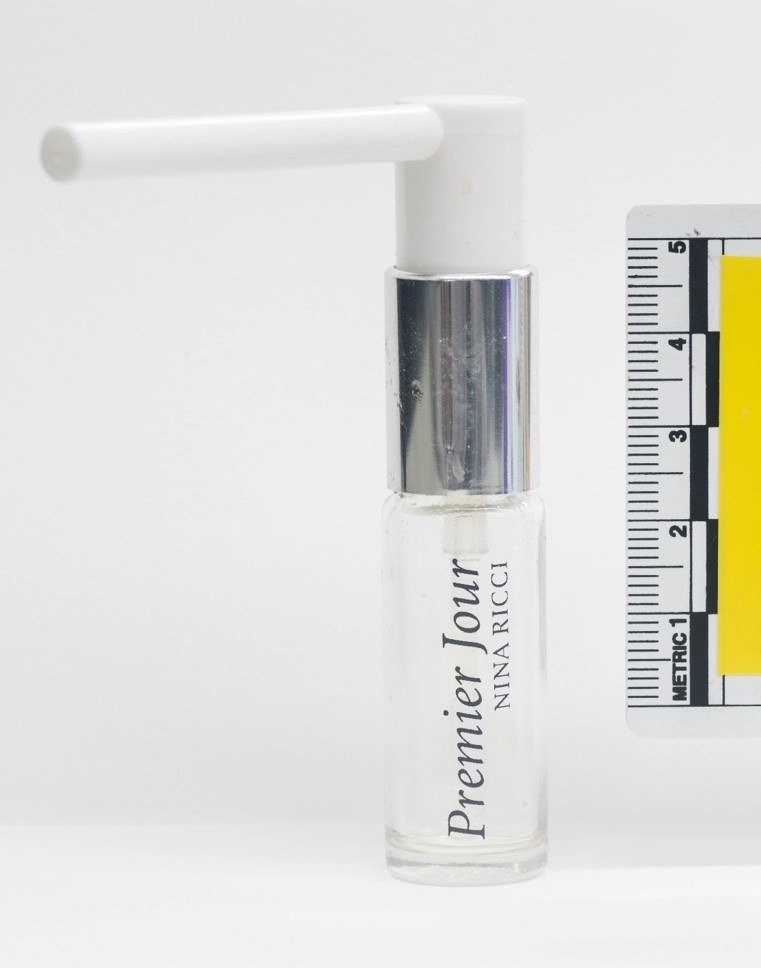 Basu appealed for information from anyone who saw the two suspects while they were in the UK between Friday, March 2, and Sunday, March 4.
He said they had arrived at Gatwick Airport at 3pm on the Friday, having flown from Moscow on Aeroflot flight SU2588. They then travelled by train into London, arriving at Victoria station at around 5:40pm.
The pair then went to Waterloo via public transport and were in the area between approximately 6pm and 7pm, before travelling to the CityStay Hotel on Bow Road, east London, where they stayed on the Friday and Saturday night.
On the morning of Saturday, March 3, they took the underground to Waterloo, arriving at approximately 11:45am, where they caught a train to Salisbury, arriving at approximately 2:25pm.
They left Salisbury at around 4:10pm and arrived in Bow at approximately 8:05pm. "We assess that this trip was for reconnaissance of the Salisbury area and do not believe that there was any risk to the public from their movements on this day," Basu said.
On Sunday, March 4, they made the same journey from the hotel at approximately 8:05am, before continuing by train to Salisbury.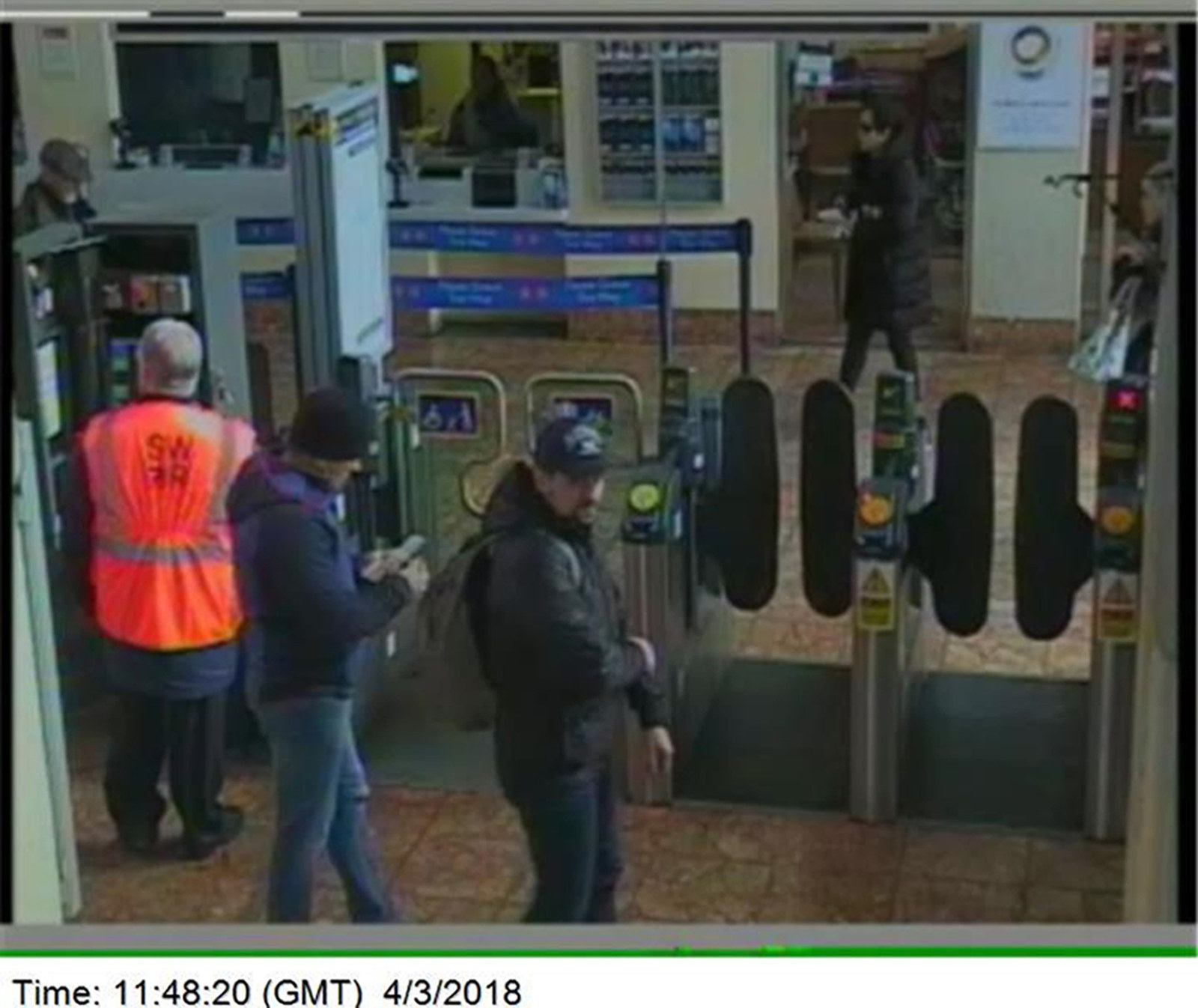 "CCTV shows them in the vicinity of Mr Skripal's house and we believe that they contaminated the front door with Novichok," Basu said.

"They left Salisbury and returned to Waterloo station, arriving at approximately 4:45pm, and boarded the London underground at approximately 6:30pm to London Heathrow airport.
"From Heathrow Airport, they returned to Moscow on Aeroflot flight SU2585, departing at 10:30pm on Sunday, 4 March. We have no evidence that they re-entered the UK after that date."
The Met is confident there was no risk to members of the public who were on the same flight, trains, or public transport used by the suspects.
Tests have been carried out on the hotel room where the suspects stayed and a number of samples were tested at Porton Down laboratory.
Two swabs showed contamination of Novichok at "levels below that which would cause concern for public health". Further samples were then tested and all results came back negative.
"We believe the first process of taking swabs removed the contamination, so low were the traces of Novichok in the room," Basu said. "Following these tests, experts deemed the room was safe and that it posed no risk to the public."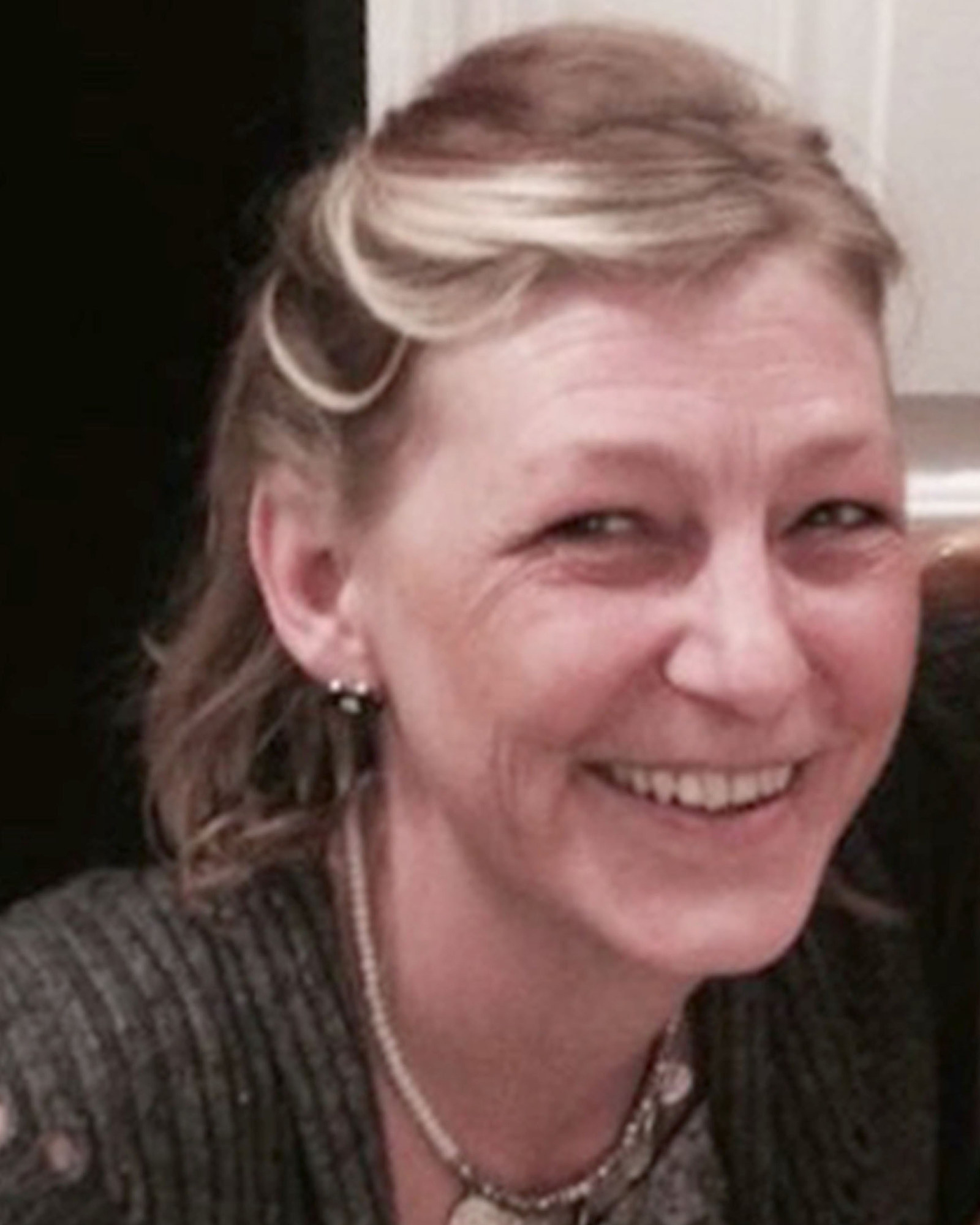 Turning to the incident in Amesbury, Basu said Rowley thought he had found perfume in the bin so took it home with him.
"Inside the box was a bottle and applicator," he said. "He tried to put the two parts together at his home address on Saturday 30 June, and in doing so got some of the contents on himself. He said Dawn had applied some of the substance to her wrists before feeling unwell."
Tests undertaken at Porton Down found that the bottle contained a "significant amount of Novichok". It is not clear where the bottle was between the attack on the Skripals in March and the June incident.
Basu added: "Nina Ricci and our inquiries have confirmed that it is not a genuine Nina Ricci perfume bottle, box, or nozzle. It is in fact a counterfeit box, bottle, and nozzle that have been especially adapted.
"I'd like to reassure anyone who has bought Nina Ricci perfume from a legitimate source that they should not be concerned. It is safe."