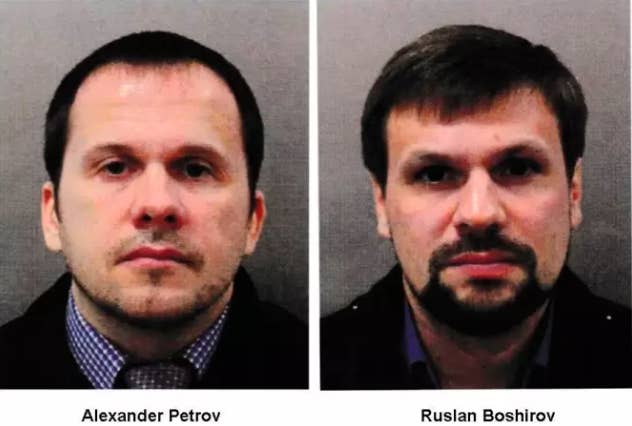 Russian president Vladimir Putin said there was "nothing criminal" about the two men who UK prosecutors have accused of attempting to murder the former spy Sergei Skripal and his daughter, Yulia, in Salisbury.

Speaking at an economic forum in Vladivostok on Wednesday, Putin said that the suspects, named by British authorities as Alexander Petrov and Ruslan Boshirov last week, do not work for Russian military intelligence, despite the UK's claims.
He urged the two men to contact the media and "tell about themselves".
Prime minister Theresa May dismissed the Russian leader's claims, doubling down on assertions she made after the latest findings of the investigation into the March 4 nerve agent attack were published last week.

"These men are officers of the Russian military intelligence service, the GRU, who used a devastatingly toxic illegal chemical weapon on the streets of our country," her spokesperson said.
"The government has exposed the role of the GRU, its operatives and its methods. This position is supported by our international allies.

"We have repeatedly asked Russia to account for what happened in Salisbury in March and they have replied with obfuscation and lies. I have seen nothing to suggest that has changed."

Russian state TV channel Rossiya-24 said that Alexander Petrov may comment on the case next week. He reportedly claims to work for a pharmaceutical company in Tomsk.
The Skripals, along with Nick Bailey, a police officer, survived the attack. Charlie Rowley, who found a bottle containing the nerve agent, also survived, but his partner Dawn Sturgess died.
UK security minister Ben Wallace was among senior politicians to lay the blame for the attack at Putin's door.

Britain said it will not apply to Russia for the extradition of the two men, but a European Arrest Warrant has been obtained for them.

Last week, it was revealed that police had decided there was no basis to reinvestigate any of the 14 suspicious deaths on British soil that had been linked by US intelligence agencies to the Russian state, as revealed by a BuzzFeed News investigation.

This is a developing story. Check back for updates and follow BuzzFeed News on Twitter.