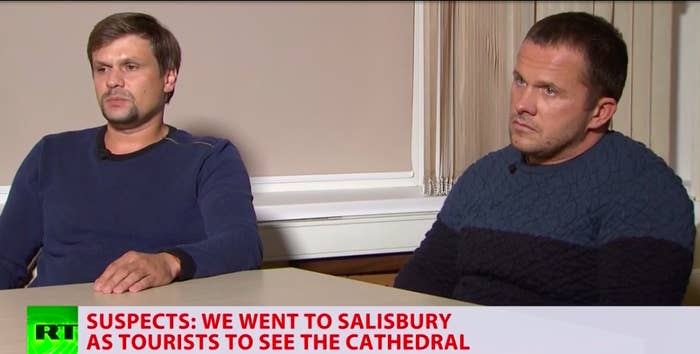 The men accused of attempting to murder Sergei Skripal and his daughter, Yulia, in Salisbury said they had travelled to Wiltshire to visit Stonehenge and didn't realise they had gone near the former Russian spy's home.

The men, named by British authorities as Alexander Petrov and Ruslan Boshirov, were captured on CCTV in Salisbury shortly before the Skripals fell ill on March 4. They said in an interview with the Russian state broadcaster RT that heavy snow had forced them to cancel their trip to the prehistoric monument.
"Well, we came there on March 2, then went to a railway station to see the timetable. We arrived in Salisbury on March 3 and tried to walk through the town, but we lasted for only half an hour because it was covered in snow," Petrov said.
"Of course, we went there to see Stonehenge, Old Sarum, but we couldn't do it because there was muddy slush everywhere. The town was covered by this slush. We got wet, took the nearest train, and came back [to London]."
He went on to say that they returned to Salisbury when the weather improved the following day — the day of the attack — to "finish the thing", which they clarified was a trip "to see the cathedral".

Last week the UK's Crown Prosecution Service announced there was enough evidence to charge Petrov and Boshirov with conspiracy to murder and attempted murder over the incident.

British authorities insist that they are officers from Russia's GRU military intelligence service, but Russian president Vladimir Putin said on Wednesday that there was "nothing criminal" about them.
The RT report said the pair "reached out to RT editor-in-chief Margarita Simonyan, as they wanted to tell their story." But the interview comes a day after Putin urged the men to contact the media and "tell about themselves".

"We spent no more than an hour in Salisbury [on March 3], mainly because of the lags between trains," Boshirov told Simonyan.

"Maybe we did [approach] Skripal's house, but we don't know where it is located," he said.
The pair claimed their trip had been part of a holiday, but that they had also been in Europe for business, which they said was related to sports nutrition.
"Our friends had suggested for a long time that we visit this town… There's the famous Salisbury Cathedral, famous not only in Europe but in the whole world," Petrov said.
"It's famous for its 123-metre spire, it's famous for its clock, one of the first ever created in the world that's still working."
They denied carrying a Nina Ricci bottle of perfume, which UK prosecutors and police said had been fitted with an adaptor to administer the Novichok nerve agent that left the Skripals critically ill.

"The customs are checking everything — they would have questions as to why men have women's perfume in their luggage. We didn't have it," Boshirov said.
The UK Foreign Office said their statements amounted to "obfuscation and lies".
"The Government is clear these men are officers of the Russian military intelligence service – the GRU – who used a devastatingly toxic, illegal chemical weapon on the streets of our country," a spokesperson said.
"We have repeatedly asked Russia to account for what happened in Salisbury in March. Today – just as we have seen throughout - they have responded with obfuscation and lies."
When asked directly about the poisoning of the Skripals, Petrov said they hope the "real perpetrators" will be found, and that they will be offered an apology.
"They talk about us on the radio. Every time we turn on the TV we see our faces, we hear our names. Would you be able to live like that?" he asked.

Boshirov said the pair had been afraid to go outside ever since they were named.
"When your life turned upside down, you don't know what to do and where to go. We're afraid of going out, we fear for ourselves, our lives, and lives of our loved ones," Boshirov said.

When asked why they looked nervous during the interview, he responded: "What would you look like, when your whole life is turned upside down in a moment?"
The interview was met with an immediate backlash on Twitter.
Salisbury MP John Glen said he was "delighted" that the men were able to visit the the historic town, but said it was "very strange to come all this way for just two days while carrying Novichok in their luggage".