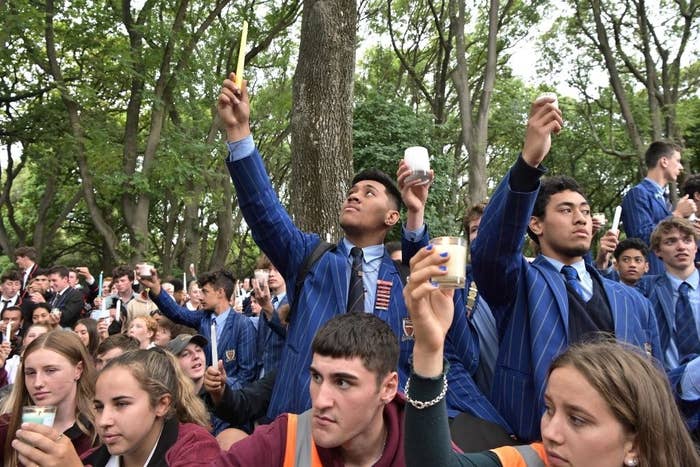 CHRISTCHURCH, New Zealand — It was back to school for the children of Christchurch, three days after a gunman opened fire on two mosques in the small New Zealand city.
On Friday they had been in lockdown, hiding under their desks for hours with blinds drawn, their teachers trying to keep them calm.
Over the weekend they learnt what had happened, through social media and TV news: 50 people had died, and 31 were being treated in hospital in a city with a population of under 400,000.
On Monday the children returned to school. Then they gathered in their thousands.
As school ended, students made their way to a vigil at Hagley Park near the Al Noor mosque, where 42 people were murdered.
Bearing candles, flowers, and paper chains, Christchurch's students described morning assemblies to address the shooting, extra counselling at school, and students and teachers alike who could not concentrate on class.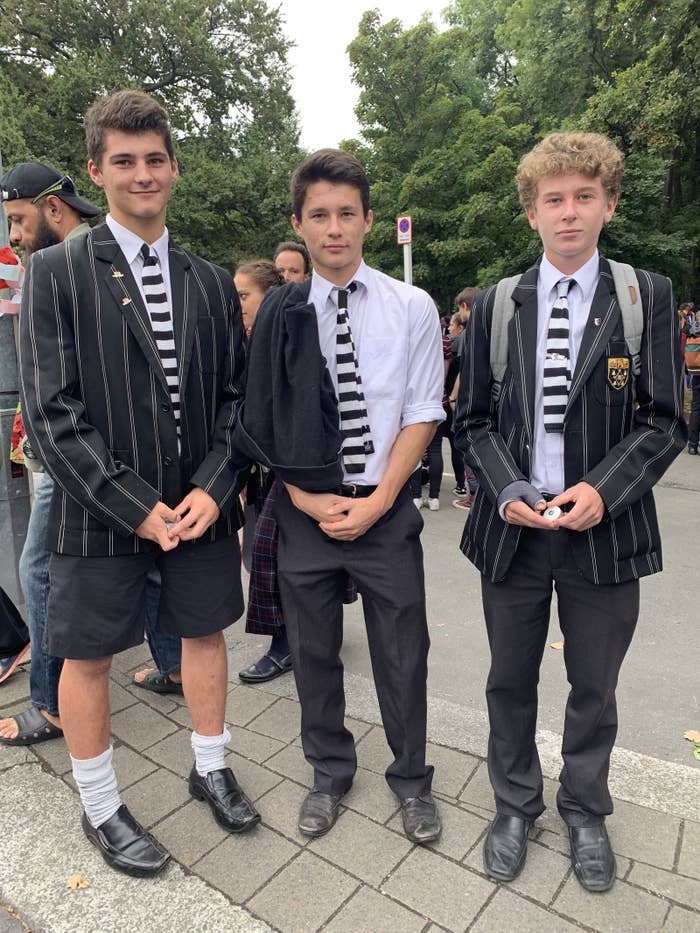 "This is just a horrific event that impacted the whole city and we felt [attending the vigil] was what we should be doing as citizens," Nate, 17, from Christ's College told BuzzFeed News.
He and classmates Will and Mitch said that most students in Christchurch had come to the vigil, and that they were there to pay their respects to the dead.
It had not been a normal day. "Some teachers really couldn't teach their classes. They broke down," Nate said. "Some students are struggling."
Everyone had been talking about the vigil and making paper chains to bring along, they said.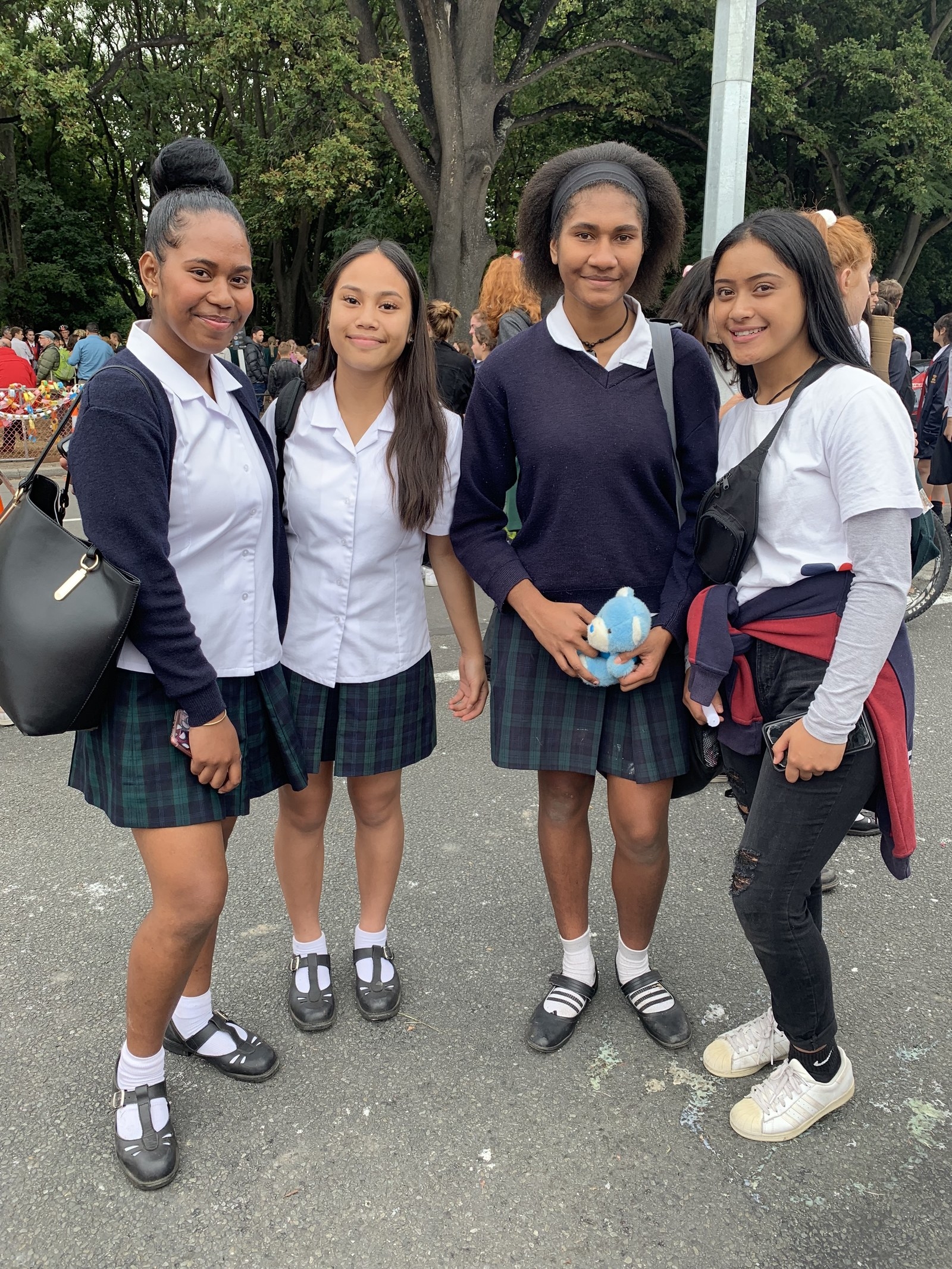 A group of four girls — Carmen, Sheenai, Ella and Faye, aged between 14 and 16 — from Papanui High School stood opposite Hagley Park on Deans Avenue, where a pile of flowers was mounting up. There, dozens of children looked on in silent reflection, some crying.
The girls said that everything had changed and that they no longer felt safe. They thought that fewer people were walking on the streets, preferring to stay at home or drive, because they were scared. At school that day, nobody could pay attention in class.
Sounds from the park carried over to the quiet memorial: singing, chatter, and the occasional haka.
A large circle of students formed in the park, a boy with a guitar stood in the middle, and the other students were singing loudly, their arms across one another's shoulders.
The voices carried for hours — Maori songs, "Amazing Grace", "Lean on Me", "Hallelujah".
Near the circle, a group of 14-year-old Cashmere High School students stood talking. A boy in their year, Sayyad Milne, had been killed on Friday. So had 16-year-old Cashmere student Hamza Mustafa, and Cashmere graduate Tariq Omar, 24. Another student is in hospital.
On Monday morning, Milne's father addressed an assembly at the school. "He spoke to our year group for a little bit, some of the girls that were crying and stuff," said Shelena.
"He was just trying to cheer everyone up. He was, like, trying to dance and make people laugh," said Phoenix.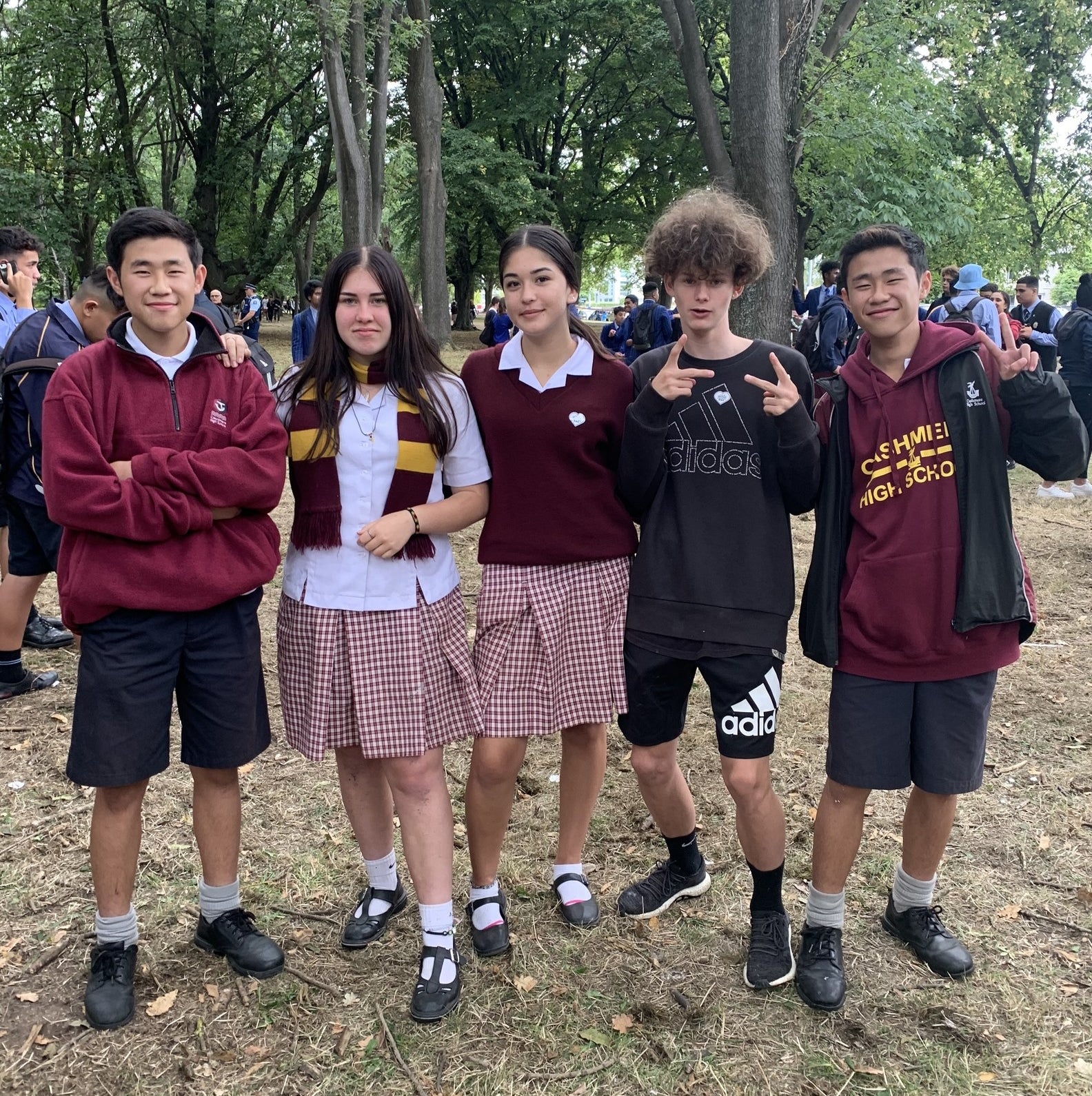 "And he said that he had run out of tears and that he's ready to mourn," said Shelena.
Thomas, 14, said the assembly was emotional. "Knowing someone so close to me to be gone, it hurts — it hurts a lot."
Xavier, also 14, said: "Love each other, spread love, take care of each other, because that's what the world needs right now. The world is full of too much negativity and we shouldn't add to it."
At the entrance to the park, 17-year-old Kate and Alice told BuzzFeed News the atmosphere at Cashmere that day was sombre. There was a sense of shock.
They didn't know the victims personally, but both were shaken. "Just hearing about what they wanted to do in the future really broke everyone's heart today — knowing that we're hopefully going to get to be able to do that," said Kate.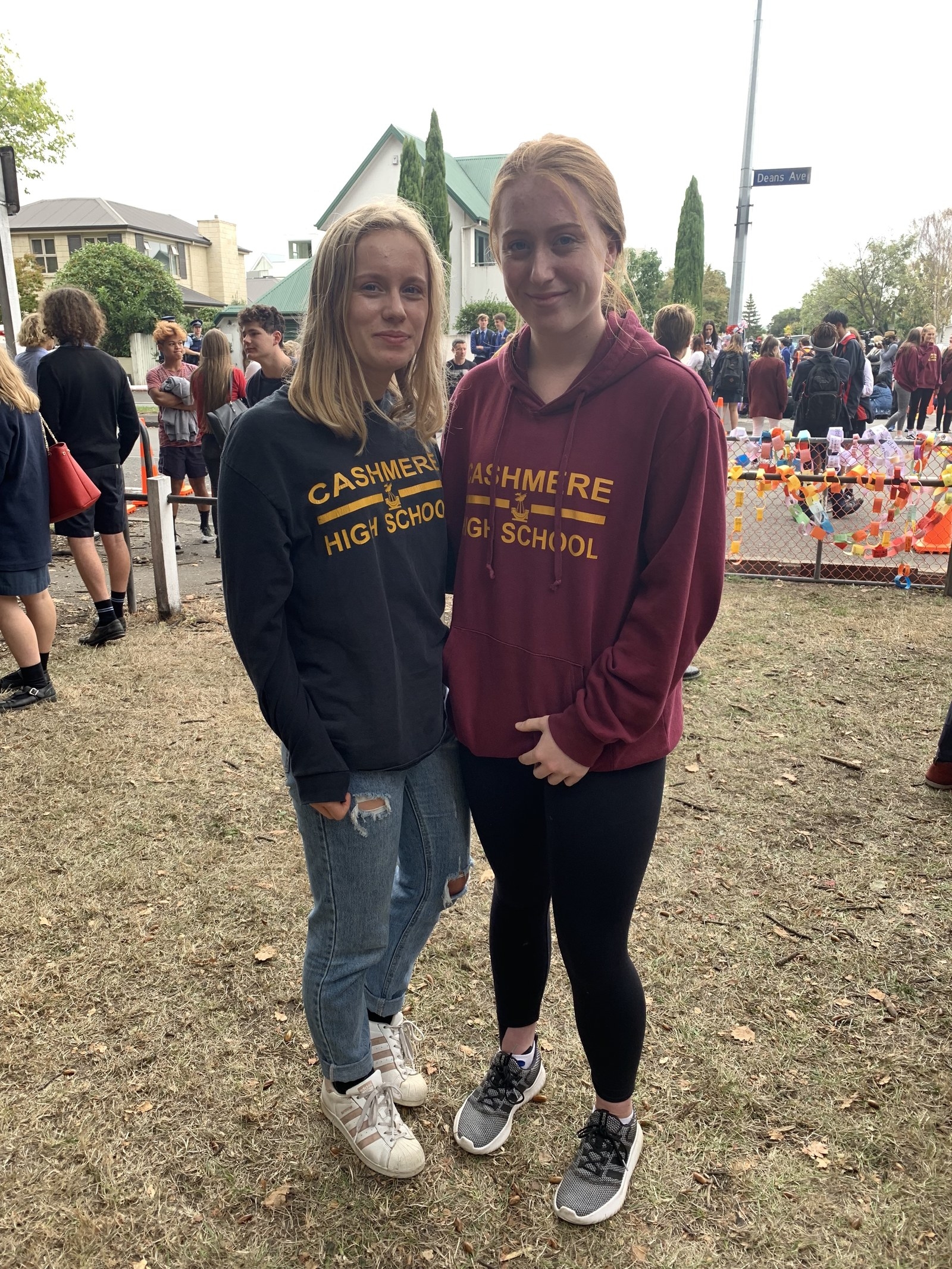 They heard about Milne's father's speech at assembly from their friends in his year group. "It's so brave of him to be able to come and speak to them without breaking down," said Kate. "The strength and courage that would take someone to do that — I can't imagine how hard that would have been for him."
It was Cashmere's head boy, Okirano Tilaia, who organised the vigil by creating a Facebook event on Sunday.
At first they'd thought it would just be Cashmere students, Kate and Alice said, but now it was "huge".
"We will grow from this. It's only going to bring us closer together and bring our communities closer," said Alice.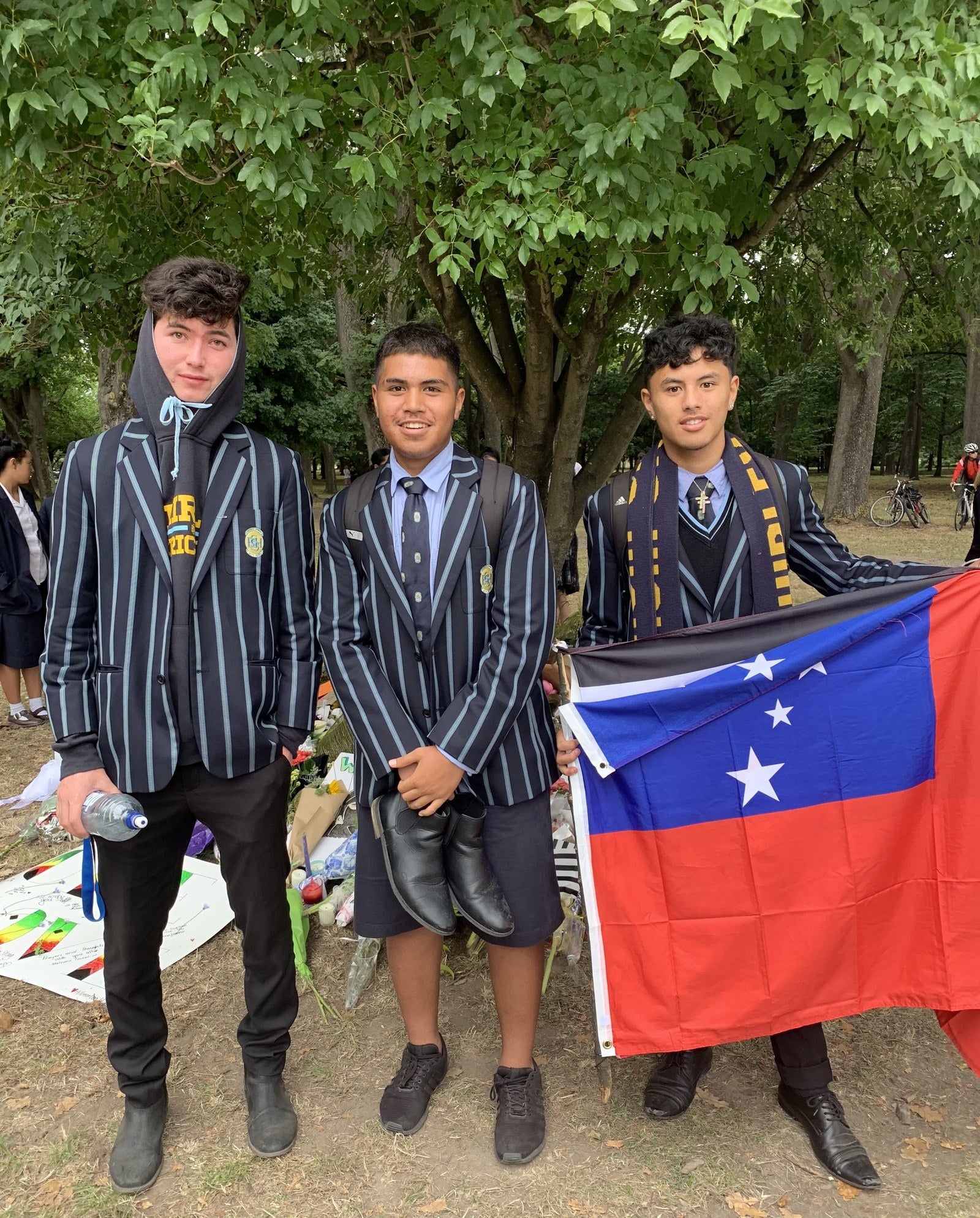 Tony and Justice, 15-year-olds from Shirley Boys' High School, told BuzzFeed News they were at the vigil to pay their respects. Justice carried a Samoan and a Maori flag, to represent both his cultures, he said.
"You can bring your own flag to represent where you're from, because our country's not just one — we're from multiple countries," he said.
As they spoke with BuzzFeed News, a haka spontaneously drew in hundreds of the students. "Some hakas are for celebration, but in this case it's just to show our respect," Tony explained.

Asked if they wanted to add anything, Tony paused and then said: "Love has no religion."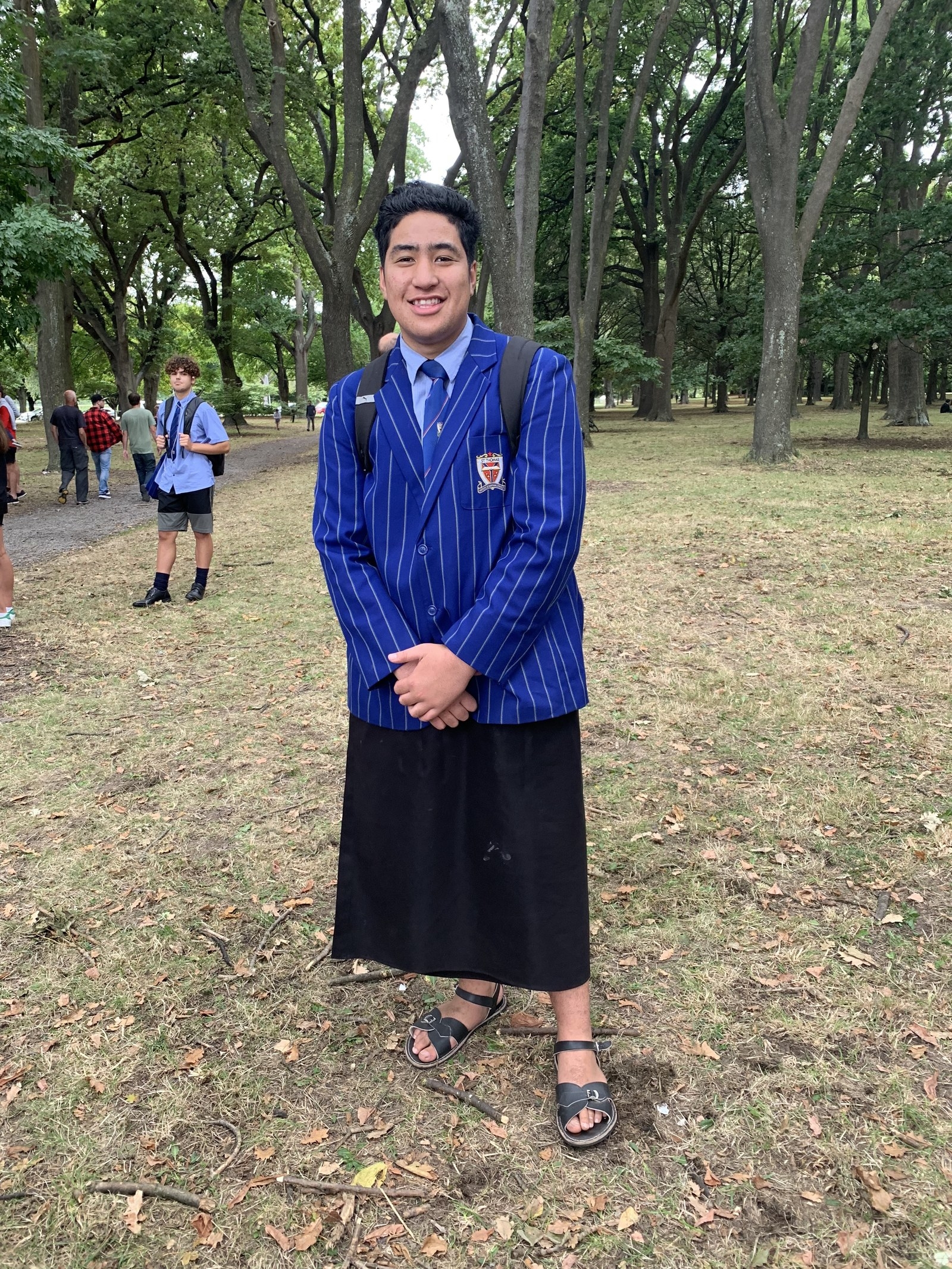 Heneli, of St Thomas of Canterbury College, told BuzzFeed News most of his school had come to the vigil. "We want to show our pride and our culture and our respect to the people that have passed," he said.
He wanted to show his support to the Muslim community. "We're all one here in New Zealand. No-one's different, no-one's better than others, we're equal," he said.
His friend had lost his father in the shooting. On the weekend, he went to his friend's house and comforted him and his family, the 14-year-old said.
Heneli spoke of mixed emotions at the vigil. He has lived in Christchurch since age 1 and never thought he would see a tragedy like this here, he said. But the turnout was making him feel better.
"I've never seen so much support from outside of communities. I just love it, to see that everyone's here, showing their respect."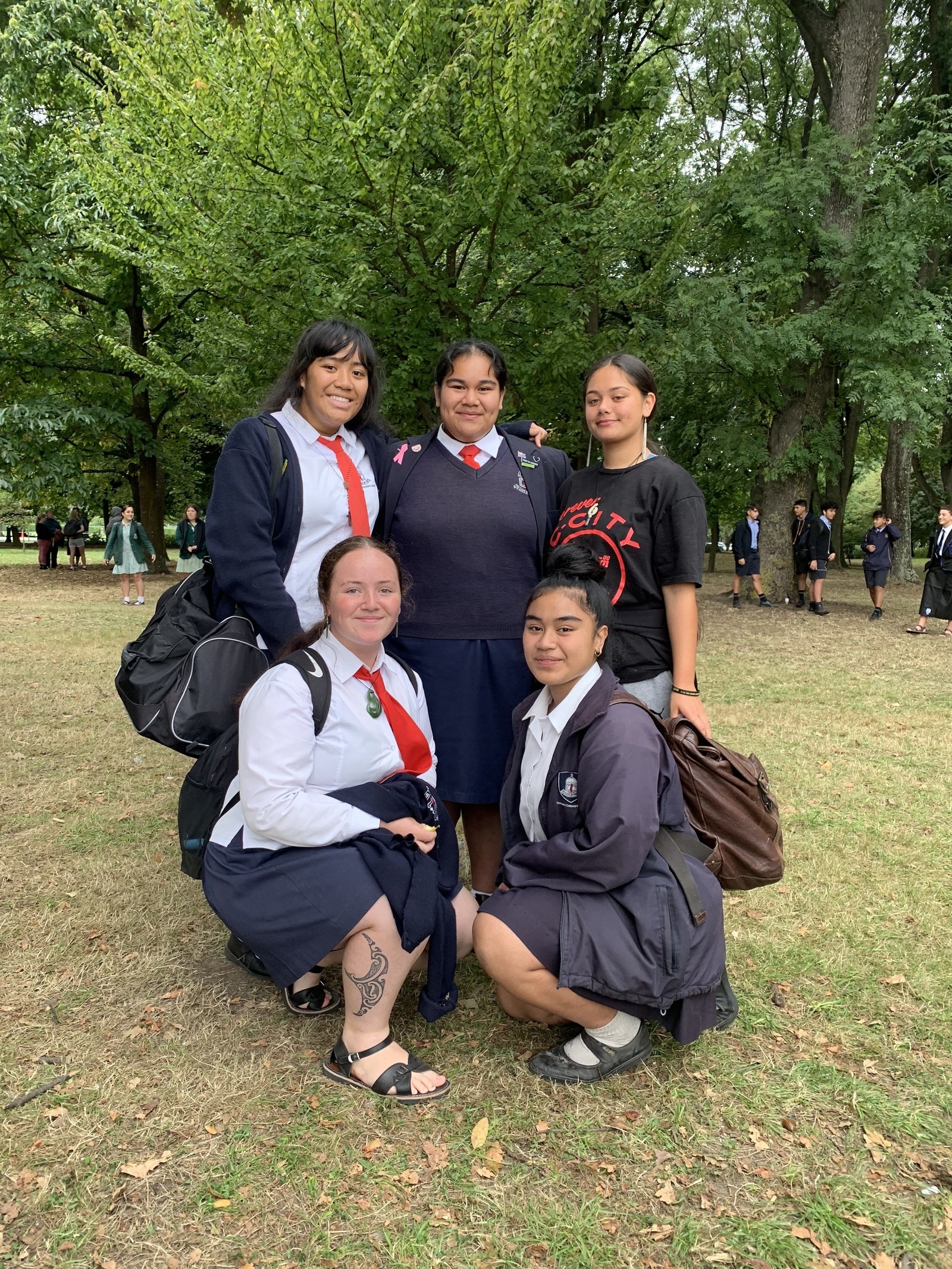 A group of Catholic Cathedral College students between grades 11 and 13 told BuzzFeed News most of their school's senior students were at the vigil. But they didn't want their junior students to come — "just in case".
Like Heneli, they went to a morning liturgy service at school first thing on Monday.
"Going to school had a different vibe to what it used to be," said Vitorina. They could tell their teachers were emotional.
"But they didn't really like to show it in front of us, because they have to stay happy for us so we can feel safe," said Ella.
Ella told BuzzFeed News she didn't want to leave the house on the weekend and felt "really scared" going to school today.
"But our school is a family school and everyone there just protects each other," she added.
The students spoke admiringly of prime minister Jacinda Ardern, praising her interactions with the families.
"She seems like a very open person. I liked how she was able to wear a hijab and show that she had a full respect for the culture. She shows that we can all come together as one big family," Vitorina said.
"The murderer thought he was going to make us weaker but he made us stronger," said Luvena.
"And I loved how she addressed the issue directly. She didn't beat around the bush; she took action straight away," added Sesilia.
Luvena agreed. "It took Jacinda Ardern less than 24 hours to actually say, this needs to happen, gun licences should be more strict, and stuff like that," she said.
"I think New Zealand should be a symbol for everyone in the world — that we should change what we're doing and get our humanity back."
"Even though we're different ethnicities, different cultures, different religions, we care. As one, we all came here, we showed that we cared for Muslims," said Vitorina.
"We are one," the girls all said in unison.
"Ko au ko koe, ko koe ko au — I am you and you are me, " said Ella.
"We are all one family," added Luvena.
"Also, he waka eke noa. That means we're all in this together," said Sisilia.
And then the five girls burst into song: "He waka eke noa."