However, news soon came that Australian gossip columnist, Andrew Hornery, was going to reveal the news himself before Rebel could and that he'd given her a two-day window to respond before publishing an article on Wilson's relationship...leading to Rebel posting in the first place.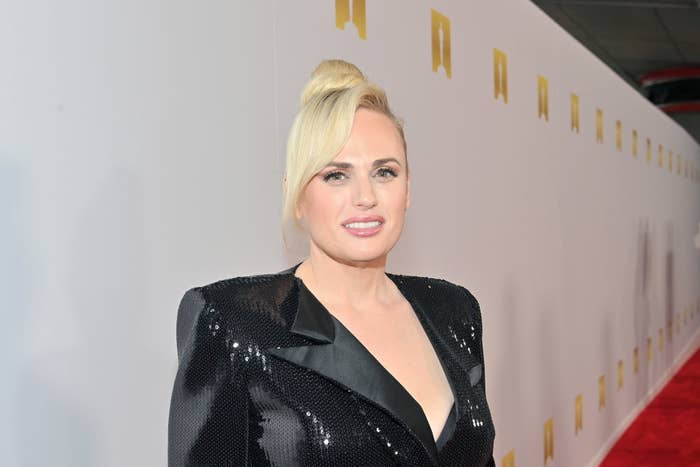 This is clearly messed up, and it got me thinking...this isn't the only trouble Wilson has had with the press. In fact, she's been treated super poorly, and I have the receipts to prove it. Here are 14 times papers and magazines owed Rebel an apology.
1.
First, let's talk about this gossip columnist more in-depth. Not only did he almost out Wilson, but Hornery responded as if he was the victim in the situation, not the person he almost outed. Hornery said he emailed Wilson for a comment, which resulted in her coming out on Instagram, so he then claimed Wilson opted "to gazump the story." He also wrote, "her choice to ignore our discreet, genuine, and honest queries was, in our view, underwhelming."

The column has since been deleted and now links to an apology to Wilson, but Hornery denied that his article meant to "out" Wilson. Wilson replied to the situation on Twitter, calling it "hard" but saying she was "trying to handle it with grace."
2.
While a large number of people have been supportive of Rebel's relationship, it's been used by others as an opportunity to mock her. For example, on Australian show Have You Been Paying Attention, comedians joked about Rebel after the news.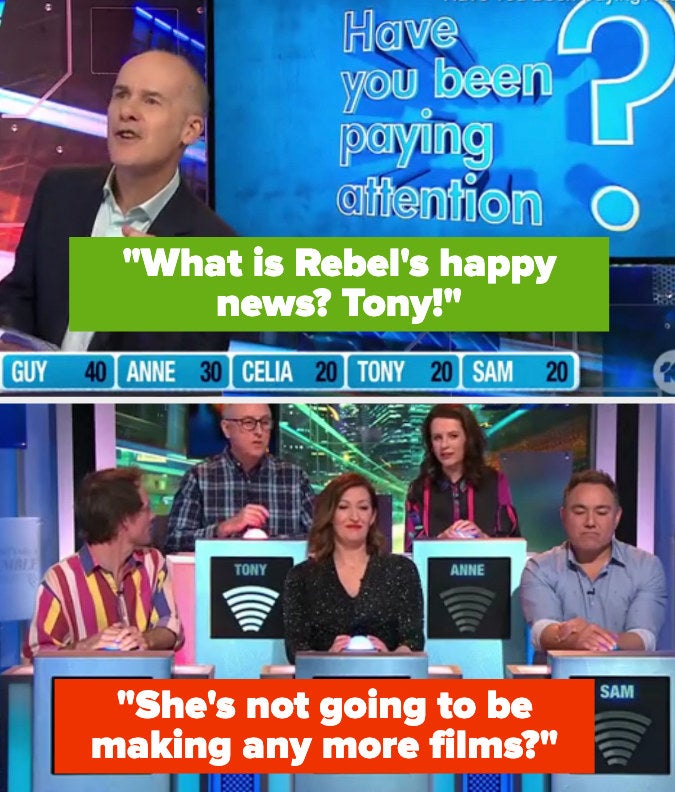 3.
Next, let's talk about the libel case Rebel Wilson won against multiple magazines. Way back in 2015, Australian magazine Women's Day published an article titled "Separating fact from fiction: Will the real Rebel Wilson please stand up?" The article (among others) alleged that Wilson had lied about her age, her name, and her upbringing.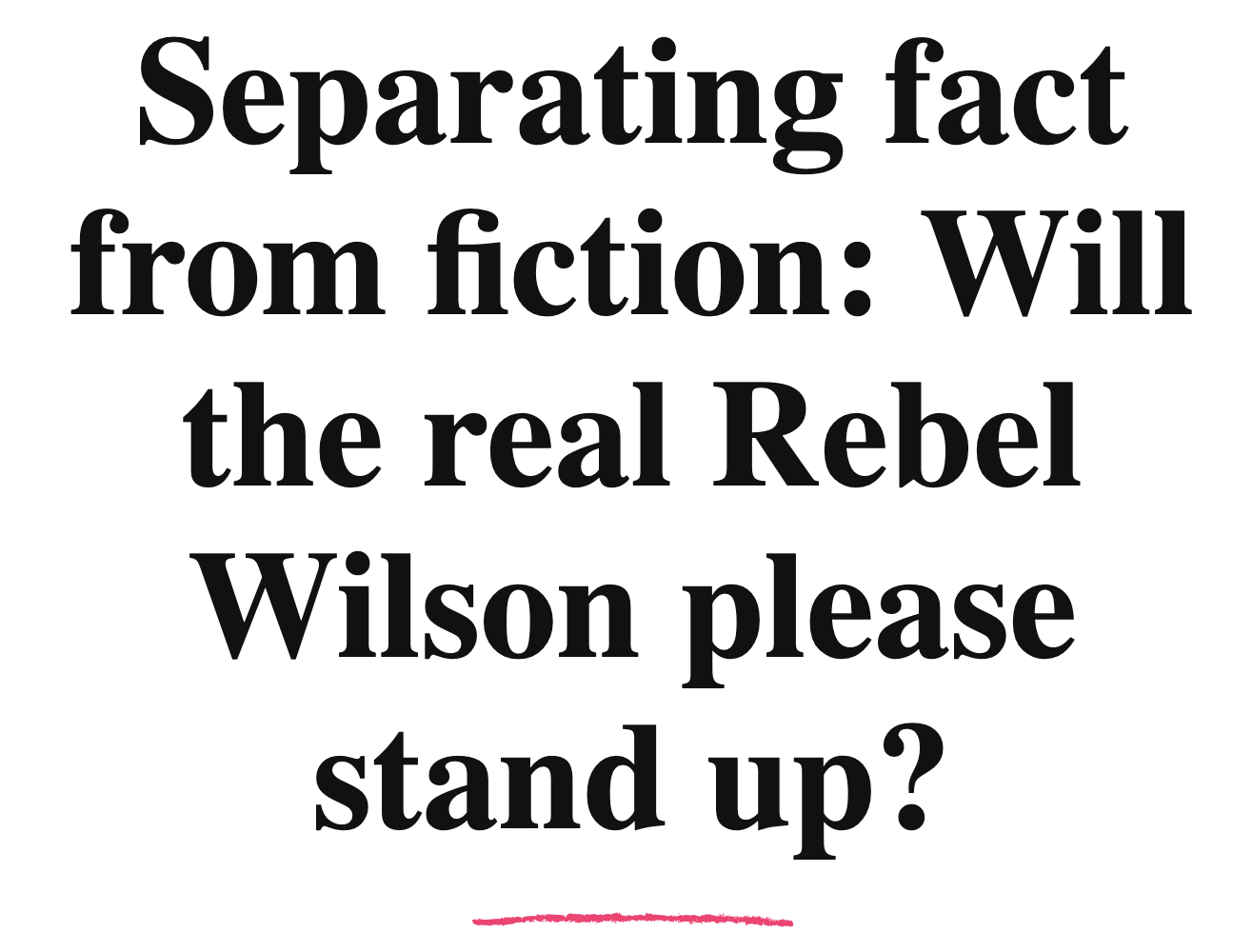 While Wilson had changed her name (which is pretty standard for Hollywood), and had simply declined to answer questions about her age (also not that out of the ordinary), she sued for defamation, saying she had not lied. Because these articles painted a picture of her as a "serial liar," she said she lost out on multiple roles, such as in Kung Fu Panda 3 and Trolls. "Month after month, doors that used to be open were shut," she said in the trial.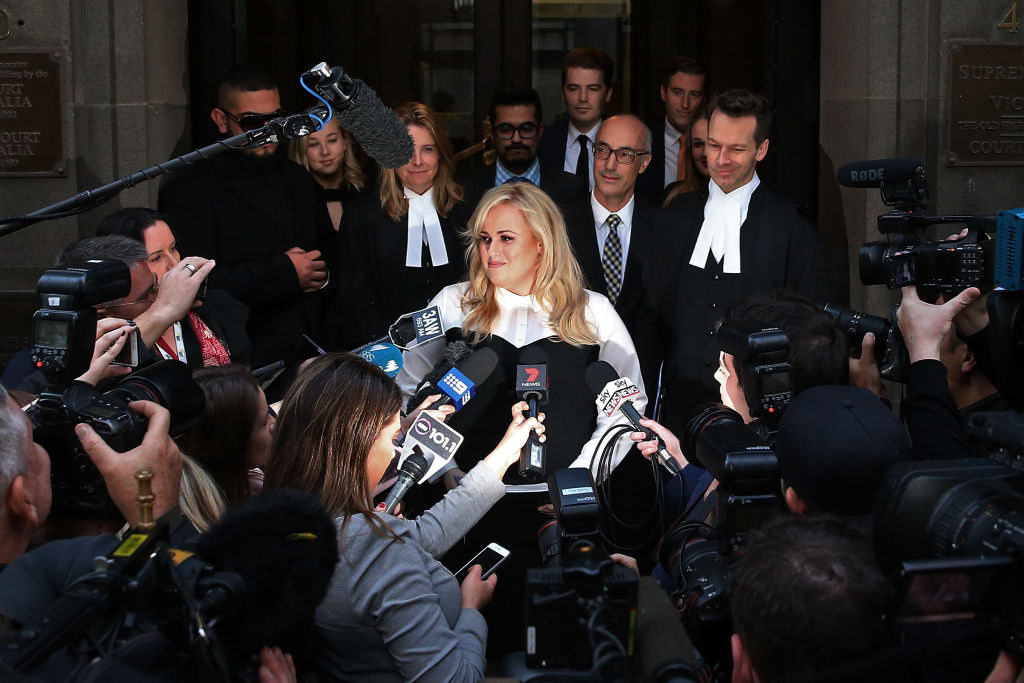 4.
Wilson has also dealt with a TON of focus on her weight and body. After embarking on a "year of health" in 2020, largely in preparation for pregnancy, Wilson lost 77 pounds. There was an intense amount of media coverage of her weight loss — including a People magazine cover that some thought played into a fat-shaming narrative.
5.
I mean, just look at the Daily Mail. This was just me searching "Rebel Wilson" and scrolling down, not searching anything about weight loss or her body.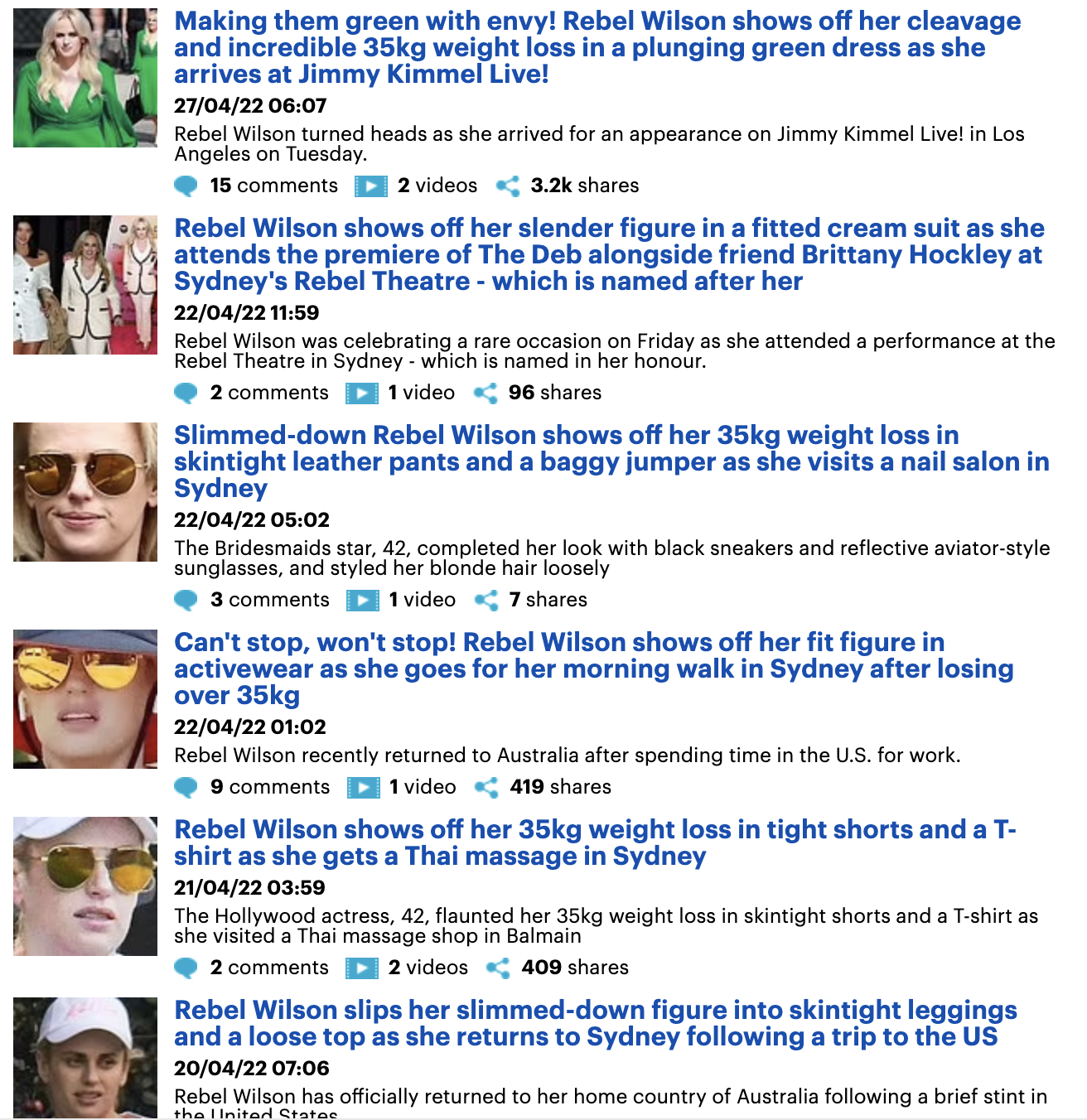 6.
In fact, one Daily Mail article called her "unrecognizable" and said she was "swamped" in her clothing.
7.
And a quick search of Page Six shows a TON of articles about Rebel, almost all with the term "slimmed down" in the title.
8.
And OK! Magazine said she went from "Fat Amy" to "Fit Amy."
It got to the point where media coverage of her weight was far broader and more ubiquitous than coverage of her career. "In 2019, I had, like, four movies come out, two which I produced and one, Jojo Rabbit, which got nominated for an Academy Award for Best Picture," Wilson herself pointed out. "Yet I get more press the following year when I do nothing except lose weight."
9.
Rebel herself is certainly allowed to prefer that online platforms use more current photos of her. A couple weeks back, she posted on her Instagram story and asked if anyone could change her Wikipedia photo – which was a decade old – and fans delivered.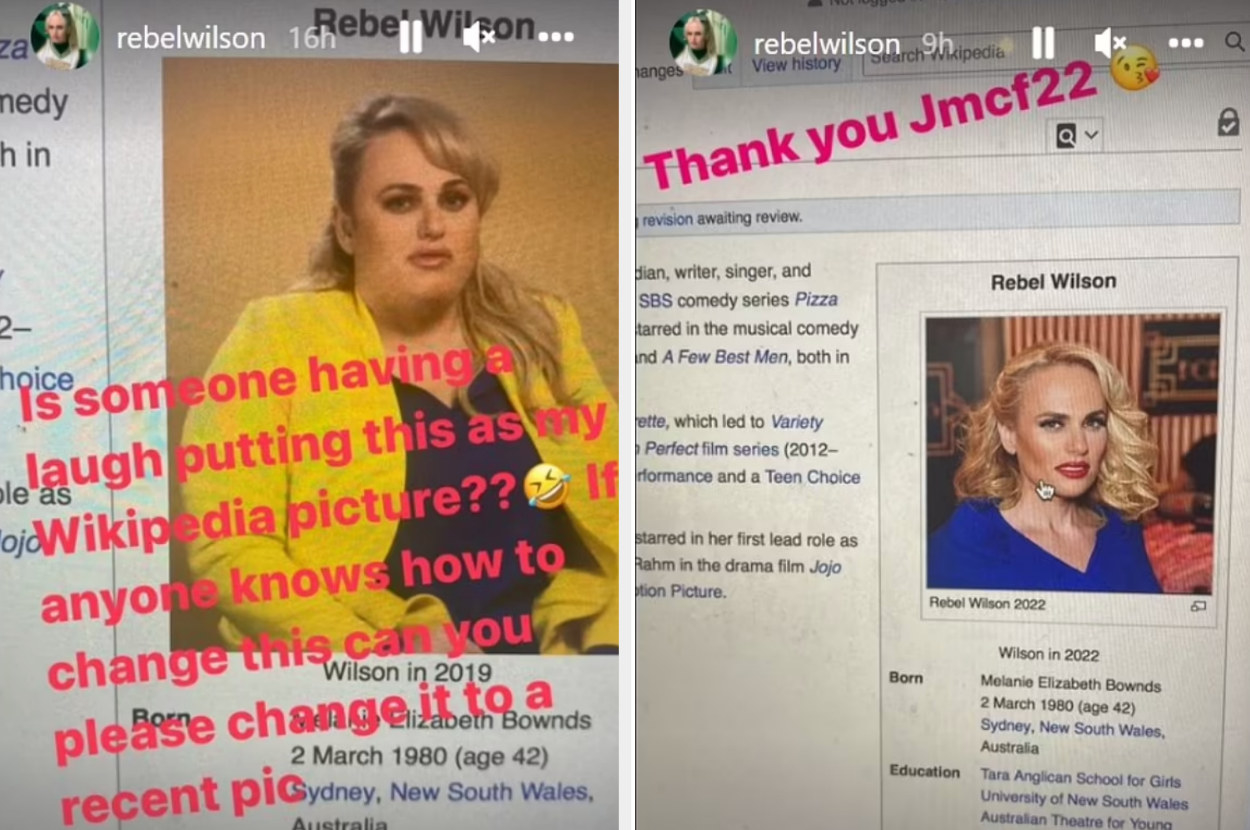 However, this is how the interaction was reported by the Daily Mail. I'm not sure where they got "rages" from in the above photo. Also, someone has since changed the photo to an even earlier photo than the original — from 2012. Clearly, someone's messing with Rebel.
10.
Speaking of her weight loss — many outlets, including People, also incorrectly reported that Rebel was using the "Mayr Method" to lose weight. Wilson took to her Instagram story to say, "That was never my diet, please stop writing this stuff," adding that she'd "also have never endorsed any diet pills or magic weight loss pills."

11.
She also added that she'd "also have never endorsed any diet pills or magic weight-loss pills" after her image was falsely used in ads for numerous weight loss pills online.
12.
That's not where talk about her body ends, either — there's also this really weird article about all the times she's gone braless???

13.
And this really mean TMZ article that was basically just a poll about if readers thought Rebel had plastic surgery or not.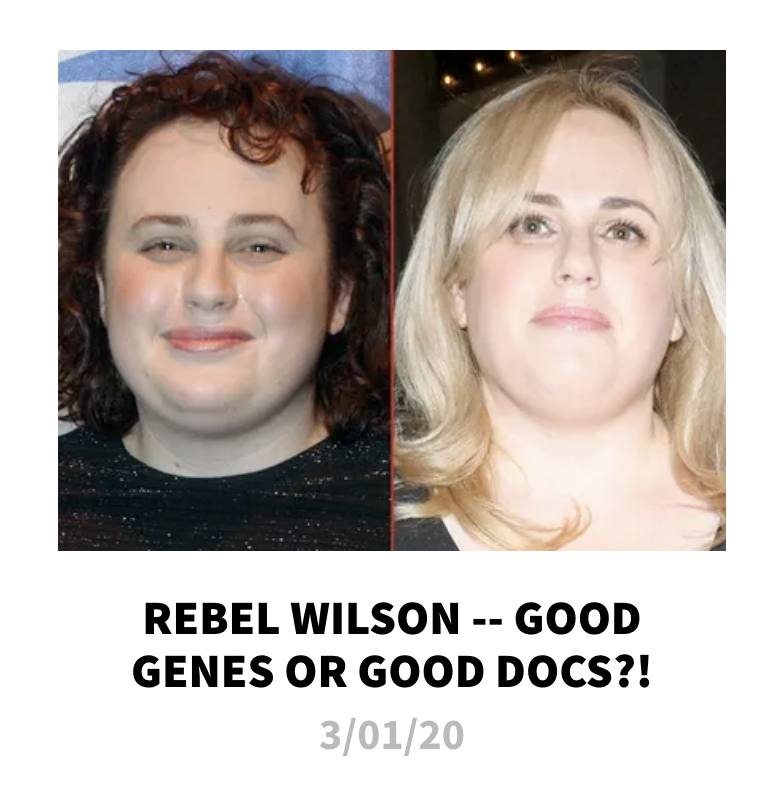 14.
And finally, this OK! Magazine article had plastic surgeons weigh in on if Rebel had plastic surgery in addition to her weight loss.

TL;DR: I get that celebs have to deal with a certain level of scrutiny. But dealing with unwarranted reports on your sexuality, weight, possible surgery, age, fertility, and more is just not cool, and Rebel Wilson deserves a major apology.