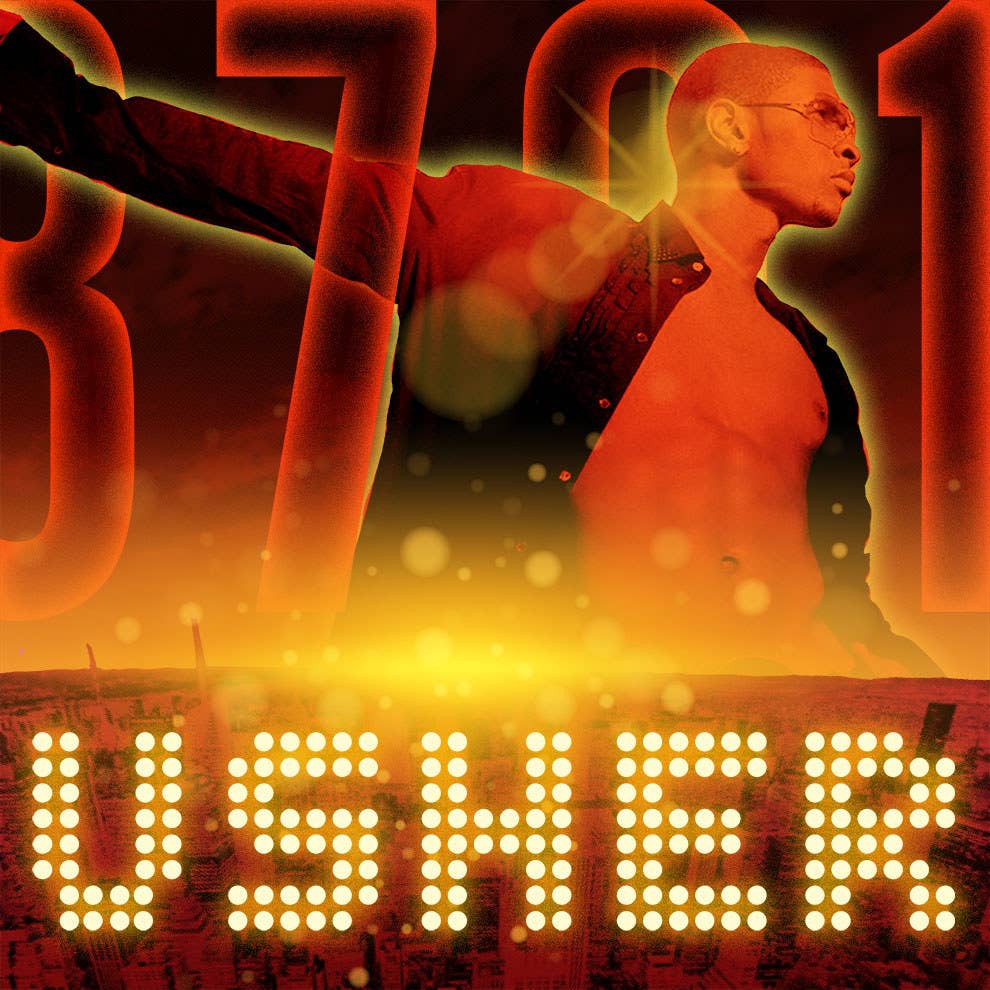 The summer I turned 10, I couldn't wait to break out my Walkman.

Gone were the days of only being allowed to listen to Radio Disney. That year, my cousins had snuck me two CDs that signaled ya girl was growing up. That year, I had not one but two albums awaiting rotation. I would belt along to Songs in A Minor when no one was around and I fancied myself — and my dusty braids — as fly as Ms. Alicia Keys. Girl power! Or something.
But it was the other CD that really stuck with me.
To my 10-year-old ears, Usher's 8701 was verified grown 'n' sexy music. 8701 was the album I probably shouldn't have been listening to. And so, of course, 8701 was the album I couldn't stop playing.
I would dance around the house to "U Got It Bad," twirling slowly as I imagined myself one day pining so hard after a man that I would "hang up and call right back" (ed. note: ...no). I memorized the choreography of the "U Remind Me" video after endless MTV2 loops, letting my shy girl moves take center stage when no one was around to see. I even gave in to the corny conceit that is "U-Turn," quietly singing the chorus under my breath and reappropriating the wordplay any time my parents pulled one on the road.
And now, 15 years after its release, 8701 is still the album I turn to when I am struck with a sudden wave of appreciation for the glory that is early-2000s R&B.
8701 was Usher's first album released in the 2000s, and it diverged from his previous albums in that it expanded the artist's range with artful, prominent nods to both pop and hip-hop. Usher, his eponymous 1994 debut, fell squarely in the tradition of the mid-'90s R&B released around it. Its biggest singles, "Think of You" and "Can U Get Wit It," never broke above the 50s on the Billboard Hot 100. But, with a bouncy earnest quality reminiscent of Tevin Campbell and a baby-faced yearning not unlike Jodeci, the tracks set 15-year-old Usher up as an R&B newcomer to watch. He may have felt like a little brother trying on grown-folk music for size, but it worked.


And My Way, his 1997 sophomore album, showed that he was here to stay. My Way premiered at a respectable No. 15 on the Billboard 200 chart and featured a laundry list of iconic R&B songs so long it's hard to believe they're on the same album. "Bedtime" featured the legend Babyface, "Nice & Slow" showed a more overtly sensual side of Usher, and "You Make Me Wanna" became the triflin' simp anthem we didn't know we needed. "Slow Jam," which featured R&B princess Monica, was the soundtrack of a thousand prom slow dances (including Jordan and Tamera's on Sister Sister). The titular track set itself apart by introducing a cocky, unabashedly hypermasculine side of the newly "grown" Usher (My Way was released a month before his 19th birthday). Here was an artist who could take a "soft" genre like R&B and push it beyond the doo-wop crooning of groups like Boyz II Men. Never straying from the nebulous, racialized category of "urban" music, Usher created — and dominated — his own lane in the mid-to-late '90s.

8701 is still everything versatile R&B should be.
By the early 2000s, Usher had established himself as a fresh-faced charmer with obvious potential. And yet the success of his third studio album, 8701, was as unprecedented for the artist as it was inevitable. Indulgent, brooding, and — above all — undeniably infectious, 8701 is still everything versatile R&B should be. It expanded upon both the earnestness of ain't shit ballads like "You Make Me Wanna" and the upbeat swag of bops like "My Way." 8701 is the soundtrack of a man growing into (multiple parts of) himself and his career. It is a deft patchwork of iconic slow jams like "U Got It Bad" and commercially successful "crossover" hits like "U Remind Me," which traffics in a catchy, notably pop sensibility that was new to both Usher and early 2000s R&B.

The road to 8701's release itself was fraught. The original version of the album, then titled All About U, was leaked to Napster (yes, really, #tbt) prior to its first tentative release date in October 2000. To combat the disappointment of the album's premature first iteration, Usher recorded seven new songs, including both the Classic(™) "U Don't Have to Call" and the ultra-sexy "Twork It Out." The newly reworked (and titled) 8701 was released over nine months later, on 08/07/01. Its name was also a nod to the arc of Usher's love affair with music: 1987 is the year Usher points to as the start of his career, and 2001 is the year he released this album. In other words, 8701 was at once his journey and his destination.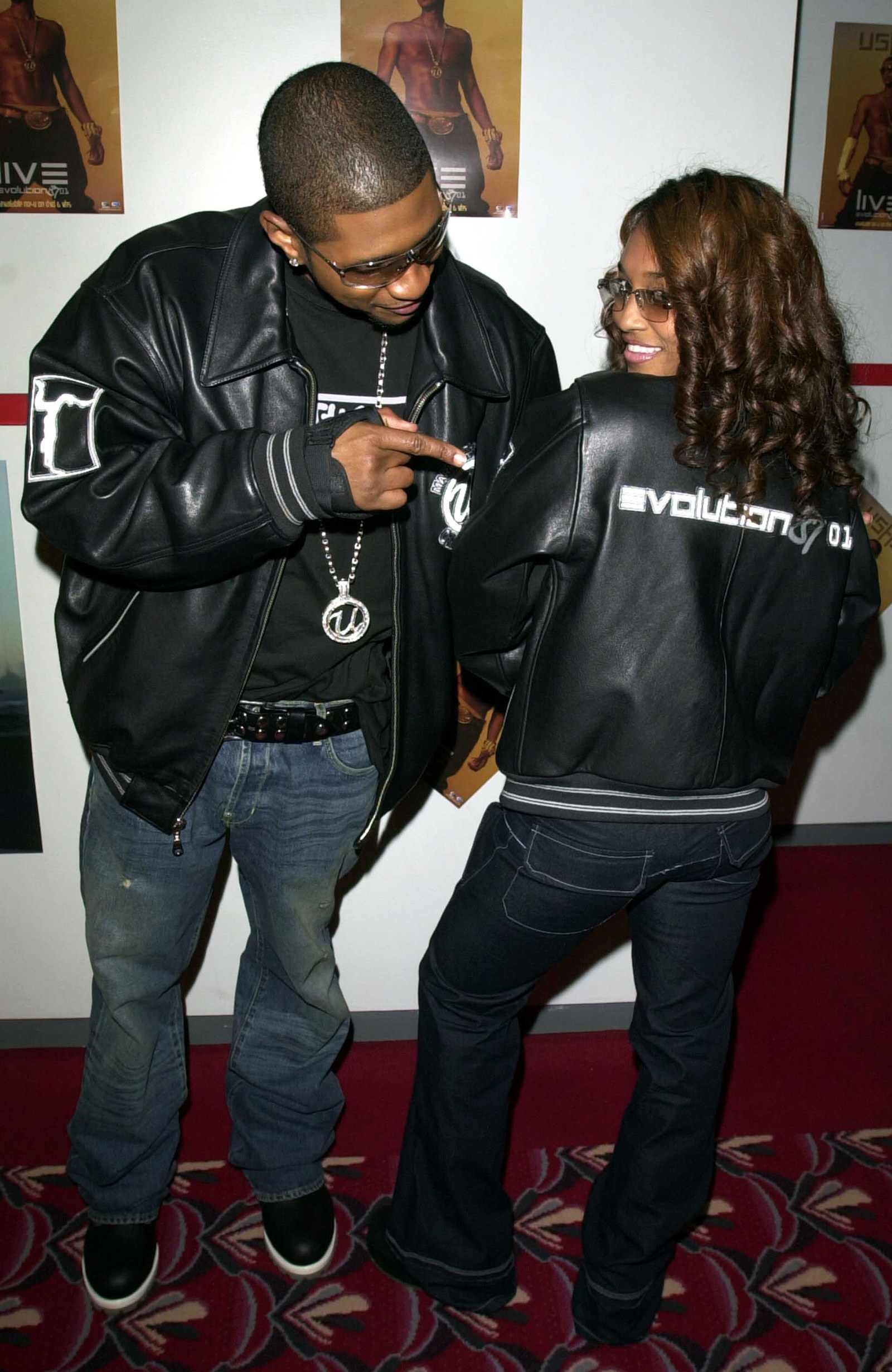 And listeners noticed. 8701 debuted at No. 4 on the Billboard 200 albums chart, eventually selling over 4.7 million copies in the US and 8 million worldwide. "U Got It Bad" and "U Remind Me" both became Billboard Hot 100 No. 1 singles, and Usher solidified his place in the R&B canon. The iconic dancing-in-the-rain scene of the "U Remind Me" music video alone gained more play than some artists' entire albums — and still does. Dancing "like Usher" became synonymous with dancing well, with paying close attention to intricate choreography. If the album's cover art — which features a chiseled, shirtless Usher against a sensual burnt orange backdrop — helped make Usher a verified sex symbol, then his rumored romance with TLC's Chilli only cemented that status. Chilli appears as Usher's leading lady in the videos for both "U Remind Me" and "U Got It Bad." Post-8701, Usher's abs and Chilli's baby hair formed the only power couple to rival Diddy and J.Lo.
Usher's next album, 2004's Confessions, would more than double 8701 in sales — and is now regarded as his best to date. Selling over 20 million records, the album was an R&B tour de force featuring heavyweights like Lil Jon, Ludacris, Jadakiss, Alicia Keys, Twista, Kanye West, and Jermaine Dupri. Confessions turned a sharp lens on Usher the man, not just Usher the artist. But its central premise — the reckoning of a man who has come to terms with the wrong he's done in a relationship — wasn't based on Usher's life. Ten years after its release, Jermaine Dupri confessed the album was based on...well, him.

Usher's forays into pop and hip-hop on the album are a feature, not a (foreign-sounding) bug.
And yet, it was 8701 that paved the way for the intensely emotional Confessions (and the pre-Lemonade-era rumor mill it activated). It was 8701 that established Usher as an artist with real staying power after My Way. With sheer technical prowess, 8701 crafted a series of vignettes that built the Usher who would be so interesting to listeners that we'd even want confessions from him. Even the conceit of the track names — 8 of the album's 13 songs have the letter/word "U" in the title — signified the arrival of Usher as not just artist but inheritor of a stylistic flourish popularized by none other than Prince. Both prior to and after 8701, Usher's usage of his now-signature U ebbs and flows, but on 8701, "U" is up close and center.

8701 showed us Usher at his best and most versatile: Its "crossover" collaborations felt organic, complementary rather than conciliatory. 8701 balanced the new jack swing of "My Way" with the early days of the Neptunes' pop crossover and the Bad Boy bounce that dominated early-2000s hip-hop. It blended Stevie Wonder, Marvin Gaye, and Michael Jackson with both Pharrell and Jermaine Dupri. Production assistance and features from heavyweights like Diddy and the Neptunes complement but never overshadow Usher's singular charm.
Usher's forays into pop and hip-hop on the album are a feature, not a (foreign-sounding) bug. The early 2000s were a golden era of pop R&B and hip-hop collaborations, but 8701 predated many of the most successful examples (including, of course, Usher's own "Yeah!"). Where 8701 succeeded most was in showcasing the multitudes that R&B can hold within itself. Even as it fuses seemingly disparate sounds, the album is confident — and, above all, cohesive.
But in more recent years, Usher has struggled to find his voice. Here I Stand, the deeply emotional 2008 record released amid his divorce from ex-wife Tameka Foster, was a "transitional album" that paved the way for a bolder post-marriage Usher. But its standout track, the sexy, incomparable banger "Love in This Club," remains far more memorable than any of its soul-searching ballads, like "Moving Mountains" or "Before I Met You." By the time his 2010 Raymond v. Raymond was released, Usher had again embraced the role of eligible bachelor and sex symbol.
At a time when the entire genre of R&B has been subject to so much hand-wringing, we need Usher more than ever.
"We said, 'We've got to get the guys wanting to be him and the girls wanting to do him,'" Mark Pitts, Jive Label Group president of black music, told Billboard in 2010. "That was our approach." With tracks like "Lil Freak," a raunchy number that features Nicki Minaj and samples Stevie Wonder, and "Hey Daddy (Daddy's Home)," he nodded to the Usher of "U Don't Have to Call" and "My Way."
But Usher's blatantly market-driven dalliances in genres like EDM feel like forced, painfully hollow evocations of an artist who used to sing with his chest. 2010's "OMG," which featured Will.i.am, garnered as many eyerolls from R&B fans as it did radio plays from pop stations.
Or, as writer Michael Arceneaux notes, "He essentially didn't own that he is Usher, thus above that sort of music making. Even if I loathed R&B's brief but no less painful flirtation with EDM, I understood why many felt compelled to do so. I will never understand why Usher felt such pressure."
"Numb" and "Scream," from 2012's aptly named Looking 4 Myself, are both grating, unoriginal tracks that don't make use of his tremendous range and vocal capability. Their commercial success notwithstanding, the singles elicited disappointment from longtime fans. Indeed, Usher's best post-Confessions tracks have been the ones that allow his signature style to shine, even as it's remixed. 2012's "Climax," which employs just the slightest hint of EDM influence, is a natural if also evolved version of "Burn." A vulnerable but energetic track, it offered the most exciting glimpse of what Usher's next steps could look like.
It's been almost two years since Usher told Billboard he's "taking his time" with his next album, UR. In the interim he's released "No Limit," which features Young Thug, and "Crash." The rawness of Usher's voice is almost enough to outweigh the corny EDM leaning of the latter, but it's still an unfortunate, newfangled miss. "No Limit" sounds great in the club, even if Usher himself does seem like a bit of an oldhead when juxtaposed with the young, rambunctious Thugger.
At a time when the entire genre of R&B has been subject to so much hand-wringing, much of which is racially coded, we need Usher more than ever. His art can — and should — evolve, but Usher is at his best when he experiments firmly within his lane. It's what makes him a legend. It's what 8701 proved he could do better than almost anyone in the game.

To win back audiences, and perhaps even snatch R&B back from the limbo the music industry (and Frank Ocean's teasing) has plunged it into, Usher should look to the album that charted the first half of his career success. It's been 15 years since one album set up an arc that would change the next 14 years of both Usher's life and R&B at large. If Usher heeds the lessons he learned leading up to it, we might just get 15 more.
And if it does happen, I won't break out my Walkman, but I might just do the U-Turn.