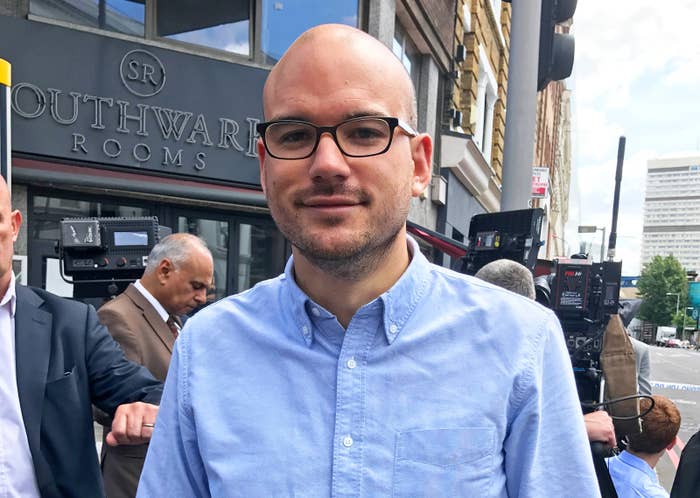 A witness to the terror attack in London Bridge returned to Borough Market on Sunday morning to pay his bill and tip the staff in the restaurant where he had been having dinner with friends on Saturday night.
Richard Angell was in Arabica Bar and Kitchen in the market when the attackers arrived on the street. On Saturday night, he described hearing gunfire and seeing people covered in blood as the attack unfolded.
Speaking to BuzzFeed News at the police cordon on Borough High Street on Sunday morning, he said: "These people shouldn't win. This is the best city in the world and Borough Market is one of my favourite bits of the best city in the world. I'm not going to let the barbaric acts of cowardly people minimise that."
Angell, director of the left-leaning think tank Progress, said he would be returning to the restaurant once it reopens. "I've got to pay my bill. Also, we haven't given the staff a tip and they looked out for us when they should have been helping themselves. It was lovely food and I want the rest of my main course.
"If they [the extremists] have a problem with me having a G&T with friends and flirting and being gay then I'm going to carry on doing it. If that's so barbaric to these people then two fingers up to them."
Recalling the events of the previous night, he said: "We were sitting in the restaurant at the table nearest the door, which is quite horrifying to think about.
"Suddenly we were aware of security saying lock the door and duck and cover. People jumped to the floor, knocking over tables. I looked up and saw outside a guy throwing chairs and a table at the restaurant opposite. It was totally unclear what it was but it turned out to be this hero.
"As we tried to bring people upstairs and bring some calm and order, I looked up and saw a guy leaving the Black and Blue restaurant next door, holding his chest and neck, covered in blood.
"He staggered around. I hope he got some help. By that point we were locked in and we managed to stop people wanting to leave by the fire escape."
He paid tribute to the speed with which police and paramedics arrived at the scene. "It felt like they were there almost immediately. They were absolutely brilliant.

"There were shoes everywhere from women running away fast and there was blood on the street. I noticed a group of paramedics working on this woman face-first on the ground. They have to run to the danger and then turn their back on it while the rest of us run for our lives."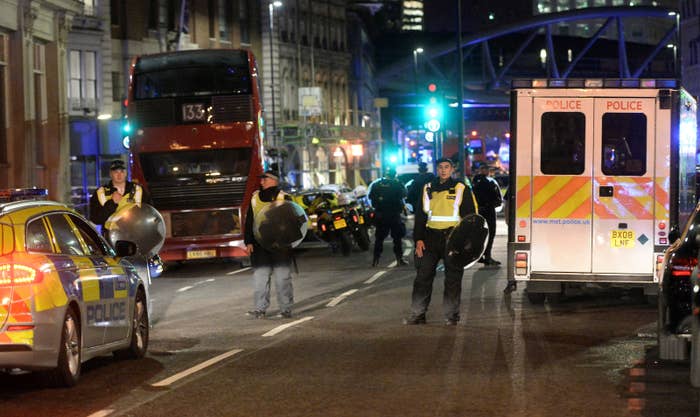 On Saturday night, Angell described how staff and customers in the restaurant began to panic as they were locked inside, before police extended the cordon and escorted everyone away from the scene.

"The security from Borough Market ran in front of the restaurant and directed staff to get back and close the restaurant," Angell told BuzzFeed News.
"People were very panicked. They moved quickly and were visibly shaken. The staff, who were young, responded in an understandable way – they were very panicked themselves," he said.
As people started moving upstairs, Angell added, "there was a brief incident when people wanted to go out of the fire escape, which I intervened and stopped. There was a poor pregnant woman – we had to get her a chair and some water."
"The staff were panicked, everyone else was so panicked, we ended up keeping everyone calm and being decision-makers," he said. "My friend made sure all the lights and candles were turned out."
Angell, 33, said armed police then carried out several sweeps of the building, while diners remained trapped inside for about half an hour.
"Within a few minutes there were armed police around, then shots went off," he said. "Out of the bar next to us someone left completely covered in blood. He was not in a good way – significantly bloodied."
"Then everyone got back while armed police did a sweep through, then they did it again, then more shots went off," he said. After a third sweep, Angell said, police evacuated the restaurant opposite.
"There was clearly some tension, a lot of panic. They were moved first, we were moved out after," he said.
Angell said he believed the gunfire "almost certainly" came from police, adding that it sounded like "organised warning shots, not sniping".
He said people became more distressed when police began to evacuate the building, directing diners towards Elephant and Castle station.
"When they started moving us suddenly there was a real urgency," he said. "What was happening was that perimeter kept moving and more and more people were evacuated behind us."
"It was pretty scary and people were scared and shaken around us. It was pretty awful," he said. "As we left there were a number of people being looked after by the ambulances."
"Part of the problem," he added, "was there were people about who were just drunk, that was a complication. We saw a girl being carried out of a bar because she was so drunk."