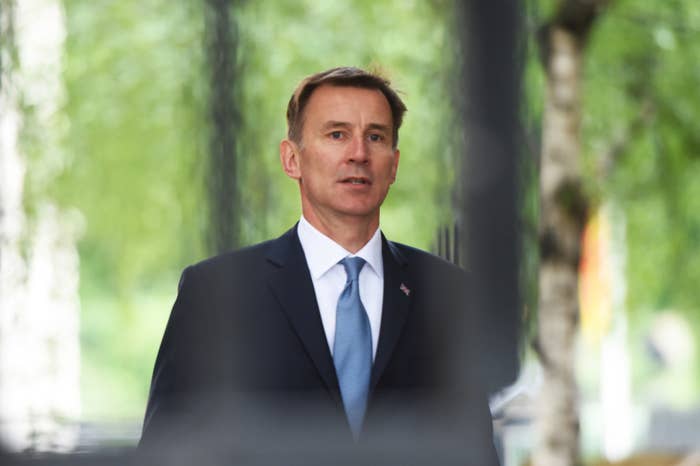 Tory leadership candidate Jeremy Hunt has been criticised by abortion rights campaigners for claiming credit for the funding the government provides for women in Northern Ireland to travel to England to get abortions.
At a hustings event in Westminster on Monday, BuzzFeed News asked Hunt whether, if he became prime minister, he would extend abortion rights to women in Northern Ireland, where it is currently illegal in most circumstances, including cases of rape, incest, and fatal foetal abnormalities.
He replied: "As health secretary, I authorised funding for women in Northern Ireland who weren't able to get abortions."
But on Tuesday this account was dismissed by both the British Pregnancy Advisory Service (BPAS) and the Labour MP who tabled the parliamentary amendment in 2017 that forced the government to give in and provide the funding.
BPAS pointed out that it was the Government Equalities Office that provided the funding, and only then because the government had faced an embarrassing parliamentary defeat on an amendment to the Queen's Speech tabled by Labour MP Stella Creasy.

The charity also said that Hunt, as health secretary, had successfully contested a court action brought by a Northern Irish teenager and her mother who were fighting for the right of those in Northern Ireland to have NHS-funded abortions in England. They paid £900 for a procedure in England after the daughter became pregnant at the age of 15.
Dismissing their final appeal, the Supreme Court ruled that the health secretary was "entitled to afford respect to the democratic decision of the people of Northern Ireland not to fund abortion services".

A spokesperson for BPAS told BuzzFeed News: "We were very surprised indeed to see Jeremy Hunt claim that he authorised funding for women from Northern Ireland to access abortion care in England when he was secretary of state for health.

"The funding for this scheme was made available by the Government Equalities Office in 2017, when the government's hand was finally forced on this issue following a formidable cross-party campaign led by the MP Stella Creasy.
"Mr Hunt, as health secretary, had, prior to this point, held the power to enable women and girls to access funded care in England, but he chose not to use it — and indeed went to court to successfully contest a claim brought by a teenager and her mother from Northern Ireland, who had paid nearly £1,000 for care in England."
"I thought it was Boris who is supposed to have a problem with the truth," Creasy told BuzzFeed News.
She said Hunt had "dragged a mother and daughter from Northern Ireland through the courts to ensure that women and girls from Northern Ireland would not have access to abortion in England and Wales".
She continued: "He then resisted an amendment we tabled to the Queen's Speech to provide NHS funding for this right. Only after it became clear we would win a vote on it did he give in — and even then it was Justine Greening, Penny Mordaunt, and the Government Equalities Office who led on this and provided the funding."
Creasy also said that making women travel from Northern Ireland to England for abortions was "not a solution to ensuring all women in the UK are treated equally and have safe, legal, and local access to health care. With over 1,000 women making this journey to England and Wales to get an abortion from Northern Ireland each year because they can't at home, it's time all these men stopped hiding behind devolution and admitted they care more for the DUP rights than human rights."
It was after the Supreme Court ruling in the case that Creasy tabled her amendment to mandate the government to cover the cost of abortions for Northern Irish women.

The new funding was announced in a letter to MPs on June 29 that year from the then–equalities minister, Justine Greening. "At present women from Northern Ireland are asked for payment, and from now on it is our proposal that this will no longer happen," she wrote.

She explained how the new funding would work in a written ministerial statement to the House of Commons the following October.
"We intend that women from Northern Ireland will access the service through existing providers of abortions in England, in the same way that women in England do," Greening said.
"We have invited providers of abortions in England to apply for funding to extend their service provision to women from Northern Ireland. The funding will be accessed via a grant scheme that will be administered by the Department of Health. The cost of this service will be met by the Government Equalities Office with additional funding provided by HM Treasury."
In practice, this means that funded abortion services for women travelling from Northern Ireland are managed by Department of Health and Social Care as the relationship holder with service providers. The GEO then reimburses DHSC on the basis of actual costs incurred.

A source close to Hunt said: "This is perfectly straightforward. Jeremy made clear he was the health secretary who authorised the funding. As a result and as the government made clear at the time, the funding went through his department."