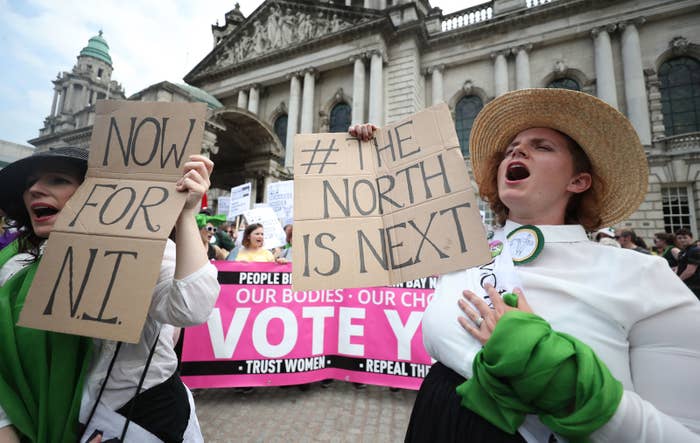 None of the six men who are standing to be the next prime minister of the United Kingdom have said they are in favour of changing the law to make abortion legal in Northern Ireland.
BuzzFeed News asked all of the Conservative leadership hopefuls whether they would extend abortion rights to Northern Ireland — the only place in the United Kingdom where it is almost completely banned. Five of the six candidates said they would take no action. Boris Johnson did not respond at all.
The 1967 Abortion Act, which applies in England and Wales and allows termination in certain circumstances up to 24 weeks, does not apply in Northern Ireland. Abortion is currently illegal there in almost all circumstances, and is allowed only when there is a direct threat to the life of the mother. The restrictive abortion laws, which are at odds with the rest of the United Kingdom, have been deemed incompatible with human rights by the Supreme Court. At present, many women from Northern Ireland travel to England to access the procedure.
After the Republic of Ireland voted to repeal the eighth amendment, which banned abortion in almost all circumstances, campaigners have been putting pressure on UK parliamentarians to give women in Northern Ireland greater access to abortion.

The London-Irish Abortion Rights Campaign last week released an open letter to all Conservative leadership candidates, calling on them to pledge to give parliamentary time to a vote on abortion in Northern Ireland. The letter was signed by 45 organisations and celebrities, including Phoebe Waller-Bridge and Adrian Dunbar.

While several of the leadership hopefuls said they support a woman's right to choose, none told BuzzFeed News that they would legislate to give women in Northern Ireland abortion rights, saying this must be done by Northern Ireland's devolved assembly. The assembly hasn't sat for more than two years, after a power-sharing agreement broke down.
Here's what each candidate said:

Boris Johnson
Frontrunner Boris Johnson did not respond to a request for comment and did not turn up to a hustings event where journalists were able to ask questions of the prime ministerial hopefuls.
Dominic Raab and Rory Stewart
Dominic Raab and Rory Stewart both said they were passionately in favour of a woman's right to choose — but neither has said they would seek to change the law.
Raab told BuzzFeed News: "My view is that we want to see as few unwanted pregnancies as possible, and I think education, and working with young people and family planning is the way to do that.
"I also powerfully believe in a woman's right to choose, yes I hold the same views for the whole of the United Kingdom, and I would want to try to encourage and promote those standards — what I'm not going to do is rip up the constitutional settlement in order to achieve it because I think that if we start doing that on this issue, as important as it is, we would put at risk the delicate balance in Northern Ireland."
A spokesperson for Rory Stewart said that the "fundamental point is that Rory is passionately committed to women's right to choose."
However, they added that "he also believes that ideally devolved issues should be settled by devolved administrations."
Michael Gove
A Michael Gove campaign source told BuzzFeed News: "This is a sensitive matter and requires careful handling. Michael's preference is that we should have the same laws on such issues across the whole of the UK, but under the devolution settlement, changes in laws affecting Northern Ireland should be a matter for the Northern Ireland Assembly and Executive.
"Michael is determined to get power sharing back in operation in Northern Ireland and has committed personally to leading the talks to do so."
Sajid Javid
A source close to Sajid Javid said: "Saj recognises this is a devolved matter and we have to respect that."
Jeremy Hunt
The former health secretary, who was criticised for saying he was personally in favour of reducing the existing 24-week time limit to 12 weeks, avoided giving an answer when the question was put to him directly, saying: "As health secretary I authorised funding for women in Northern Ireland who weren't able to get abortions."
When asked for further comment, a spokesperson for Hunt said: "This is a devolved issue and is yet another reason why we must get Stormont up and running again. Jeremy would support any changes locally accountable politicians wished to implement."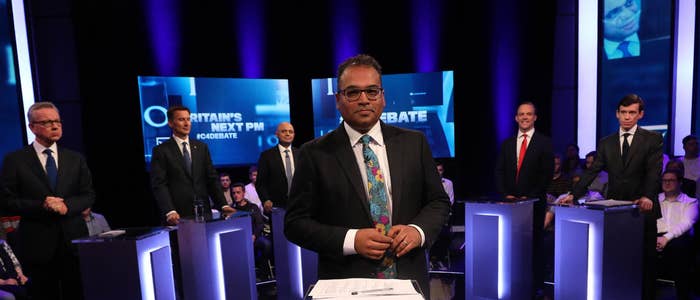 On Tuesday, campaigners criticised the Conservative leadership candidates for their lack of support for abortion reform in Northern Ireland.
Cara Sanquest, from London-Irish Abortion Rights Campaign, told BuzzFeed News: "Not one of the candidates for prime minister had a good voting record on abortion rights. In the context of a global roll back of reproductive rights, we need a PM who will stand up for women's rights more than ever.

"We're calling on all candidates to make time for a vote on abortion if elected leader — if they want us to believe that they [are] feminists we need to see deeds not words; 1,053 women and girls travel from Northern Ireland to England and Wales for abortion. It's time to end the suffering and change the law."
A spokesperson from charity the British Pregnancy Advisory Service (BPAS) told BuzzFeed News: "There is huge parliamentary support for change and MPs from all parties have consistently shown their backing for the decriminalisation of abortion across the UK, including in Northern Ireland. While we look on aghast at the rollback of reproductive rights in the US, within our own borders women are denied the ability to make their own decisions about their own pregnancies.

"This has to change. We need the next government under its new leader to give parliament the opportunity to overhaul these laws which are an affront to women and which have no place in the 21st Century. A bill to do just that is ready and waiting."
Labour MP Stella Creasy, who has been one of those leading the campaign for law reform from within Parliament, said: "Last week the Domestic Abuse Bill Committee has confirmed what we already know — women in in Northern Ireland are continuing to pay the price for the current impasse at Stormont and the UK will not be compliant with the Istanbul Treaty as long as this remains the case.
"In saying that it is unacceptable that the people of Northern Ireland are denied the same protections in relation to domestic abuse because of the lack of assembly, the committee has given parliament a clear mandate to extend the scope of the bill to Northern Ireland. All women and girls deserve protection from abuse, no matter where in the UK the live."
CORRECTION
The British Pregnancy Advisory Service's name was misstated in an earlier version of this post.