The Imam Who Saved The Finsbury Park Attacker From An Angry Crowd Said He Protected Him "By God's Grace"
"We stopped all forms of attack and abuse that were coming from every angle."
by
,
,
A group of Muslim bystanders stepped in to protect the suspect accused of driving a van into a crowds of worshippers near a mosque, to prevent him from being turned on by angry people who witnessed the attack.

In footage captured from the scene, a man can be heard on camera saying "move away from him" to a group of people who appear to have arrived after the incident and surrounded a man on the ground.
The man captured on film is believed to be 30-year-old imam Mohammed Mahmoud, who rushed out of the mosque and calmly urged the crowds not to harm the man, but to detain him and wait for police.

In an interview with Sky News, Mahmoud said had just finished evening prayers when a man ran in to and said that something had happened outside. The imam then went outside and saw the suspect being held down on the ground.
"He had been restrained by around three people," he said, "we found that a group of people quickly started to collect around the assailant and some of them tried to hit him, either kicks or punches. By God's grace we managed to surround him and protect him from any harm. We stopped all forms of attack and abuse that were coming from every angle."
The three other brave onlookers who stepped in to detain the suspect at the scene kept him there for about 20 minutes, until police arrived and bundled him into a van.

Abdulrahman Saleh Alamoudi told BuzzFeed News he was one of those who had helped to detain the man. He said: "Luckily I managed to escape when I did and then the guy came out from his van, I got him one guy who was running through behind him and they came past me, so I managed to get him on the floor.
"I held him, he was screaming before that he was saying 'I'm going to kill all Muslims'. He was throwing punches all over then we managed to get him on the floor. Then we managed to get him on the floor, and he was saying: 'oh kill me, kill me'. We said: 'we're not going to kill you, why did you do that?' and he wouldn't say anything."
Witnesses said that the imam and a group of bystanders then formed a protective ring around the suspect as police led him away, to prevent him being harmed by angry crowds who had seen him carry out the alleged attack.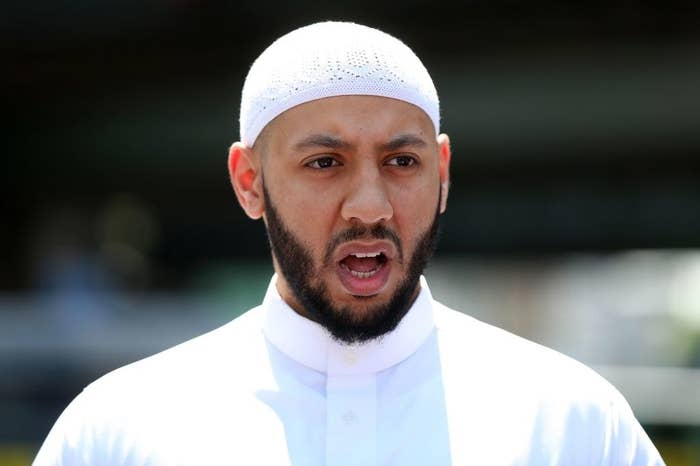 Mahmoud said a police van happened to be driving past, which he and a number of other men flagged down. "We told them the situation and that the man was restrained after he had mowed down a group of people with his van. There's a mob attempting to hurt him, and if you don't take him God forbid he might be seriously hurt.

"We pushed people away from him until he was safely taken by police into custody and put into the back of the van."
"That's all that we did. It wasn't me alone," he said. "There were some other brothers, I don't know their names, who were calm and collected and managed to calm people down and to extinguish any flames of anger or mob rule that would have taken charge had this group of mature brothers not stepped in."
Mahmoud said that although the crowds had been angry in the minutes following the attack, his community was "mild mannered, calm" and "not known for their violence".
"Our mosques are incredibly peaceful, I can assure you we will do our utmost to calm down any tensions", he said. "Immediately after the incident people who were calm, people were praying for the victims of the attack. Everybody knew that there was nothing more they could do for them than pray for them, and let the emergency services carry out their exemplary job."
Toufik Kacimi, CEO of the Muslim Welfare House in Finsbury Park, praised Mahmoud's actions, saying: "I would like to particularly thank our imam, Mohammed Mahmoud, whose bravery and courage helped calm the immediate situation after the incident and prevented further injuries and potential loss of life."
Police later said the driver "was found detained by members of public at the scene and then arrested by police in connection with the incident".