Boris Johnson's bold pledge to restore law and order by putting 20,000 lost police officers back on the streets is almost impossible to deliver, according to those working in a criminal justice system that has been stripped bare by successive coalition and Conservative governments over the past decade.
BuzzFeed News has spoken to a range of people with knowledge of, or working in, the criminal justice system about Johnson's promise. They were broadly in agreement that more police officers are needed, but most were sceptical about how this could work in practice against a background of severely underfunded public services.
Those we spoke to identified three significant issues. First, the fact that recent cuts have made police training and recruitment a huge challenge. Second, a broken court and prison system which would be unable to handle a significant rise in arrests. Third, when it comes to crime, police boots on the ground are simply one aspect of the approach the government requires and will have little impact without investment in other areas.
For one senior police source, Johnson's promise echoes those he made when he was in office in City Hall and is hollow: "I would say first of all he's looking at it from an election [perspective]," they said.
"I think what he's doing now is what he did as Mayor of London, going round showering glitter." The source, whom BuzzFeed News has agreed not to name, worked on policing in London at the time Johnson was mayor. They said: "He was very good at being the face of London, but low on detail."
"I think what he's doing now is what he did as Mayor of London, going round showering glitter."
There has been precious little further information on the details of Johnson's policing pledge — for example, which forces will benefit, and in what numbers, from the recruitment drive.
When he was in meetings with Johnson, the retired officer said, the now-prime minister "was always friendly, with an air of joviality," but could appear disinterested. Johnson, of course, was infamously on holiday during the London riots. "He was almost silent — if you look at the 2011 riots it went to central government very quickly," they said.
"He lacked an attention span," they added, "he always wants to move on to the next thing, almost wants to come in and say his bit and leave," leaving his deputies and civil servants to deliver on the detail.

But, the source told BuzzFeed News, that wasn't necessarily a bad thing. "I think that's probably how he's going to run the country as prime minister," they said.
"You could argue that's the best way to do it, rather than Theresa May and David Cameron, all the policy has to come to them, he sets the strategy out, what it wants to achieve, they go out actually deliver it — that may be a better way to govern."
The number of officers that Johnson has pledged to put back on the streets is roughly the same number that has been cut since the coalition came to power in 2010. According to FOI data seen by BuzzFeed News, during his time as mayor, the number of officers and staff in the Metropolitan Police's Homicide and Major Crime Command fell each year that Johnson was in office.

While the announcement has been cautiously welcomed by those in policing, there is scepticism over the new government's ability to produce results, given that not just police numbers, but also the surrounding infrastructure, has been dismantled over the past decade. Up and down the country, hundreds of police stations have closed, and many of the buildings have been sold off.
"The general view is how can he deliver?" retired Metropolitan Police officer Chris Hobbs told BuzzFeed News. "There are not enough trainers or even experienced street officers to act as mentors after initial training, not enough room in police stations.
"The 20,000 would move us from fourth from bottom of the Euro league police per population ratio to a still abysmal sixth from bottom. I'm not sure whether the 20,000 will now be sufficient to put the violent crime genie back in the bottle. But at least it's a start in terms of repairing the damage done to policing since 2010."
Police have said that finding the 20,000 new recruits — while maintaining the quality of officers — will not be easy. A recent report from the Home Office highlighted another potential issue — policing may not appeal as a career to younger people in the way it did to past generations.
A total of 244 officers and members of staff from across the 43 forces in England and Wales contributed evidence to the Front Line Review, and some said that younger new recruits had not enjoyed shift work, confrontation, or the toll that the job took on their mental health.
Hobbs' concerns were echoed by Graham Wettone, another retired Met officer, who teaches the Certificate in Knowledge of Policing (CKP) to new recruits, and is the author of the book How to Be a Police Officer.
He told BuzzFeed News: "I have to say, there's lots and lots of negatives, but after ten years of Theresa May just attacking and being critical of policing, I was actually pleased that he said something nice for once — it's the first time for about nine years."
The issue for police, Wettone said, is not just recruiting new officers, but also stemming the flow of staff leaving police forces, seeking a better offer elsewhere. There will not be enough senior officers, he said, to mentor and support the new recruits rising through the ranks.
"They need to look at pay and conditions for police," he told BuzzFeed News. "There's a leak in policing. Fix the leak, then start topping up the tank. There's no point filling the bucket up if it's just going to leak, leak, leak — or in three years you're going to need 40,000."
Wettone also identified the need to improve upon the insufficient facilities and training for current officers — which would be further stretched by the 20,000 new recruits.
"It's a great plan, a great initiative, but actually making it work is a real hurdle for policing."
"The Met can't train their advanced drivers," he told BuzzFeed News. "They're paying outside centres to train their officers. London officers are going outside of London because the Met haven't got enough driver trainers, there aren't enough courses to go round. They shut the training facilities down, there's not enough instructors."

There is not just a shortage in capacity to provide further training, he said, but also in providing training for new recruits. Britain's largest police force, the Met, is already struggling to cope with its existing new recruits, he said, before thousands more put themselves forward to join the police.
"They haven't got enough classrooms, trainers, training centres," he told BuzzFeed News. "The Met has got Hendon and one other training centre, but they've been told to slow down their recruitment, their vetting department can't deal with them quickly enough, they're struggling with all the people applying to join."
"It's a great plan, a great initiative, but actually making it work is a real hurdle for policing," he added.
Roger Gomm, a retired Metropolitan Police officer, was one of the Met's most senior public order commanders when Johnson was London mayor. Like the other ex-police officers BuzzFeed News spoke to, he welcomed the investment, but had similar reservations over how easy it would be to implement in practice.
"Twenty thousand cops back on the streets is easy to say," he said, "but to achieve that? First you've got to find them, then interview and recruit them, it's not easy, then you've got to train them. If you unpick all of that it will be what is the reality to these 20,000 cops? The training and infrastructure isn't there." Like Wettone, Gomm said that there will not be the experience to effectively mentor so many new recruits, as experienced officers are leaving their jobs.
He also suggested that the money may be better invested in giving existing officers the vital tools they need in order to be able to do their jobs properly. "Would you be better off spending the money on IT?" he said, "because IT is not as good as it should be." BuzzFeed News previously revealed that police are struggling to cope with the volume of digital evidence they are expected to process.
"It's hard to trust a word of this Prime Minister who has played fast and loose with promises on policing in the past and never delivered," Labour's shadow policing minister Louise Haigh told BuzzFeed News.
"Policing desperately needs investment but we haven't had a single word on where the funding is coming from for these officers, where they're going to be based or how they're going to be recruited and trained given that nine years of reckless cuts have reduced policing to less than the bare minimum."
Wettone told BuzzFeed News that he hopes Johnson will listen to those on the ground who are raising these concerns when setting out and implementing his law and order policies.
"I really hope he speaks to the Police Chiefs Council, to the Police Federation," he told BuzzFeed News, "people doing the job, actually at the coal face, not just policy advisers who studied criminology at university."
The problem also lies not just in policing itself, but in the impact extra officers — and the resulting extra prosecutions — would have on the wider criminal justice system.

Johnson has promised funding for extra prison places, but in between arrest and prison comes conviction, and the court system is already underfunded and overstretched.
Over the past decade, almost half of all courts in England and Wales have been closed: between 2010 and 2018, 162 out of 323 magistrates' courts were shut, while 90 county courts closed their doors, with most of the buildings sold off.
As a result, there are yearlong waits for trials to be heard with prosecutions at their current level. As BuzzFeed News revealed, judges have been left furious.
"The criminal justice system is on its knees," the Secret Barrister, a criminal barrister and author of the bestselling book Stories of the Law and How It's Broken said. "It cannot cope with an influx of further prosecutions without substantial spending.
"We are currently listing Crown Court trials for mid-2020, with judges sitting idle, all because the government won't pay to keep the courts open. The idea that 'more police' is a solution is simply infantile."
"The idea that 'more police' is a solution is simply infantile."
If Johnson wants to tackle crime, they said, then extra police numbers need to come with adequate funding for the courts. Johnson has pledged £85 million in extra funding to help the Crown Prosecution Service (CPS), intended to help prosecutors tackle violent crime and deal with digital evidence, but the Secret Barrister told BuzzFeed News that this does not make up for what has already been cut from the system.

"To fix the system, the government needs to reverse the 40% cuts to the justice system," they told BuzzFeed News. "The CPS needs properly funding — this £85m is a drop in the ocean given that the current CPS budget is £250m less in real terms than in 2010 — the government needs to stop closing down and selling off the court estate, the existing courts need making fit for purpose, legal aid needs restoring to all defendants, and probation and prisons need sensible, evidence-based reform.
"This pledge betrays a wholesale, childlike ignorance of how the criminal justice system actually works, and what is needed to fix it."
Jonathan Black, a criminal defence solicitor at BSB Solicitors and returning president of the London Criminal Courts Solicitors' Association, was also sceptical of Johnson's policing pledge.
"Where do they accommodate all these police officers, especially in London?" he told BuzzFeed News. "Young recruits can't afford to live in the London area on likely salaries.
"They have closed police accommodation and I recently spoke to a young officer who was knackered at 11am having been up at 4am to travel into London to start her shift at 7. There are few police stations for them to operate out of unless they recommission some that are now used for admin centres."
Black also pointed to a "recruitment crisis" in legal aid criminal defence lawyers, which he said meant "there will need to be an acceptance that legal aid lawyers need to be paid properly to represent those whose liberty is seriously at risk."

Like the Secret Barrister, Black also identified issues with a potential increase in prosecutions, adding: "There has been a dramatic dip in prosecutions in the past four years. Despite large numbers of court closures they are still quiet and many of the court rooms are not sitting in many courts. Increase in prosecutions will lead to an increase in court time.
"They will need to recruit more staff and again these are low salaried posts. They can't all be centralised admin posts as that has [proved] to cause inefficiencies. These staff need to live near the courts. however court closures mean that they have increasingly moved away from local communities.
"Increased prosecution will mean that satellite courts will have to be used to take the extra work which will mean greater travel time for all court users. And the idea of 10,000 prison places — This cannot happen overnight, it will need more prisons building."
He suggested it could take five years for the prison places to be available. The previous government made the same promise to provide 10,000 extra places, before quietly scaling back on it. Johnson's new places are apparently in addition to the 3,360 already promised by 2023.
Black said to create the extra places would take time "unless they are going to release or not imprison non-serious recidivist offenders", but he added, "that contradicts Johnson's pronouncement".
"He ignores the real causes," he added. "Yes more police are needed, but the cause of offending is not addressed here." Black suggested that what was needed was "intervention and facilities", adding, "which of course [Johnson] condemns as left wing rhetoric".
Labour MP Sarah Jones chairs the All-Party Parliamentary Group (APPG) on knife crime. She told BuzzFeed News that while police numbers were important, they were just one tool in tackling the rise in violent crime.

"I think it's undeniable that policing is really important, and that we need more police," she told BuzzFeed News. "I think that's unquestionable. I don't know why we had to cut 21,000 in the first place when we're putting them back again.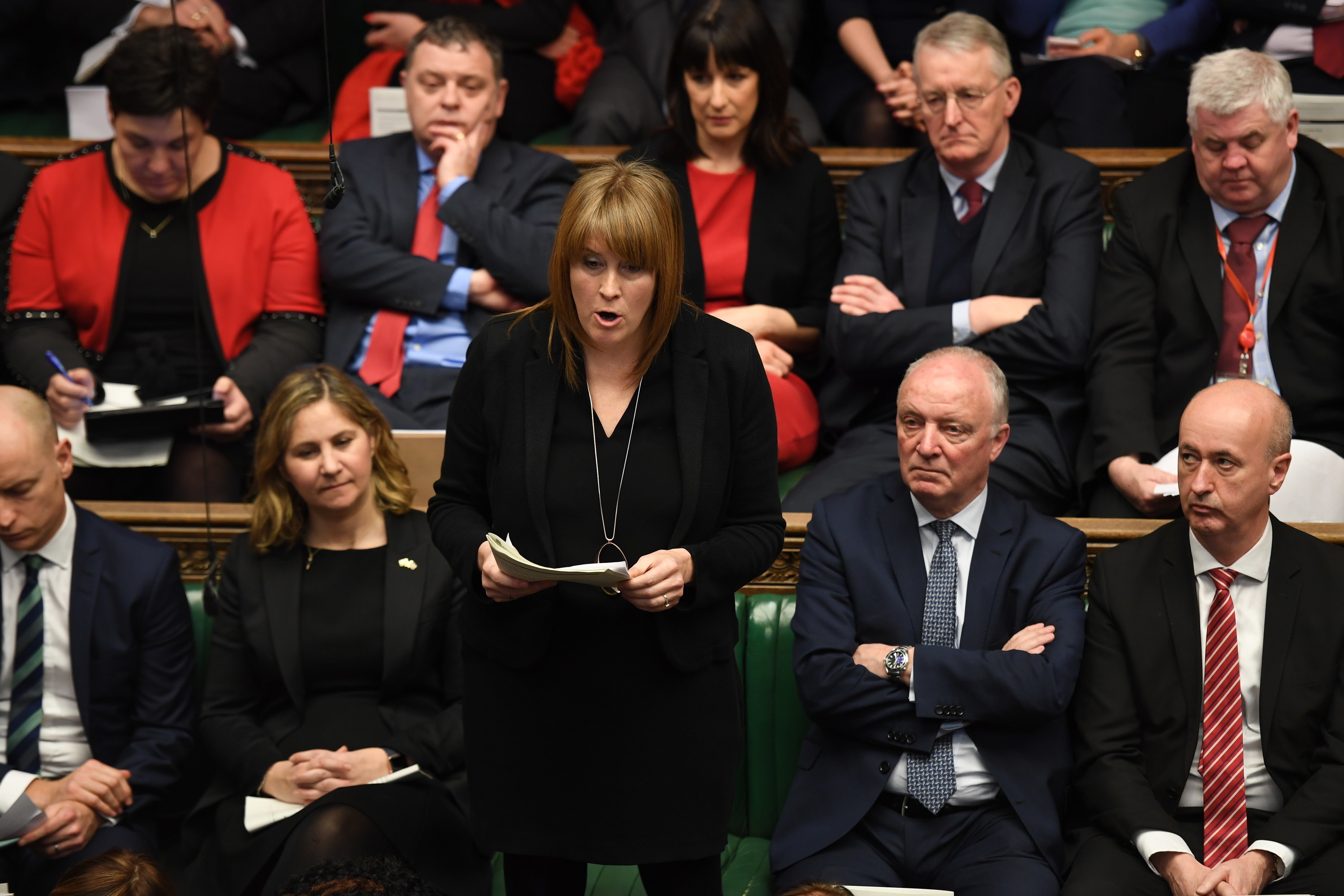 "But you can't just magic up 20,000 police overnight — you need to recruit them, train them, create the physical environment in the police force — of course there are going to be complications, but you do need more police."
She added: "The young people that we work with, they want to feel safe, they want more police present," but she said, extra police are "a really important tool but not the answer" in itself to dealing with violent crime.
"What police want to be doing is preventing crime," she told BuzzFeed News. "They don't want to be in a situation where the community don't trust them and all they're doing is stopping and searching."
What is needed, she told BuzzFeed News, is a more holistic approach and investment in services that will stop young people from turning to crime in the first place.
"Youth services have been cut 40%," she said, "the number of school exclusions has gone up by 50% over the last three or four years, pupil referral units are full. There's nowhere for kids to go, a third of local authorities do not have any room left, they aren't in the right alternative provision education.
"CAMHS (child and adolescent mental health services) have been cut by 50%, that's had a massive part in driving the increase that we've seen. And I've not heard anything from the prime minister about those things.
"The message to the prime minister is: he's a new prime minister, it's a massive opportunity, a legacy for him, to tackle knife crime — but he's not going to do that with just police."
Roger Gomm agrees with Jones that throwing police officers onto the streets is not enough in itself to tackle violent crime.
"If you want to tackle knife crime it's not just a policing issue, it's an education issue, broken families issue," he told BuzzFeed News. "If you want to join a gang, why don't you join the Boy Scouts or the Cubs? Because it's not available in your area. If they're out the front door because mum or dad are working then often the gang gives them a sense of belonging, makes them feel big, confident.
"Have we got enough school clubs, are there enough kids activities? Is there a local park? Have the local authorities got the money to invest in social services? It's not a simple solution to put 20,000 cops on the street."
A Home Office spokesperson said: "We are committed to tackling violent crime, which is why the Prime Minister and Home Secretary announced plans to recruit 20,000 more police officers over the next three years and to empower officers to use stop and search.
"The Home Office is working with the police to put in place the plans and systems to deliver this commitment, and the recruitment campaign will launch in September.

"But we know that tackling the root causes of serious violence requires early intervention, alongside a tough law enforcement response. That is why we are investing £220 million in projects aimed at steering young people away from violence and have awarded £35 million to set up 18 violence reduction units in the worst hit areas."