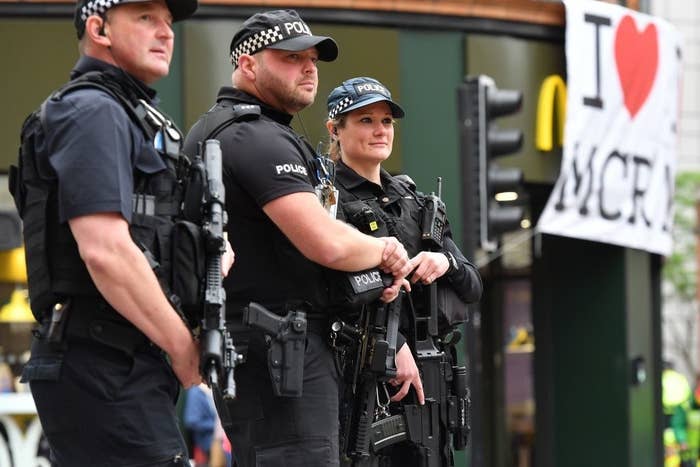 Extra armed and unarmed officers from across the country are being drafted in to help secure Sunday's One Love Manchester concert, headlined by Ariana Grande, as tens of thousands of people are set to descend on a small area of the city.

At a press conference today, the event commander for Greater Manchester Police, Chief Superintendent Stuart Ellison, said policing the concert would be "extremely challenging" for police, "off the back of an extremely challenging [ten days]."
It takes place at the Emirates Old Trafford cricket ground, just down the road from Manchester United's Old Trafford football stadium, which is hosting a testimonial match for vice captain Michael Carrick on the same day.
With 70,000 fans due to attend the football match, and 60,000 more expected at the concert, 130,000 people will be in the area on the same day.
Ellison did not confirm details of how many officers would be in attendance on the day, citing security reasons, but said police forces including Kent, Lancashire, Cheshire, and London's Metropolitan Police Service would be sending officers.

Ellison added that the Civil Nuclear Constabulary had also been providing armed officers to support GMP, and would be doing so on Sunday.
The fundraising event, organised at incredibly short notice after Grande expressed a wish to return to Manchester "sooner rather than later" to perform a benefit show for her fans, presents a significant operation challenge for police.
At the request of police, the football match has been moved from 4pm to an earlier kick-off of 2.30pm to help manage crowd numbers.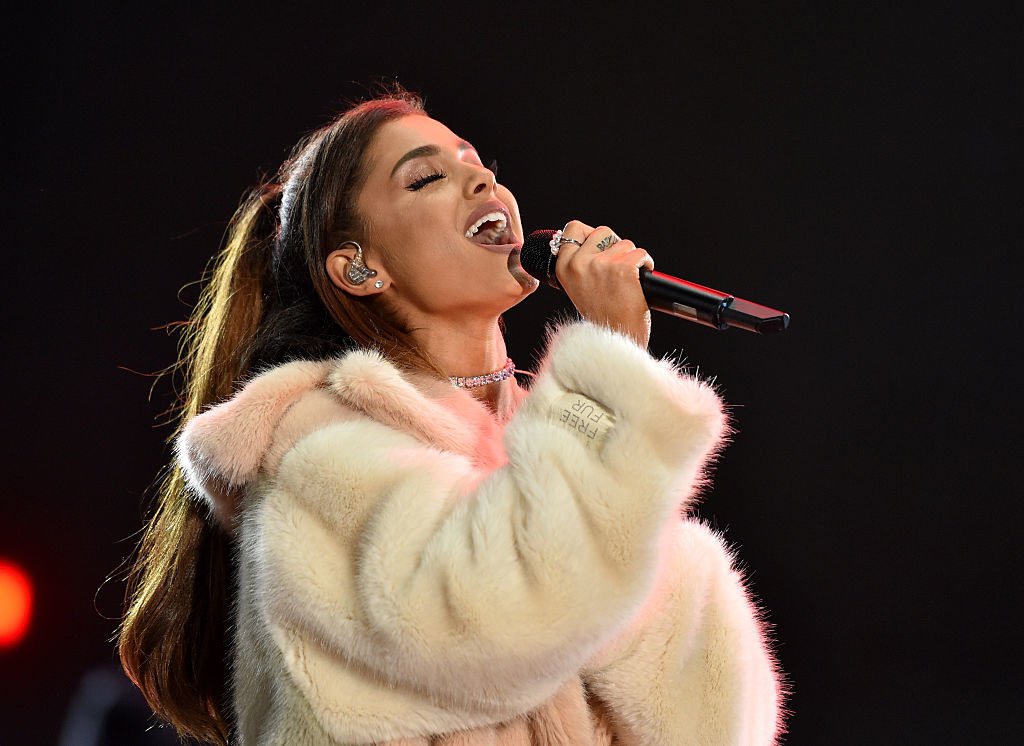 Ellison said officers will be prepared to respond to intelligence or calls from members of the public raising security issues, as well as being there to provide reassurance to those attending the event, and keep control of the large crowds.
"The last two weeks have been difficult for our communities, officers and staff, and our thoughts remain with all those affected by the abhorrent attack on Monday 22 May 2017", Ellison said.
"This is a time for the people of Greater Manchester, and further afield, to come together and show we are united.
"Whilst we want you to enjoy yourself, we also want people to be remain vigilant."
In order to minimise disruption, police are sending out two key messages to those attending One Love Manchester: Do not travel to the event by car, and avoid bringing bags to the concert.
"One of the things that is non-negotiable", Chief Superintendent Stuart Ellison said, "is the quality and integrity of search procedures. The security of the event is paramount." He said intensive searches would be carried out, even if this led to long delays.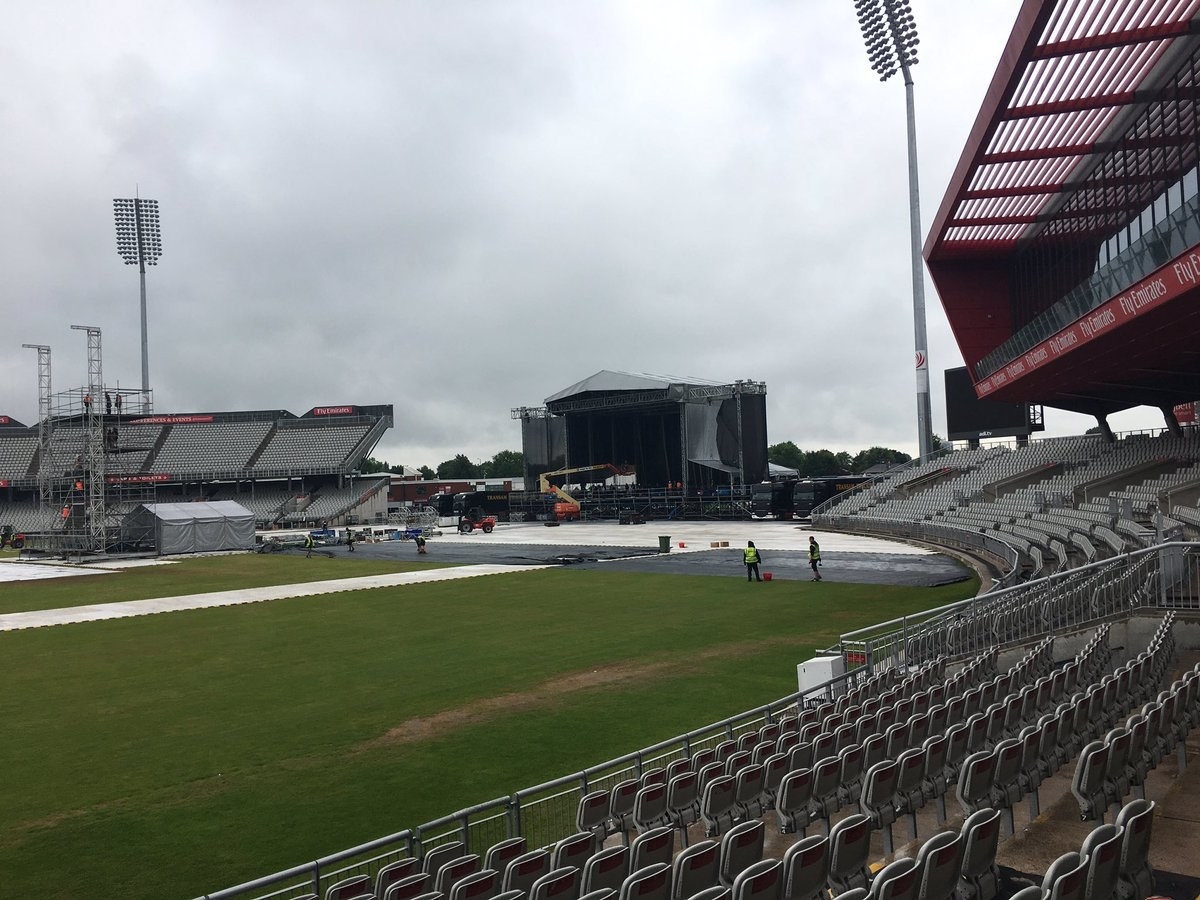 He said police had been working closely with the local transport authority, Transport for Greater Manchester, and that a range of public transport alternatives would be available.
John Fryer, the events manager for Transport for Greater Manchester, appeared alongside Ellison at the press conference, and said Manchester's Metrolink tram system is offering free travel throughout the day to ticket holders, with services running until half past midnight.
He added that park-and-ride schemes would also be in operation, as well as free shuttle buses for concert goers and football fans running to and from the city centre.
"The message is very much plan ahead, allow plenty of time, don't drive to the event, use public transport, or if you have to drive, use a park and ride option," Fryer said.
Theresa Grant, Chief Executive of Trafford Council, told the media that private rooms would be available in the town hall - just across the road from the cricket ground - for anyone emotionally affected by the concert.
"Anyone who requires a quiet space to reflect, as a result of an impact from the previous concert emotionally or otherwise, we have that space and trained staff to support them", she said.
Ellison also Grant also warned that trading standards officers from Trafford Council would be on site to crack down on those touting tickets or selling counterfeit merchandise.