This Is What It's Like Shopping For Jeans In Australian Chain Stores
Just because it zips, doesn't mean it fits.
by
,
,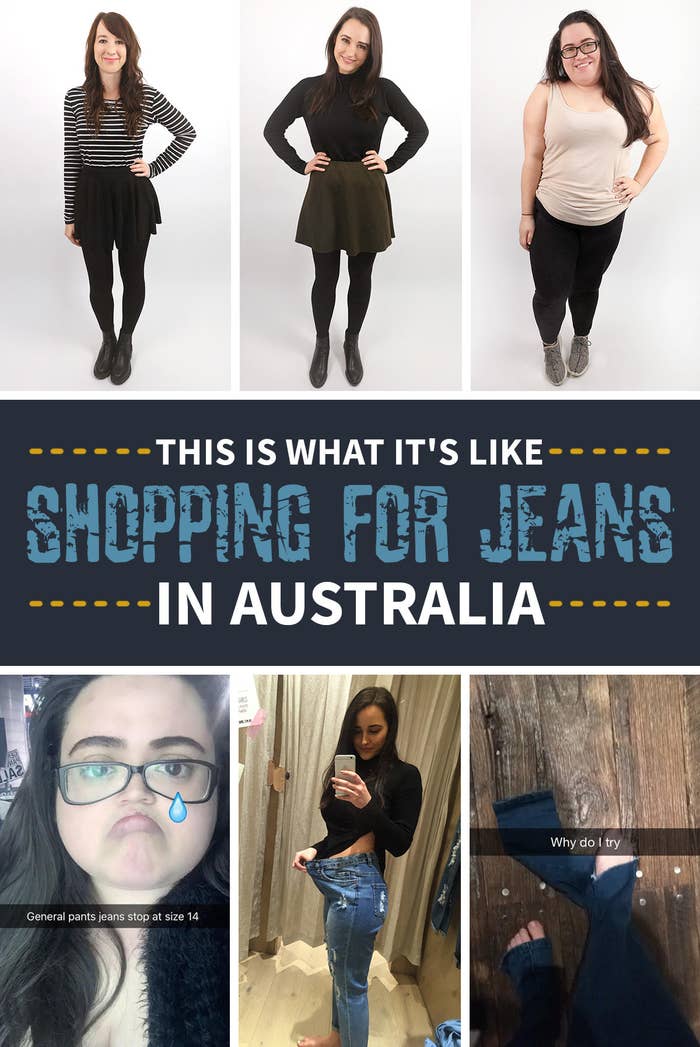 Hello world, we're Tahlia, Gyan, and Michelle. Like most humans, we really fucking hate shopping for jeans. But alas, they're an ~Australian staple~ so we need 'em.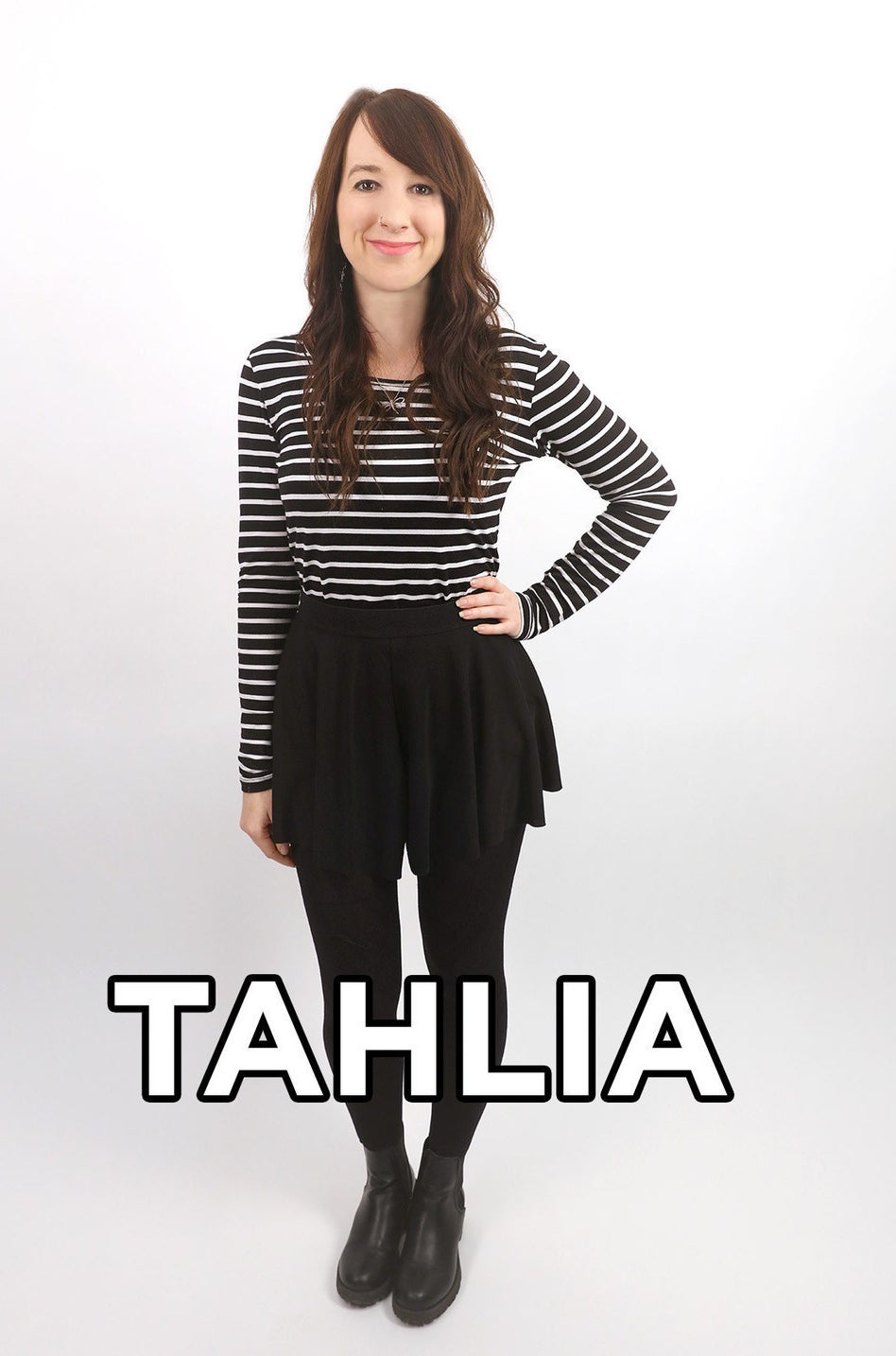 Tahlia: As a former* emo child, I'm all about finding the perfect pair of skinny leg jeans. As a petite girl (exactly 5ft tall), finding jeans that are perfect length-wise and that fit OK around the calves is ridiculously tough. Jeans shopping is a special form of torture and I avoid it at all costs. *Not so former.
Gyan: I'm super fussy when it comes to denim. I don't quite have Kardashian curves but I definitely have some, which I need to take into account when shopping, dressing, and living. Tight jeans are my literal idea of hell and sadly, they're what most of the ~affordable~ shops seem to stock these days. Woe is me.
Michelle: I like skinny-fit and high-waisted jeans because I like them to go over my tummy and to pull me in. Otherwise, honestly, it just feels like my ass crack is on show and that my vagina might just pop out to say "hi". I never, ever buy my jeans IRL because the likelihood of a chain store stocking my size is just, well, lol bye.
Basically, we need jeans. We love jeans. But for the most part, finding a decent pair seems impossible. But are our complaints actually justified? We decided to find out.

Please note that all prices in this post are listed in Australian dollars. All sizes are listed according to individual product tags. Yes, it was confusing for us too.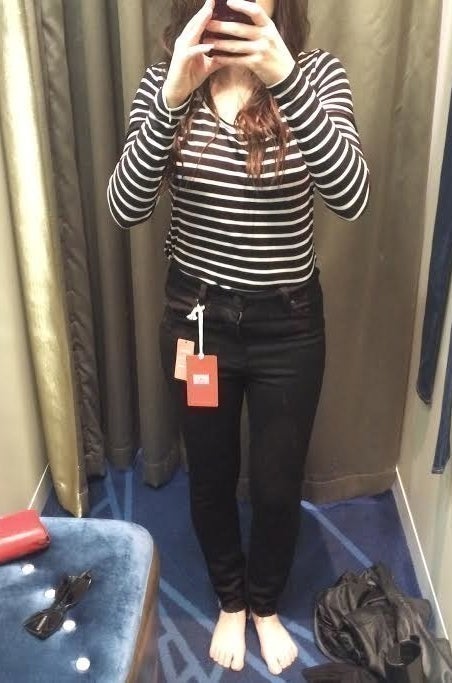 Tahlia (Size 6, $89.95): A life lesson to short girls: If you're after full-length jeans, try "crop" jeans. These jeans fit pretty comfortably around the hips and waist, but overall weren't as tight as what I wanted. My emo struggles are real.
Gyan (Size 10, $89.95): While I loved the shit out of the length of these cropped jeans, they were tight af around my thighs and loose around my waist. Look at those stretch lines. Girl can't win.
Michelle (Size 16, $89.95): The only size 16 I could find were mid-rise which are not ideal for me. They had a lot of stretch which is essential, but sweet Jesus, just because it buttons, does not mean that it fits. These barely reached over my ass and if I took a breath I would've White Girls shopping scene-ed that button right off.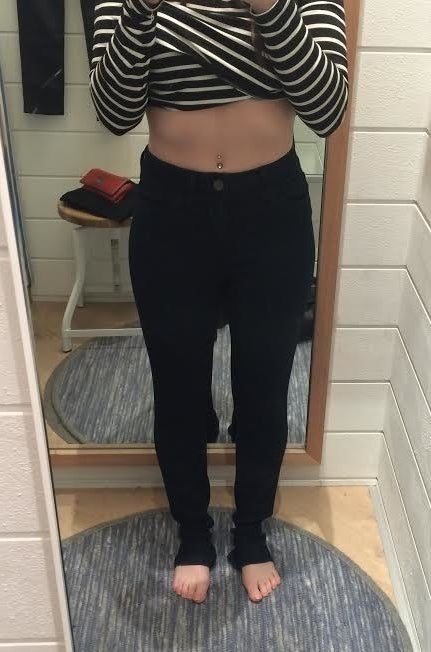 Tahlia (Size 24, $129.95): I'm not gonna lie, fam. I love me some jeggings and I don't care how uncool that makes me. Of course, these were WAY too long but let's be real, even if they weren't I'd never pay $130 for jeggings.
Gyan (Size 10, $79.95): These jeans promised to "lift n shape", which sounded bloody great. I was basically expecting to be Khloe Kardashian when I put these on. But as you can see, I should be disappointed in myself for being so naïve and in the jeans for low-key lying to me.
Michelle (Size 18, $79.95): I was hopeful for Just Jeans because, you know, they have "jeans" in their name and all, but boy was I wrong. I tried on a size 18 (the only size 18 jeans I've found in store before FYI) and they fit terribly. I couldn't even do up the zip. They also looked like weird leg warmer work pants. Basically, they were all types of terrible.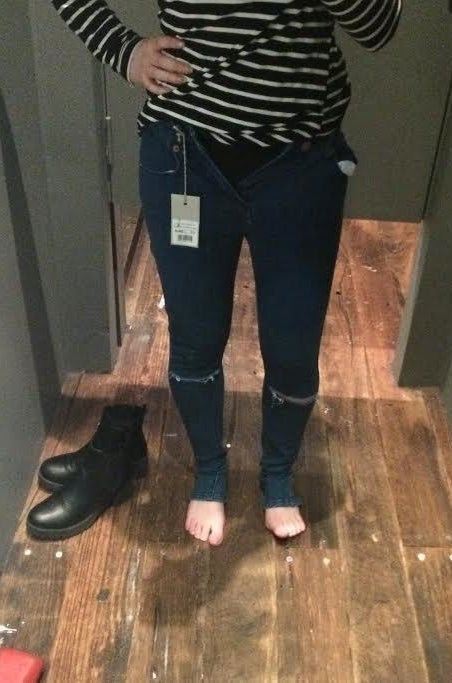 Tahlia (Size 6, $89.95): After visiting the other stores I comfortably decided I'm a size 6. So confidently, I pulled the size 6 pair of jeans from General Pants and attempted to try them on. They looked really great around my thighs, until they stopped going up.
Gyan (Size 27, $189.95): So, I love mom jeans. To me, they are perfect. Sadly these Ksubis in my regular size didn't actually fit and General Pants didn't have the smaller size in stock. Another loss for your girl Gyan.
Michelle (N/A): Wow, in 2016, a store with "pants" in its name - that stocks many different brands of jeans - doesn't sell anything bigger than a size 14. What a time to be alive.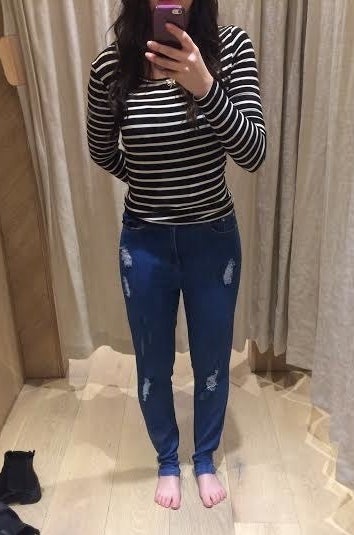 Tahlia (Size 8, $45): Supre really wanted me to know the size 6 is for PRE-PUBESCENT PEOPLE ONLY. DO NOT ENTER IF YOU HAVE HIPS AND A BUTT. After I found out this important news, I tried on the size 8, which sagged around my calves. Sometimes you just can't win - that's the name of my new emo song btw.
Gyan (Size 10, $50): Surprised that I'd basically been the same size in every store so far, I grabbed another size 10 in Supre. But holy shit man, these suckers were not your regular 10. Once again, they didn't have this style in my size in stock so I walked away just like Craig David taught me to.
Michelle (Size 16, $35): Super high-rise, stretchy, skinny jeans sound like my kind of heaven. But these jeans were a goddamn lie. I could barely even pull them up over my calves, and there was absolutely no way they were going to "stretch" over my thighs or ass. I literally walked out of this change room sweating and cackling.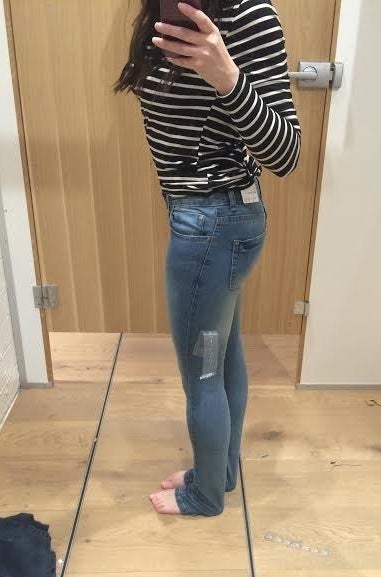 Tahlia (Size 6, $49.95): I kicked, shimmied, and wiggled my hips into these jeans. But once I got there, they fit pretty well. Again, they're made for people with legs MUCH longer than mine, which is basically the story of my life.
Gyan (Size 10, $49.95): High-waisted, perfect length, but holy shit I might as well be naked these jeans are so goddamn tight. Nothankyou.
Michelle (N/A): Another one. As if Cotton On, super retailer to the masses, can't make jeans any bigger than a size 14? The only saving grace here was the fact that they had beautiful change rooms, not that I was trying anything on though.

Tahlia (Size 4, $94.95): Omg finally I found it. Topshop, my jeans mecca. Not only did they fit comfortably but THE LENGTH. LOOK AT THE LENGTH. I never thought this would happen to me. I'm not crying, you are.
Gyan (Size 28, $94.95): I really loved these. I loved the denim of another pair I tried on way more, but they had "LOVE ME FOREVER OR NEVER" embroidered on them, which I'm just not sure is my vibe.
Michelle (Size 16, $94.95): Low-key these were great. They weren't a thick denim but instead this really stretchy material that clings to your body, plus they're high-waisted. They would've been perfect if they actually, you know, buttoned up. Looks like stretch can't cure everything. 💔
Tahlia (Size 6, $29.95): Well, well, well. If you need some cheap jeans to, like, eat a whole buffet all by yourself in, I recommend these. For any other purpose - such as being seen in public, for example - it's a strong no from me.
Gyan (Size 10, $69.95): Firstly, I can't decide whether I love these jeans or whether they look like something a budget hire clown would wear. That said, it was nice to put on pants that actually felt like pants, not a weird second skin.
Michelle (Size 16, $29.95): Really, you get what you pay for. The material wasn't great, the cut was bad, and the fit was totally off. I quite literally couldn't pull this pair up past my thighs and they made a new home right under my ass cheeks.