This Is What It Is Like To Be Harassed Outside An Abortion Clinic
"All the girls were crying and I heard one of them whisper to her partner that it was the hardest walk she's ever had to do."
Albury woman Enisa Bennett fell pregnant to her fiance in 2014.
Three months earlier she had been raped by a friend, the 29-year-old told BuzzFeed News.
"When I fell pregnant I was still dealing with the trauma of the rape, struggling to get out of bed and attempting not to kill myself every day," she said.
"I knew I couldn't look after myself let alone someone else."
The couple decided to terminate the pregnancy.
"If we had carried the child to full-term, I would have had to go off anti-depressants and I wouldn't be here today."
Bennett was anxious about the procedure: "I was terrified about being knocked out and I was having nightmares about being raped while I was under [a general anaesthetic]."
There is one abortion service provider in the NSW border city of Albury where Bennett lives.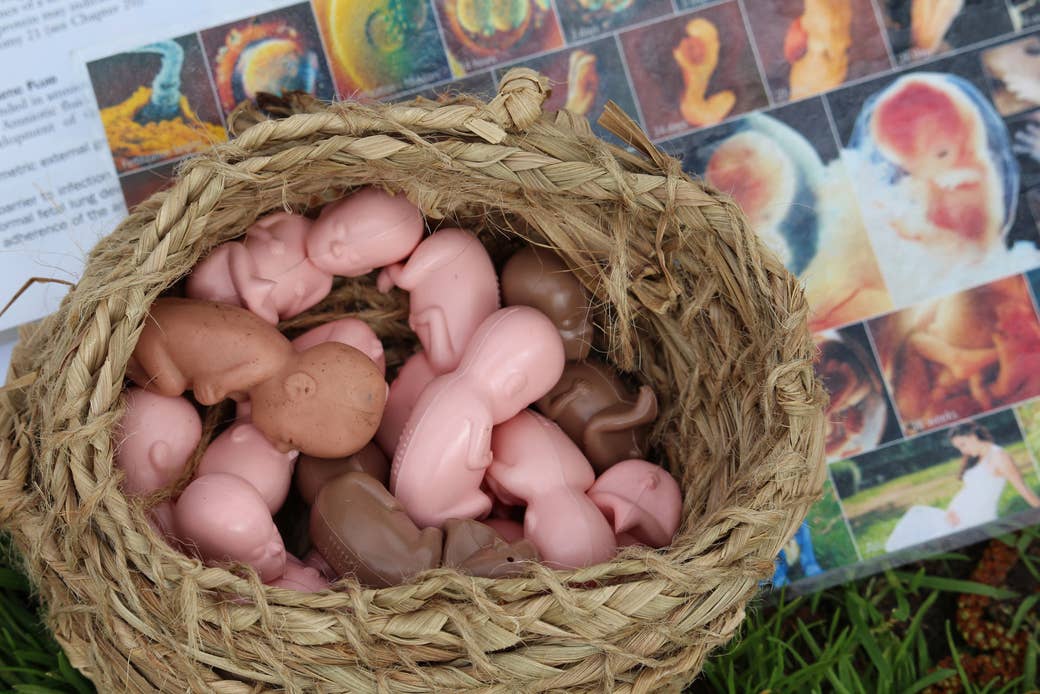 Outside the clinic stand regular picketers who sprinkle "holy water" on the footpath and hand patients plastic foetal dolls as they enter.
"I honestly didn't care about the protesters, like I had heard about them but I thought it was a bit of a joke," Bennett said.
"But when we drove down the street it was like I had this big target on me and they held up their rosary beads while we parked."
As the couple walked along Englehardt St to the clinic, Bennett said an "old guy" approached them.
"He told us: 'They kill babies in there, you know you will burn in eternity forever'; and he said that I was a horrible person for killing my baby," she said.
"I just hid my face and cried a lot and my partner told them to fuck off."

Bennett said she was one of five couples in the waiting room that day.
"All the girls were crying and I heard one of them whisper to her partner that it was the hardest walk she's ever had to do."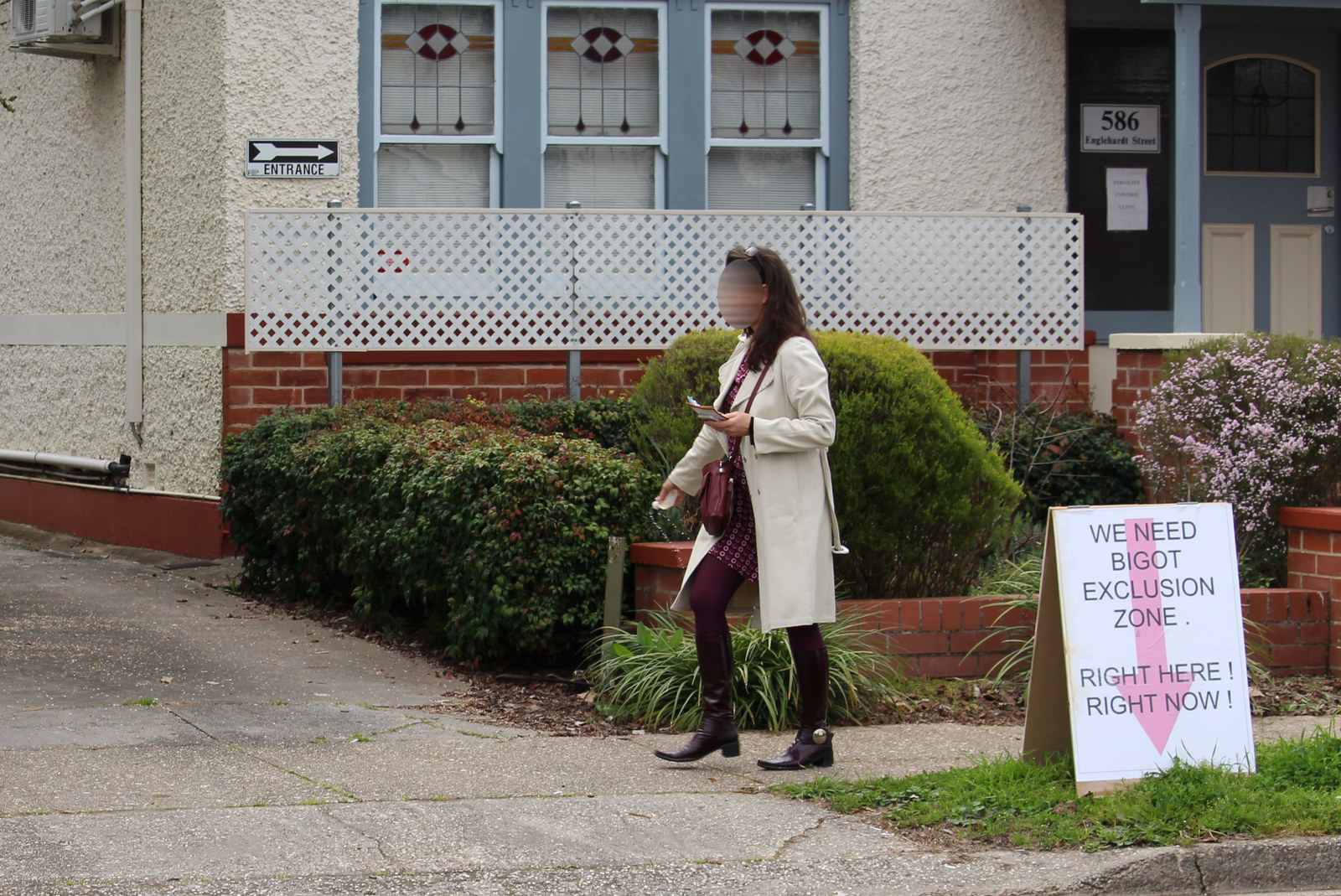 After the operation, Bennett asked her fiance to collect her at the clinic's rear entrance.
"As we were driving out, someone came up to the windscreen and started taking photos of us," she said. "[The protesters] say they take photographs for their own protection but my privacy was destroyed over something that was a really difficult decision."
Bennett said she wished NSW had safe-access zones.
"[The protesters confront] people who have made their decision, waited for their decision, paid for their decision and are going through with a medical procedure. For me, it was such a difficult decision and one that I knew was best."
Just 500 metres south of the clinic, across the Murray River and into Victoria, women seeking abortions and staff at fertility clinics no longer have to navigate protesters on their way to the front door.
Late last year the state followed Tasmania and the ACT by passing legislation to establish safe-access zones of 150 metres around abortion clinics to "protect the safety and well-being and respect the privacy and dignity of" patients and staff.
In August a mother of 13 protesting outside a Melbourne clinic became the first person arrested under the new laws.
NSW Labor MP Penny Sharpe introduced in March a bill to amend the Summary Offences Act 1988 and enact safe-access zones in her state.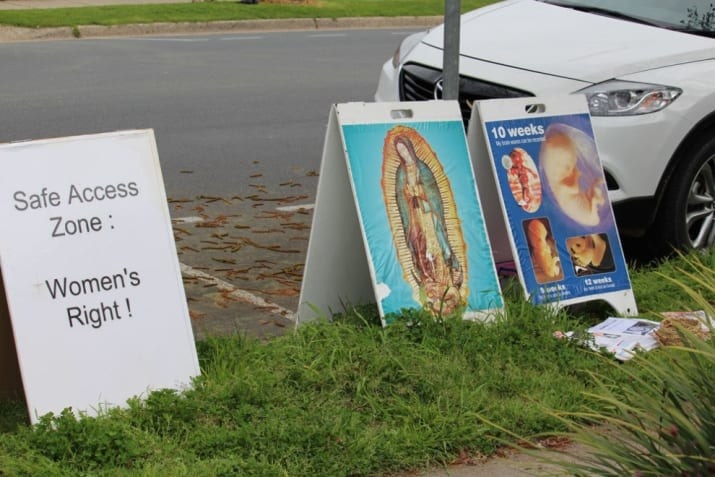 Sharpe told BuzzFeed News the current laws were not protecting people entering clinics.
"There is no other public place where workers and patients are harassed seeking medical treatment and that is tolerated. The workers I have spoken to are providing a lawful, vital service and we can't afford to lose people from this sector."
Abortion is still in the state's Crimes Act and is only lawful if the person's doctor believes on reasonable grounds that it is necessary to avoid a serious danger to the person's life, physical or mental health. Economic and social factors can also be taken into account but women are not entitled to abortion on demand.
A law that would have removed abortion from the NSW Crimes Act was voted down by the state's parliament in May after a passionate debate between MPs.
The bill, introduced by NSW Greens MP Mehreen Faruqi, would have removed abortion from the state's Crimes Act and established 150-metre safe access zones around hospitals and clinics where abortion is provided.
Sharpe's legislation would enact safe-access zones but does not touch the legal status of the procedure.
It would make it an offence for a person who is in a safe access zone to harass, intimidate, interfere with, threaten, hinder, obstruct or impede any person accessing, leaving, or attempting to access or leave, any reproductive health clinic at which abortions are provided.
The maximum penalty would be $16,500 or imprisonment for 12 months.

BuzzFeed News understands the bill will be debated in parliament next month.
Registered nurse Rosie*, 21, worked at two clinics in Surry Hills until early last year — The Private Clinic on Devonshire Street and Preterm on Randle Street, which has now closed.

"As a staff member, I felt intimidated and threatened by the protestors out the front who eventually learnt my name," Rosie told BuzzFeed News.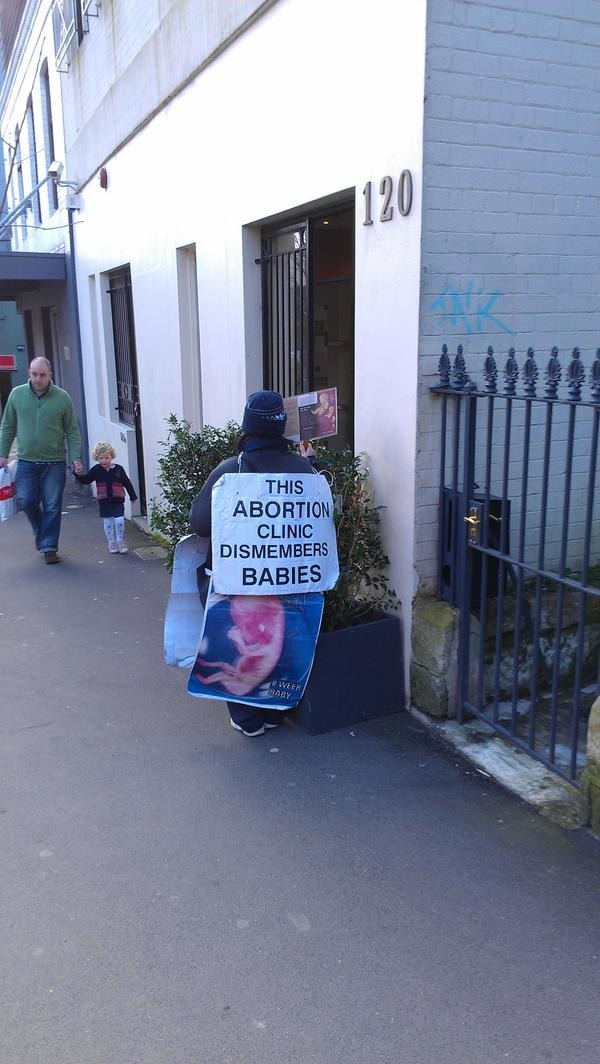 "They would watch me walk up from the train, it was really predatory, there was nothing you could do."

The protesters were there for a few hours every day and would approach patients to say, "You don't have to do this", or hand out rosary beads, Rosie said.
"This woman came in one day with her young son, who was about four years old, and her partner and one of [the protestors] said: 'Mummy is about to kill your baby brother'.
"That was a new low."

Women would navigate the protestors and arrive at the clinic "wide-eyed", she said.
"You could see it on their faces when they first walked in it.
"Patients would call up and ask us to escort them in because a lot of them were really unprepared for protestors."
One day Rosie discovered the protestors had slipped some of their brochures — "basically just the first couple of Google image results for aborted foetuses and some inaccurate medical information" — into the stack of magazines in the clinic.

"Can you imagine sitting there and waiting for your termination and being confronted with these flyers?"
*Name changed to address privacy concerns.