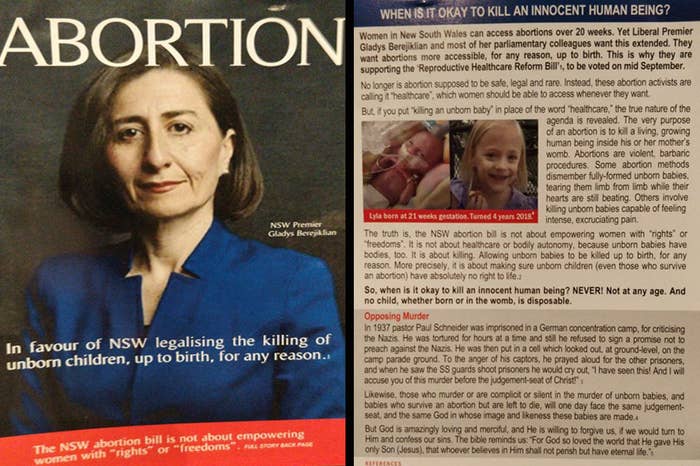 Anonymously authored anti-abortion flyers that compare women who have had abortions to Nazis are turning up in letterboxes around Sydney, ahead of a vote on a bill that would decriminalise abortion in New South Wales.
The flyers ask "When is it OK to kill an innocent human being?" and make the misleading claim that the proposed new law would legalise the killing of an unborn child "up to birth, for any reason".
Darlinghurst woman Michelle Dennis found out about the pamphlets before she'd even arrived home on Monday night, when her neighbours texted her about the "crappy flyers" waiting in the letterbox.

"My three neighbours in my apartment block were so upset about it and got really offended," the student and tutor told BuzzFeed News.
Dennis, 33, was frustrated that it wasn't clear who printed and distributed the flyers. The flyer had "END VIOLENCE AGAINST UNBORN BABIES COALITION" printed along its bottom edge, but the phrase returned no Google search results. It meant she didn't know where to complain about the material.
"There's no election at the moment so you can't complain to the Australian Electoral Commission and there's no signature so you can't complain to the police about it," she said. "It is like a hit and run kind of pamphlet; like what am I supposed to do with this information? And thanks for ruining my week."
Dennis said one of her neighbours, a doctor, was especially upset because "there were so many medical lies about the actual procedure".
"It uses really graphic and violent language with really offensive imagery, like they say abortions involve tearing a foetus 'limb from limb', which is pretty full-on," she said. "I feel sorry for anyone else who got the pamphlet and doesn't have anyone to talk to about it."
The flyers accuse New South Wales premier Gladys Berejiklian, who voted for the decriminalisation bill but is not one of its co-sponsors, of wanting to make abortions more accessible "for any reason, up to birth".

This claim has been repeated by Church leaders and opponents of the bill but rejected by doctors and lawyers, as well as by the co-sponsors of the bill. The legislation allows abortions up to 22 weeks after which two doctors must approve the procedure, which is rare after the second trimester.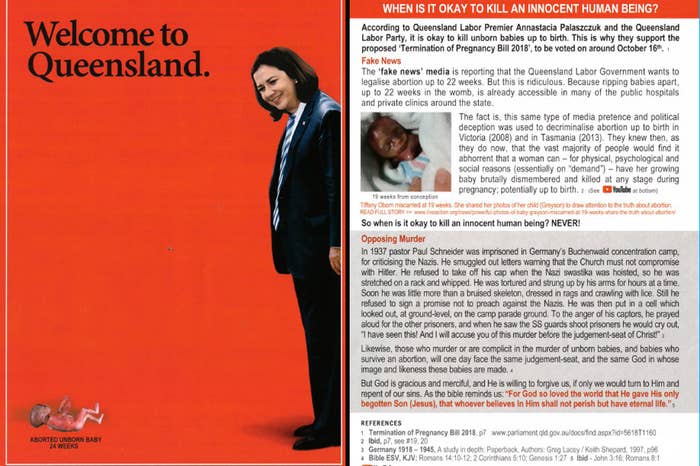 They include a section comparing anti-abortion activists to Protestant minister Paul Robert Schneider who was martyred by the Nazis. It claims those who are complicit or silent "in the murder of unborn babies" will face the same judgement as the Nazis.

Erskineville woman Carolyn, who asked not to use her last name for privacy reasons, opened her letterbox on Monday night to find the flyer, which she described as "completely revolting".
"Comparing women to murderers and Nazis is just unbelievably over the top," the 37-year-old told BuzzFeed News. "Comparing anti-choicers to these heroes in concentration camps, when what they really do is get out and harass women trying to access healthcare, is just ridiculous."
Carolyn said "every part of the flyer" offended her.
"It was very shocking and disturbing that people like that were wandering around my neighbourhood distributing this kind of stuff," she said. "You expect to get this kind of garbage around election time but you don't see it for a single issue piece of legislation."
The flyers are similar to those distributed ahead of an ultimately successful vote to decriminalise abortion in Queensland.
Both the Brisbane and Sydney flyers feature a female premier – Annastacia Palaszczuk and Gladys Berejiklian, respectively – who voted for, but did not introduce, legislation to decriminalise.
"Why is Gladys on the front of the flyer?" Carolyn said. "She didn't even introduce the bill, she is just one person supporting it and I think it is amazing that she is and good on her."
Carolyn also tried to find information about the "Coalition" online but found "no such group".
"You can't tell who is funding them or running them or who is authorising this kind of material, but it is just riddled with inaccuracies," she said, taking issue in particular with the idea abortions are happening right before a birth.
The misinformation about later term abortions on the flyer was "insensitive and ungenerous to women", Carolyn said.
"The idea that we would gestate a baby for months and then go 'I'm due next week but you know what I'm just going to on a whim get an abortion' — that is completely unheard of and ridiculous," she said."
"For women who are put in that situation [having an abortion at a later gestation], it is the most horrible thing, and what if a woman who had to have a late-term abortion because her baby was already dead in utero read this and had to be subjected to it?"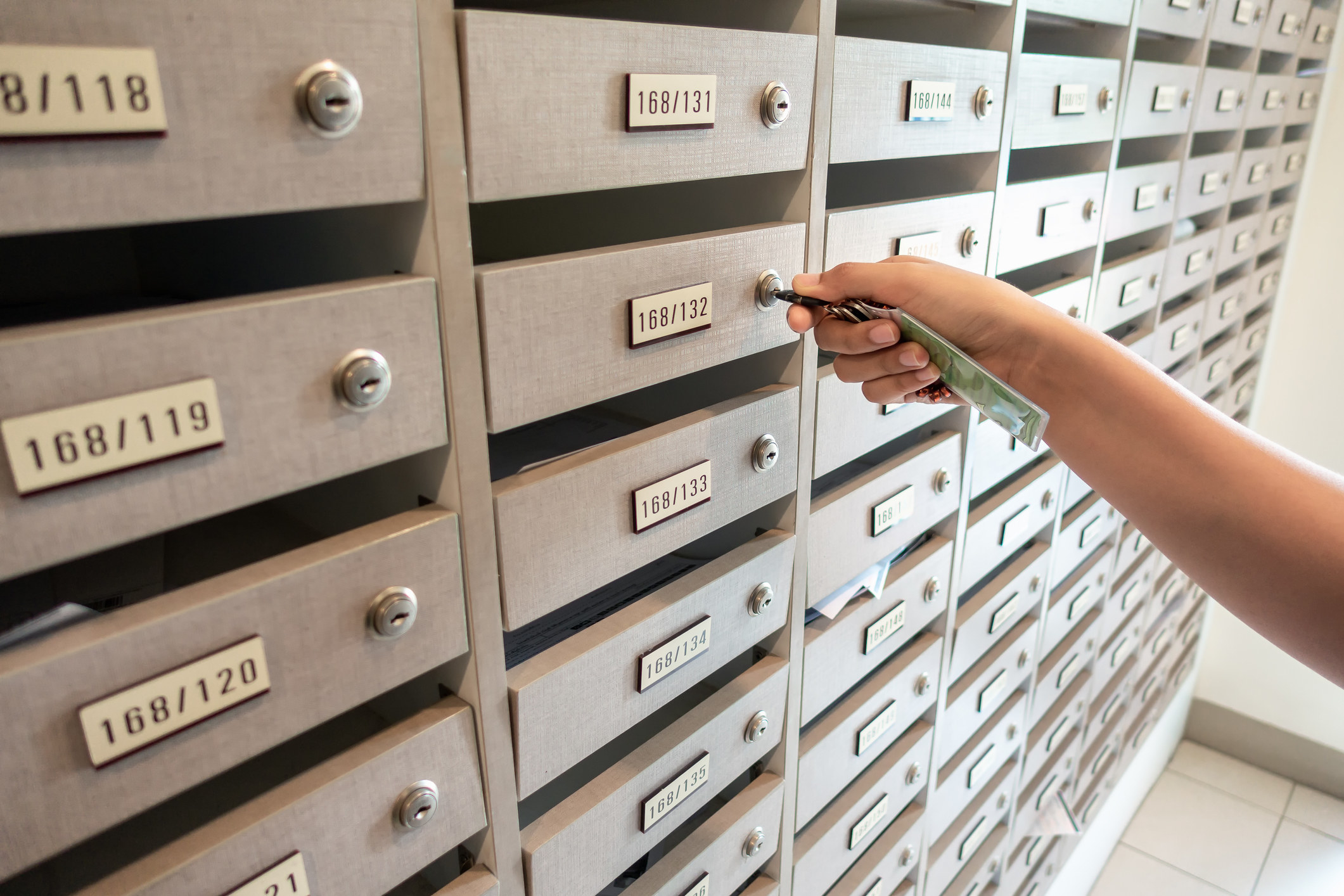 Asako Clonaris said whoever put the flyer in her letterbox would have had to get through two security doors in her apartment building.

"It is either a resident or someone who has tailgated through two doors," the 31-year-old Rosebery woman told BuzzFeed News. "We don't get a lot of junk mail."
Clonaris was angry when she read the flyer on Monday night: "I'm not personally triggered by this but I can imagine that some women who read it are women who have had a termination."
She is concerned people who aren't following the abortion decriminalisation debate would "believe this complete garbage".
"It looks like an informative flyer and people would read [and assume the legislation allows] 'the killing of unborn children, up to birth, for any reason'," she said. "It is just frustrating that this kind of stuff is floating around and people who don't know much about it are being misinformed, people who are already against it are being fuelled and people who are affected by it are getting triggered."
Claire Pullen, the chair of a community campaign to decriminalise abortion, Our Body, Our Choices, said multiple Sydney residents had contacted the campaign's Facebook page with complaints about the flyers.
"The people who contacted us about these flyers were distressed, they were angry, and some weren't sure they were safe," Pullen told BuzzFeed News.
"There's no authorisation on it so there's no way of knowing which anonymous coward is pushing lies into people's letterboxes.
"We saw the same sort of divisive, hateful, hysterical claims during the equal marriage postal survey, and it seems for those at the extreme end of the political spectrum these tactics never get old."
The Reproductive Healthcare Reform bill passed through NSW parliament's lower house 59 to 31 in August and its vote in the upper house has been delayed by fractures in the Liberal party over the legislation. It is expected to be voted on later this month.