A Melbourne coffee franchise has been suspended from the government's flagship youth internship program after BuzzFeed News revealed two workers were chasing unpaid wages.
"The department has looked into this case and has determined it was a clear violation and has now suspended this employer from the program," a Department of Employment spokesperson told BuzzFeed News.
"The department urges all young people to notify their employment service provider or the department directly and immediately if they are unsure about their internship agreement."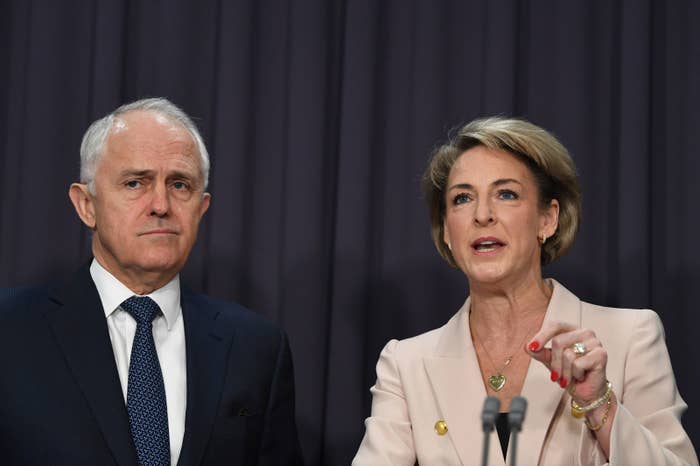 In its 2016 federal budget, the government introduced the controversial scheme where young people could voluntarily earn $200 a fortnight — which as BuzzFeed News identified could equate to as little as $4 per hour — on top of their current welfare payments, for the duration of a four-to-12 week internship.

The program launched in April.
Under the Youth Jobs PaTH policy, businesses receive an upfront $1,000 payment from the government for taking on the intern, who works for a minimum of 30 hours and maximum of 50 hours per fortnight.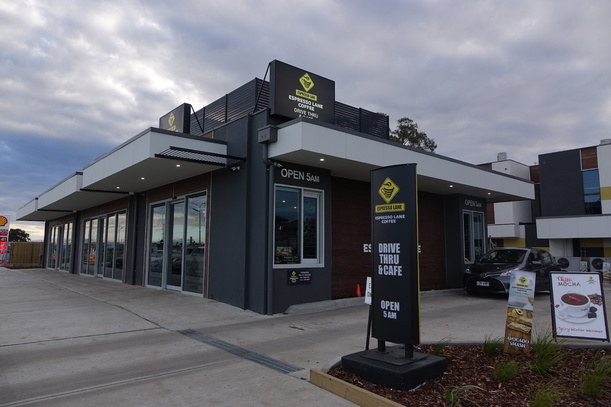 Newstart allowance recipient Lauren (not her real name) agreed to start a PaTH internship at an Espresso Lane coffee chain franchise in Wollert on Melbourne's northern fringe in early July.
But before she had even signed a contract, the 19-year-old said she was rostered on for two eight-hour days over a weekend.
"[The manager] said he would give me gift cards [as payment], but he didn't say when," the 19-year-old told BuzzFeed News.
"I hadn't been informed about what the internship was, and I hadn't even seen the contract at this point.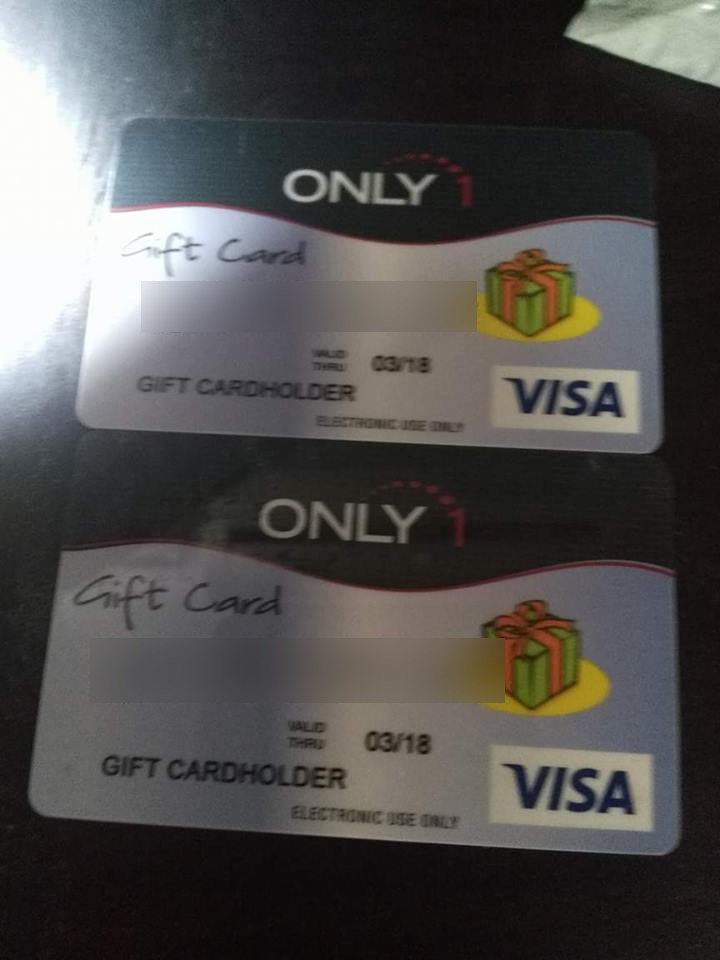 "I still haven't got any money [for the 16 hours of work], or the gift cards."
A Melbourne man, David, told BuzzFeed News yesterday he was chasing more than $2,000 in lost wages after he worked unpaid overtime for the same business.
His time sheets show he worked 58 hours in his third week at the cafe.
He said that on three occasions he was offered a $50 Visa gift card for the extra hours of work.

"I said I didn't want the $50 gift card, I either wanted to be on wages, or working to the conditions of the internship," David said.
Lauren's mother Mary (also not her real name) told BuzzFeed News she contacted AMES Australia, which had lined up the internship for Lauren, her daughter's case worker, and the Department of Employment.
Here is an email in which Mary expresses concern that her daughter had been asked to work before she had "even signed onto the program".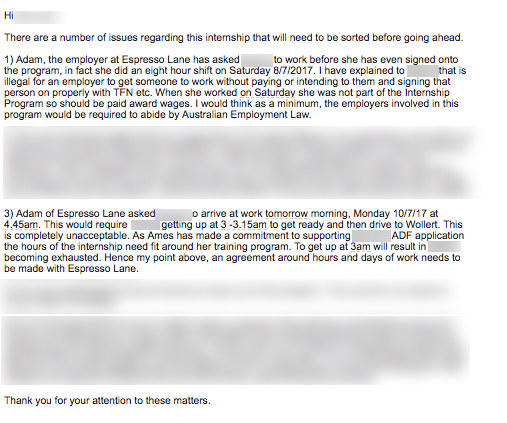 "I would think as a minimum, the employers involved in this program would be required to abide by Australian Employment Law," she wrote.
She also took to her own Facebook in July to express her concerns about Lauren's situation.
This status was from August. Mary also contacted energy minister Josh Frydenberg, who she had seen on ABC's Q&A program spruiking the benefits of the PaTH program.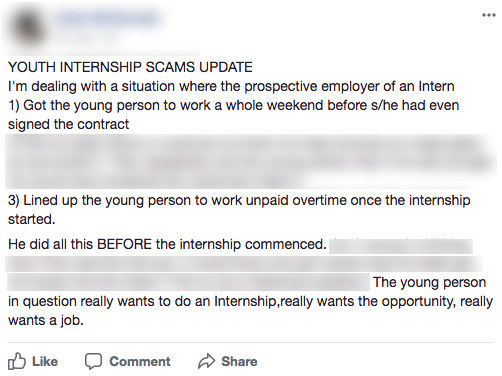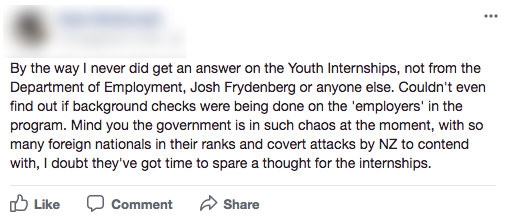 Mary said there were few jobs in their suburb, northeast of Melbourne.
"She's 19-years old and just wanted experience in hospitality," she said.
BuzzFeed News contacted the store's manager Adam Vard for comment regarding Lauren, but he declined to be interviewed for this story.

Yesterday, however, Vard conceded to BuzzFeed News that David had not been paid anything for the extra hours worked - he was paid the welfare top up by the government - but said he was "planning" on compensating David.
"My intention is to pay him, and I want him back on my team," Vard said.
"His cheque is getting ready."
Vard said the Visa gift cards "were not remuneration" and were just a "token of appreciation".
A Department of Employment spokesperson confirmed on Friday morning that David had been paid.
There were no longer any PaTH interns at the franchise, and Vard said he regretted "being dragged into the program".
"The PaTH program saw this young Australian do 58 hours work without pay and someone working for two days without an agreement — that is a disgrace," Labor MP Ed Husic told BuzzFeed News.
"The fact a PaTH intern worked for days at a company without a signed agreement shows what a farce the government claims are that they will protect young people from being ripped off."
UPDATE
Labor leader Bill Shorten said the suspension of a business on the government's internship program over unpaid wages was "unsurprising", The Australian reported.
"This is exactly what Labor warned against," Shorten said.
"The Turnbull government has created a scheme which means that young people are working for virtually nothing, and we warned they would get ripped off, and they're getting ripped off."