Amanda Farrugia, AFL Womens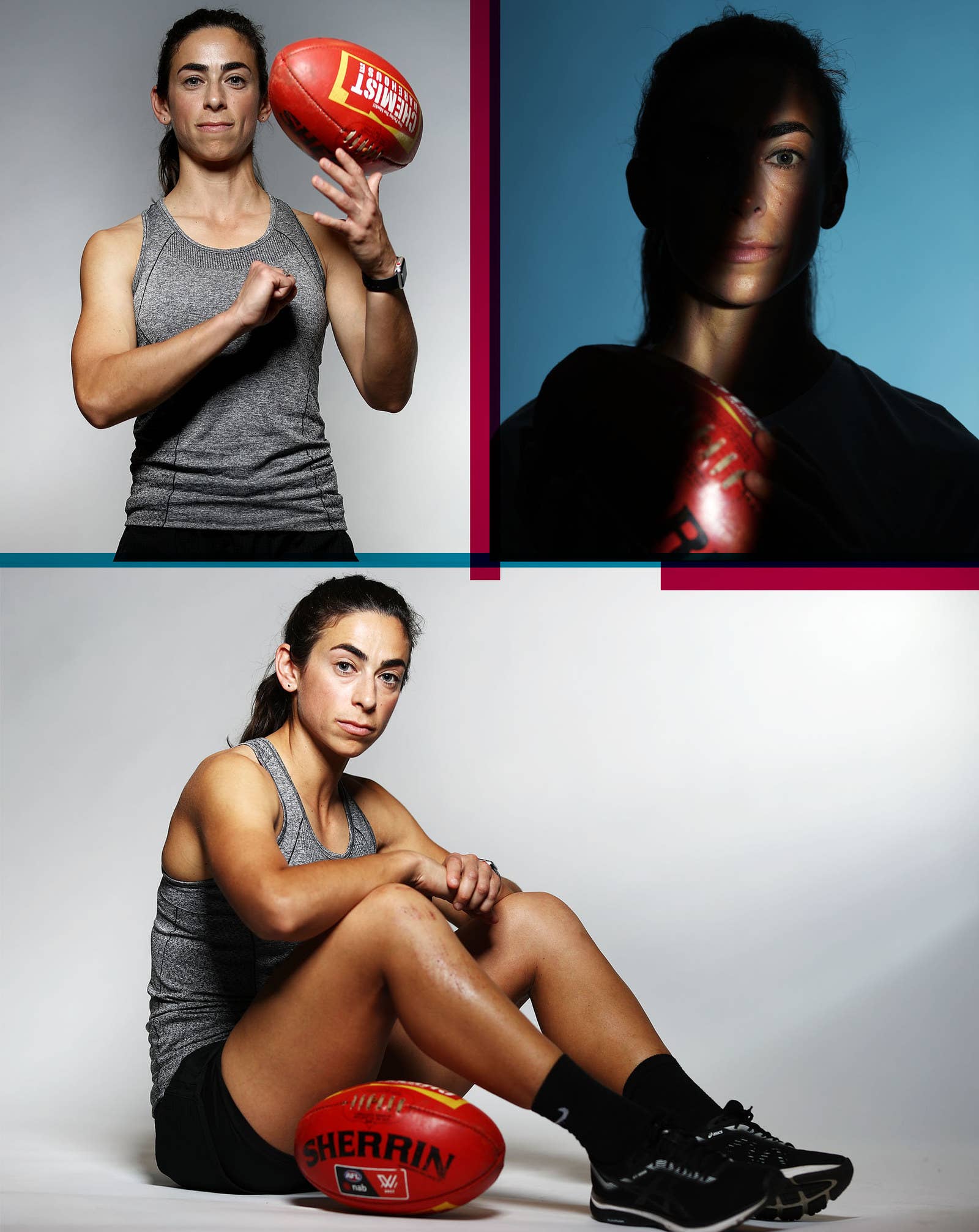 "You're gonna need a lot of resilience and you're gonna need a good dose of courage."
If Amanda Farrugia could go back in time, this is what she'd tell herself before she started playing Australian Rules football.
"I was a little kid that was quite a daredevil and used to make little ramps for my BMX and my skateboard," Farrugia, who spent much of her childhood kicking a footy around the backyard with her brother, says.
The 33-year-old was one of seven athletes interviewed by BuzzFeed News for this project in partnership with Getty Images.

By her mid-20s Farrugia was bored playing basketball and touch football, so she googled "can women play AFL in Sydney?"
Farrugia is now captain of Greater Western Sydney Giants, one of the first teams to compete in the inaugural AFL Women's competition when it launched last year.

Anna Mendoza/BuzzFeed News
The league is the closest equivalent to the male-only AFL the nation has ever had, but the competition isn't technically "professional" as players only get paid for 13 hours a week during the pre-season and 10 hours per week throughout the in-season period.
While the average annual salary for male AFL footballers is $352,470, female players are paid as little as $8,500 per season, with top-tier players earning around $20,000.

Like most players in the AFL competition, Farrugia has a full-time job. She works as a physical education teacher in Sydney's west but believes her sport will be "fully professional" one day.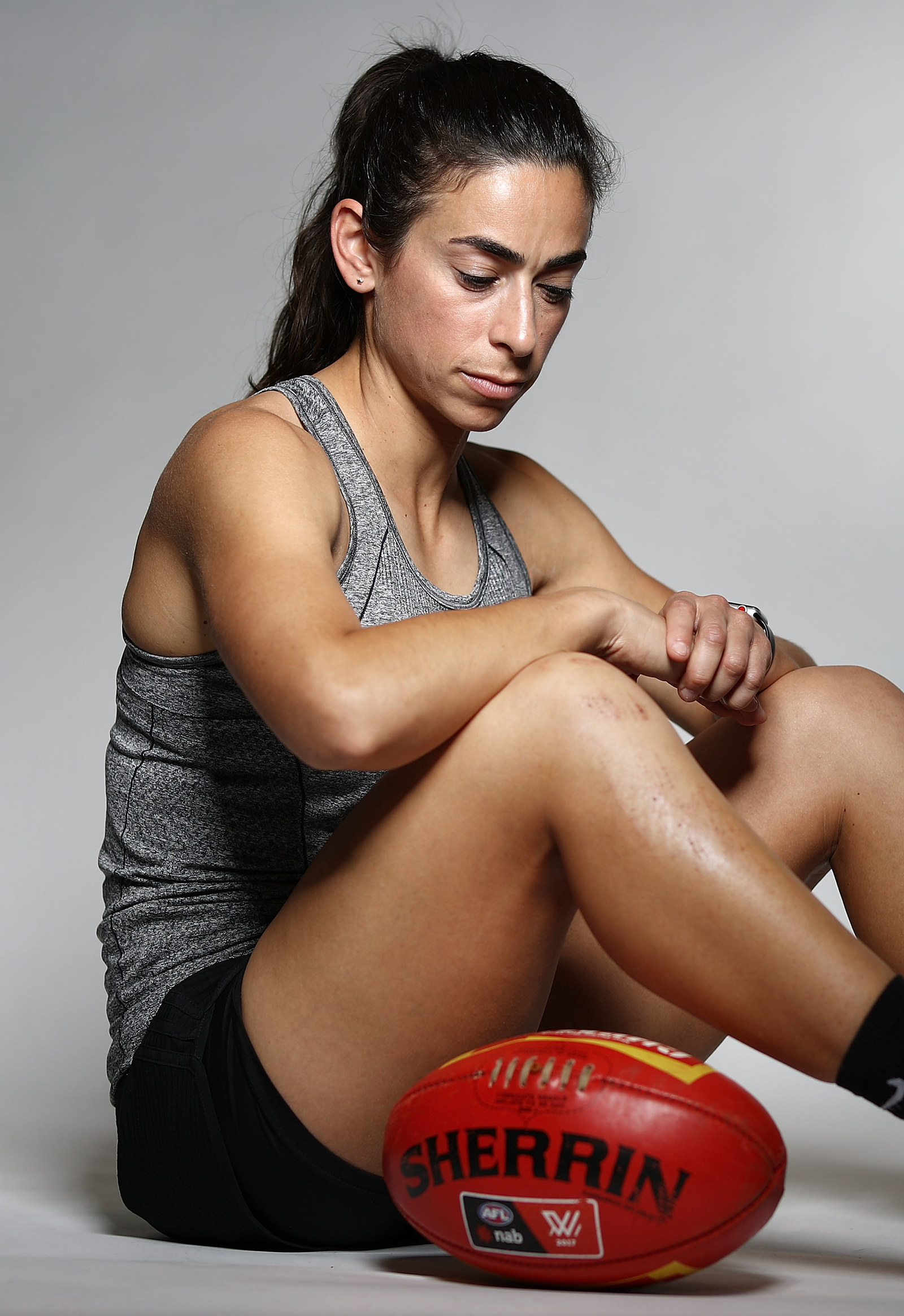 "Over time women will be able to sacrifice or put aside their career if they want to play football professionally full-time," Farrugia says. "I'll be long retired when that comes about but it's still a very exciting prospect."
So for now Western Bulldog Tiarna Ernst remains an obstetrician, Melbourne Demon Shelley Scott a dairy farmer and Geelong's Richelle Cranston a landscaper.
"I think the hardest thing for female athletes is the amount of sacrifice you have to undertake to be able to succeed in your sport," Farrugia says. "I know a lot of the girls from my team have obviously not fared so well in terms of their mental health as a result of having to move away from home, financial difficulties, relationship issues that they can't manage because they're living interstate.
"So I think our issues are similar to a lot of athletes, but because we're only semi-professional and we have limited access to money, which is obviously a huge barrier, a lot of mental health barriers are quite amplified compared to men."

Farrugia tore her anterior cruciate ligament (ACL) in a pre-season tournament playing AFL 9s in 2012. She had a ligament reconstruction and spent a year rehabilitating the muscles surrounding the joint.
"AFL is such a physically demanding sport, you need to look after [your body] probably more than any other sport I've ever known," Farrugia says.
She has had "numerous" soft tissue and overuse injuries from running so much, including the accessory navicular (a bone in the inner side of the foot) injury she is currently recovering from.
"There's a lot of weird rumours and beliefs that there are injuries women sustain as a result of contact," Farrugia says. "[But] contact sports are for anyone who wants to play them and wants to play them with courage, and I'm fairly keen on doing that."
Pip Malone, Weightlifting and CrossFit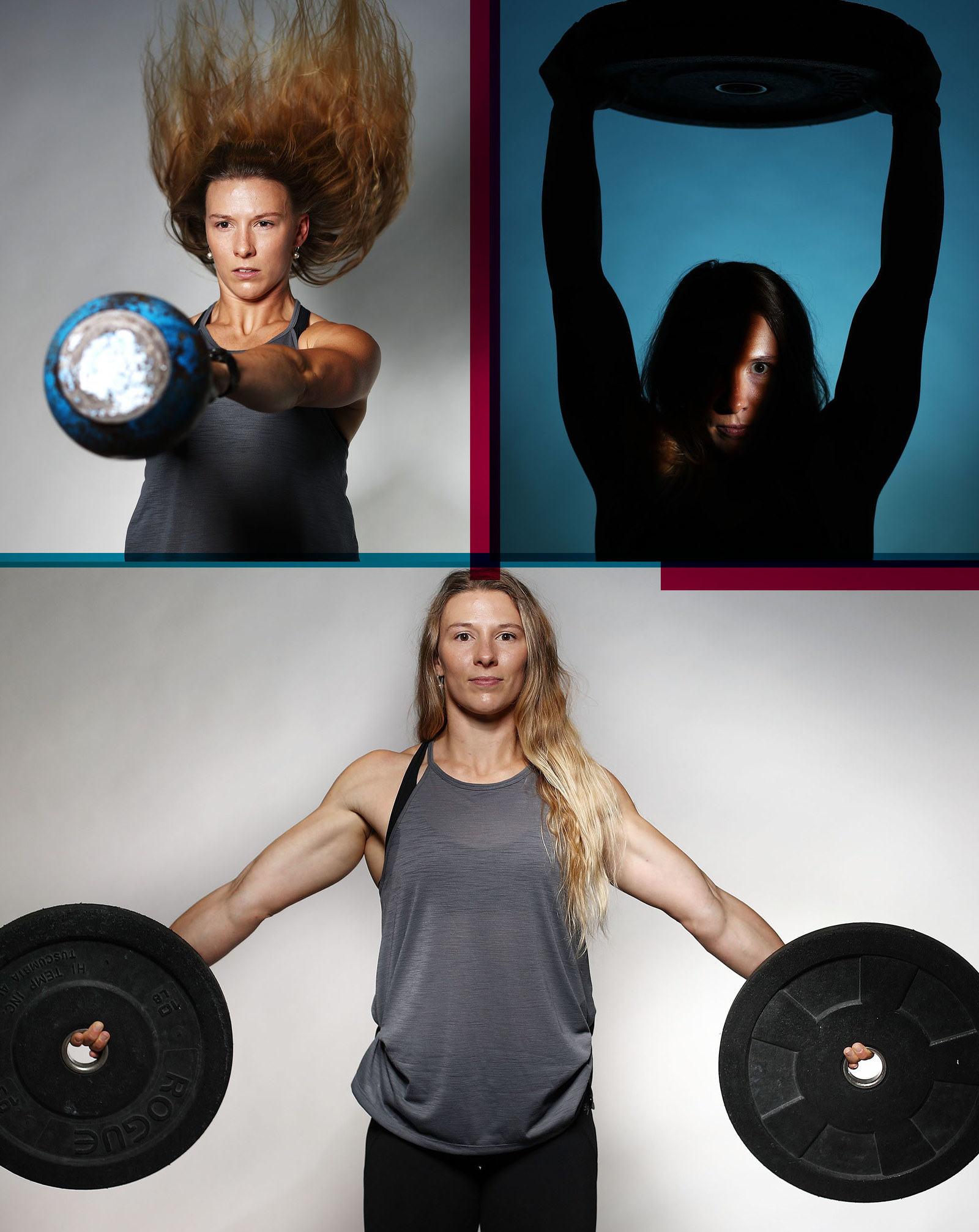 "As an elite athlete you always end up coming out the other end with a bit of a problem with failure," Olympic weightlifter Pip Malone says, laughing.
"People are sitting on their couches at home watching the Olympics, watching these amazing athletes do these amazing things, but they're not realising how much sacrifice and all that goes on behind the scenes."
The 29-year-old tells BuzzFeed News she is "lucky" she hasn't yet broken any bones.
"There's always injuries popping up — torn ligaments, torn tendons and torn muscles … just tearing things in general really," she says.

Being in pain is "part and parcel" of training as a weightlifter, as you're lifting heavier and heavier weights every day.
"I always tell my coach after that, my eyes were popping out of my head," Malone says. "Something always feels like it's gonna fall off."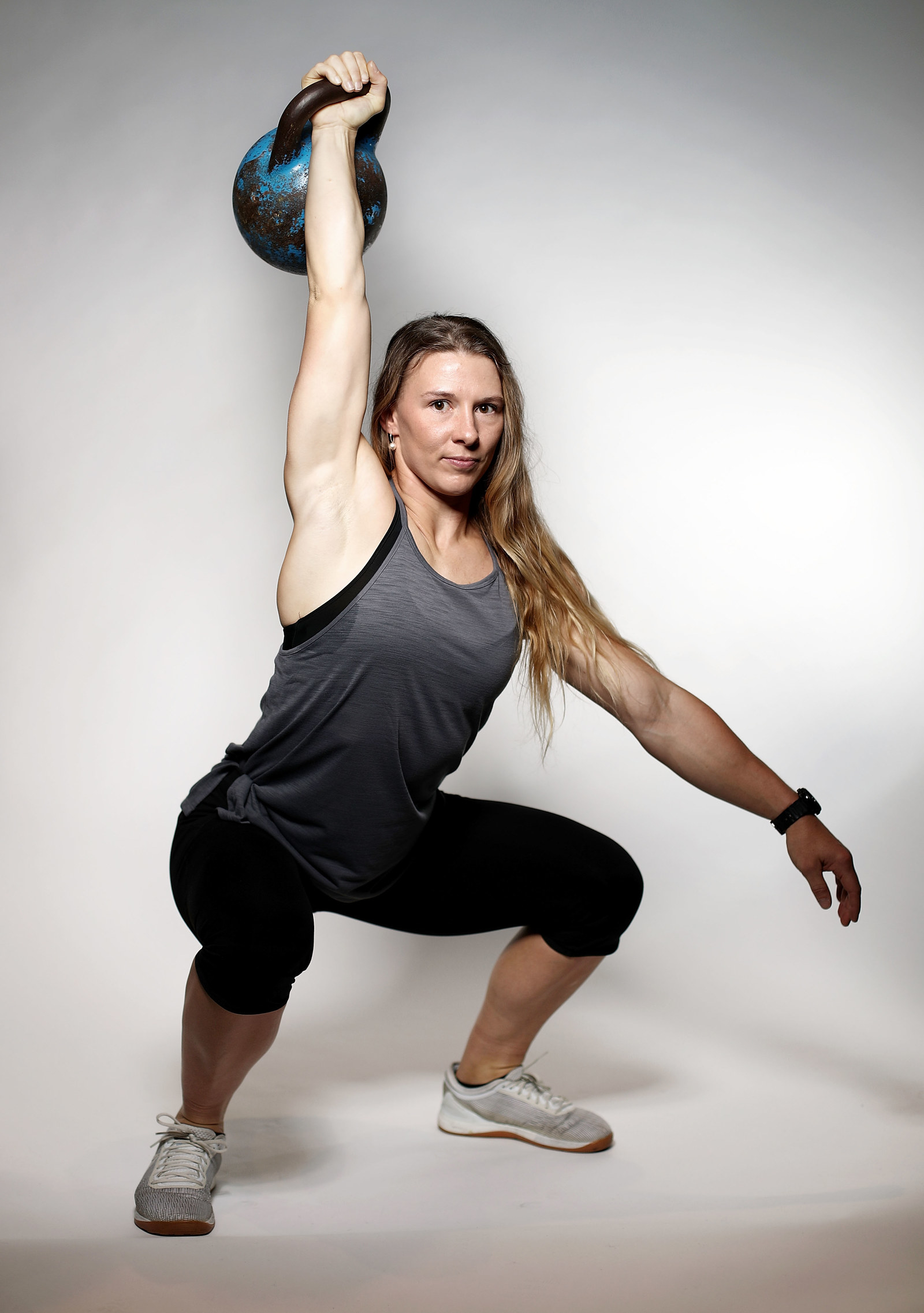 There are strong ligaments which attach your sacrum to part of your pelvis. Malone "tore them clean off".
"I didn't actually know I'd done it … turned out I had completely wiped them out, so I had about six weeks off," she says.
Malone says when she was competing in gymnastics she saw women suffer compound fractures, "shin bones out of their legs" and dislocate elbows.
Just before she was due to compete at the Commonwealth Games this year Malone says she caught a barbell "a little bit wrong".
"An hour later I had this like egg on my collarbone and it was black," she says. "I'm lucky I didn't break it."
Malone's relationship with her body has only improved since she left gymnastics, "where there is an expectation to be small", for weightlifting, "where I know my body is serving a purpose and it is a rare thing and I may as well embrace it".
"I walked into a [CrossFit] gym where there were girls who looked exactly like me and they were being praised for it," she says.
The continued crackdown on drugs is important for her sport, she says.
"You're now going to see a lot more natural athletes coming out of countries that haven't excelled in weightlifting before, and it is paving a way for the media to see that we don't all have beards and moustaches and we're just normal athletic girls who can lift really heavy weights."
Emily Chancellor, Rugby Union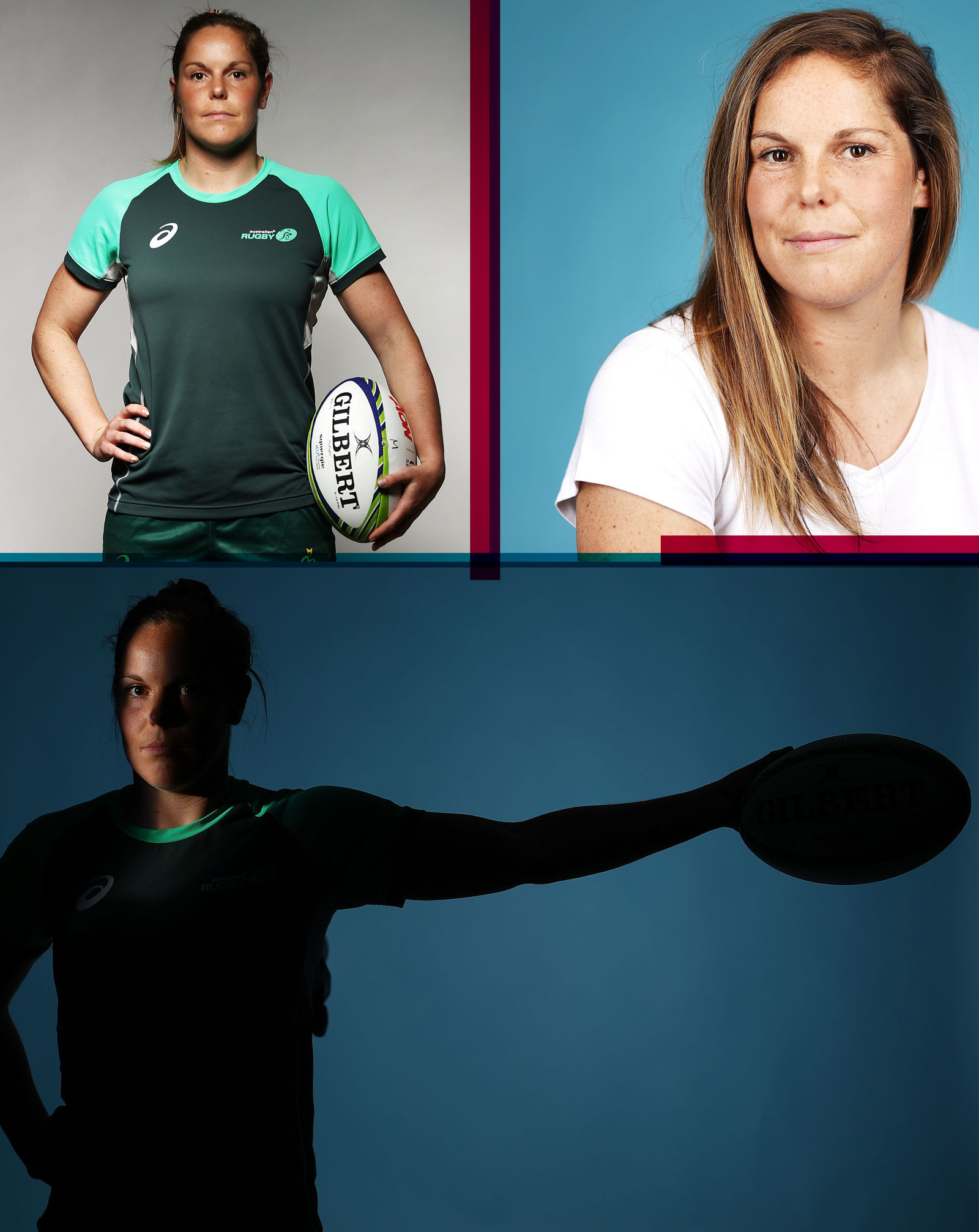 Rugby player Emily Chancellor had always been a netballer, but when she got an email from her university about joining a women's rugby team, she thought: "Wouldn't it be kinda cool to learn how to tackle, like just to know that you could get someone to the ground?"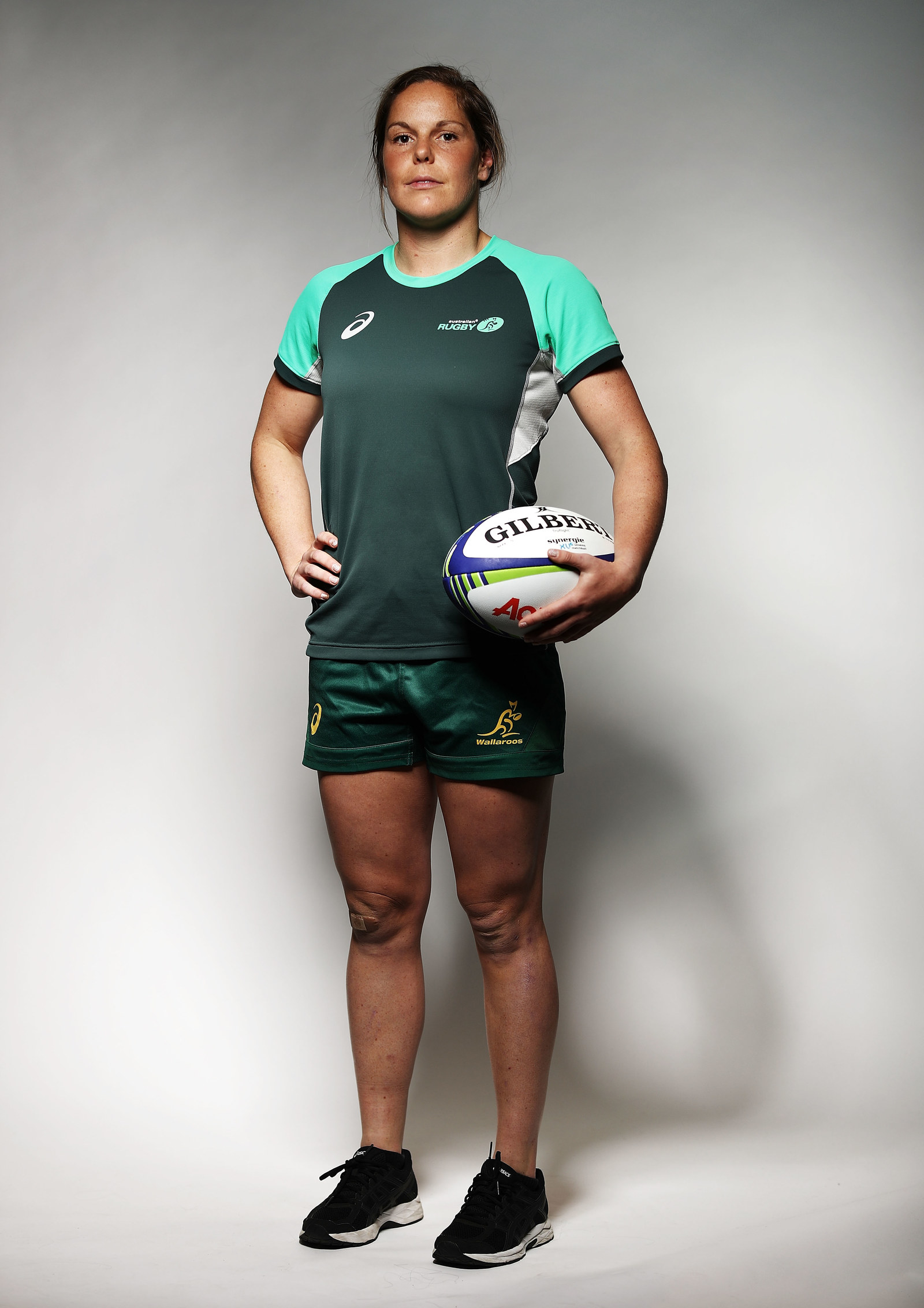 Six years later, Chancellor has represented the Wallaroos, Australian women's national rugby union team, and she doesn't hesitate at all when tackling.
"If you tiptoe around or you just go through the process of contact, you actually are at higher risk of getting injured, and you've just gotta go at 100% and it hurts less," she says.

Chancellor has had her fair share of injuries. She broke her foot last year, tearing a ligament between her first and second toes.
"Two surgeries and six months later, I'm back."
The recovery has been "slow", "mentally exhausting" and "draining".
"It makes you challenge every sort of concept of why you play the sport, but I think it's also a great opportunity to be able to reflect on why you do it, and do you really wanna do it, and the answer was pretty simple and it's 'yes'."
Chancellor is excited about the future of her sport, and Australia's bid to host the 2021 Women's Rugby World Cup.
"I think that women in the last couple of years playing rugby have really destroyed the misconception that women can't play a contact sport," she says. "The girls at the Olympics proved that women can play a great spectacle of rugby.
"I appreciate that girls are a different body shape, and there's been a different role, but in today's society I think that women really are proving that they can do everything that men can on the same level, in the workplace and on a sporting field."
Grace Stewart, Hockey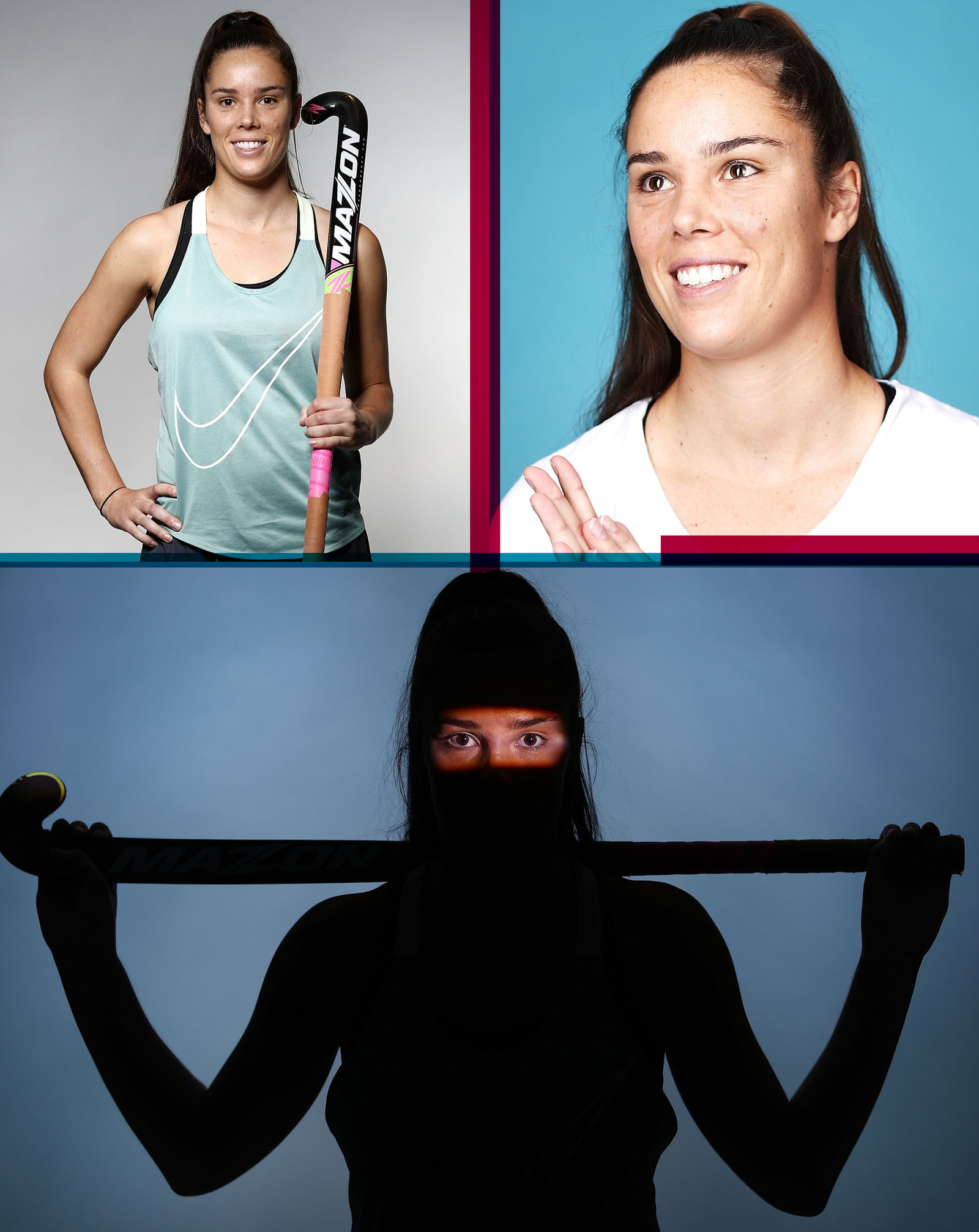 Grace Stewart plays for Australia's national field hockey team, the Hockeyroos, and represented the nation at the 2016 Summer Olympics when she was just 18. She says she is lucky she hasn't had any "real" injuries.

"I don't know if you know in hockey but the ball's pretty hard, so I've lost a tooth and had a few stitches in my face," the 21-year-old tells BuzzFeed News.
"But then yeah, straight back into training, nothing different."
Stewart has been playing the sport since she was five years old and moved her whole life from the South Coast of New South Wales thousands of kilometres west to Perth, Western Australia.
"I have to leave behind all my family and friends, which I guess is your main support network, which is pretty important in elite sport with the pressure and stuff that comes along with it," she says.
Stewart trains five days a week, focusing on her legs, which she says are her "base" as a hockey player.
"I'm training to be the best I can in my sport. I'm building my body up to help me perform best so I focus on that rather than looking good."
Earlier this year the International Hockey Federation signed a five-year deal with Fox Sports Australia, which is a big win for the visibility for women's hockey in Australia, Stewart says.
"We're actually going to be on TV for once, which is exciting."
Danielle Prince, Rhythmic Gymnastics
Rhythmic gymnast Danielle Price says apart from the odd black eye and chipped tooth, most of her injuries have been from overuse while training for, and competing in, the Commonwealth Games, Olympic Games and seven world gymnastics championships.
"Probably the worst injury I've had is a tear in my hip socket that helps hold my femur in place," she says. "In rhythmic gymnastics we have hypermobile high extension shapes, so it's from constantly putting your leg up by your head where it's not meant to be."
She trains six days a week: "We train about 30 hours a week for just gymnastics-specific training and then on top of that we have pilates, strength and conditioning, fitness and swimming."
Price is 26 – "somewhat of a grandma for rhythmic gymnastics" – and has spent much of the 16 years navigating how to feel OK in a leotard.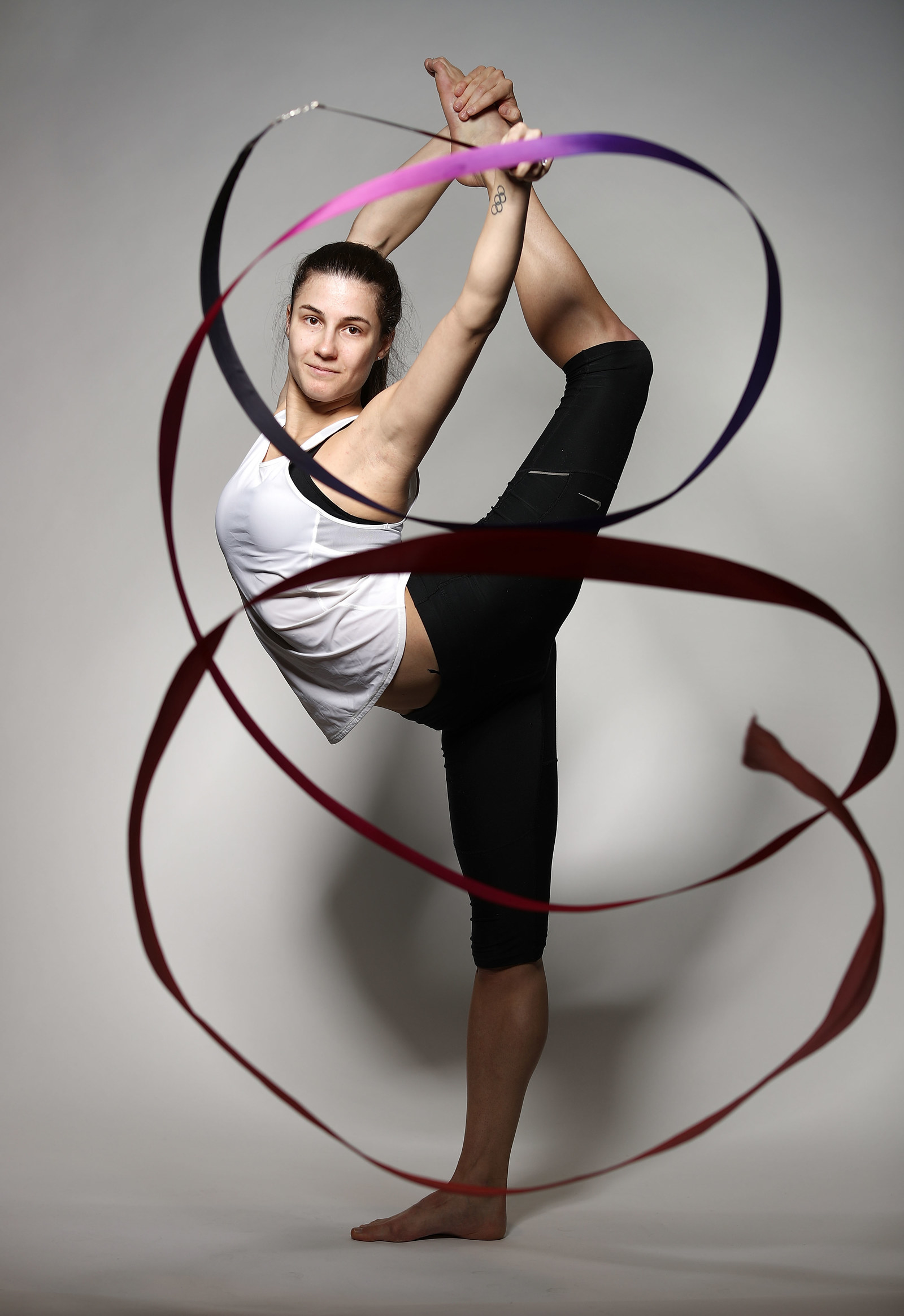 "Your relationship with your body definitely changes as you go through puberty and you become a woman and you're told that's not acceptable," she says. "The amount of times I've been told that I have to lose 10 kilos by the time we have an event.
"For me it's just constantly about checking in with my body, making sure I'm eating well and sleeping and also doing all of my physio, massage, constant tender love and care."

Price is excited to eventually "step onto the other side of the carpet".

"When I finish competing [I want] to raise and support and nurture my own group of athletes I could one day take to the Olympics or Commonwealth Games," she says.
"I guess my passion is trying to not fix, but maybe change a little bit, some of the experiences that I had as a younger athlete, particularly about my body, the way we trained, the way we were treated in training, and to try and change that to make the experiences for the next generation of girls really positive."
Kristiana Manu'a, Netball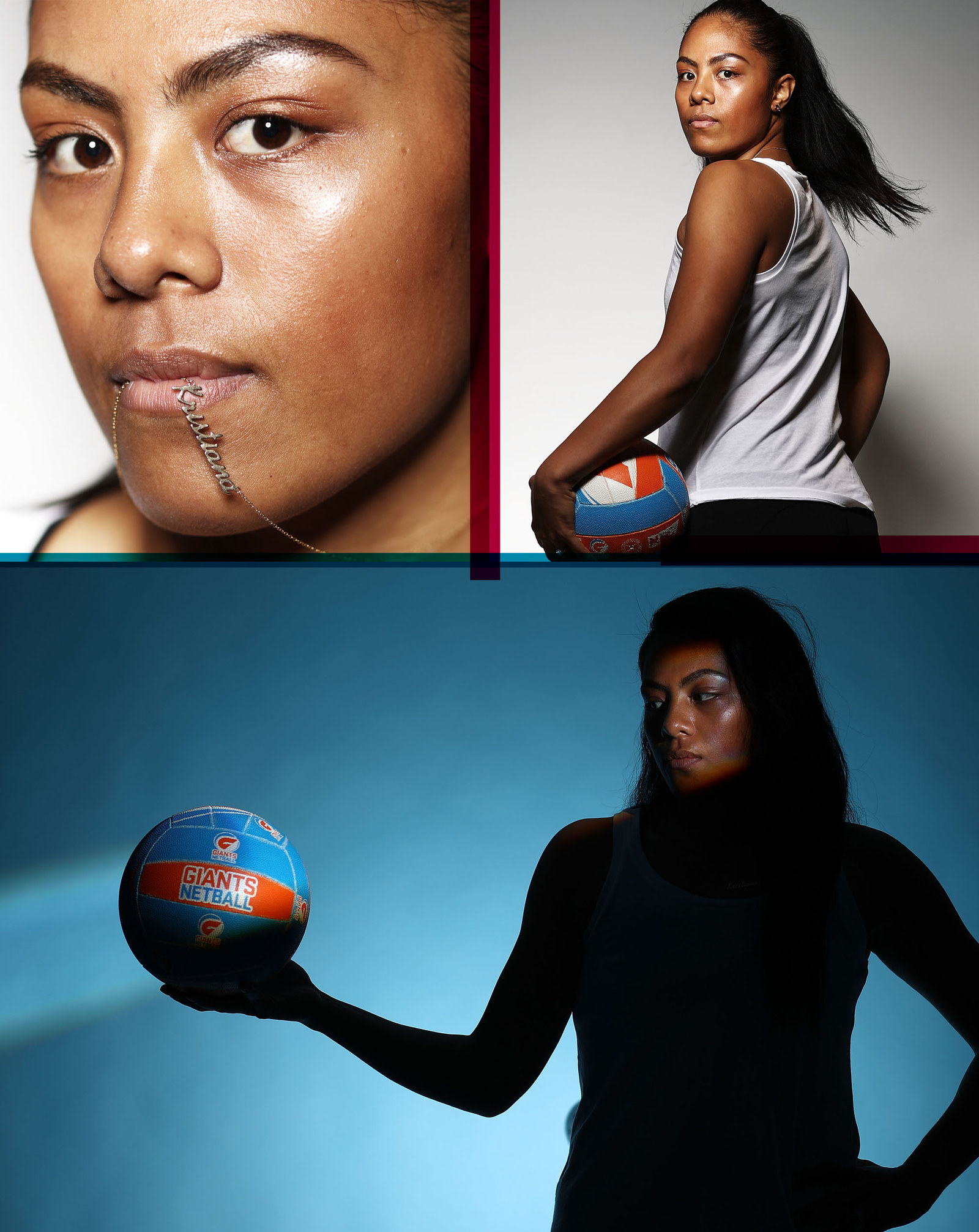 Giants netballer Kristiana Manu'a ruptured her achilles tendon in 2016.

"I turned around to see who kicked me and there was no-one there," the 23-year-old tells BuzzFeed News.
It was a 12-month rehab process: "It was really hard. Getting to know my body and what I had to do to get back out onto the court was probably the toughest part."
Manu'a is now training five to six times a week, running, weightlifting, boxing and playing on court, but still finds the sport mentally challenging due to the constant criticism and feedback.
"From your circle, your teammates, your coaching staff," she says. "I think it varies and it's definitely hard to stay strong and really take it onboard."
Manu'a started playing netball for fun, as a way of staying active and spending time with her friends, but by the end of high school she realised this was something she could pursue as a career.

She would have told her younger self that if she kept working hard, it would all eventually fall into place.
"Just to stick your head down and keep grinding and things will work out," she says.
Women's sport is growing and thriving in Australia, Manu'a says.
"I think the introduction of AFL Women's and the Rugby League Women's have definitely shown like the physical aspects of women's sport," she says. "And the [increased] exposure of netball as well just really shows that we are athletes before we're anything else."
Emma Nedov, Artistic Gymnastics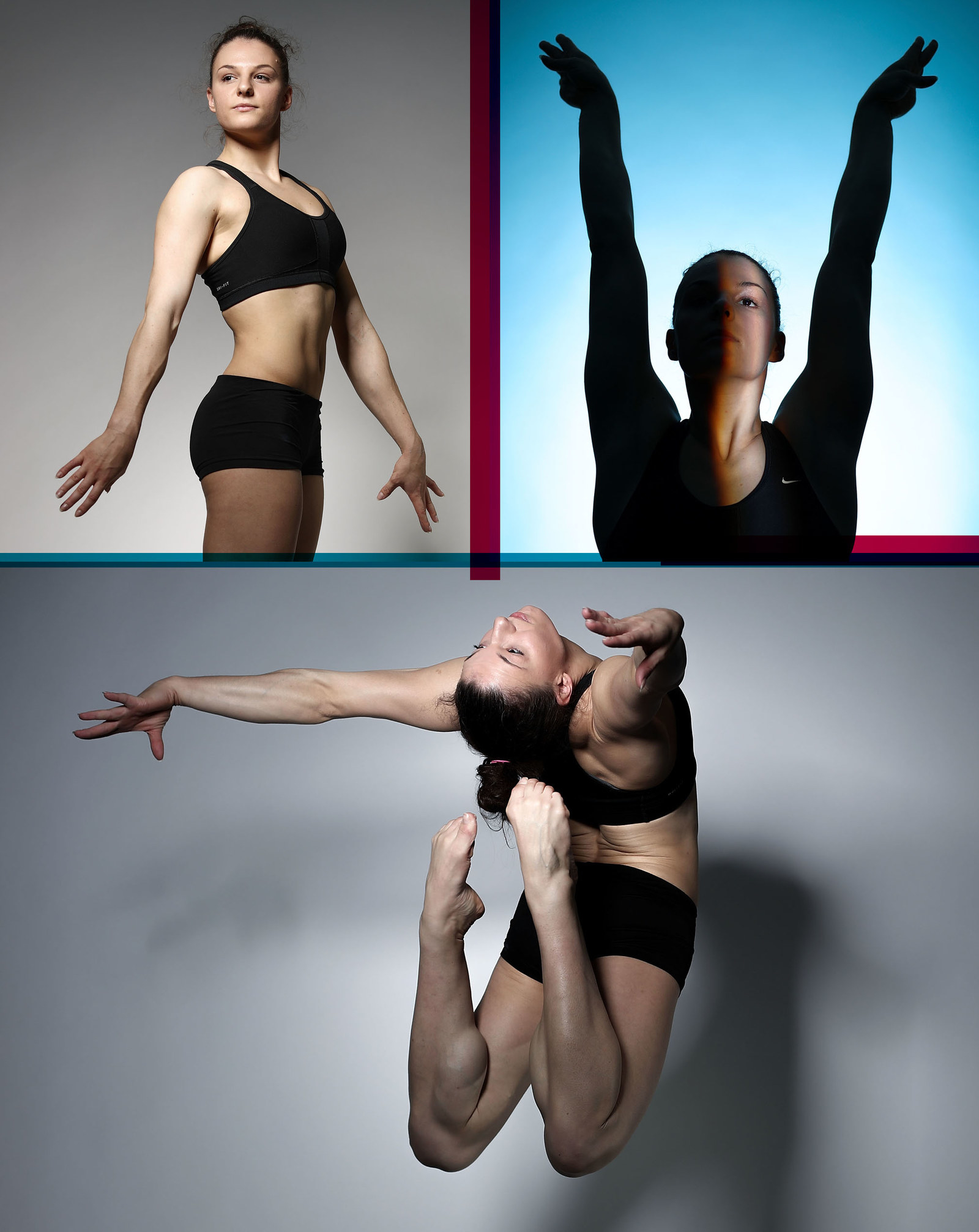 Artistic gymnast Emma Nedov also knows what it is like to rupture an achilles.
"I was just tumbling, training as normal, and as I took off for a double back [flip] it just snapped as I jumped," the 22-year-old, who has also had keyhole surgeries in both her knees, tells BuzzFeed News.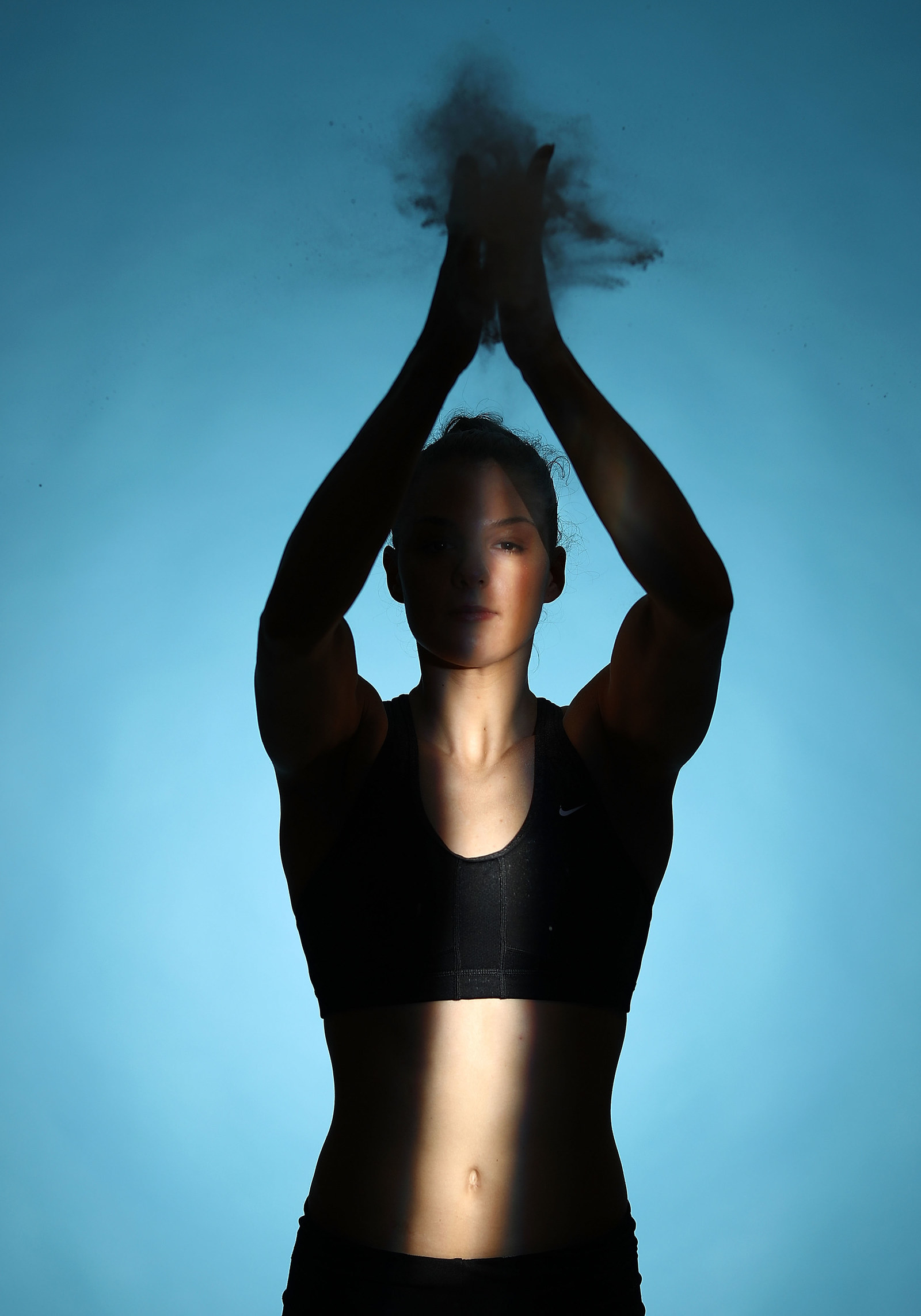 "I have a screw in my little finger, I've dislocated my elbow, tore ligaments all over my ankles, yeah, stuff like that."
Gymnastics isn't a contact sport but Nedov says she has a lot of contact "with the floor or with the apparatus".
"If you miss a bar, you're landing splat on the floor," she says. "The mats might look soft but they're really not that soft when you're coming from five metres off the ground."
Nedov has learnt the hard way just how interconnected parts of her body are and how a foot injury can then cause a back injury.

"I've also learnt that in my training if something doesn't feel right, to trust myself completely," she says.
"As you get older it's really important to be intuitive with your body."