A Melbourne mother has been fined $5,000 for breaching Victoria's safe access zones which protect patients and staff from harassment at abortion clinics.
Religious picketer Kathy Clubb, a mother to 13 children, was found guilty of one charge of prohibited behaviour within a safe access zone, after she allegedly approached a couple outside East Melbourne Fertility Control Clinic and tried to hand them pamphlets in August 2016.

Clubb became the first person in Victoria to be charged under laws which were formally passed in November 2015 and make it illegal to protest within 150 metres of an abortion clinic.
Her case is one of many "strategic cases" assisted by an Australian Christian Lobby (ACL) initiative, the Human Rights Law Alliance - a team of Christian lawyers who fight to protect "religious freedom and fundamental rights in the courts of Australia".
In its September 2016 newsletter, the lobby asked members to contribute to the $120,000 needed to start the venture.

On Thursday, the ACL released a statement expressing its "disappointment" at Clubb's conviction, and indicated her lawyers may appeal the decision.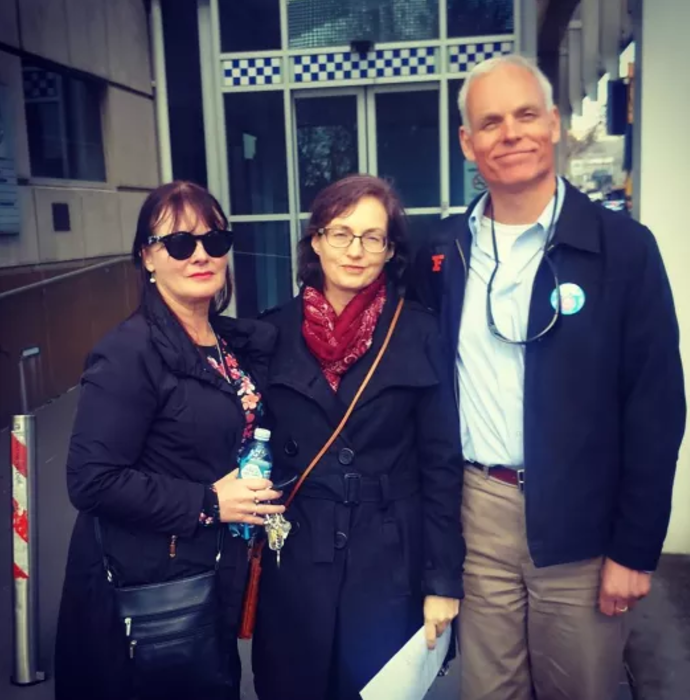 "This case shows just how draconian the so-called Safe Access Zone laws are by prohibiting people from reaching out to women who are contemplating ending the life of their unborn babies and may be in need," the lobby's Victorian director Dan Flynn said.
He said "vulnerable expectant mothers" were denied access to information about the various options available to them because protesters like Clubb were unable to hand them pamphlets.
Clubb vowed to pursue her case all the way to the High Court where she hoped to prove the safe access zone amendment was unconstitutional.
But on October 6 a magistrate ruled the zones were constitutional and proceeded to deal with the criminal charge against Clubb.
Castan Centre for Human Rights Law deputy director Dr Ronli Sifris said the magistrate took the view that abortion was a "medical issue, not a political issue" and emphasised the fact that anti-abortion protests could still occur outside the exclusion zone.

"She, therefore, held that there was no impermissible burden on political communication and that Victoria's safe access zone legislation is constitutionally valid," Sifris said.
Research conducted by Sifris and her colleague Dr Tania Penovic of Monash University showed safe access zones had "generally been effective" in protecting women from harassment and intimidation.
But the ACL's Human Rights Law Alliance managing director Martyn Iles said that "free speech" was still at the heart of the case.
"In this case, communication which has a very low possibility of causing actual harm, but has a proven track record of doing good, has been criminalised because the government is blinded by ideological opposition to anything remotely pro-life," Iles said.
Australian Lawyers for Human Rights (ALHR) president Benedict Coyne, who has previously taken issue with the ACL's foray into litigation, told BuzzFeed News his organisation "strongly supported" safe access zones as essential to the protection of women and girls and the staff who care for them.
"The Australian Christian Lobby's latest initiative, the Human Rights Law Alliance, which is reported to have funded this court action, appears to misunderstand the very concrete terms, standards and norms enshrined in international human rights law," Coyne said.
"Women seeking abortions and staff working at clinics report routinely experiencing harassment and intimidation from anti-abortion protesters outside the clinics. Such behaviour infringes on women's right to privacy and dignity when accessing health services."
Coyne said safe access zones did not deny groups or individuals the opportunity to express their views.
"Under international law and under most jurisdictions, the right to freedom of speech has never been an unqualified right," he said.
"By contrast, access to safe and legal abortion services, in accordance with human rights standards, is part of a state's obligations to eliminate discrimination against women and girls, and to ensure their right to health and other fundamental human rights."
Victoria's health minister Jill Hennessy, who introduced the safe access zones, said the decision was a reminder that "this type of behaviour will not be tolerated".
"It's good to see our new safe access zone laws are constitutional and working well," Hennessy told BuzzFeed News.

"We introduced these laws to protect women's rights to medical privacy when accessing abortion services. They should be able to do so safely and privately — without fear, judgement or harassment.
"This law is also crucial to ensuring health workers working in services that provide abortion services can feel safe at work."
BuzzFeed News contacted Clubb for comment. She confirmed she was found guilty and fined $5,000 but declined an interview.
"I've been fined $5,000 for attempting to save a baby from being killed and for trying to save its parents from a lifetime of regret," Clubb posted on her blog on Wednesday afternoon.