Religious picketers are handing "show bags" containing sweets and pamphlets with "inaccurate information" to patients entering an abortion clinic in Perth, doctors say.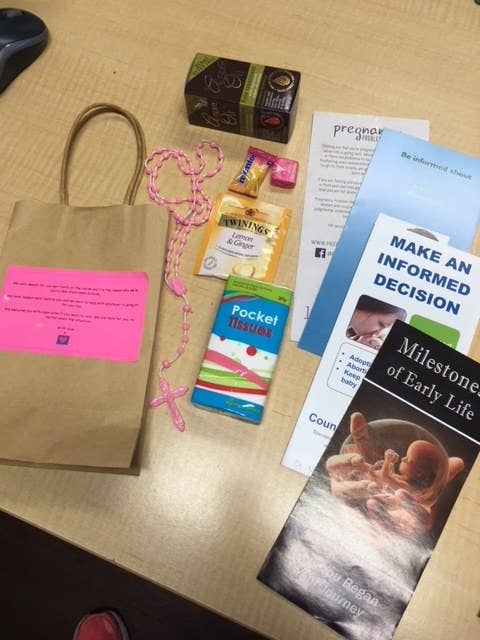 The bags contain tissues, a single sachet of tea, a Starburst fruit chew, a single Mentos, plastic rosary beads, argan oil hair treatment, and multiple brochures which redirect women with unwanted pregnancies to crisis pregnancy counselling.
"We welcome you with open arms if you want to talk," a message on the bag says.
"We are here for you, no matter what the situation."

But staff at the Marie Stopes Midland clinic are angry about the brochures, which the clinic's nurse manager Leigh Clifton said contain "many untruths".
"At the end of the day, we are not forcing patients to go ahead with the termination, nor are we feeding the patient incorrect information," Clifton told BuzzFeed News.
"Our role is to provide the most accurate and up to date information applicable to their individual case and provide the counselling and emotional support in a non-judgemental setting for them to then make their own decision."
Abortion was decriminalised in 1998 in Western Australia and it is now lawful up to 20 weeks gestation if the woman gives her consent, or, where she is unable to consent herself, she will suffer "serious danger to her physical or mental health or serious personal, family or social consequences if the abortion is not performed".

The state does not, however, have safe-access zones like Tasmania, Victoria, and the Northern Territory, where protestors are required to picket within a certain distance from clinics.

On February 14, anti-abortion religious picketers across the world kicked off "40 Days For Life", an annual tradition in which they pray, protest, and approach patients outside abortion clinics on every day of Lent until Easter Sunday.

The pamphlets they distribute at the Midland clinic are mostly left unread and littered around the waiting room, Clifton said.
"For the few patients (or their support person) who do happen to read the pamphlets, it is left to the medically trained staff to dispel the myths and calm the patients."

We asked Marie Stopes Australia senior medical officer Dr Catriona Melville to fact-check the brochures.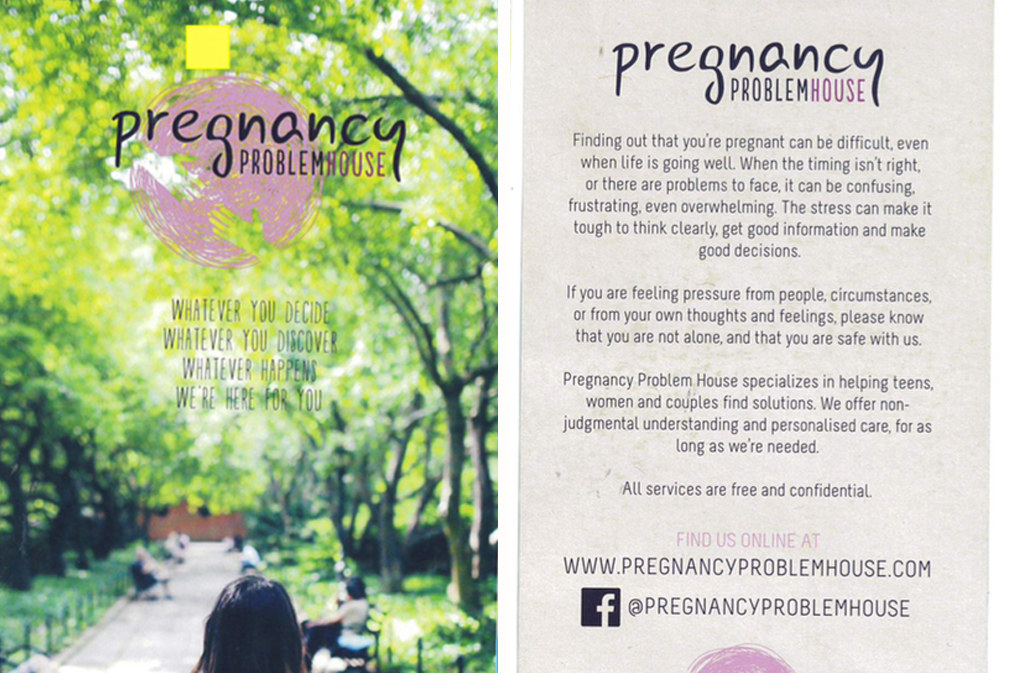 This brochure, from an organisation called WHY Counselling Services, quotes a man who says the abortion "seemed like the only option" for his partner and says "it wasn't my choice", and asks himself: "why didn't I do more?"
"This is actively encouraging reproductive coercion," Melville said.
"He's right, it's not his choice."
"He can voice his feelings but asking whether he 'could have done more' is encouraging men to try and influence a woman's decision about her body."
The brochure also claims abortion causes mental health problems, but a longitudinal study published last year in the Journal of the American Medical Association (JAMA) following almost 1000 women over five years concluded that being denied an abortion "may be initially associated with psychological harm to women", but the findings "do not support restricting abortion on the basis that abortion harms women's mental health".
"The only times these mental health problems have been illustrated is when a woman is denied an abortion," Melville said.
The brochure also makes the claim that an abortion can increase your risk of breast cancer.
The purported link between breast cancer and abortion has been widely and repeatedly rejected by Australia's medical organisations, including the Royal College of Obstetricians and Gynaecologists, the Australian Cancer Council, the Breast Cancer Network of Australia, and the Australian Medical Association, as well as American organisations the National Breast and Ovarian Cancer Centre, the National Cancer Institute, and the American Cancer Society.
The link has also been rejected by the World Health Organization.
The brochure lists "self destructive behaviours" that can be caused by abortion, including repeat abortions, abusive relationships, and attempted suicide.
"There are no peer reviewed studies on the link between abortion and self destructive behaviour, so this is purely conjecture," Melville said.
One brochure details "what you need to know about medical abortion" and falsely claims that mifepristone isn't approved by Australia's Therapeutic Goods Administration for gestation after nine weeks.
"From August 2013 to March 2015 mifepristone and misoprostol were listed as separate Pharmaceutical Benefits Scheme items," Melville said.
"From February 2015 mifepristone and misoprostol were listed as a composite pack, for the termination of an intra-uterine pregnancy."
"The listing was also extended from 49 to up to 63 days of gestation."
The individual items were delisted from April 2015.
Melville had a lot to say about the brochure, which ran through the "milestones of early life".
The references for the information are not scientific literature, but something called "Life Magazine" in 1965 and use what Melville says is "emotive language" and refers to the embryo as a "child" and a "baby" repeatedly without noting when the embryo become a foetus (at nine weeks gestation).
The brochure says at the 11th week the "baby now practices breathing" and starts smiling.
"Practice requires consciousness and thought and the foetus is not capable of either," Melville said.
"Actual smiling comes from the limbic system, which hasn't developed yet."
Clinics around Australia are being targeted by religious protestors throughout Lent, but in Queensland, which also does not have safe-access zones, pro-choice volunteers are trying to make the experience less confronting for patients.
They have been escorting women into and out of the clinic and have collected snacks and chocolate to be distributed to patients and staff.