Religious protesters gathering daily outside a Brisbane abortion clinic have been met by pro-choice chaperones offering to "create a physical barrier" between patients entering the clinic and the picketers.
On February 14, anti-abortion religious picketers across the world kicked off "40 Days For Life", an annual tradition in which they pray, protest and approach patients outside abortion clinics on every day of Lent until Easter Sunday.

Every day since Valentine's Day last week picketers have gathered outside a Marie Stopes abortion clinic in Bowen Hills, Brisbane. The clinic's nurse manager Jackie Bunt said there were so far fewer protestors than last year, when a large group stayed back until 9:00pm each night.
"This time on the first day they were going beyond their boundaries onto the clinic's property and putting their flyers under the car windscreen wipers of patients' support people," Bunt told BuzzFeed News.
"They're mostly praying with their rosaries."

Bunt said sometimes patients came in "in tears" after interactions with the protestors.
"Luckily this time they've handed the pamphlets to strong women and it has been water off a duck's back because we've warned patients ahead of the appointment that [the picketers] are out there."
Volunteers from Pro Choice Queensland wearing purple ribbons have also been outside the clinic for the past six days.
They have been escorting women into and out of the clinic and have collected snacks and chocolate to be distributed to patients and staff.
Abortion is still a crime in Queensland and is lawful only to "prevent serious danger to the woman's physical or mental health". There are no safe access zones meaning protests do not have to happen a certain distance from abortion clinics.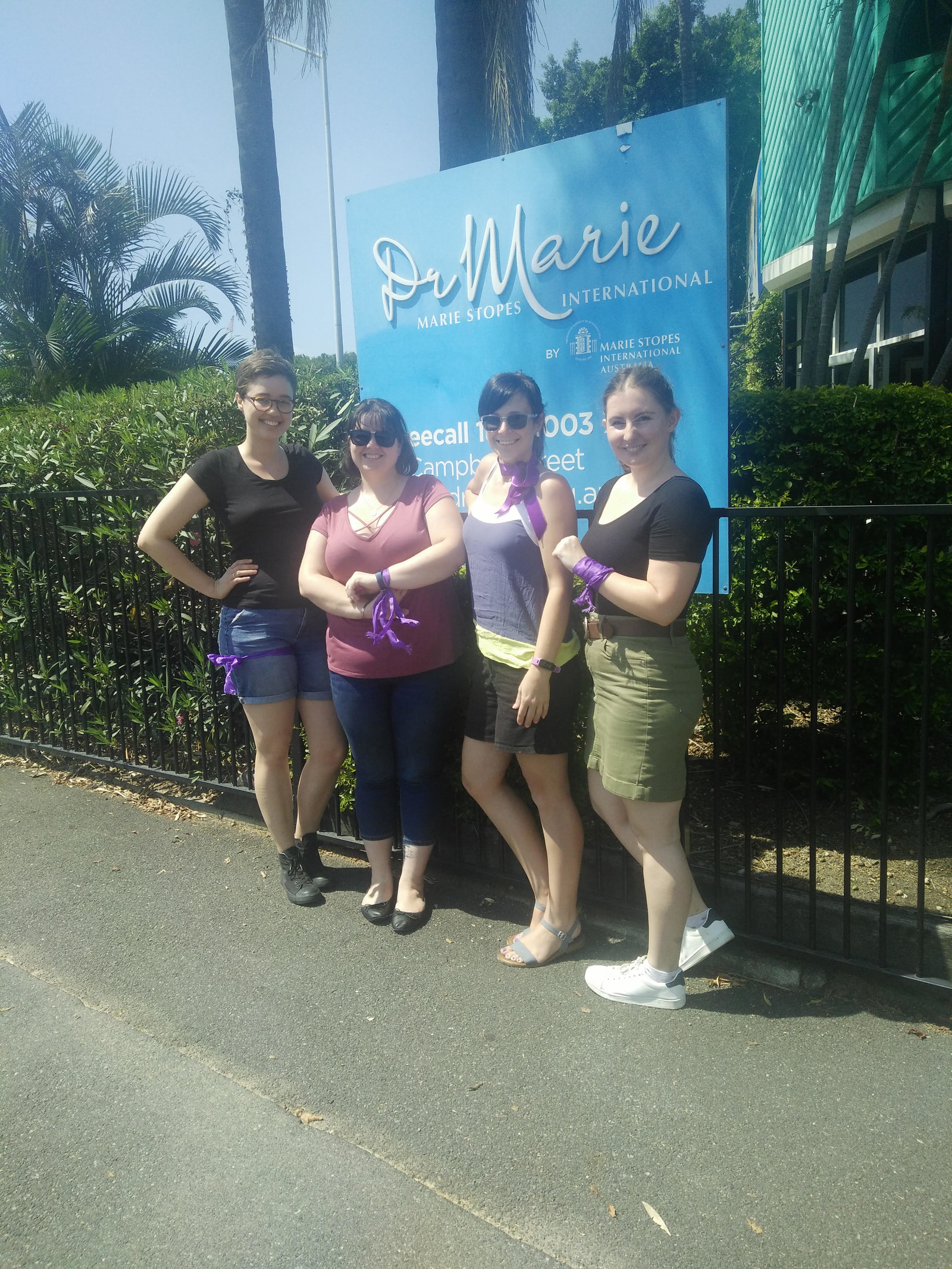 "The anti-choice protestors are holding a prayer vigil and giving what they dub 'footpath counselling' where they give women inaccurate information and try to convince them not to go in and do what they want with their bodies," pro-choice volunteer Stephanie Rickard told BuzzFeed News.

"They're within ten metres of the clinic which wouldn't be tolerated outside a hospital for anyone accessing any other health service but it is tolerated because it is directed toward abortion providers."
Rickard and other volunteers will be on standby every day to escort patients into the clinic.
"We're not here to argue with the anti-choicers at the clinic, we are a physical barrier between them and patients," she said.
It could be "very confrontational" when religious protestors interacted with the family members of patients, she said.
Rickard said she hopes this is the last vigil to take place so close to the clinic as the Queensland Law Reform Commission will this year report back on legislation to decriminalise abortion in the state and enact safe access zones within which protesting and harassing patients outside an abortion clinic would be illegal.
"We want to make a hard time, when people are outside protesting your right to healthcare, a little bit easier," Rickard said.

"We've had 50 volunteers put their hand up [to chaperone and distribute chocolate] which far outweighs the small number of vigil participants, there are only about three or four."