1.
Stick-on lights that'll give your kitchen a soothing glow, no matter what time of day it is. The cabinets above your appliances and counters will be *chef's kiss* amazing with a little illuminating. 
This kit includes a remote that can adjust the brightness! 
Promising review: "This is a wonderful product; just what I wanted. Super easy to install and I love that it breaks off into sections so you don't have any hanging over to hide. The remote is awesome and there are lots of brightness settings. I'm going to use these everywhere!" —Queen Halloween
Get the six-piece kit from Amazon for $20.99 (available in two light colors).
2.
A space-saving clothes organizer for camis and leggings that are hard to store on hangers. It holds eight tops and six pants and helps keep them neat, so you don't end up with a messy pile at the bottom of your closet.
This compact organizer is also helpful if you don't have space in drawers or room to fold clothes on a shelf!
Promising review: "I have so many camis that I use as undershirts for work and they were always being folded up and crammed into a drawer, taking up way too much space. After putting away half of my shirts on this two-pack, I knew I needed to buy another pack! It's so easy to take the shirts on and off without messing around with any of the others. This organizer is perfect for my needs in freeing up a drawer and taking up little space in my closet." —Tessa
Get a two-pack from Amazon for $9.66.
3.
A magnetic stove shelf because it'll magically give you extra space for condiments, spices, and oils. Place this on top of your stove and you'll have all the cooking essentials you'll need within arm's reach. 
This stovetop shelf comes in three different sizes (20 inches, 24 inches, and 30 inches) for your cooking area!
Promising review: "The shelf is made for 30" stoves and fits perfectly. Our stove's back was slightly curved and could not hold any items. With this shelf, we now can store a timer, essential condiments, like salt and garlic powder, a pepper shaker and several other items used frequently. The shelf looks good, cleans easily, and was exactly as advertised." —Amazon Customer
Get it from Amazon for $39.99+ (available in three sizes and five colors).

4.
 A wood polish and conditioner to restore dull furniture or old floors back to their former glory. It'll provide a protective coating (so long, drying and fading) and give wood surfaces a gorgeous shine. 
Here is a helpful step-by-step guide on how to polish hardwood floors with this formula!
Promising review: "Terrific for reviving wood! I love the scent and it restores luster and shine to older or antique wood furniture, doors, etc. Highly recommend it." —Amazon Customer
Get a two-pack from Amazon for $20.99.
5.
And furniture decals that'll help cover up chips, scrapes, and scratches on your chest, dresser, or nightstand. All you have to do is rub them onto your piece of furniture with a wooden stick (no polishing or painting required on your part) and they'll give it a beautiful appearance again.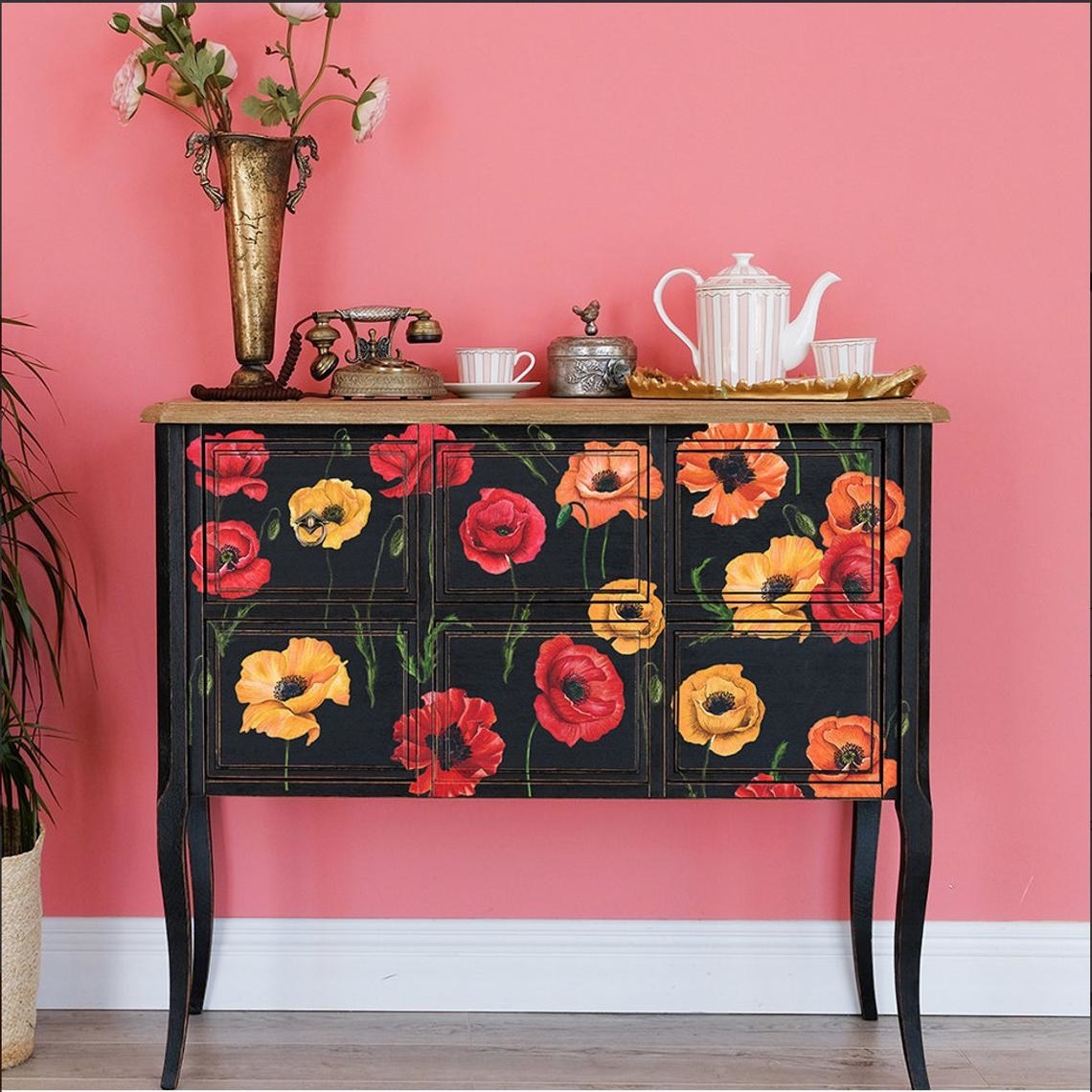 These decals also work on many other surfaces, including doors, wood, and walls!
Maika Daughters is a small business based in Texas that sells cool materials for upcycling projects.
Promising review: "These poppy decals are the best! Not as much work as I feared and they look sensational!" —ElizabethMeredith
Get the sheet with all these decals with from Maika Daughters on Etsy for $29.99.
6.
An all-season comforter so you won't feel too hot or too cold while you sleep. It has a down alternative material that's so comfy and it's machine washable for easy cleaning. You can even change up your bedding setup thanks to its reversible design!
This comforter comes with eight built-in corners and side loops that attach to a duvet cover.
Promising review: "I loved everything about this comforter. It's so lightweight but warm. It is double-sided with a solid color on one side and stripes on the other side. Most importantly, it fits perfectly for king beds. It's extra long on sides and length, which is hard to find. So soft and comfy, it's honestly the BEST comforter I've found yet and I have bought dozens!!!! Will buy again and you may want to put a duvet over it. So worth the price and purchasing for all my beds." —Amazon Customer
Get it from Amazon for $39.99+ (available in eight sizes and six colors).
7.
A silverware sorter that'll take up minimal space in a kitchen drawer, but still holds up to 24 pieces of cutlery. Your forks, knives, and spoons will be organized and accessible when you need them for meals, *and* you just might free up extra drawer space.
Promising review: "I have a tiny kitchen with only three drawers, so space is at a premium. My silverware organizer took up almost all of one drawer, so this organizer is a godsend. You can fit quite a few spoons etc. in each slot. My beater attachments fit perfectly into the top two hollows. I will say I have to flip my forks over face down in order to be able to shut and open my drawer, but then the drawer itself is kind of shallow. You NEED this if you have a small kitchen with few drawers!" —mialro
Get it on Amazon for $11.24.
8.
A door draft stopper so you can stay comfortable indoors, no matter what season it is. This strip is barely noticeable and attaches to the bottom of a door to keep heat or cold air inside your home. No more piling on a bunch of blankets or setting up lots of fans in your living space. 
Promising review: "So easy to set up! All you do is peel tape and adhere to a CLEAN and DRY door. Also looks great, I don't even notice it. I had a huge gap under my door. I could smell and hear everything from the hallway. Smells, drafts, and sound all are less of an issue now." —Brit Suavé
Get it from Amazon for $9.99 (available in four colors).
9.
A leather cleaner for your comfy couch or armchair that's in need of a little restoration. Mix it with 32 ounces of water, apply with a cloth or spray bottle, wipe away grime, and let it dry.
It also works great on other leather surfaces, including car seats, sneakers, and upholstery.
Promising review: "I am so glad I read the reviews here! This is an excellent product. We scored some leather chairs for a great price. The cleaner was very easy to use. It's a concentrate and you mix a small amount with water, spray on and wipe off. Easy peasy. I used this before the conditioner. The conditioner is a bit sticky at first, but you get used to it and the leather soaks it up! Beautiful result!! The chairs look and feel great!" —Julie Schneblin
Get it from Amazon for $16.99+ (available in two sizes).
10.
Wool dryer balls so you don't have to wait forever for your bedding, towels, and clothes to dry. Toss them into your next load to cut back on drying time and minimize static and wrinkles.
Promising review: "I was so excited to try these out. With our loads of towels we always have to do a timed dry instead of sensor and always have to run it at least and hour, NOT ANYMORE! That was the first test I put these through and I could have the towels on a sensor dry for only 40 minutes! They were completely dry and fluffy! We do have a bit of static (I don't care) and they make a little bit of noise (again, don't care) but they have drastically cut back our drying times! Money well spent and I'm no longer using dryer sheets." —AlysonTC
Get a six-pack from Amazon for $11.99.
11.
A set of shelf dividers to transform the messy area above your closet into an organized hub for accessories, sweaters, and more foldable clothes. Store purses upright and neatly stack shirts without them falling on top of each other.
Promising review: "I was a little doubtful about these being able to stand up straight but was pleasantly surprised. I'm using them in an old antique cabinet/wardrobe to separate stacks of clothes that would otherwise turn into a pile of clothes on a shelf. I would definitely buy again." —the booniepepper
Get it from Amazon for $12.99.
12.
Floral art prints so you can daydream about serene scenery while you WFH at your desk, get dressed in your room, or relax on the couch. Each print is downloadable, so all you have to do is print it out and put it in a frame for an easy home decor upgrade!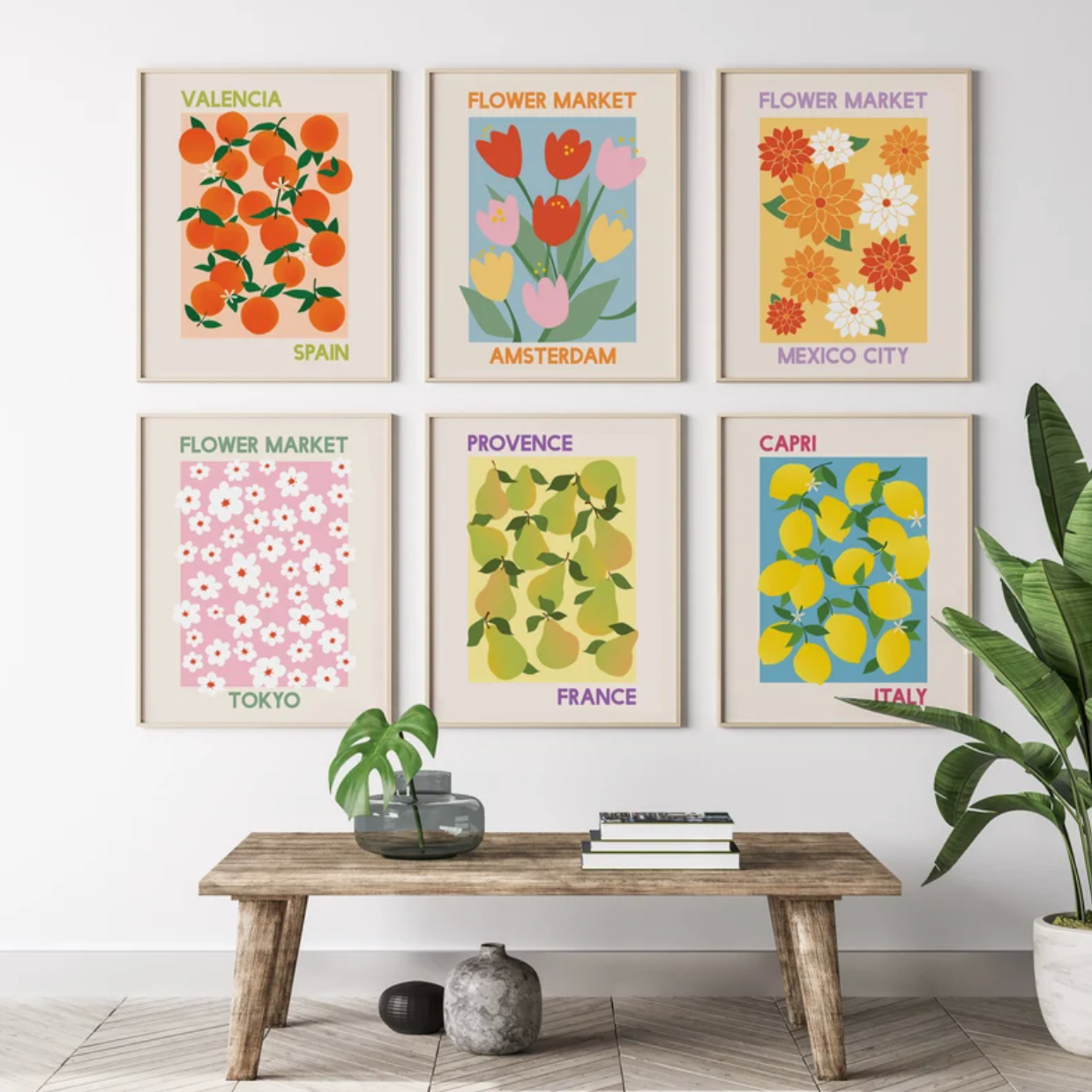 April Lane Art is a small business that sells colorful digital art prints inspired by global destinations!
Promising review: "I printed these out and hung them from gold/acrylic clipboards in my cubicle and they turned out so cute!" —Etsy Customer
Get six digital prints from April Lane Art on Etsy for $18.
13.
And Command Picture Hanging Strips to help you create a gallery wall. Four of these damage-free strips can hold frames up to 4 pounds (max. frame sizes is 8 inches x 10 inches) and they won't leave holes, marks, or a sticky residue behind.
No tools are required for these strips: Just prep the wall with isopropyl rubbing alcohol, click a pair together to lock them in place, stick them on the frame, press the frame on the wall, and that's it. When it's time for removal, just gently slide the frame down and the strips will easily come off!
Note: Even though these strips are great for hanging up picture frames, wall art, and mirrors, they're not recommended for mounting shadow boxes, shelves, or tapestry.
Promising reviews: "Hung an entire gallery wall with these and the medium sized ones. Easy to remove and reposition with the Velcro and they're also easy to completely remove with no marks left on walls." —Amazon Customer
Get a 18-pack from Amazon for $13+ (available in three styles and packs of eight or 36).