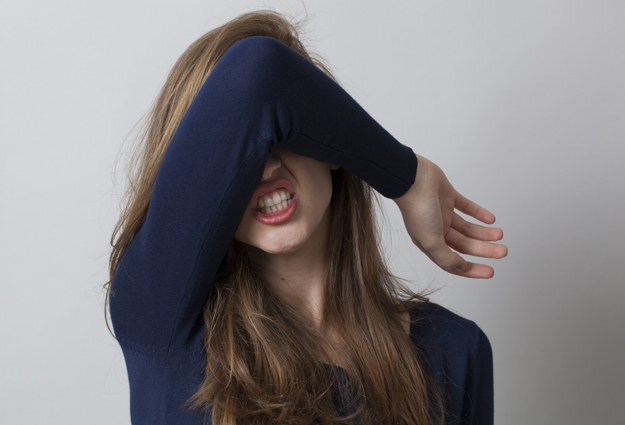 Dropping your cell phone on your face while you're looking at it in bed.

Sending a delivery driver a kiss-blowing emoji by mistake when they text to say they're there.

Realizing you're out of toilet paper after you've already sat down on the toilet.

Going to throw something out and seeing that there's no bag in the trashcan.

Hearing your own voice in a video and discovering how awful it is.

Sending a screenshot of a text conversation to the person you had the conversation with by mistake.

That embarrassing little sprint to not miss the train/subway/bus.

Making that same embarrassing little sprint, and missing the train/subway/bus anyways.

Having a full conversation with someone, and only realizing later that you've got something stuck in your teeth.

Or something coming out of your nose.

Taking a shower and then wandering around your house completely naked because you realize you don't have any clean towels.

Waving to someone who wasn't waving at you.

Greeting someone because you thought you knew them, but then realizing that it's a complete stranger.

Saying goodbye to someone and then walking the same direction as them when you leave.

Saying "good morning" at night or "good evening" during the day.

Having a good, long stretch and realizing that you have a big hole in the armpit of your shirt.

Loudly and noticeably messing up the lyrics to a song.

Getting your pants wet down there by accident and having to interact with other people.

Discretely sniffing your armpit before realizing that someone was looking at you.

Accidentally hitting the wrong floor on an elevator and just standing there as it stops on the floor.

Having a friendly conversation with someone without realizing that your fly is down.

Getting startled by a bug that wasn't actually a bug.

Thanking someone for saying "happy birthday" by saying "you too!".

Responding "good, and you?" after the other person has already said "good, and you?".

Saying sorry after accidentally bumping into a table.

Filling your hand up with shampoo, and then realizing that it's actually body wash.

Handshakes that turn into a half-hearted hugs.

Going in for a hug with someone from another country and getting several unexpected cheek kisses instead.

Saying "thanks" when it was actually you who helped the other person.

Waiter: "Enjoy your meal." You: "Thanks. You too."

Waiter: "Credit or debit?" You: "Yes."

Saying, "pleased to meet you" to someone you've already met.

Dialing the wrong number, and the phone is answered by someone with the same name as the person you were trying to call.

Getting on an escalator going the wrong direction.

Calling your boss or teacher "mom" or "dad" by accident.

Trying to use your school or work ID on the bus or train.

Or in a credit card reader at the store.

Saying "thank you" when you actually meant to apologize.

Totally blanking on an acquaintance's name as you're introducing them to another friend.

Yelling "Hi!" instead of "I'm coming!" when someone rings your doorbell.

Not paying attention to someone who was telling a sad story, and responding with, "Cool, sounds good."

Saying something rude or private in a loud space, and right as you speak up the room goes quiet and everyone hears you.

Asking someone when they're due and it turns out they're not pregnant.

Answering your personal phone and saying the greeting you use when you answer your phone at work.

Asking for someone's name again right after they've finished introducing themselves.

Being engrossed by something on your phone while riding the bus or train, and looking up to see that an elderly person has been standing by your seat since the last stop.