It took just two days for 20-year-old poet Aliyah Hasinah and her friend Olivia Brown to organise a Black Lives Matter demonstration in their hometown, Birmingham. More than 1,000 people showed up and the event was so successful it was trending on Twitter.

At midday the crowd sat in silence for two hours with tape over their mouths, holding placards with messages demanding justice and raising awareness of the trend of black people dying at the hands of police officers in America.
"It became even more powerful when at 2pm, after sitting in silence for two hours, we ripped off the tape on our mouths and started to march, chanting 'Black Lives Matter,'" Hasinah told BuzzFeed News.
The 9 July demonstration was held in response to the death of Alton Sterling, 37, who was tackled to the ground before being shot dead by two officers during an incident in Baton Rouge, Louisiana. A day later, Philando Castile was shot dead by police in Minnesota as he reached for his driving licence while sitting in a car with his 4-year-old daughter and girlfriend, whose live stream of the aftermath helped push the killing into the public eye.
But the demonstration in Birmingham was about more than showing solidarity with black people in America. Hasinah said it was also about recognising the people of colour who have died in police custody in the UK. "Solidarity with the US is of course paramount," she said. "[But it's] in addition to understanding what we face on our own shores."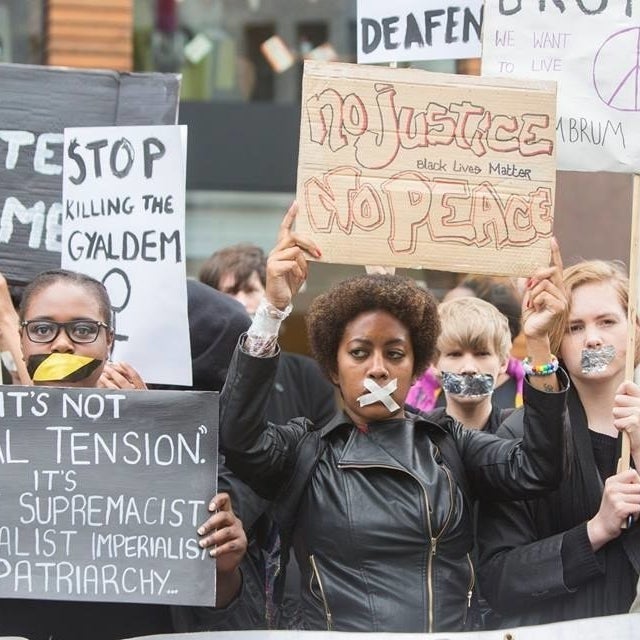 Not too far from where Hasinah's Black Lives Matter demonstration was held, a protest for Kingsley Burrell – a 29-year-old black man who died in 2011 following contact with police – was also taking place.
In March 2011 Burrell called 999 to say he had been threatened by two armed men while with his 4-year-old child. But after officers from West Midlands police said CCTV footage showed no sign of such men, the father of three was detained under the Mental Health Act. A few days later, Burrell was dead.
In 2015, after his family had spent more than four years of campaigning for answers, an inquest into Burrell's death concluded he died as a result of neglect and prolonged restraint by police with a towel over his head. A jury found Burrell was forcibly restrained, left on a hospital floor, and handcuffed for four hours. No one has been prosecuted over his death.
"Solidarity with the US is paramount, but it's in addition to understanding what we face on our own shores."
At the protest earlier this month his sister Kadisha Brown-Burrell said that justice has been "denied" and "delayed". "Delayed prosecution, delayed funeral, delayed burial, and now we're wondering if there's going to be any prosecution from the CPS [Crown Prosecution Service]," she told the BBC.
Hasinah's Black Lives Matter demonstration joined forces with Burrell's protest at Steelhouse Lane police station in the city centre. On the day, which also marked Burrell's 35th birthday, there was impromptu singing, poetry, and lectures about the history of police brutality in the UK. "The public reaction was electric," Hasinah said.
But just two weeks after the demonstrations and protests in Birmingham, calls for a Black Lives Matter movement in the UK became even more acute, when the issue of deaths in custody hit closer to home. Hundreds of people gathered in Liverpool on Saturday 16 July to pay their respects to 18-year-old Mzee Mohammed, who died following contact with police just days before.
Family, friends, and locals who wanted to show their support, held balloons in the teenager's favourite colours – red, green, and yellow – and released them into the air as part of the vigil. The crowd followed his mother, Karla, to the spot in the Liverpool One shopping centre where Mohammed collapsed shortly after being detained by security staff and police officers.

On the day of his death, Merseyside police released a statement saying officers were responding to reports of a man with a knife behaving erratically in the city centre. They said the teenager "became unwell" following contact with the police and was taken to hospital, where he later died.

The results of the post-mortem examination were inconclusive and further tests need to be carried out to determine the cause of death, according to the Independent Police Complaints Commission (IPCC), which is investigating the circumstances around Mohammed's death. On Tuesday, the IPCC will publish its annual deaths in custody statistics.
It is perhaps unsurprising that the inconclusive results of Mohammed's post-mortem examination raised eyebrows among many in the close-knit community, who appear to have a distrust of the police force. "It just doesn't make sense," Fav, 18, who attended the same school as Mohammed, told BuzzFeed News during the vigil. "I saw him the day before he died, and he was absolutely fine. It's like they're trying to hide something."
Although the purpose of the vigil was to mourn, to remember and celebrate the teenager's short life, Mohammed's family told the crowd they were determined to get answers about what happened on the day he died.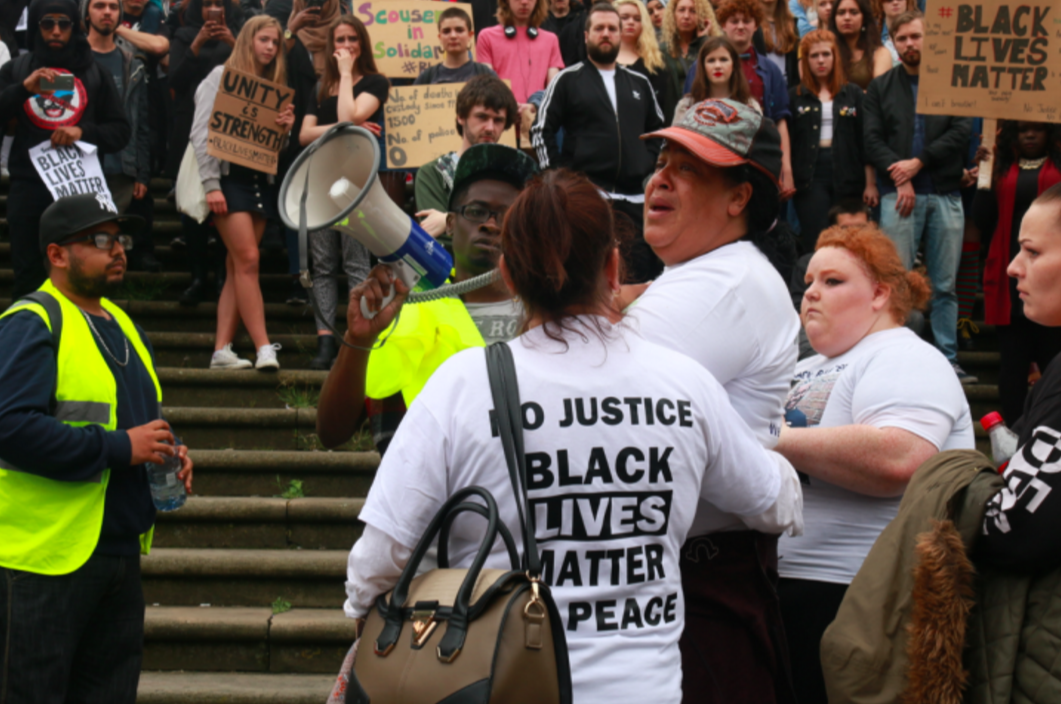 Strained relations between the police and black communities appear to exist up and down the country. In some rural areas of Britain black people are 17.5 times more likely to be stopped and searched by police. They are also two to three times more likely to be stopped and searched in places such as London, the West Midlands, and Greater Manchester.

Ross Walcott, 18, organised a Black Lives Matter protest in his hometown of Sheffield, which started off with 500 people and had nearly doubled in size by the end of the demonstration.

People of all ages and backgrounds attended, Walcott told BuzzFeed News. "I don't think people in Sheffield had seen anything like this, regardless of the cause," he said. "Everyone was chanting 'Black Lives Matter', and the community felt so unified. I looked around me and saw older Asian people shouting 'Black Lives Matter' [and] young white people saying it too."
Sheffield, where Walcott grew up, is the fifth largest city in England with less than 20% of its population from a black or ethnic minority background. As a black teenager who grew up in a predominantly white, middle-class part of the city, Walcott said his mum had warned him to be careful of police officers.
"In the UK we act like police brutality is not a problem, and that's what we need to tackle."
"I've had 'the talk'," Walcott said. "Whenever I went out, my mum would always tell me to watch out for gang members, etc, but also look out for the police... And that was a talk my white friends were not getting."

A disproportionate number of people from black and other ethnic-minority backgrounds, often with mental health problems, die in police custody following the use of force – as opposed to the US, where victims are more likely to be shot by police. Out of 1,561 deaths recorded by Inquest, a charity that supports families who have lost loved ones to deaths in custody, 156 involved victims from a black or other ethnic background.
Since 1990 there have been 10 "unlawful killing" verdicts, yet none have led to a prosecution.

Walcott believes that there is a lack of acknowledgment of deaths in police custody in the UK, and says it needs to change. "In the UK we act like it's not a problem, and that is a problem we need to tackle," he said. "I don't want to go somewhere, get arrested, and die...it's as simple as that. That's why the Black Lives Matter movement is needed in the UK. We fear for our lives as much as the Americans do."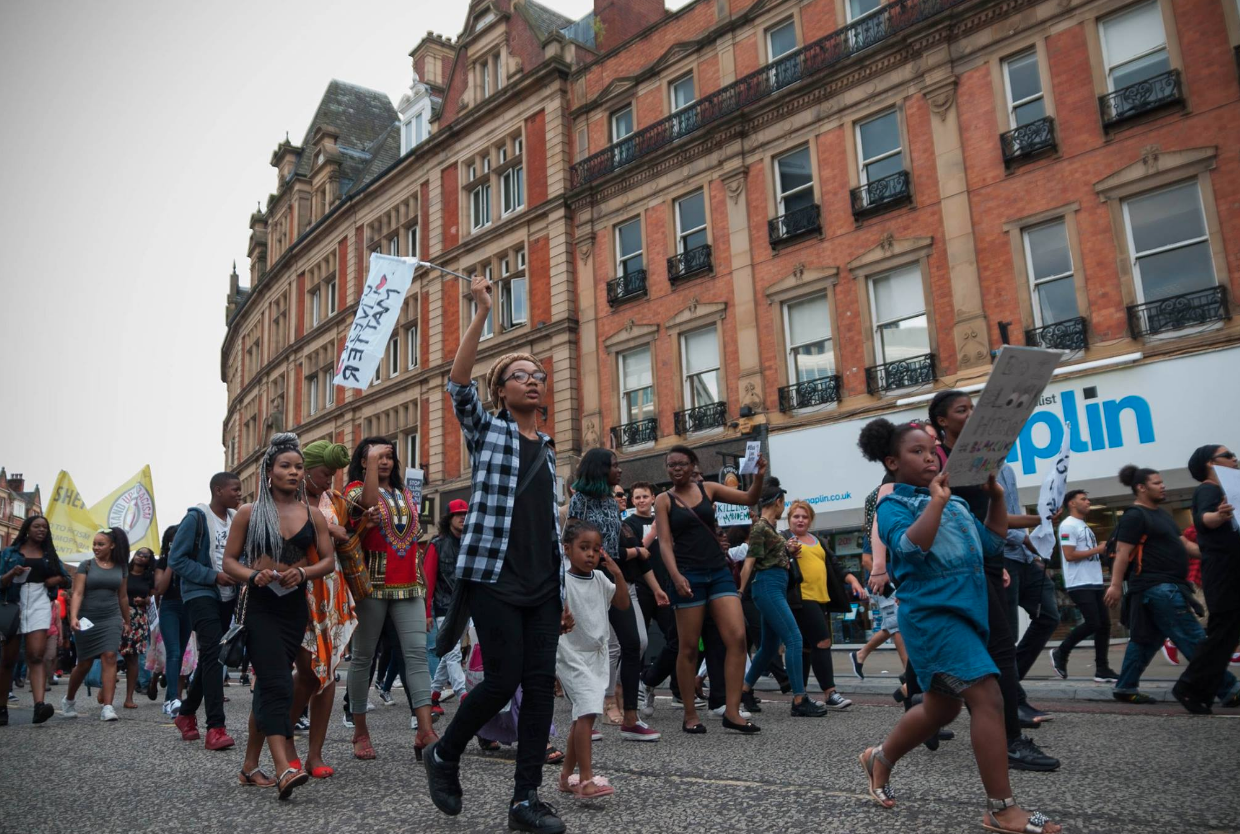 Following the rise to prominence of the Black Lives Matter movement in the US, set up by three young black women, young people in the UK appear to be taking a leading role.
However, campaign groups such as the United Families and Friends Campaign (UFFC) have been seeking justice for those who have lost loved ones at the hands of the police for almost two decades. UFFC was launched in 1997, and started off as a network of black families supporting one another. Today the group is a coalition of people from all ethnicities who have had a family member die in police custody, prison, or psychiatric custody.

One of the most prominent cases was the death of Sean Rigg, a 40-year-old musician from London with paranoid schizophrenia. He died of a heart attack in 2008 while in custody at Brixton police station, and is believed to have been experiencing a mental health crisis at the time.

Leslie Thomas QC, the barrister for Rigg's family, said the case was just one example of why the Black Lives Matter movement is relevant to the UK.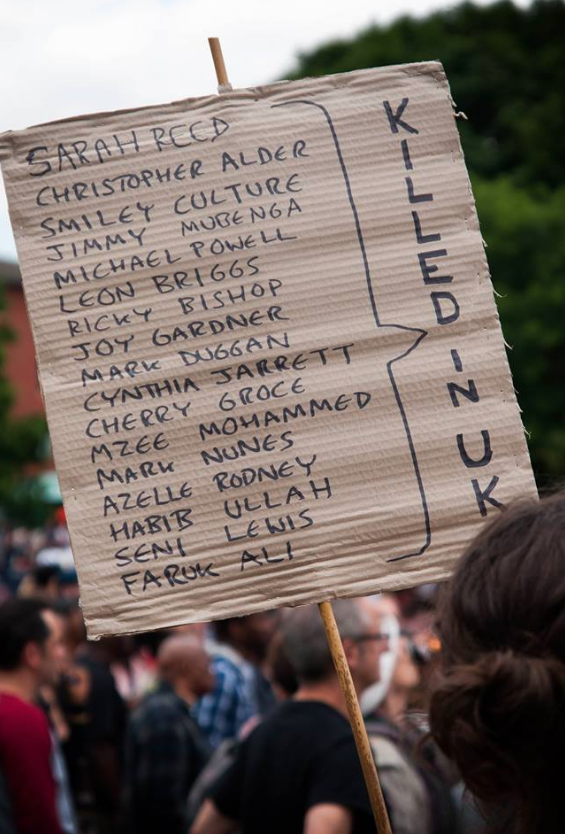 Other tragic cases include Roger Sylvester, diagnosed with bipolar disorder, who died after being restrained by Metropolitan police officers in Wood Green, north London, and Leon Briggs, who was stopped by officers in Luton, held under the Mental Health Act, and also died in hospital.

Sarah Reed, who had previously been punched and pinned to the ground by a Metropolitan police officer after being suspected of shoplifting, was found dead in her cell at Holloway prison in north London in January. She also had a history of mental health issues.
"You have to ask the question," Thomas said. "Would they be treated in a similar way if it wasn't for the colour of their skin?"

The issue came to a head last year when prime minister Theresa May, in her previous role of home secretary, launched an independent review into deaths and serious incidents in police custody. She chose to announce the review at Brixton Recreation Centre, which overlooks the police station where Rigg spent his last moments. Addressing a room of journalists, campaigners, and those whose loved ones have died following contact with police, May said she had "been struck by the pain and suffering of families still looking for answers, who have encountered not compassion and redress from the authorities, but what they feel is evasiveness and obstruction".
The review, chaired by lawyer Dame Elish Angiolini, will look at the factors that lead to deaths in custody, the immediate aftermath, and the conclusions of official investigations. Its findings will be published this summer, the Home Office confirmed to BuzzFeed News.

"The issues we see in the States, we have seen in this country. Maybe not to the same scale, but they fall into similar categories."
Thomas said the Black Lives Matter movement has been extremely beneficial in terms of bringing incidents of "shocking and appalling" police brutality to light for small communities.

For Americans, he said, it has led to the President Barack Obama addressing the situation publicly. "And, whether you like him or hate him, and most people tend to fall into the latter category, you've got Donald Trump talking about the Black Lives Matter movement, albeit in negative terms," Thomas added.
"I think it's turned into an important political movement, in terms of bringing to the forefront the fact that African Americans and people of colour are under attack and, more importantly, treated differently when they come up across law enforcement agencies."
Thomas believes the Black Lives Matter movement has its place in the UK. "The issues we see in the States, we have seen in this country," he said. "Maybe not to the same scale, but they fall into similar categories."
Ahead of the vigil for Mzee Mohammed, UK activists were buoyed by a message of support from Black Lives Matter in the US. "We send you solidarity, as we see Mzee Mohammed. We see Sarah Reed," the statement read. "We see Jermaine Baker, the 1,558 people killed by police in the UK [since 1990] and your long struggle to gain justice for them. When you lose your family, know that we see that loss and we feel it too."