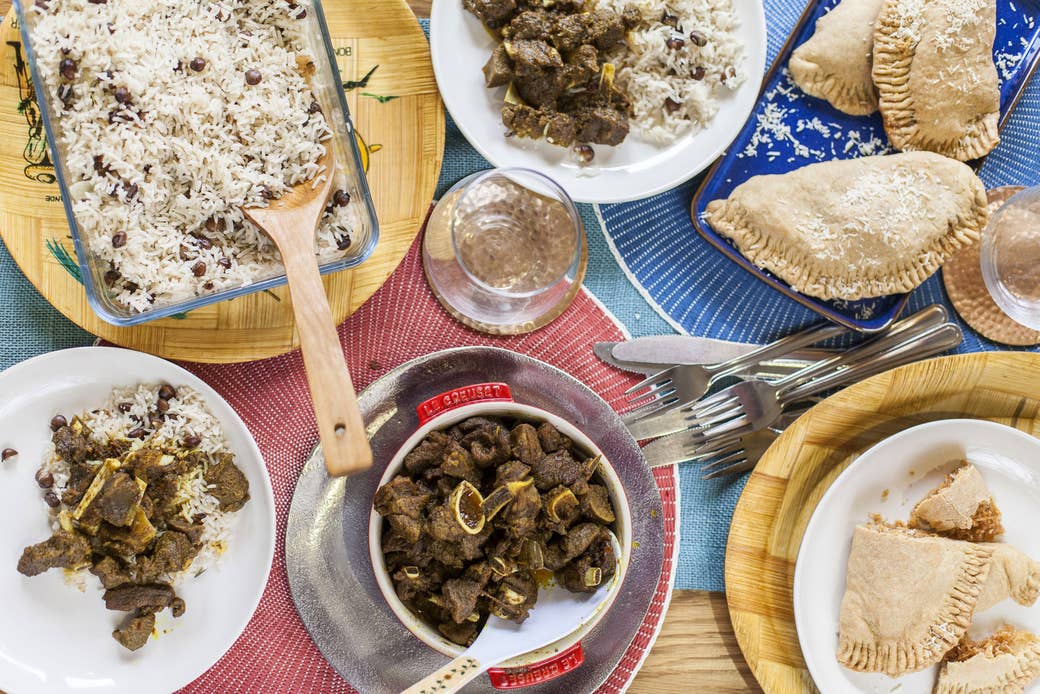 RICE AND PEAS
Serves 4

Recipe by Grandma Myrtle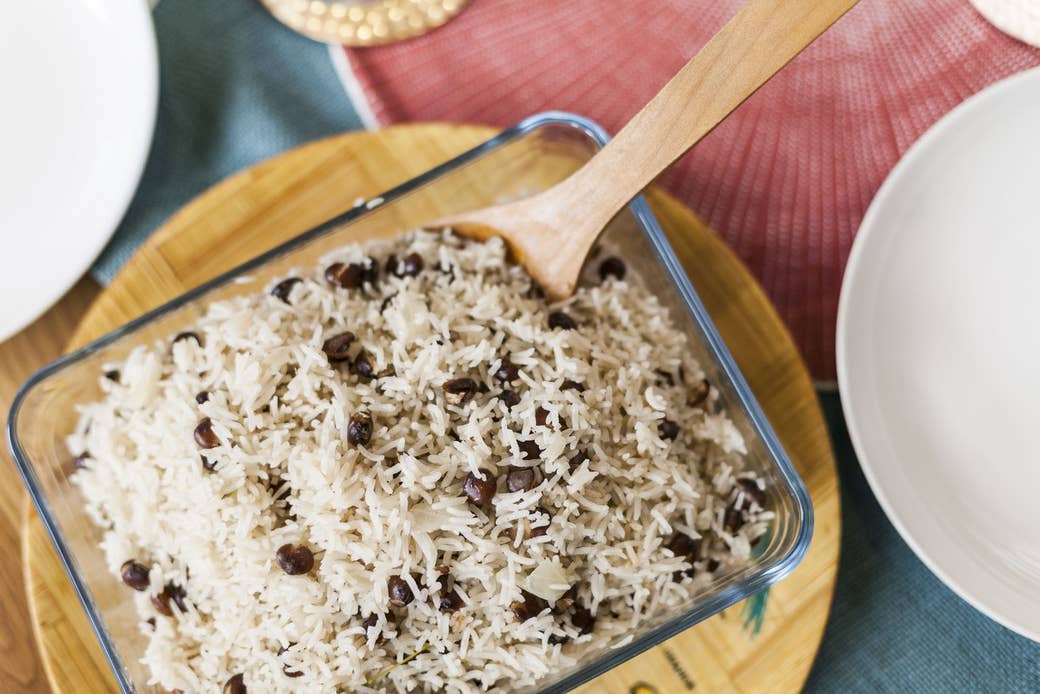 INGREDIENTS
400g tinned gungo peas
200g tinned coconut milk
Pinch of pepper, pinch of salt
Half a small onion, chopped
A few sprigs of thyme
500g basmati rice, rinsed in cold water
1 Tbsp. butter
Water
PREPARATION
On a high flame, pour the contents of tinned gungo peas (including the liquid) into a pot with the coconut milk. Add a pinch of salt and pepper, chopped onions, and a few sprigs of fresh thyme.
Stir every now and then until it comes to a boil. This should not take longer than 5 minutes.
Once the mixture has come to a boil add the rinsed rice and butter.
Turn the heat down to medium, stir once, and cook covered and wait for rice to soften. (This should not take very long – 3 minutes maximum).
Stir, and if the rice looks too dry, add a little bit of water (no more than a tablespoon or two). Turn down to a very low heat, cover, and leave to cook.
Check the rice's status every now and then, and if it looks dry, keep adding small amounts of water as necessary.
Once the rice is soft, take off the heat and serve.
JAMAICAN CURRY GOAT
Serves 6
Recipe by Vivien Barrett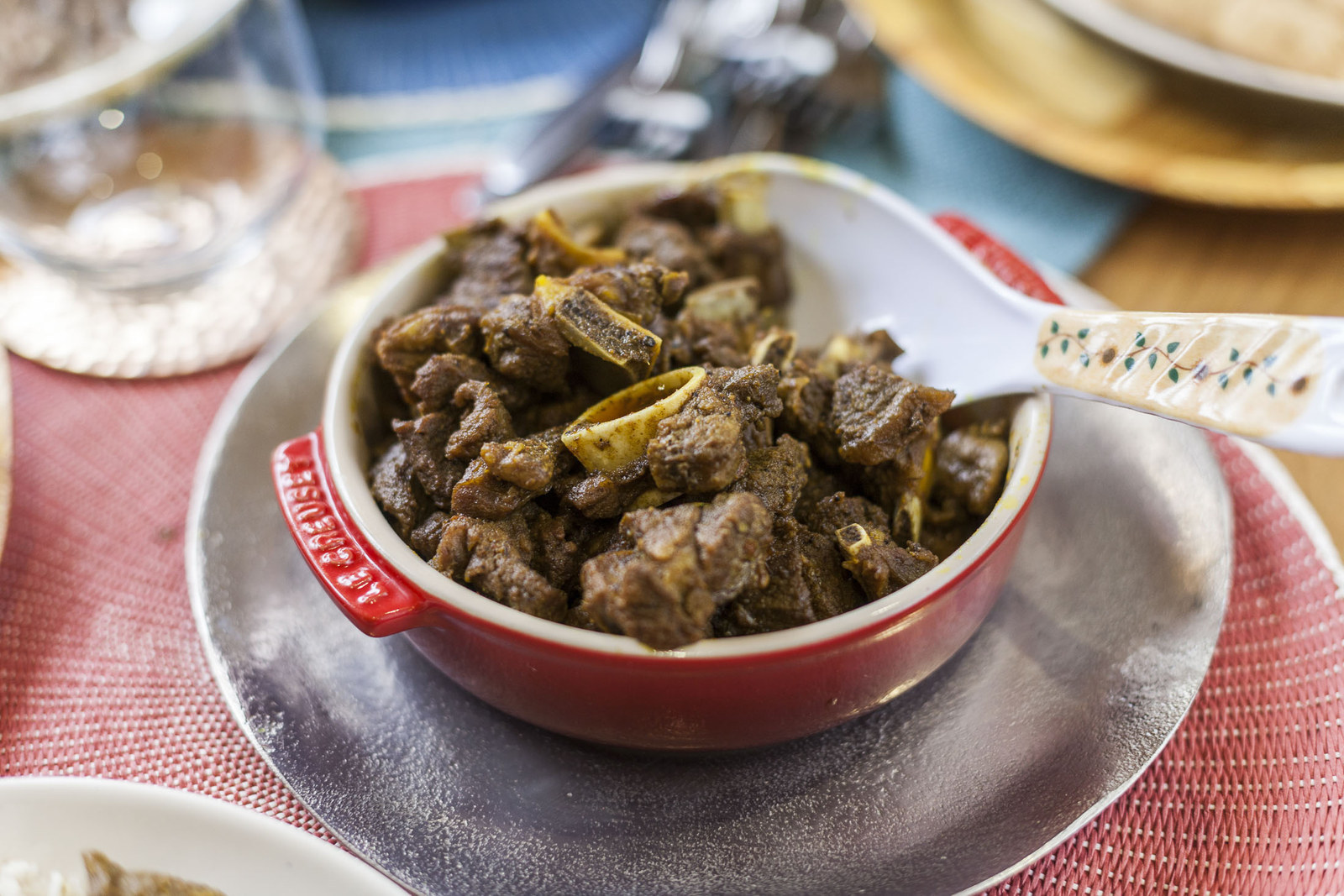 INGREDIENTS

6lb goat meat (ideally shoulder), chopped and rinsed in cold water
2 Tbsp. all-purpose seasoning
1 scotch bonnet pepper, chopped
1 spring onion, chopped
3 sprigs of thyme
2 Tbsp. vegetable oil
3 cloves of garlic, chopped
2 Tbsp. Jamaican curry powder
½ tsp Jamaican jerk seasoning
½ tsp minced ginger
Special equipment
Dutch pot
Cling film
PREPARATION
Place the clean goat meat in a large mixing bowl and add the all-purpose seasoning, scotch bonnet, spring onion, and thyme sprigs. Massage in and coat the meat evenly. Cover with cling film and leave to marinate in the refrigerator for an hour at least (ideally overnight).
On a medium to high heat, pour the vegetable oil into a Dutch pot. When the oil begins to boil, add the chopped garlic and Jamaican curry powder. Cook the garlic and curry powder, stirring frequently with a spoon, until the curry powder becomes fragrant.
Add the goat and turn frequently to brown and seal. Cover, and return to stir every 10 to 15 minutes.
Once the juices from the goat have reduced, add half a teaspoon of Jamaican jerk seasoning and half a teaspoon of minced ginger. Add a cup of water, reduce the heat, and simmer for another hour. Cook until the meat is tender and the juices naturally thicken.
Transfer the curry goat to a dish and serve with rice and peas.
GIZZADAS (coconut tarts/pastries)

Serves 6
Recipe by Grandma Myrtle

INGREDIENTS
Coconut filling
100g desiccated coconut
100g granulated white sugar
1 nutmeg seed, freshly grated (optional)
Pastry
190g plain flour
1 level Tbsp. baking powder
A pinch of salt
Water
A splash of milk
125g butter
PREPARATION

Coconut filling

Grease a baking tray with butter and leave for later. Preheat the oven to gas mark 3 (160°C, or for fan ovens, 140°C).
On a very low heat, pour the desiccated coconut and sugar into a pan, and add the nutmeg for flavour.
Stir regularly with a wooden spoon, to avoid the mixture burning on the bottom of the pan. Keep doing this on the same low heat for roughly 20 minutes, until the mixture turns golden brown.
Pastry

While the coconut mixture is warming, prepare the pastry by mixing the flour, baking powder, and salt in a bowl. Add a little water, a splash of milk, and butter. Mix and then knead into a soft, yellow-looking dough.
Once the dough is prepared, dust a clean surface with plain flour and break off small bits of dough. Roll these out into small circles of medium thickness.
Carefully place spoonfuls of the coconut mixture into the centre of the dough circles and fold them in half.
With a fork, press down on the edges to seal the parcels shut. Repeat for each circle of dough, and place the pastries on to the baking tray.
Bake in the oven for 20 minutes. The pastry will darken slightly, and the coconut filling will caramelise slightly.
Leave out to cool down slightly, and then serve warm. They can also be served cold.