Hi, I'm Farrah! Like you, I care about the environment. Recently, I decided to follow a zero-waste skincare routine for 30 days (which I've continued up until now) and it was extremely eye opening. This lead me to doing some research on another BEHEMOTH industry: cosmetics. So, I decided to challenge myself to complete a plastic-free makeup routine for one week, which could hopefully extend into a lifetime of Making Better Choices™.
I found many, many articles that basically said, "Yo, cosmetics industry...we gotta do better with the packaging thing." They're not wrong. Allow me to share with you some facts about the cosmetics world that might give you nightmares:
* The global cosmetics industry products 120 billion units of packaging every year, and a good portion of it is NOT recyclable.
* Last year alone, 142 billion units of packaging were created by the beauty industry.
* Many cosmetics come in packaging that's defined as difficult to recycle, where the product is compromised due to being made of mixed materials, which ultimately leads to its death in a landfill.
* The lifespan of a plastic bottle that your makeup product might be packaged in is between 450 and 1,000 years in a landfill.
* When you throw away plastic cosmetics packaging that makes its way to landfills, it emits harmful greenhouse gases throughout our atmosphere and contributes to climate change.
* Over five TRILLION tons of plastic currently lives in our ocean.
* Only 31% of plastic waste is successfully recycled.
After all that, guess what? I AM PART OF THE PROBLEM. I'm guessing you are too. My next step was to find makeup brands that were packaging-free, or as close to packaging-free as possible. I think the personal hygiene/skincare industry is ahead of the cosmetic industry in this initiative, because finding eco-friendly makeup was tougher than I expected.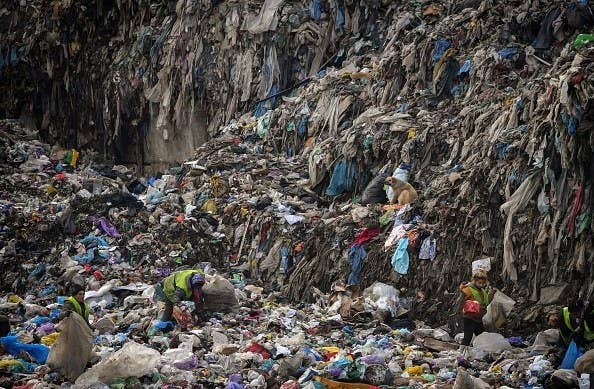 To give you an idea of what I already own, here's a little taste of what my usual makeup purchases look like. These products cover a wide variety of different looks I can create:
And after doing A LOT of digging, here's what my eco-friendly makeup haul looked like:
I've anticipated your next question: "OK, Farrah, how eco-friendly are these products?" None of these companies were 100% packaging-free, but they were the best options when it came to zero-waste. Here's what I found out:
* Eco Tools states their brushes are made from recycled aluminum and plastic with 20% cotton and 80% bamboo fibers. Their beauty sponges are made with 71% percent plant-based materials.
* Elate Beauty's bamboo packaging is made of seed paper and can be planted to grow wildflowers or composted. Their mascara wands can be broken off and donated to Wands for Wildlife. The glass bottles can be rinsed and recycled, and the bamboo strip from lids can be crushed and composted.
* Antonym Cosmetics uses sustainable bamboo for their power and eyeshadow packaging, along with FSC-certified wood for their eye pencils. They are very nearly plastic-free, with exceptions for their liquid foundation and the caps/sharpeners for eyebrow and eye pencils.
* Dirty Hippie Cosmetics provides products that are refillable. Their products are all handmade using green energy at DHC HQ in Canberra Austalia, and their plastic-free, recycled paper labels are printed in-house using green energy. They are 95% plastic-free with the exception of a few spray tops on their hair products/facial oil.
* Besame Cosmetics has a solid mascara that can be stored in a tin, but it does have a plastic brush with synthetic bristles enclosed in the container. The tin is aluminum so it can be tossed into the recycling bin or repurposed.
* Finally, I picked up Makeup Eraser's reusable mini rounds — because if I was putting eco-friendly makeup ON, I needed an eco-friendly way to take if OFF. Also, these helped erase any eyeliner/mascara application mistakes I made the way a Q-Tip would.
Now, without further ado, here is how the next seven days of me applying zero-waste makeup went!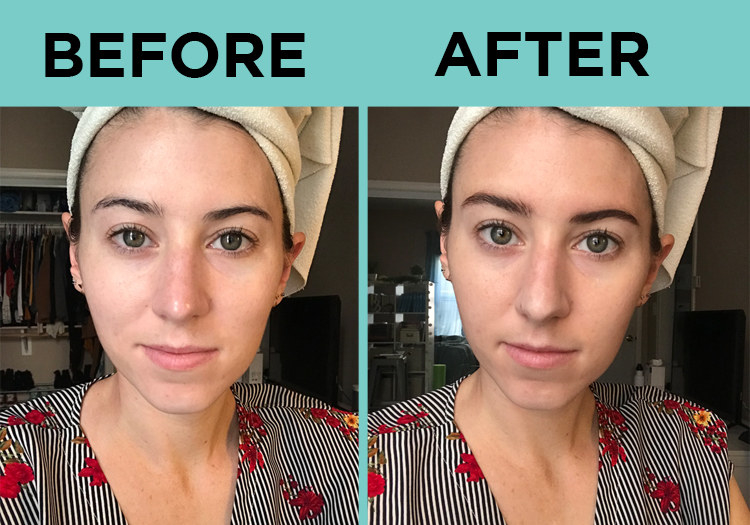 The first thing you need to know about day one is that I did NOT have environmentally friendly makeup brushes. I ran to Target later that day and bought a variety pack from Eco Tools, but I'm telling you this because I know beauty gurus everywhere are screaming into the abyss at how poorly my brow application went. Don't come for me. I get better, I swear.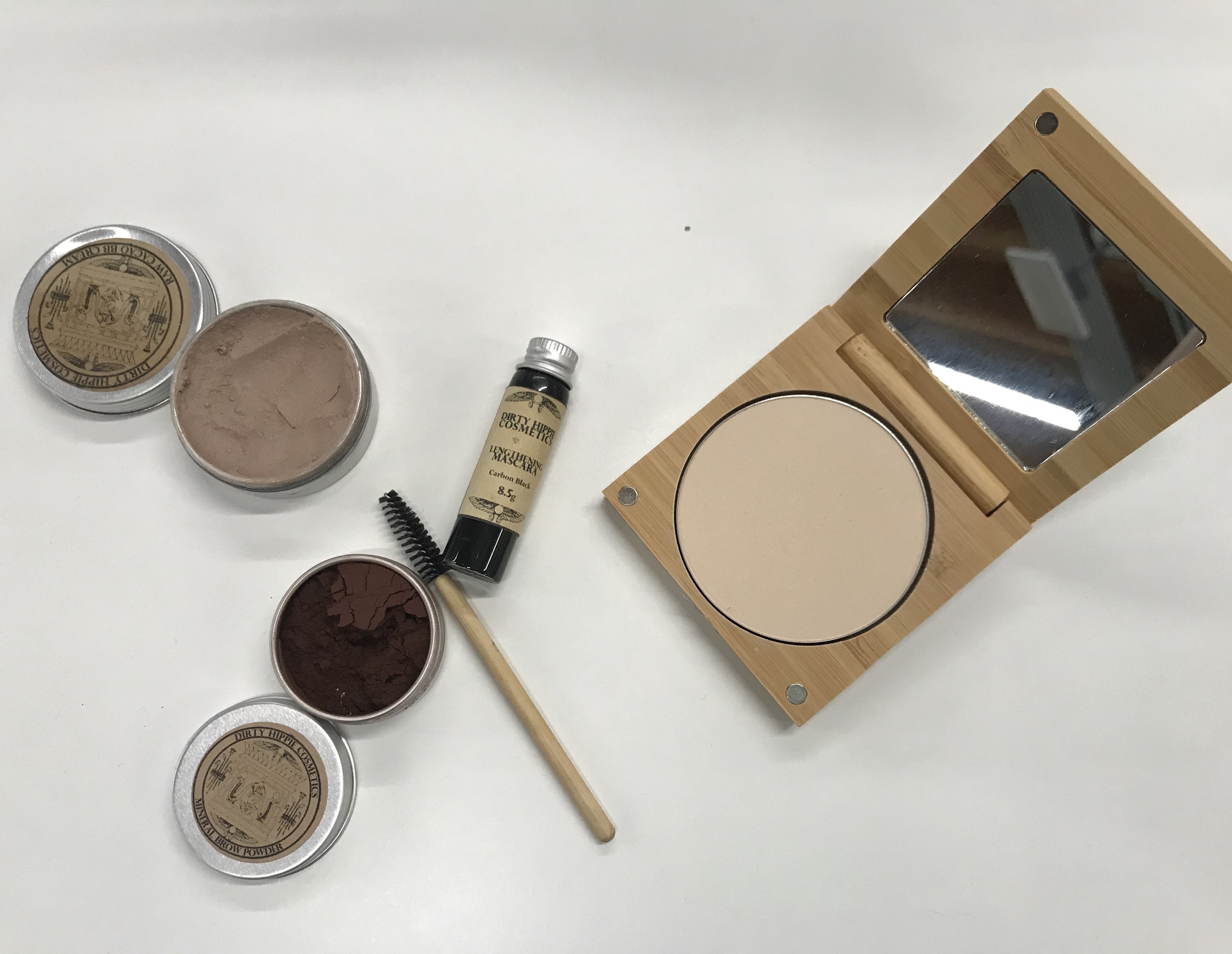 Trying to put on Dirty Hippie's loose eyebrow powder with a bamboo spoolie that was provided was a hot mess, as you can tell by my brows. I also think the shade (which is brown, BTW) is too dark, so I was a little disappointed. But the product itself wasn't bad. It lasted all day. Also, I was surprised at how much I loved the BB cream and how great of a match it was for my skin tone.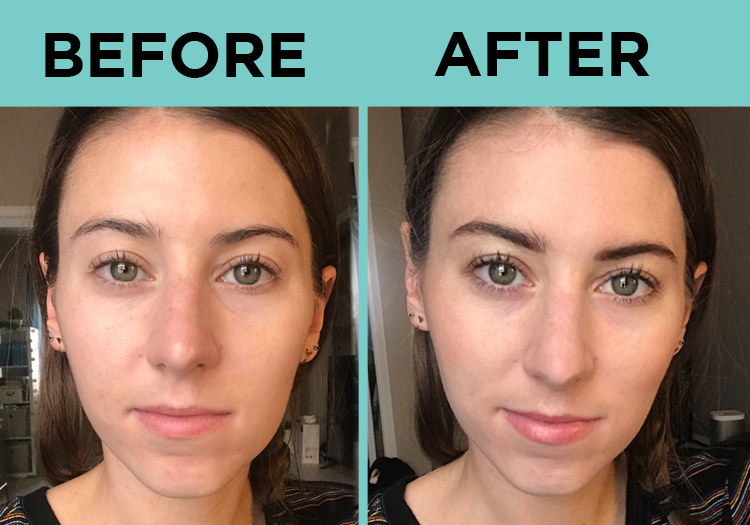 I was able to create my typical weekday look MUCH easier with the Eco Tool brushes. My eyebrows do not look like I haphazardly slapped powder all over them, and I was LIVING for the subtle lip color from Dirty Hippie Cosmetics. I decided to try the Noisette eyeshadow palette from Antonym, but then I remembered I usually prime my lids with Urban Decay's Primer Potion because my skin gets oily throughout the day, and therefore the color will crease in my lids. So, sadly, I put the eyeshadow on without primer since the Primer Potion came in a plastic container and experienced creasing in my lids.
The good news was that I experimented with WAY more products on day two and learned that the itty bitty brush that comes with Antonym's eyeshadow palette is too small to accomplish anything. I had the Eco Tools brush so that didn't matter. Besame's solid mascara was pretty easy to use, but the color didn't lift as heavily as I expected. It's great if you want to darken your eyelashes but didn't do much for lengthening.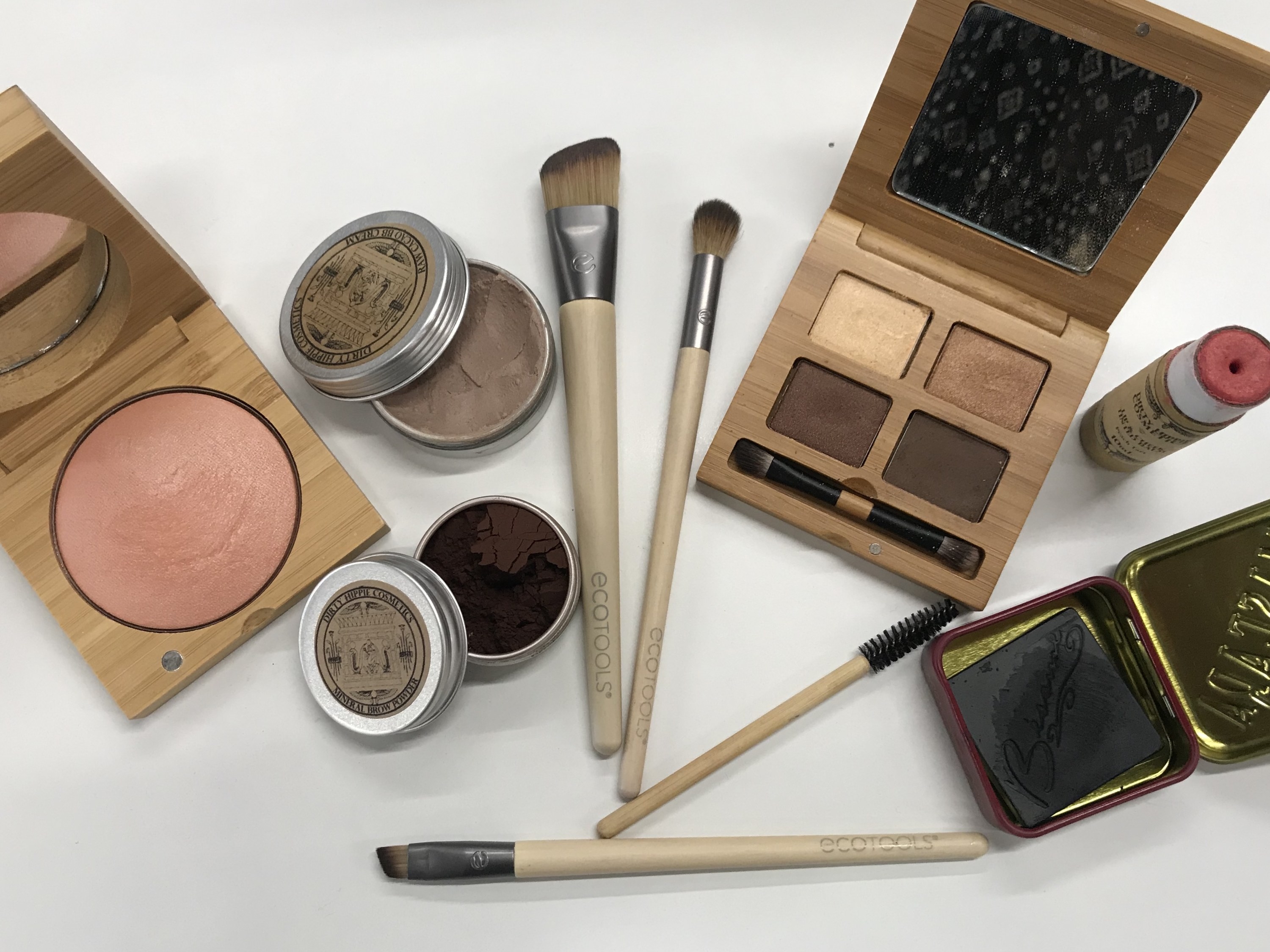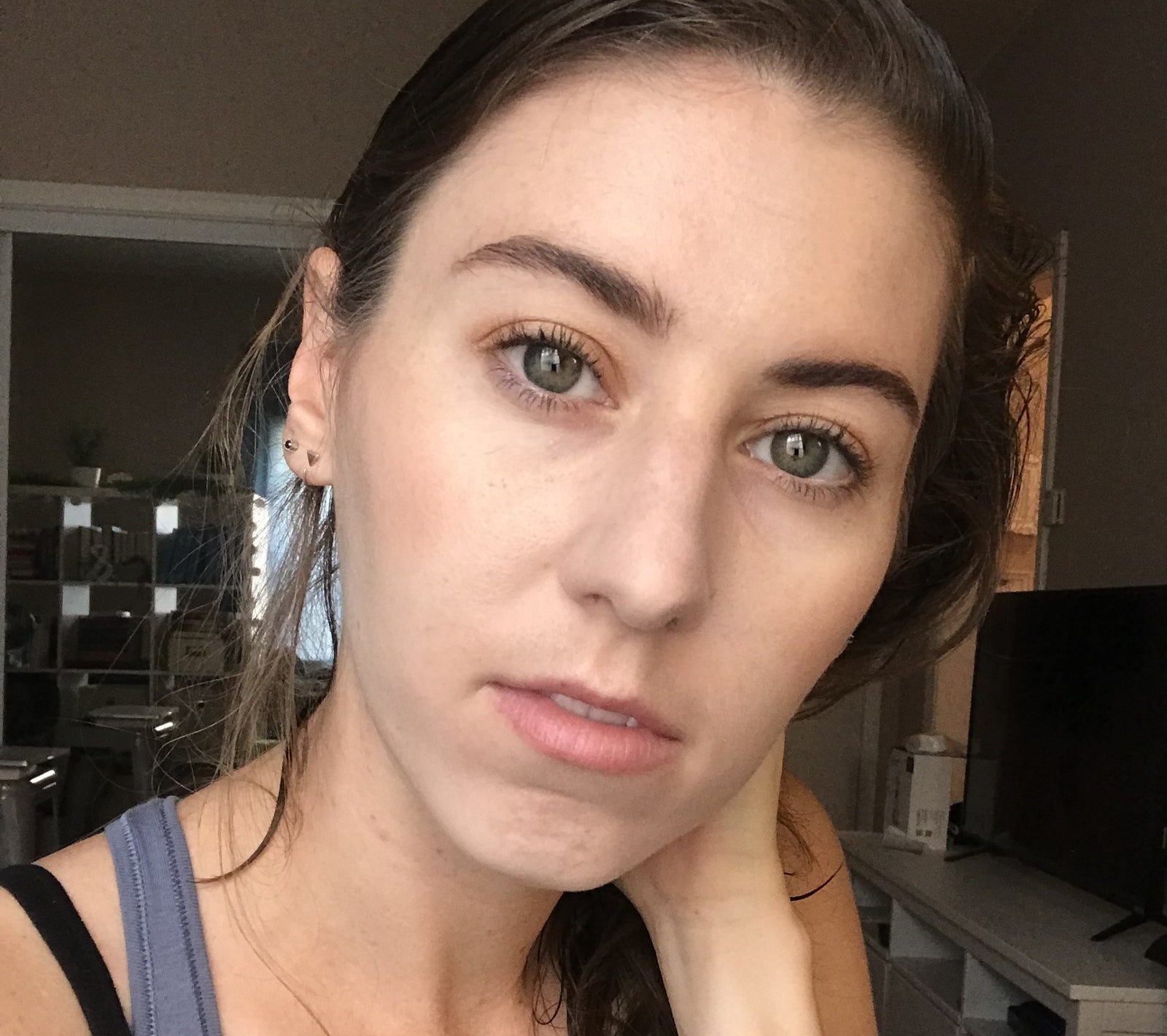 I'm going to nix the before and after photos from here because by now you should know what my naked face looks like. Day three wasn't too much different from day two since I was only going to work, but I did swap out the BB cream for Elate's fresh tint foundation. Normally, I hate foundations. They're too heavy for my skin! However, I really liked this one because it went on light, which is bad news if you prefer extra coverage. The tube of Dirty Hippie mascara is messy to use, but I was starting to realize a little goes a long way. It also forced me to wash my spoolie every time I applied mascara, which is a good habit to pick up anyway.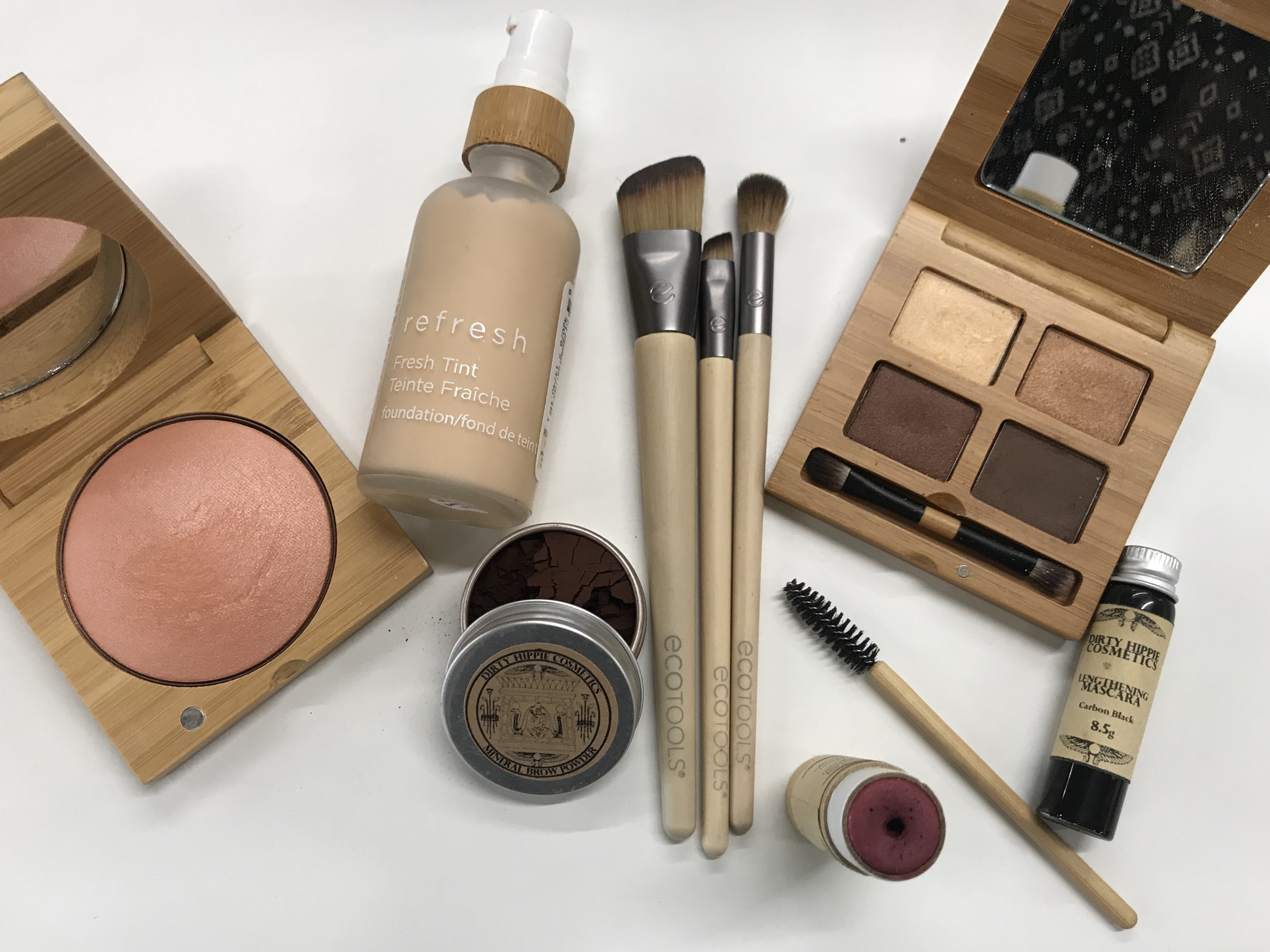 I saved my day four makeup for a night look, mostly because I wanted to show you a more ~dramatic~ eye creation. I used most of the eyeshadow colors from both Antonym's palettes, but I cheated and primed my lids! (If you haven't figured it out, my next step is to find a zero-waste lid primer). I really liked the way the color blended together when I was done. Also, I was nervous to apply Dirty Hippie's liquid eyeliner for the first time with the tiny little pointed brush it came with only because I usually use an eyeliner pen with a felt tip. But it ended up not being so bad! I made a few mistakes at first. However, I learned less is more, and I definitely didn't need to dunk the whole stick in the product.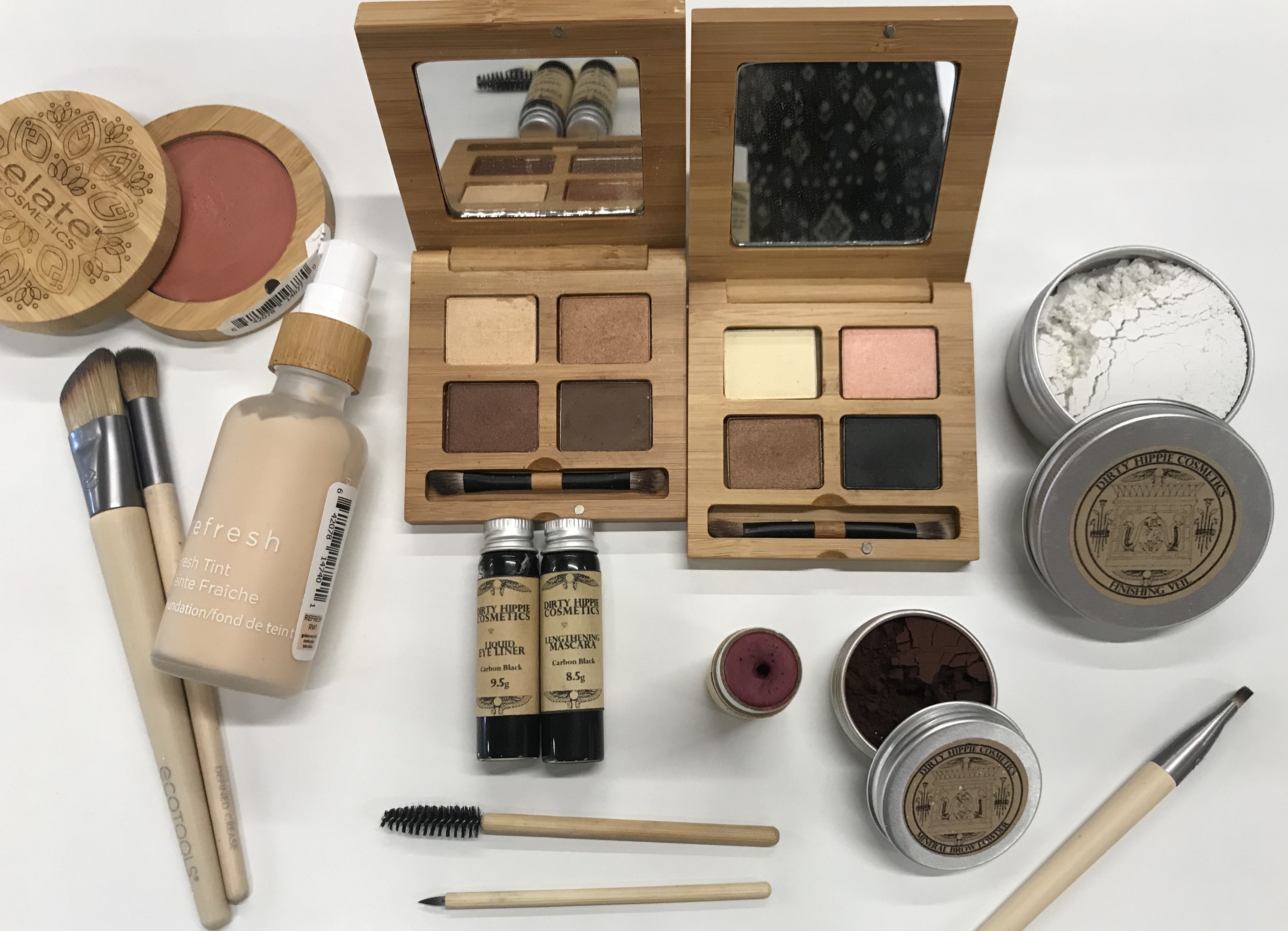 OK, I have something to admit to you all. By day five, I missed my Tartelette palette. It had so many different eyeshadow colors and blended a little easier. I worked with what I had from Antonym to create a color that popped more than my typical work-day vibe. I really loved the subtle blush from Antonym and the Dirty Hippie BB cream continued to be my go-to, but I noticed it did start to look a little greasy when I was outside (because it's summer and it's HOT). Also, I used the eyeliner again! I liked it more than I realized initially and thought the application process was pretty smooth.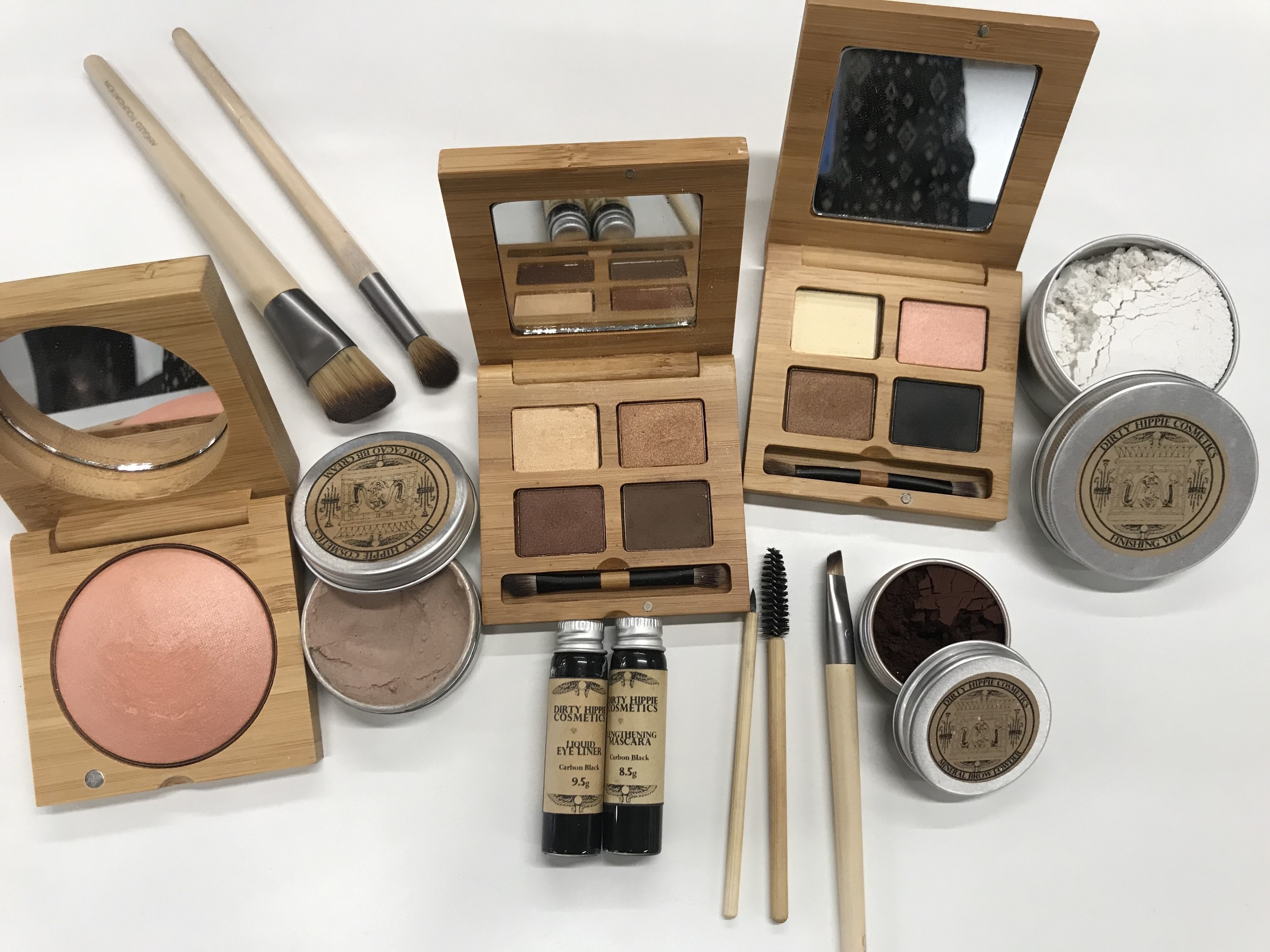 I went back to a simple look for day six. Honestly? I was *also* missing my eyebrow pencil at this point. I mentioned earlier that the brow powder was a bit too dark and even though I thought my application ~skills~ got better, a pencil is easier to work with. That doesn't mean I'll go back to pencils — I just need to keep experimenting with different zero-waste products until I find one that works for me.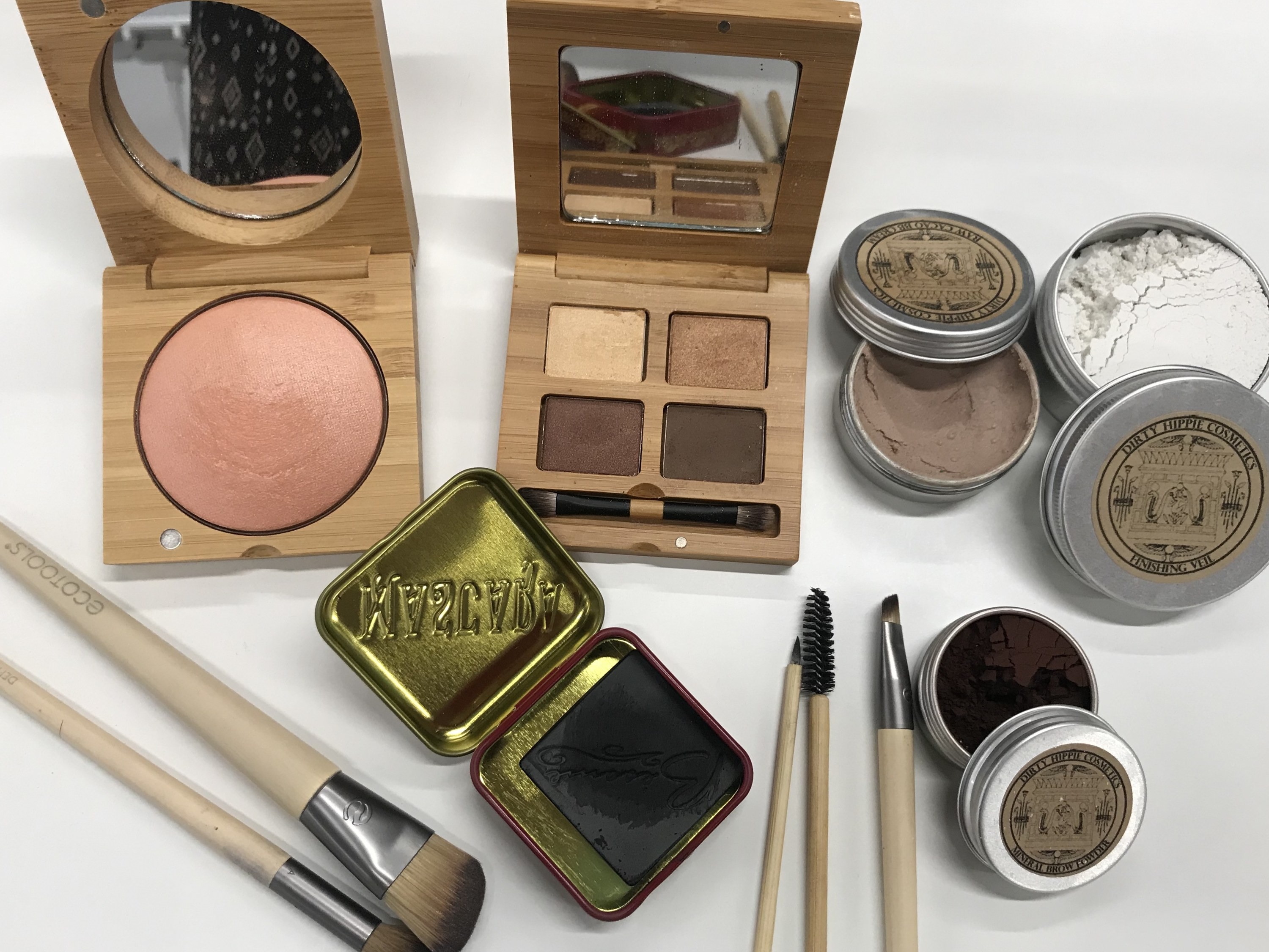 I ended this challenge on another going out/night look. Again, I wished I had more eyeshadow colors to play with and because I wasn't super excited with the way the product blended, I might try out other eco-friendly brands as options in the future. Overall, I thought the end result looked good! It was a solid smokey look I'd aimed to create.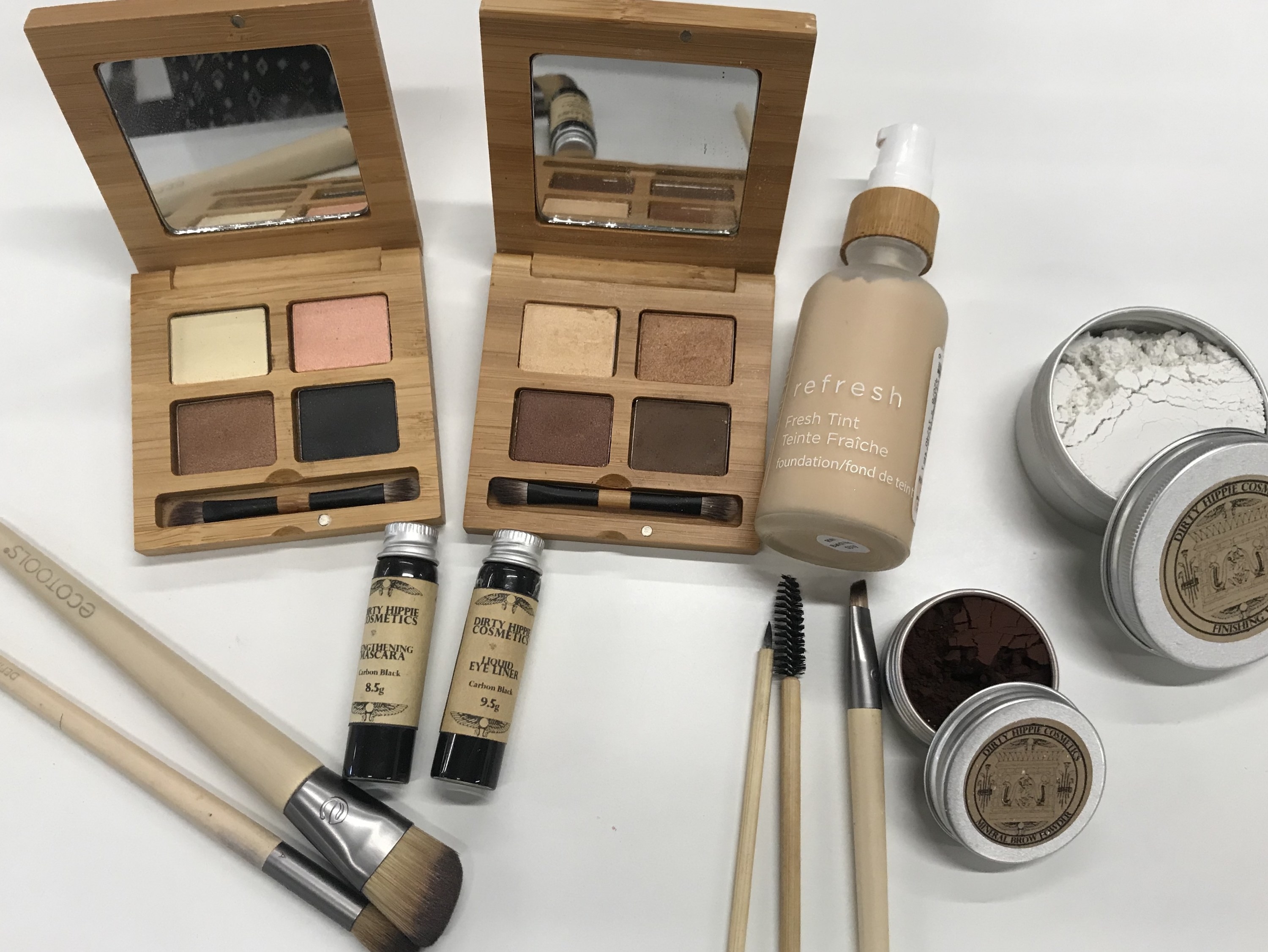 When I started this challenge, I knew there would be products in here that I loved and products I didn't. After wearing makeup for 10+ years, I've probably tried and tested DOZENS of brands to figure out what I like and don't like. The same will continue with zero-waste brands! My goal is to use up the rest of my already purchased cosmetics that aren't plastic-free by the end of 2020, which will hopefully transition me to only have zero-waste cosmetic products by 2021.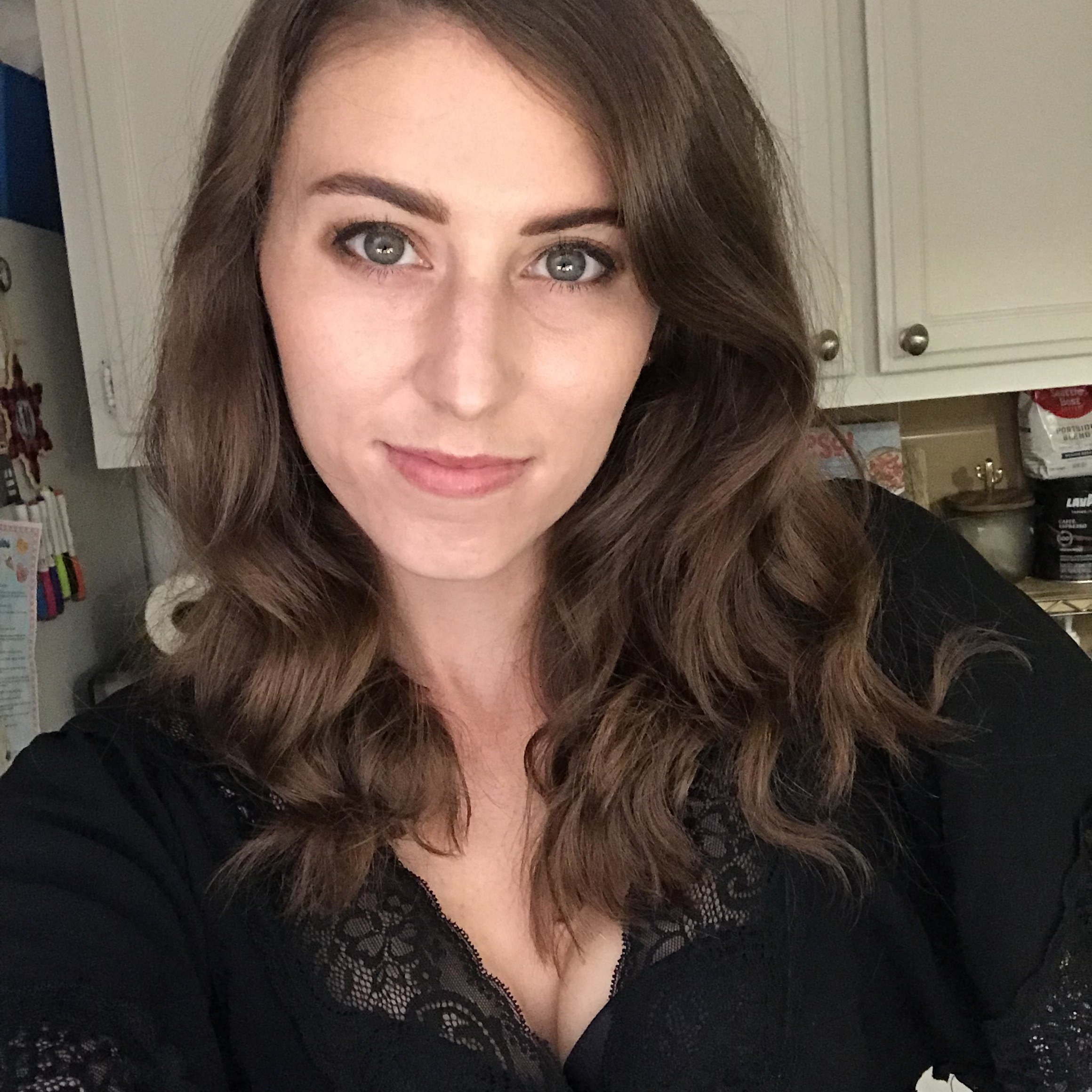 This week truly opened my eyes to how many cosmetic companies aren't plastic-free with how they package their products. And as consumers, we have to demand change! You can still look like a fierce queen wearing eco-friendly brands, so don't be afraid to give it a try. So, I want to challenge YOU to replace one of your plastic cosmetics with one that's eco-friendly once it runs out. If we take small steps, we can contribute to a larger cause!!!!!