1.
The Pink Stuff's Miracle Multipurpose Cleaner Spray, which lives up to its name and *then* some considering the feats it can accomplish — people compare it to a Magic Eraser for everything from scrubbing the oven to caked-on pans to cleaning walls to getting stubborn stains off tiles and mirrors and sooooo, so much more. 
Promising review: "Glad I found this product on TikTok. Does 95%–100% of the job in seconds! Definitely worth the money." —Mother of 4
Get it from Amazon for $9.65. 
2.
A "Bread Buddy" dispenser that keeps sandwich bread fresh by ensuring it stays *way* more airtight than it does in just the bag alone, and also lets you use the bread bag in a clever way to dispense slices one by one. Tons of reviewers are noting how much longer their bread stays fresh (and how much easier it is to store without worrying about it getting smushed!). 

Check out a TikTok of the Buddeez sandwich bread dispenser in action. 
Promising review: "The Buddeez Sandwich Bread Dispenser is great! It does exactly what it was intended for. I live alone and I don't quite go through bread often enough before the last quarter section of the loaf starts to go stale. I was originally looking for something to put a loaf of bread in as a shell for my vacuum sealer, that would keep the bread from getting crushed from the pressure. This dispenser solved all of my problems. Thank you!" —DRMcQuaig

Get it from Amazon for $11.99. 
3.
A jewelry-cleaning stick with cleansing solution on a brush designed specifically to get in the nooks and crannies of your jewelry, so you can dig out all the grime that's accumulated over the years on the cheap instead of taking it to the jeweler.
Promising review: "I absolutely love this product. I saw it on TikTok and figured I would give it a try. My grandmother passed away almost eight years ago, and she left me her first engagement ring in her will. I have tried so many jewelry cleaners, toothpaste and toothbrush, you name it, tried everything except for sending it away to get cleaned. I ordered the Diamond Dazzle Stik on Thursday and it arrived the following Saturday, fast shipping! Today is Sunday and I cleaned my ring with the Diamond Dazzle Stik. My ring is just as shiny as it was when my grandfather bought it for my grandmother many many years ago. I will definitely use this Diamond Dazzle Stik on all my jewelry. Highly recommended!" —Heather
Get it from Amazon for $8.89.
4.
A painless, mint-flavored teeth-whitening pen that gets results from the very first use, lightening up years' worth of stains from coffee, tea, wine, or just...you know. Existing as a human with teeth.
Promising review: "I bought this on a whim when I saw someone review it on TikTok. After using it several times over the course of a week, I immediately noticed the difference in the color of my teeth. I'm a smoker and a heavy coffee drinker. I'm finding that this product will be a lifesaver in terms of what my smile looks like. I would definitely recommend!!" —Mully
Get a two-pack from Amazon for $16.99 (clip the $3 off coupon on the product page for this price).
5.
A no-scrub weekly shower cleaner you can quite literally "set and forget" to maintain its cleanliness over time — once you apply it after a shower, you just have to wait 8 to 12 hours and it'll quietly tackle the soap scum, grime, oils, mold, and mildew stains without any elbow grease from you.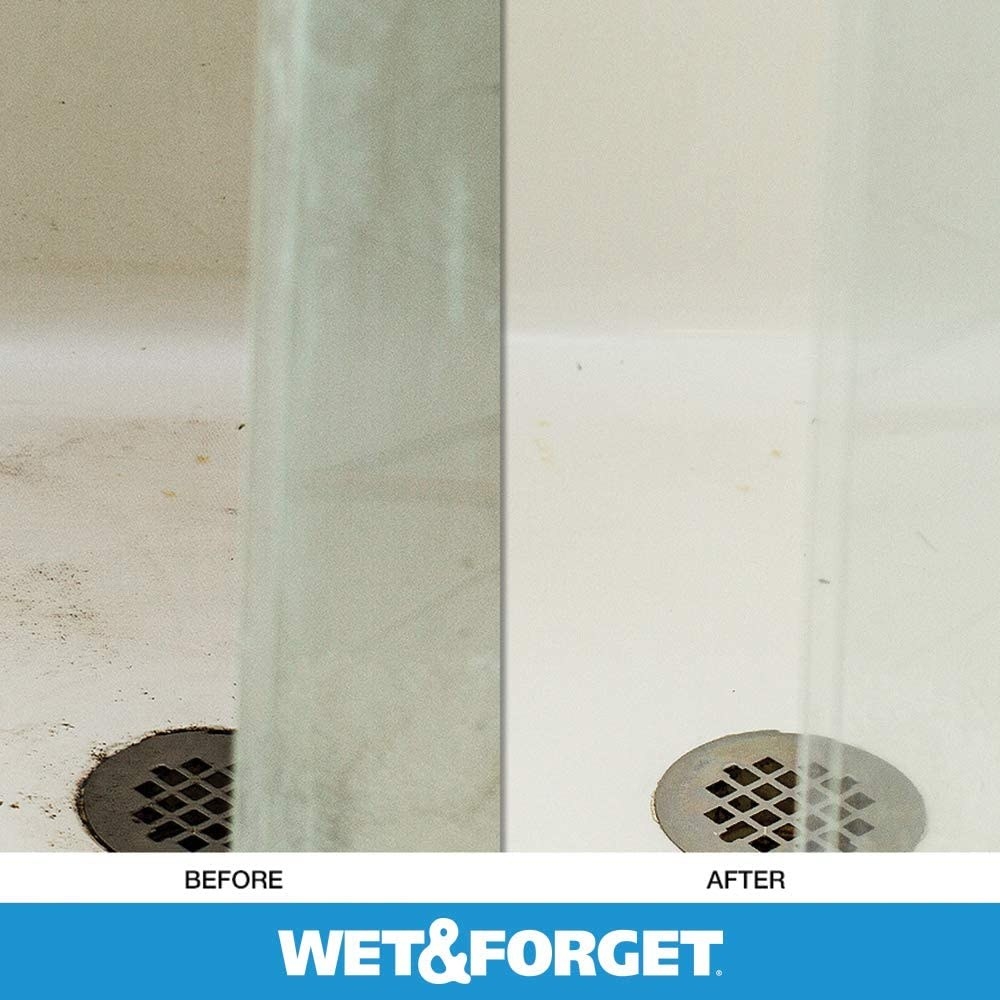 Promising review: "I have well water. Something in my well water reacts with copper plumbing and turns my shower tiles blue. Since my bathroom color scheme isn't on the blue spectrum, this is problematic. The well water also causes the shower glass to film up quickly. I've tried dozens and dozens of cleaners and scrubbed till my arms ached trying to get ahead of the blue and scumminess. My ambition in life is NOT to be a full time bathroom scrubber! I saw this stuff on a professional house cleaner's TikTok (sorry, don't remember which one) and thought 'what the heck, might as well give it a try.' Oh my goodness, the first day after my shower I sprayed this stuff all over and walked away. The next morning there was a NOTICEABLE reduction in the blue and the glass looked clearer too. Day two, sprayed again and walked away. The next morning the blue was gone except for a few spots on the floor tile and the glass looked amazing. Day three I sprayed the remaining spots and the next morning the shower practically looked new. NO SCRUBBING AT ALL!!!! This is my new favorite shower cleaner. The ONLY con I have is that it makes me sneeze while I'm spraying from inside the shower, but I can live with that." —L. J. Petillo
Get it from Amazon for $19.74.
6.
A six-outlet wall charger designed specifically for larger chargers that also comes equipped with two USB fast-charging ports *and* a night-light, so your WFH setup is as organized as possible.
7.
A cult-favorite ~secret~ popcorn salt that anyone in the movie theater industry will tell you is a perfect dupe for that oh-so-savory buttery goodness the whole fam loves to inhale before the previews begin. Not to be dramatic about popcorn on main, but this stuff is game changing.
Our family recently unearthed this because beloved To All The Boys I've Loved Before author Jenny Han mentioned that it was her secret to delicious popcorn, and it may have just wrecked me for other at-home popcorn for the rest of my life. It genuinely tastes just as salty and buttery and savory as fresh movie theater popcorn. I inhaled it so fast that every single one of my organs lit up in mild alarm.
Promising review: "I am a person who will make myself sick eating buckets of popcorn (I have no self-control). This has by far been my favorite 'TikTok made me buy' item. My at-home popcorn is now my favorite thing to make and I don't need to go the theater for popcorn. Very much worth the purchase and this will last me such a long time." —S Martinez
Get it from Amazon for $10.10 (available in two other flavors).
8.
A fast-acting ChomChom pet hair remover roller that is deeply beloved by pet owners — it's like a sticky lint roller, but specifically designed to pick up pet hair and not only lock it in, but stash it inside the roller itself, so you don't end up making matters worse by just shoving the hair around instead of getting rid of it properly. 

Promising review: "I have a golden retriever and the shedding is out of control. My fabric sofa is constantly covered in hair and I finally decided to try this after reading an article about popular TikTok products. The reviews do not lie, this thing works magic!! I wish I had taken a before and after picture because the difference is noticeable. I watched the video tutorial before I tried it to ensure I was using it properly and everything he says is true, you do really have to put your arm to work with vigorous back and forth movement! However, I find it's a great arm workout and it works wonders." —Joanne Ertel
Get it from Amazon for $26.95. 
9.
A foaming garbage disposal cleaner you can plop into your sink, run a little water on, and let its blue magic fizz its way up to the top while clearing out all the gunk from your culinary adventures in one go.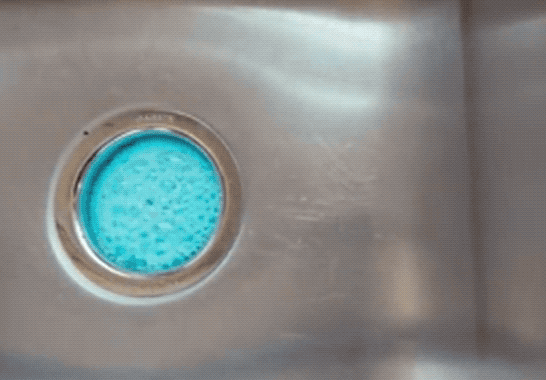 Promising review: "Saw on TikTok (don't judge) and automatically added to cart. So easy to use, takes probably a minute to fully bubble up and clean, and you're left with a clean sink! I use with other drain cleaning products, but would 100% recommend for weekly maintenance." —Jessica Hamilton
Get a four-pack from Amazon for $3.98.
10.
Urban Skin Rx's Even Tone Cleansing Bar, a 3-in-1 cleanser, exfoliator, and brightening mask that reviewers rave about for helping fade acne scars and dark spots, even out skin tone, and help prevent acne breakouts. 
11.
First Aid Beauty's KP Bump Eraser Body Scrub Exfoliant to help exfoliate and smooth skin by dealing with rough patches or dry bumps — a lot of reviewers with keratosis pilaris and similar skin textures swear by this! 
Promising review: "I saw this on TikTok and Instagram. I decided to try it and it really works. I used it on my thighs and upper arms. I noticed a difference the first time and even more the second time!!! Fabulous product. Worth every penny." —Lana

Get it from Amazon for $12+ (available in three sizes). 
12.
A set of bedsheet fasteners to lock your fitted sheets neatly into place once and for all, so you can finally get the peaceful, untangled sleep you deserve every night.
13.
A fume-free oven cleaner that's gentle enough that you don't need protective gloves to use it, but tough enough that it'll erase the evidence of all your baking misadventures and that time you fell asleep while cooking pizza rolls.
Promising review: "I saw this on a TikTok. I have used Easy Off in the past but hated the smell. This is so much better and let me tell you I am super sensitive to smells. Works great in the oven, and also as I saw on the video works great in shower stalls and tubs!" —Amy L Viau
Get it from Amazon for $6.27.
14.
A bottle of nail and cuticle repair oil that you simply brush on your nail beds once a day to condition and strengthen all those brittle spots and painful hangnails, leaving you with thick, strong nails and nail beds you're not tempted to pick at all the livelong day.
Promising review: "Found it on TikTok and I'm so pleased with the results. My nails are getting stronger and growing. And the best of all not chipping. Love it." —sidna saavedra
Get it from Amazon for $8.50.
15.
A bottle of Drop It, a natural wine sulfate and tannin remover that works its magic on your glass in just 20 seconds — instead of reaching for more expensive wines with fewer sulfates, you can enjoy a reasonably-priced pinot knowing you've spared yourself the infamous post-wine headache or allergic reactions.
It's also a lot more cost-effective and environmentally friendly than wine wands or other competitors — a single bottle of this can be used to treat up to 55 glasses of wine, as opposed to wands that can only do a few glasses each before they get tossed. Drop It recommends 1–2 drops for each glass of white wine, 2–3 for a glass of red, and 7–9 if you're treating the whole bottle at once. Once it's in the glass, swirl lightly for 20 seconds, and you should be raring to go!
Promising review: "I ordered this product after seeing it on TikTok with further investigation. And I must say it does work. I love sweet wine but will always get a headache the next morning (one glass). After using I did not have one the next morning 😊." —Theresa B. 
Get it from Amazon for $14.99.