1.
A "flossing toothbrush" with two layers of bristles — regular firm bristles, and longer ones that are ten times thinner to clean deep in between your teeth and gums to mimic flossing. Reviewers love how deep the clean feels, and also how soft it is on sensitive teeth!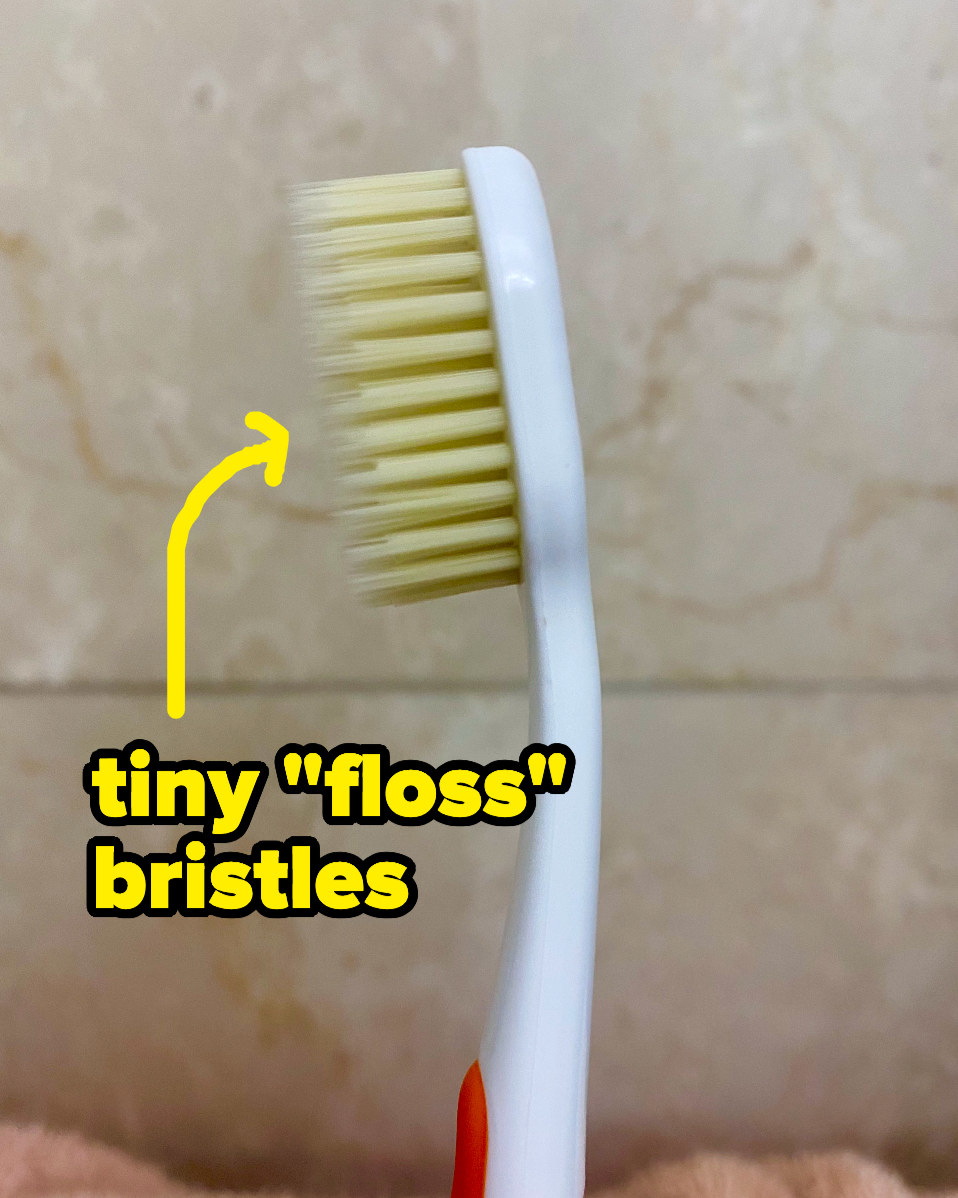 Mouthwatchers is a small business established by Dr. Ronald Plotka, DDS, that specializes in antimicrobial toothbrushes designed to get deeper cleans even patients with "great" dental hygiene might miss with traditional brush and floss routines. 
I personally bought a few months ago this and love it! I use an electric toothbrush usually, but I feel like I'm getting a much more satisfying clean from these?? Especially because I tend to get yellow stains between my teeth no matter *how* much I floss, and these bristles seem to actually target that a lot more effectively. I've switched to using this in the morning and the electric one at night and definitely see a difference in that area in particular. 
Promising review: "This was another one of my TikTok purchases! I was skeptical but my kids hate flossing their teeth so thought this might help in between making them floss. They work amazing! My kids said they could see and feel a different on the first use and I agree! They are definitely with a try! I would suggest not pushing too hard, those tiny bristles really get in there and if you push too hard you nights be sore like I was. It felt like after going to a dental cleaning." —Amy N. 
Get a two-pack from Amazon for $8.91. 

2.
An undetectable mouse jiggler for folks working at home who need to stay "active" on Gchat, Teams, or Slack and sometimes want to dash out to use the bathroom or walk the dog without doing the whole "BRB, BACK IN A BIT!!" song and dance every time they dare to get up from their desk. 

Promising review: "Like everyone else, I stumbled upon this product because of a TikTok I saw. Setup was extremely easy and I'm pleased to say that my Teams green light is on all the time now. Workers of the world, unite." —Amazon Customer
Get it from Amazon for $29.99 (available in four styles). 
3.
Essence's Lash Princess mascara, because TBH, we've all wasted too many years and too much money looking for the ~holy grail~ mascara. This one is less than $5, gives you instant length, and is DELIGHTFULLY sweatproof. 
Hello, that is my face above, because I bought into the hype of all the 5-star reviews and now I will never look back!! Putting it on is like giving my eyelashes butterfly wings. It doesn't get clumpy, it stays put ALL the livelong day no matter how much you sweat, and you can apply it on very lightly if you don't want it to look so dramatic, or continue applying for longer lashes each time.
Promising review: "Saw this product on TikTok and thought it would be expensive looking at the results they got. I am beyond amazed with how my lashes look after about two coats. For around $5 you couldn't ask for a better mascara! I will be buying this same one when I run out. I was not expecting to like it as much as I do! No complaints." —Kd
Get it from Amazon for $4.99.
4.
A copy of Burn After Writing, a guided journal that tens of thousands of reviewers swear by — through a series of questions and thought experiments, it encourages people to take time away from their screens to explore their feelings, both new and old, so they can embrace meaningful ones and try to let others go. 

Promising review: "I first saw this book on TikTok and decided to look more into it. I purchased four total because I know some people holding onto things that are difficult to let go of. It's a great way to look at things from a different perspective and truly hold yourself accountable to different things in your life. I love what it stands for and I look forward to when I burn mine after I'm done. Self love, self care, and meditation for a better state of mind tomorrow is always the goal. I definitely recommend it to those susceptible to change and the willingness to try things different. You're so much more than what's been done to you and someone's inability to see your worth does not decrease your value. Choose you for a change." —Brent Helm
Get it from Amazon for $7.32. 
5.
A delightfully versatile matcha-infused moisture stick reviewers use for everything from hydrating dry lips and skin to helping reduce dark circles and puffiness. People with sensitive skin especially swear by it, and as an added bonus, all the materials are recyclable! 

Check out a TikTok of the matcha stick in action. Cocokind is a San Francisco-based, woman-founded small business that specializes in botanical-forward skincare with an emphasis on both physical and mental health. 
Promising review: "This is my first time using the MyMatcha stick and I looovvveee it! I have it on me pretty much all the time so I can dab a little bit on my dry spots as I need to. It softens up my dry areas and even decreases the swelling of my acne! I've used it as a moisture stick, an acne anti-inflammatory, and even a fly-away tamer. It's a great multitasking product." —alizza d.
6.
A set of affordable, highly popular wireless Bluetooth earbuds that make *excellent* AirPod dupes, except arguably better — these are completely waterproof (like, you can fully take them in the shower) and come with several silicone earbuds to get the best fit possible.
These come with a wireless charging case that provides up to 14 hours of charge (with the earbuds able to play for four-plus hours with each full charge). 
Promising review: "Best decision! These are the greatest headphones ever! I saw them on TikTok months ago and added them to my wishlist. I got a new phone that doesn't have the headphone port so I decided it was time to finally buy them. They are amazing and I probably won't ever take them out of my ears! 😂" —Katlyn D Arnold
Get it from Amazon $19.99+ (get this price by clipping the 15% off coupon on the product page; available in five colors).

7.
A buildable Glimmer Glow Stick lipstick with a sheer, subtle glitter and a unique rosy tint formulated with ~pH technology~ so it will adapt to your own personalized shade. 

Check out a TikTok of the Glimmer Glow lipstick in action. 
Promising review: "This is such a pretty pH color lipstick, viral for a reason — it's very pretty to look at, it's not sticky at all, and the more you layer it, the darker the pink shows up. The only thing I don't like is the scent in it, I can almost taste it a bit. It's nice to have in my purse if I need a quick color while I'm out in case of sudden dinner plans or a meeting, because you can control the color saturation to how light or bold it is." —Kristina Bumbelow

Get it from Amazon for $3.99. 
8.
A ridiculously charming octopus-shaped blackhead remover you can use to gently scrub as part of your skin routine or in the shower to remove excess sebum to exfoliate pores and pull out blackheads, whiteheads, and other miscellaneous gunk from the day that you'd rather evict. 
Promising review: "I saw this on TikTok, it works great so far." —MarMarManuel
*Another* promising review: "After just two days of use, this adorable little octopus has done wonders for me, smells great too. Here's how I used it: I wore down the stick just a little to where the texture from the salt is visible, scrubbed around on my face so there was plenty of product, then I used my fingers to gently massage all the gunk away. Rinse, pat dry, and enjoy the softness. Highly recommended for people with sensitive skin like myself." —LuckLocust
Get it from Amazon for $12.50. 
9.
A roomy duffel bag that's practically *screaming* "take me on a weekend road trip" — this durable, water-resistant duffel comes with long handles for easy maneuvering, a side panel to hook it to a roll-on suitcase, and even has compartments to separate dry clothes from wet/dirty clothes. 

Promising review: "Exactly what I was looking for in a weekend bag. It is very well made, good construction from zippers to straps, inside and out. I was able to pack all my needed items for the weekend, including laptop. Extremely happy with this bag. Will gladly use this bag on longer trips as well. I purchased the light pink color and it's perfect." —pixie trinket

Get it from Amazon for $22.99+ (available in 18 colors).
10.
A jar of internet-beloved The Pink Stuff, which tackles so many darn things that it'll be the BFF of every room in your house. Need to paint over a stain on the wall? Get it off with The Pink Stuff. Think you need to replace that caked-over grimy pan? Put The Pink Stuff to the test. About to hire cleaners to tackle whatever the heck is going on in your tub? 1-800-The-Pink-Stuff, baby!!
11.
A Renpho percussion massager you don't even know how badly you need until you're using it — this gizmo is great for releasing knots, aches, and muscle tension, whether you got it from working at a desk too long or an intense workout.
Check out a TikTok of the massager in action. 
Promising review: "My husband bought me a massage gun for Christmas. I opened it, and it had been used (yuck) so I said, let's return it. My daughter in law got one for Christmas as well. We put an end on each one, and we compared them. Mine was from Sharper Image/Costco, hers was this model Renpho. Mine in comparison was not powerful, did not go as fast, and just didn't do much for me. They look similar but they were NOT. So I returned mine, and I ordered this Renpho. Due to the holidays, there were delays with the shipment. I was soooo disappointed because I was looking forward to trying it on my aching feet with plantar fasciitis. I have tried EVERYTHING for my feet, nothing works and I am always in pain. It came, and I opened the box to find an UNUSED, BRAND NEW massage gun with all the attachments. I tried it out and I thought wow, that feels AWESOME. But the true test is how do you feel the next day right? You cannot always walk around with a massage gun in your hand. The next day, I felt AMAZING. AMAZING. I used it on my hubby's back too, and he said he felt so much better today as well! In addition, this one is way QUIETER than my original massage gun. It's just really a quality piece. You won't be disappointed in this one. It really is what it says. I know it is hard to choose from all the models on the internet, but this one is the real deal. It's worth the money if you have pain." —L Johnson
Get it from Amazon for $69.99 (get this price by clipping the $20 off coupon on the product page).