1.
A hands-free (rotating!) phone mount designed for use on all airlines — not only can you mount it to the tray table, but to the arm of a chair or any flat surface, so you'll be able to stream content easy as pie.
Perilogics is a small business that specializes in tech-oriented travel products and backpacks. 
Promising review: "I used it for the first time this week, when I was on three flights. I was able to comfortably sit back and watch TV, check the Internet, and even play a game on my phone. Guess what several friends are getting for Christmas from me ♥️." —adiaphora
Get it from Amazon for $12.97.
2.
A vacuum-free space-saving compression bag so easy to use that all you have to do is stick your clothes inside, zip up the bag, roll the bag, and watch all the excess air get squished out of them until your clothes magically shrink. Yes, maybe it's only a weekend trip, but some of us need OPTIONS!! 
Promising review: "These were the things I never knew I needed for traveling. They work just as advertised and are really useful when going on a trip. I always hate at the end of a trip having to mix dirty and clean clothes — a 'laundry bag' or plastic shopping bag never really felt like a good enough separation. These bags seal up and conceal the most stinky, wet clothes from your clean unused clothes. They are going to be one of my new necessities for my big family when traveling." —Sarbello
Get a set of eight from Amazon for $14.97. 
3.
A set of affordable, highly popular wireless Bluetooth earbuds reviewers say are AirPod dupes, but better — not only are they noise cancelling and waterproof, but but you can listen to music during your flight, car ride, or even while you're sleeping *without* your ears feeling like they've been beaten up. These come equipped with several sizes of earbuds so you can get your perfect, painless fit.

These come with a wireless charging case that provides up to 14 hours of charge (with the earbuds able to play for four-plus hours with each full charge). The earbuds are also sweatproof and waterproof so you can use them during workouts or runs or even in the shower, and have a built-in mic so you can chat on the phone. Psst — these are also a great option for going outside in a mask, since they don't have wires that'll get tangled in the mask straps.
Promising review: "So many things to rave about with these! Quality of the design and feel of these is amazing. I could literally wear these all night while on vacation with a roommate who snored, they were that comfortable and good at noise cancelling. I use these most often to listen to music and the sound quality is superb. I have a pair of AirPods that I was *thankfully* gifted and I hardly ever use them because they just aren't as good as my Tozos!"  —Alexis Arnold
Get it from Amazon $18.99 (available in five colors).
4.
A set of Sea Bands, which target an acupressure point on your wrists meant to help reduce nausea — a must-have for anyone who gets motion sick on long car rides, cruises, buses, and trains. 
Promising review: "I have always suffered from motion sickness. My whole life I have hated long car rides, even short car rides, as soon as I get in the car and buckle in I already feel the nausea. I couldn't enjoy rollercoasters (I still have yet to try these bands while riding one). I bought these for a 16-hour road trip and they worked 100%. I felt perfectly comfortable the whole way through. I could even watch movies and text on my phone and feel alright. My two daughters suffer from the same thing (ages one and three) but to the point where they couldn't keep any food down when going on long car rides. The kids' bands worked for them 100% of the time too. 10/10 recommend. I'll be buying more for sure." —Veronica
Get a set of two from Amazon for $8.53.
5.
A luggage drink caddy for anyone who considers the Starbucks mermaid a copilot — this sticks right into your wheeled luggage and has two roomy pockets for drinks, water bottles, your snacks, your phone, and whatever else was taking up room in your hands on the go. 
Promising review: "This cup holder is perfect! It helps me a lot! Last time I took a plane with a suitcase and a cup of coffee, when it's my turn to check my passport and ticket, the coffee cup fell to the ground and coffee sprinkled. It was a nightmare! This time I bought this cup holder, it did do me a favor! I don't have to worry about where my cup and phone are! I can free my hands to do other things. I love it so much! Hope you love it too." —Philip
Get it from Amazon for $15.99 (available in six colors).
6.
Or a leather passport case with a protective side sleeve for your vaccine card, so your two most important travel documents will always be tucked in together and ready to rumble.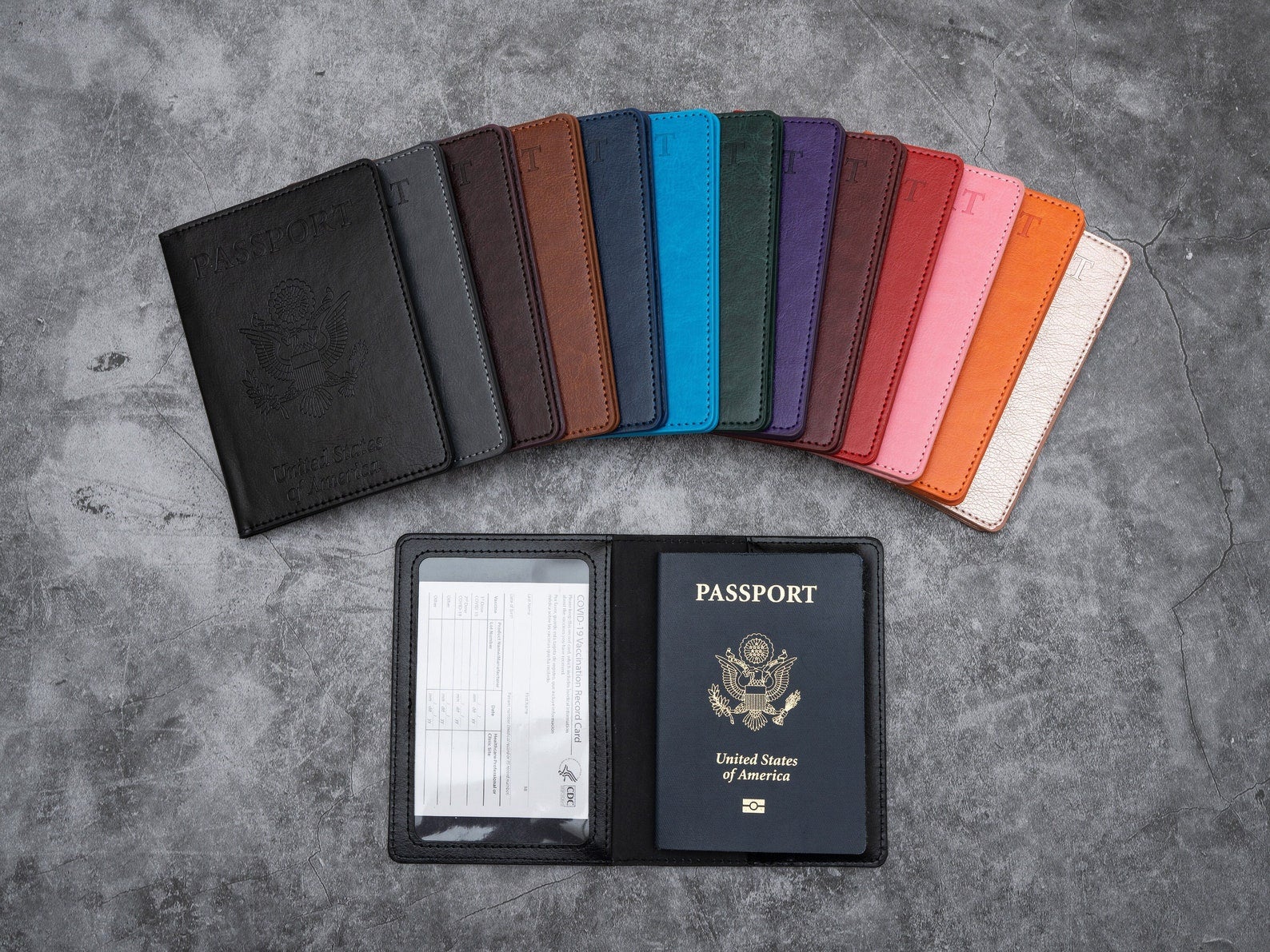 Henney's Boutique is a California-based Etsy shop that specializes in passport holders. 
Promising review: "Shipping was impeccable! The holder is sleek looking. It is nice and large. My COVID vaccine card fits snugly." —Alexandra Tino
Get it from Henney's Boutique on Etsy for $8 (available in 12 colors). 
7.
A portable cordless phone charger that thousands of reviewers swear by as an easy, highly portable way to get a quick charge on their phones — especially great for trips where you're on the go so much that there's no time to go back to the hotel and charge.
Promising review: "This is an amazing product, I use it on a daily basis and it keeps my phone charged throughout the day. When it's plugged in it perfectly it matches the curve of your hand, making it comfortable to use when charging, it truly gives a huge boost to your battery life and I recommend it to people who frequently have to charge their phone, because this product solves the problem!" —Whistle Blower
Get it from Amazon for $29.99+ (available in five colors).
8.
A dry shampoo powder just as effective as the beloved aerosol ones that you can't pack in a carry-on (not to mention much more environmentally-friendly!). This will spruce up your Vacation Hair in no time flat. 

Hair Dance is a US-based cruelty-free, vegan small business that specializes in haircare products. 
Promising review: "I was a little unsure about this product but wanted it for vacation to limit aerosols or liquids. I am mind blown! It smells great, doesn't leave a residue and both volumizes and keeps my hair looking fresh. It also lasts for much longer than an aerosol if you're someone who uses this daily or every other day. The bottle is small enough to not take up space, but I've had my first bottle for months and am barely through half. This will be my go-to from now on." —E

Get it from Amazon for $11.99. 
9.
A waterproof pouch to keep your phone and other "doesn't play well with water"–type gadgets safe. Not only does this keep it safe, but you can still use the touchscreen with it, meaning you can take underwater travel photos galore 🐠🐟🐡.

It fits any phone up to 100 mm x 170 mm (or about 3.9 inches x 6.7 inches). It's also a great fix for keeping out sand and dirt (and a great option for runners, if you're caught in the rain but still want to be able to toggle through your music options).
Promising review: "I purchased this case in July for an upcoming canoe trip with a friend, and as luck would have it, we flipped our canoe. Being the rebel that I am, I chose not to wear my phone around my neck, and so it, my ID, and my debit card ended up at the bottom of the river and I just assumed it would be discovered a thousand years from now and placed in a museum as an ancient artifact. Fast forward to this week. I was contacted via FB by an Alachua County Sheriff's Office diver and guess what he found? Yup, my phone case with all of the contents intact and dry as a bone! He had to cut the case open, but there was not one single drop of water in it and he ended up purchasing a case for himself because he was just that impressed!" —Julie McDonald
Get it from Amazon for $7.99 (available in 14 colors).
10.
A pack of Neutrogena makeup remover towelettes, which are a great solution for anyone who is a stickler for getting their makeup off at night and might not have access to their usual ~skincare routine~ on the road. These are also just super easy to pop into a carry-on without worrying about them exploding all over your underwear mid-flight. 

Promising review: "I always have a few of these in my purse as well as using them for travel. It is perfect for removing makeup and making your face feel fresh. I love that it is great for sensitive skin and the individual packets make it perfect to always have some with you." —Bonnie Review

Get a pack of 20 for $6.49. 
11.
A set of wax ear plugs that mold to the shape of your inner ear like putty, fully blocking out snoring noises when you're sharing a hotel room with friends or plane and car noises when you're trying to sneak a cat nap in on the road.  

You can check out my review of Macks Earplugs for more deets: "The moldable silicone of Mack's Earplugs contours easily to the shape of your ear to block out noise much more effectively than other foam or plastic varieties, and the noise reduction is so good that if I pair them with a white noise machine (or just like a white noise loop on Spotify) I genuinely don't hear noises from outside my room. Not only that, but once they're in place, they stay locked there until you decide to pull them out. I've also *loved* these for traveling — if you put these babies in on a plane not only does it help reduce some of the YIKES factor when the plane takes off (it's loud!!), but it cancels out the murmuring noises of passengers on the flight and makes it easier to get some shuteye."
Promising review: "I have always bought earplugs based on the decibel ratings, but none of them have ever worked very well for me, because they don't stay in my ears. These have a lower decibel rating than any of the foam earplugs I have used in the past, but they are much more effective. They really block noise, and they don't go in your ear canal; they just cover the entrance to the ear canal. I find this much more comfortable. I am really glad I found these, and just wish i had found them sooner." —Portlandia

Get 12 pairs from Amazon for $12.99.
12.
A pair of super-comfy period-proof underwear designed to hold two tampons' worth of period blood that are a *godsend* when you are traveling and need backup when you might not have immediate access to bathrooms. They're also ideal for overnight protection (you can pair them with a pad if you have a heavy flow) and for people who are worried about ~leakage~ when they're on the move.
Also, unlike your regular undies, you don't have to scrub the blood out of these. They're designed so it rinses right out in the sink with soap and warm water, and can get tossed in the washer and dryer from there. You can read the rest of my review on Bambody period underwear for more deets!
Psst — reviewers love these undies, but suggest sizing up!
Promising review: "My job requires traveling to places that may not always have a bathroom, so when I'm on my period I wear these as a fail safe in case my tampon or pad is at a max and I'm not somewhere I can change them out. It's worked great so far and it makes it far more comfortable on the job." —Sam
Get it from Amazon for $15.90+ (available in sizes XS–6XL, eight colors, and in two, three, and six-packs).
13.
A backseat hook perfect for road trips when you're trying to pack in as much as you can without squishing the folks in the backseat — this keeps the smaller bags and backpacks off the ground to give their legs some more room. This also makes for a great perch for the inevitable Giant Road Trip Trash Bag that will start to accumulate each day.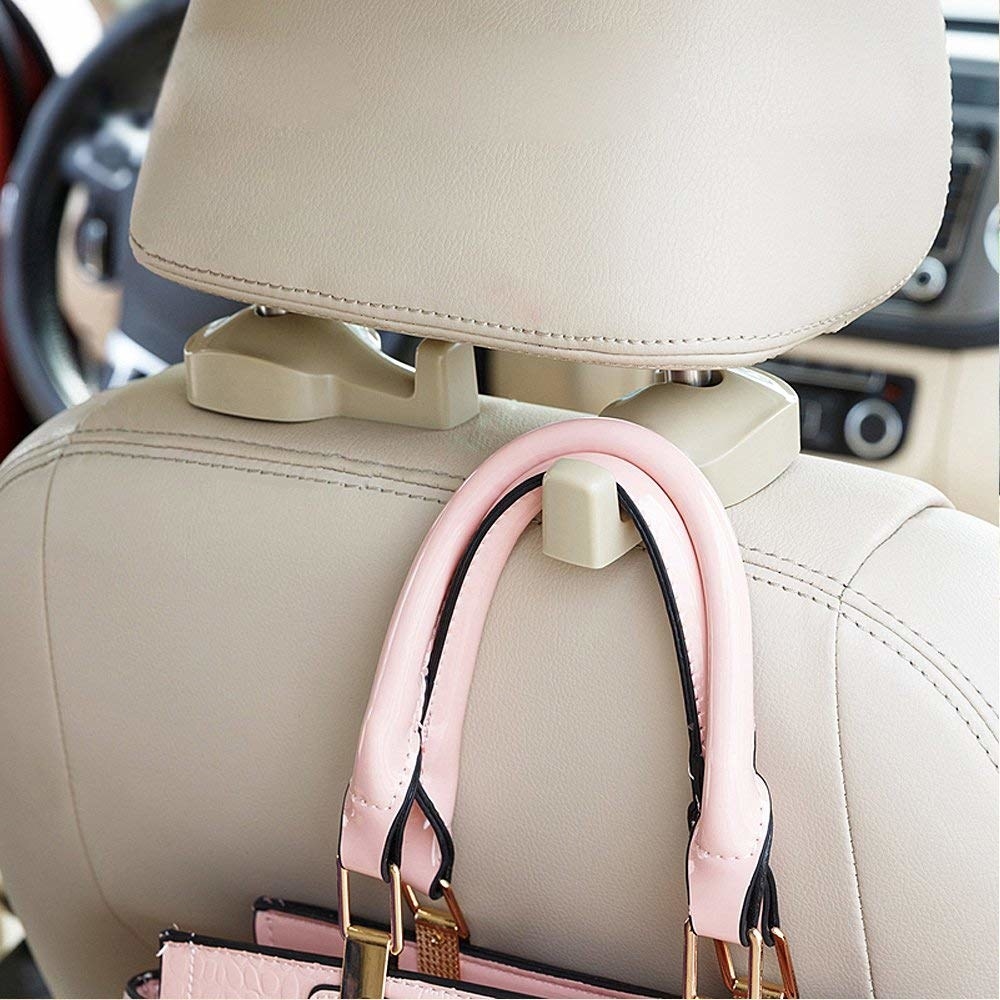 Promising review: "We travel a lot and of the few things we have bought to make the trips more comfortable, this is the best! I even use it when we are not traveling to hold bags, purses, diaper bag. It's great and can hold a lot of weight!" —GothicPoohBear
Get a set of two from Amazon for $7.95 (also available in black).