1.
A foaming garbage disposal cleaner you can plop into your sink, run a little water on, and let its blue magic fizz its way up to the top while clearing out all the gunk from your culinary adventures in one go.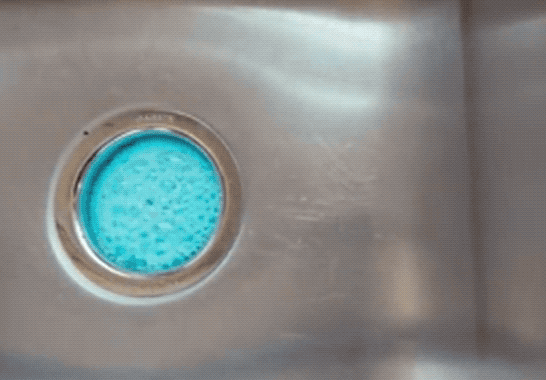 Promising review: "Saw on TikTok (don't judge) and automatically added to cart. So easy to use, takes probably a minute to fully bubble up and clean, and you're left with a clean sink! I use with other drain cleaning products, but would 100% recommend for weekly maintenance." —Jessica Hamilton
Get a four-pack from Amazon for $3.90.
2.
A jar of internet-beloved The Pink Stuff, which tackles so many darn things that it'll be the BFF of every room in your house. Need to paint over a stain on the wall? Get it off with The Pink Stuff. Think you need to replace that caked over grimy pan? Put The Pink Stuff to the test. About to hire cleaners to tackle whatever the heck is going on in your tub? 1-800-The-Pink-Stuff, baby!!
A lot of people compare it to the Magic Eraser in paste form, so even your weirdest, most stubborn stains will meet their match.
Promising review: "Found this product on TikTok. I don't think I've ever seen value like I do this product! Literally use it on EVERYTHING!! Kids and teens have dirt, grime, and grease on their walls? ...This will make it look like a new paint job. Baseboards need some love? A pea-size amount of this makes them look brand new. Need a shoe cleaner? PERFECT for sneakers. I could name a million more uses, but I can ASSURE you this is worth every penny. What's more? You need such LITTLE of this product, it will last a VERY long time. Thank you, TikTok!!!" —Rachel in CLT
Get it from Amazon for $5.97.
3.
A "Bread Buddy" dispenser to keep sandwich bread fresh by ensuring it stays *way* more airtight than it does in just the bag alone, and also lets you use the bread bag in a clever way to dispense slices one by one. Tons of reviewers are noting how much longer their bread stays fresh (and how much easier it is to store without worrying about it getting smushed!). 

Buddeez is a family-owned, Missouri-based small business that specializes in unique household products. 

Check out a TikTok of the Buddeez sandwich bread dispenser in action. 
Promising review: "The Buddeez Sandwich Bread Dispenser is great! It does exactly what it was intended for. I live alone and I don't quite go through bread often enough before the last quarter section of the loaf starts to go stale. I was originally looking for something to put a loaf of bread in as a shell for my vacuum sealer, that would keep the bread from getting crushed from the pressure. This dispenser solved all of my problems. Thank you!" —DRMcQuaig

Get it from Amazon for $12.49. 
4.
A set of Wonder Hangers designed to take advantage of all that unused vertical space in your closet and save up to three times the storage space. Even better — these come fully assembled, so no extra work on your end! Oops, on my way to buy more cute tops I don't need now that there's room for them 👀 . 

Check out a TikTok of the Wonder Hangers in action. 

Promising review:  "These are so clever and versatile! I live in an old house with tiny closets so I have to get creative. These are great because they can be used hanging horizontally or vertically. I also found they work great for hanging camisoles and tank tops. I can see what I have and take just the one I need!" —Therese Van Heuveln
Get a 10-pack from Amazon for $13.99 (available in three colors and four pack sizes).
5.
A rose gold rechargeable electric lighter you can use to replace all your old gas ones. This one is not only chic as heck, but completely flameless, and made with a long stem so you can use it to light gas burners and larger candles without dealing with an open flame.
This also comes in other pretty colors, but I am especially partial to this one because I bought it for my parents (their kitchen is entirely pink and one of my favorite places on Earth), and this was SO EASY to use — not to mention super safe! I'm a big weenie about fire (LOL, self-preservation) so I've always stuck to extended-arm gas lighters, but this is much better for the environment (plus cuter), so I feel a lot better about using it. You can read my full review of the Leejie electric lighter for more deets!
Promising review: "Works like a charm. I saw this on a TikTok. Knew immediately that I needed it. I love candles and this is so much better than a match or lighter. It's kept a charge for months. I use it several times a month." —dwhite3012
Get it from Amazon for $13.99 (available in five colors).
6.
A rust stain-removing powder basically built with busy folks in mind — this is entirely scrub-free! All you have to do is apply it to the stain, wait a few minutes, and rinse it off like (slightly gross) magic. 
Promising review: "I cannot say enough great things about this product. We just purchased a home that has a well with very high iron content in the water. I tried everything to remove the stains from our three toilets but nothing worked. I found this product online and immediately went to Amazon. The results blew me away. I didn't have to scrub at all. I let it sit in the tank for several hours and the results floored me!" —Toni Huitt
Get it from Amazon for $4.26 (available in two sizes).
7.
A six-outlet wall charger designed specifically for larger chargers that also comes equipped with two USB fast-charging ports *and* a night-light, so your WFH setup is as organized as possible.
8.
A set of silicone oven rack edge protectors sure to be a boon for avid bakers and cooks — these protect your skin from burns when you're sliding things in and out of the oven, so you don't end up ruing the day you made lasagna and accidentally cooked part of your human self instead. 

Check out a TikTok of the oven rack protectors in action.  

Promising review: "These things are awesome. Not only are they attractive and reasonably priced, but are so easy to put on and they stay on the rack. Most important, I find they help to protect your arm from getting any bad burns when reaching into the oven. Highly recommend these, I'm so happy with them I'm buying a set for my mom and daughters-in-law." —Sandi 
Get a four-pack from Amazon for $9.98+ (available in three colors). 
9.
A reviewer-beloved bottle of wood polish and conditioner to get your lackluster old floors, cabinets, and closets looking so spiffy that your friends will ask where you're hiding the time machine when they see what you've done with the place. 

Promising review: "I got this product a few hours ago from Amazon and now have shiny floors! It gave the really dull hardwood floors of my prewar NYC apartment an impressive shine. Really impressive. A little goes a long way: I used only about two ounces to shine about 500 square feet of clean floors. Before using it on the floors, I tested the polish on an old wooden side table that is scarred and needs sanding. It looked a lot better afterwards." —KindleCustomer2
Get it from Amazon for $6.78. 
10.
A set of four biodegradable, machine-washable Swedish dish cloths — they're super absorbent and designed with a blend of cotton and wood for easier scrubbing. Each one of these can replace over a DOZEN paper towel rolls. The Brawny paper towel man is shaking.
Skoy Enterprises is a woman-owned, California-based small business established in 2007 that specializes in unique kitchen items. 
Promising review: "I saw these on TikTok and had to order them as I love products that reduce my carbon footprint! I am very impressed and recommend 100%!" —Emilia
Get a set of four from Amazon for $7.99 (available in 14 color variations). 
11.
A squishy universal cleaning putty to get into all your space's nooks and crannies, like keyboards and AC units and the vents in the back of your printer. Take THAT, Cheez-It dust.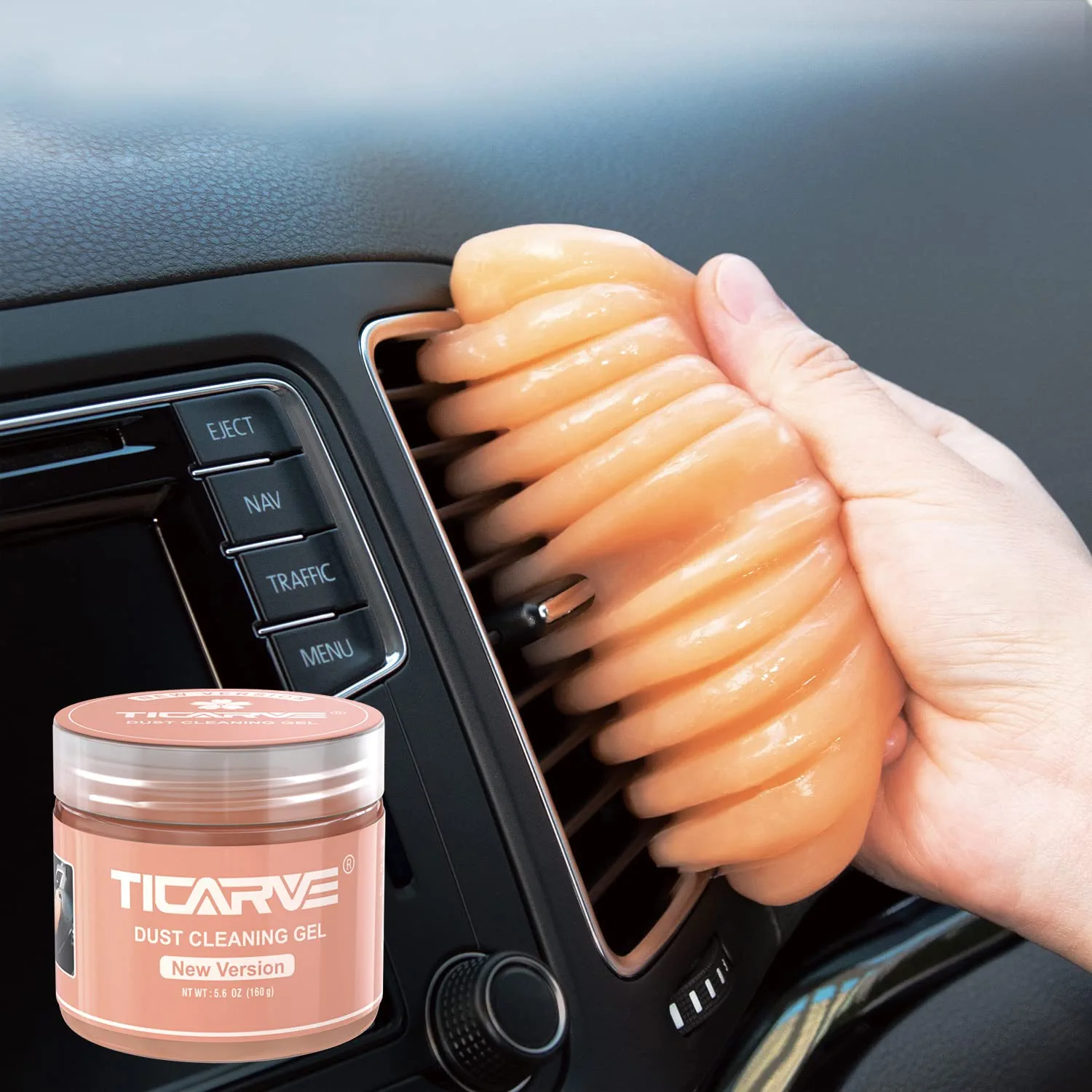 Promising review: "This product does exactly what it says it does. I saw this product from TikTok. I was surprised at how easily it picks up dust and small debris, especially from inside of vents and cup holders. The only complaint is the very artificial smell when you use it. It doesn't last, just when it's out of the container!" —Loren

Get it from Amazon for $6.99.
12.
A drain snake you can funnel into your shower or sink drain that honestly works a little *too* well at unclogging hair, pulling it up in one (semi-horrifying) go.
Promising review: "I saw this on TikTok and was tired of spending so much money on drain cleaner. I was blown away by how much hair and gunk came out of the sink and tub drain. Disgusting, but also so helpful to actually clean it out. I will recommend this to my family and friends." —Lisa S. 
Get a set of three from Amazon for $5.97 (available in two lengths).
13.
A set of washing machine cleaning tablets that'll tackle that weird mold + mildew smell in one cycle. Your laundry will come out so fresh that you'll hold your nose up to it like you're auditioning to play "Human In Scented Detergent Commercial."
Promising review: "My older model Whirlpool washing machine had been smelling very bad for about two months. We tried everything, white vinegar, beach, etc, it would stay fresh smelling for two days then back to the bad moldy smell. I read this product works so I ordered it. Used one tablet and the smell is gone!!! It has been three weeks now and it just smells fresh, no strong perfume odor either! Buy this product you will not regret it!!!" —A.C.
Get a set of three tablets from Amazon for $6.95.